Windows Phone share of units sales is up year on year in all markets, with the exception of China, but there it is now good evidence to suggest the sale share growth enjoyed by the platform in the second half of last year has slowed down and that there has even been a small overall fall in sales share in Western European markets in the last 3 months (10.3% to 9.7%). This does tie in with Nokia's own figures for Lumia device sales which suggested flat performance in Q4 2013, a trend that appears to have continued into Q1 2014.
This is perhaps not surprising ahead of the Windows Phone 8.1 reveal and related lack of device releases (nothing new, thus far, in 2014, with the exception of the US only Lumia Icon). A number of strong Android devices, such as the launch of the Motorola G in Europe, and competitive iPhone 5c pricing can also be considered as contributory factors. Nonetheless, the figures will be a concern for Microsoft, which is looking to increase Windows Phone device volumes in 2014.
Within the markets covered by the Kantar report Italy was once again the leading market (16.1%), followed by the UK (10.1%), France (8.3%), Germany (7.5%) and Spain (4.7%). Spain has the highest year on year growth figure at 671.4%, mostly achieved in the last six months, albeit from a low starting position. More notable, is the weaker recent performance in France (down to 8.3% from 12.9% in November 2013), though this is somewhat offset by stronger performance in Germany (up to 7.5% from 5.7% in November 2013).
The Kantar figures for the US show a year on year increase from 4.1% to 5.3%, with modest growth in the last few months, but still not yet matching the highest unit share in the US (5.6%) from April of last year. The figures for China continue to be discouraging, with all the signs suggesting Microsoft and Nokia will have to go back to drawing board for their China strategy..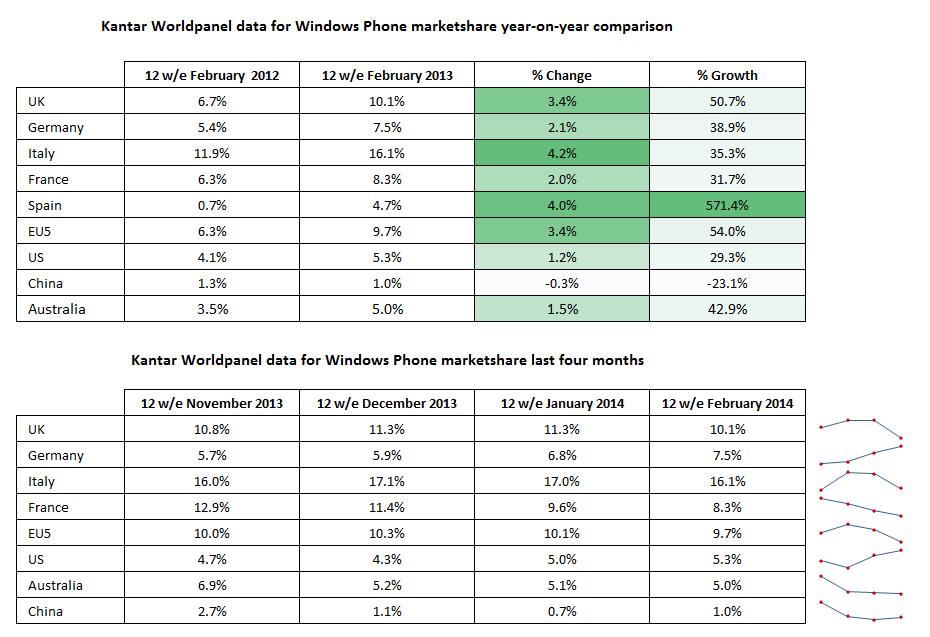 In the overall market context, Windows Phone sales share remains relatively modest, but has held up reasonably well in the face of device launches from competing platform. It will face a sterner test in the next few month with new Android devices becoming available this month and new Windows Phone devices not expected to arrive until the end of next month / early May 2014.
Windows Phone sales performance varies significantly from country to country, even within a region. Italy continues to be in a group of its own in Europe (16 out of every 100 smartphones sold run Windows Phone), with a second group forming around the 10% mark (UK, France, and now Germany) and Spain in a third group (1 in 20 smartphone sold are Windows Phone devices).
A major determining factor remains the level of operator support, but historical sales level also play an important role. This is good news for Windows Phone in markets where the Nokia brand remains strong (Middle East, Africa, Asia), but there is a need for a refresh in the lower end product tiers to fully exploit this opportunity.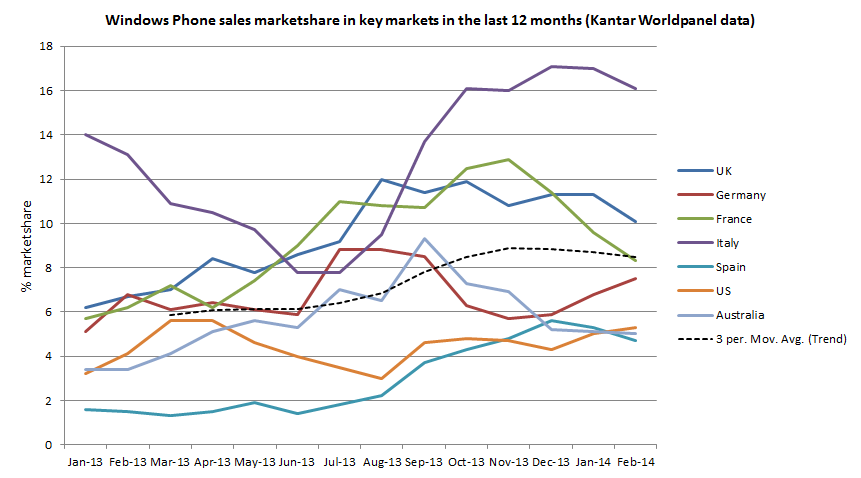 In its press release, Kantar notes that Windows Phone sales in the UK were eroded, in part by the return of Motorola to the UK market:
With virtually no existing customers to sell to in Britain, the Moto G has stolen significant numbers of low-mid end customers from Samsung and Nokia Lumia.

A resurgent Motorola has climbed from almost nothing to 6% of British sales in just six months. Its success has helped Android remain the top OS across Europe with 68.9% share. Apple holds second position with 19.0% share and Windows is third with 9.7%.

The overall context for Windows Phone is illustrated in the charts below, which as we've noted before, show a clear difference between the US and Europe, possibly reflecting both Nokia's dominance in the Windows Phone ecosystem and its traditional market strengths.