Other key specifications include 2.2 GHz quad-core processor (Snapdragon 800) with 2GB RAM, built in support for Qi wireless charging, 2420 mAh integrated battery, and 4G LTE based cellular connectivity. In technology terms the Lumia 930 is essentially a smaller sized version of the Lumia 1520 and is, after its sister model, the Icon, therefore the third device running the third generation of Nokia's high-end Windows Phone hardware family.
The announcement was something of a surprise, in view of the availability being so far off (at least two months), but clearly Nokia wanted to tie the device (along with the Lumia 630 and 635) into the announcements surrounding Windows Phone 8.1.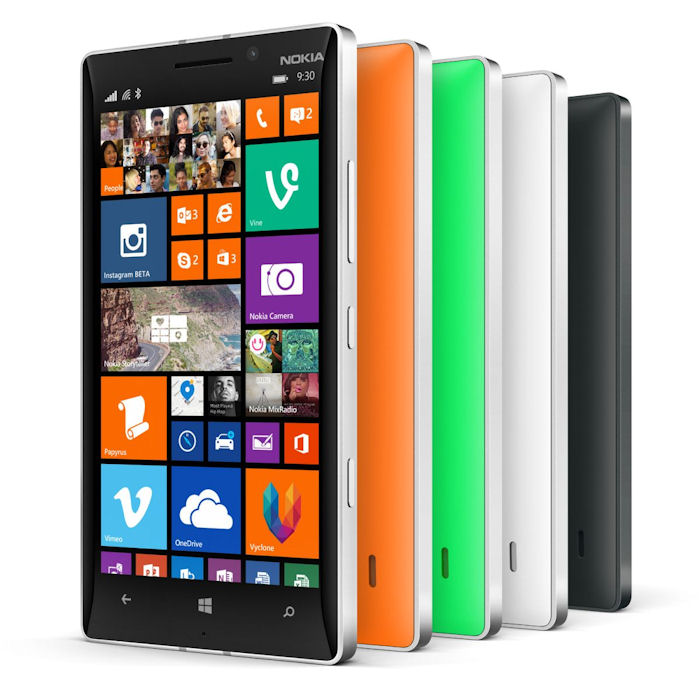 In terms of design and styling, the Nokia Lumia 930 is a refinement of the previous Lumias, offering a subtler finish, premium materials, and improved build quality. Thanks to the increase in screen size, the front profile size of the device (71 x 137 mm) is a little larger than the 925 and 920, in keeping with recent industry trends.
The 20 megapixel camera is the same module as that found in the Lumia 1520, with oversampling ('PureView' technology, spitting out 5MP images by default, but with other advanced options available if required), optical image stabilisation (OIS), support for lossless zoom (2x in photos, 3x in video) and high quality "Rich Recording" audio capture.
Rather than having a small camera bump as on the Lumia 925 and 1520, the back of the Lumia 930 is slightly bowed to accommodate the camera module. This does add a little to the device thickness (9.8mm, versus 9mm for the 1520), but gives a smoother back profile. The edges of the device are protected by a brushed aluminium trim surround.
With a five inch screen the Lumia 930, like the Lumia 1520, uses the expanded Start screen layout with three standard size Live Tiles displayed across the width of the screen that was introduced with Windows Phone Update 3 and which is an integral part of Windows Phone 8.1, launched today, and which will ship in the Lumia 930 from the start. Nokia will be shipping custom software on top of Windows Phone 8.1, in the form of Lumia Cyan.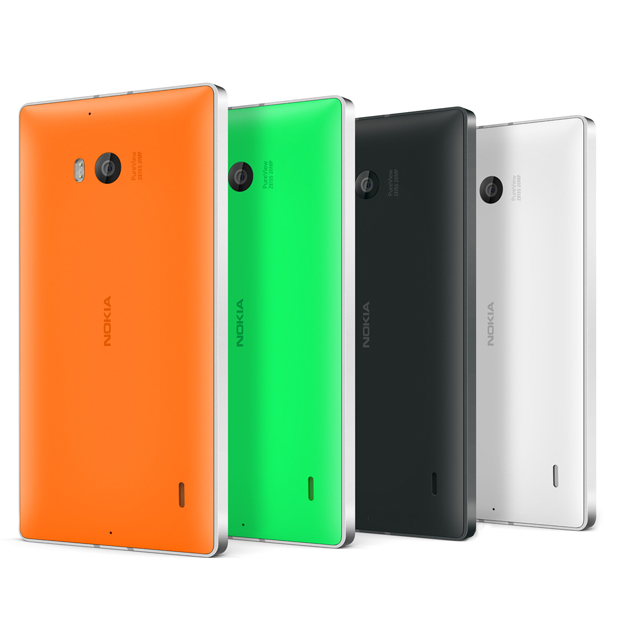 The Nokia Lumia 930 is expected to roll out globally in June 2014 starting with Europe, Asia, Middle East and India, available from $599 (€435) before taxes and subsidies.
Given that a similar handset, the Lumia Icon, is already out it's not clear why the Lumia 930 is only due in the shops in June. Even allowing for operator approvals and requirements, plus Windows Phone 8.1 related integration issues, we would not expect to see this kind of delay between a regional and international variants.
Nonetheless, the Lumia 930 will be a key handset for Nokia (soon Microsoft). Aside from the over-szied Lumia 1520, it will be Nokia's first global handset to ship with a hardware specification (and arguable a software experience) broadly equal to that of competing high-end Android and iOS devices. Sales should also be helped by the cometitive price point, though some of this advantage is likely to be diluted by early summer price cuts from Android flagships that will have already been on the market for a number of months (HTC One M8, Samsung Galaxy S5).
More generally, Windows Phone needs to find some high-end success in 2014, to back up the strong sales in the mid tier and low end segments that were thekey story for Windows Phone in 2013. The Lumia 930 has the potential to be the handset that delivers this, though a full assessment will have to wait until we have had time to put the device through its paces.

Specification comparison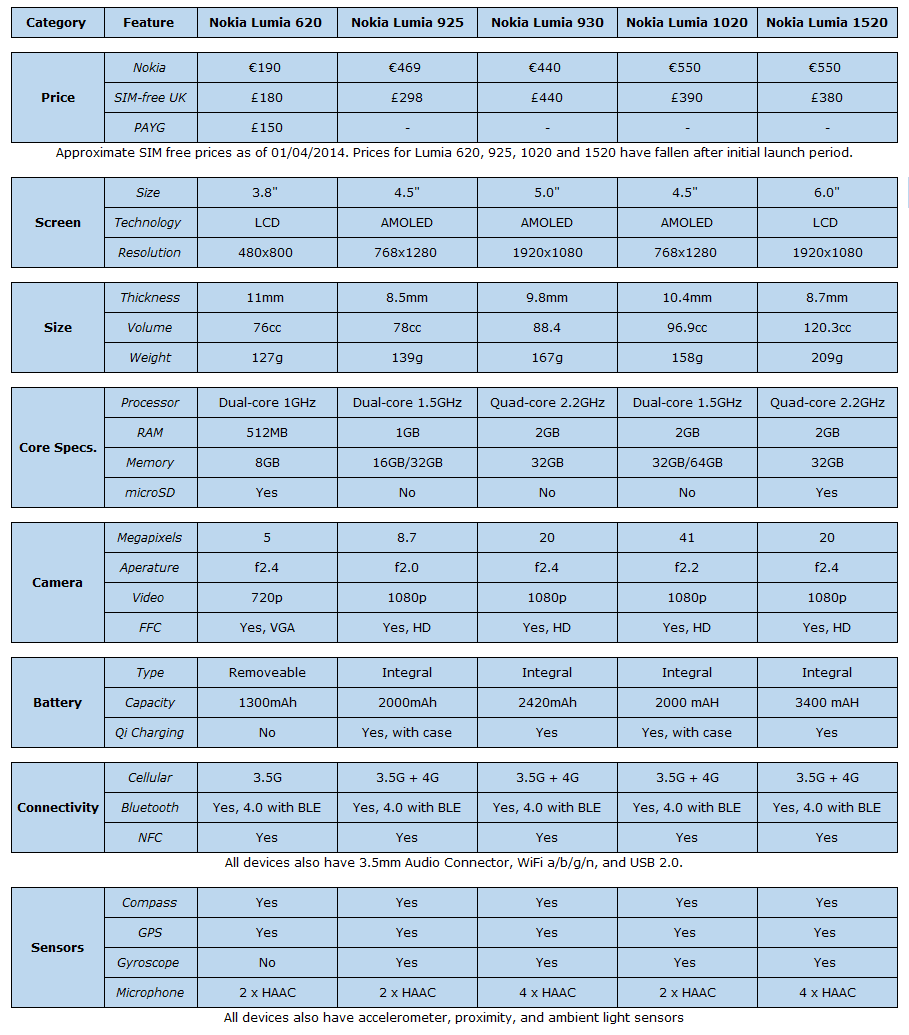 Key hardware features
Size and weight: 137 x 71 x 9.8 mm, 167g in weight; monoblock touch form factor

Cellular connectivity: LTE network bands: 1, 3, 7, 8, 20, WCDMA network: 900 MHz, 1900 MHz, 2100 MHz, 850 MHz, GSM network: 850 MHz, 900 MHz, 1800 MHz, 1900 MHz

Other connectivity: WLAN IEEE 802.11 a/b/g/n/ac (2.4Ghz + 5GHz); Bluetooth 4.0 (including Bluetooth LE); microUSB (USB 2.0) for PC connectivity and charging; NFC

Memory: 32GB mass memory, 7GB of SkyDrive cloud storage

Processor: Quad-core 2.2GHz (Qualcomm Snapdragon 800), with 2GB RAM

Screen: 5.0" AMOLED ClearBlack; 1080 x 1920 (full HD) pixels resolution; protected by Gorilla Glass 3; support for Super Sensitive Touch, Lumia Colour Profile, and Sunlight readability enhancements.

Camera: 20 megapixel (oversampling) f/2.4 auto-focus camera, with OIS, 1/2.5" sensor and dual-LED flash; front facing HD camera; four HAAC for Rich Recording in intelligent stereo at 1080p and with lossless digital zoom

Sensors: GPS, accelerometer, compass, gyroscope, proximity and ambient light sensors

Audio: 3.5mm audio out (AHJ + WP controls); HD Audio support; Dolby Headphone support

Battery: 2420mAh integrated battery, with integrated Qi wireless charging

Available in four colours: White, Black, Green, Orange

Full specifications are available here on Nokia's site.

Key software features
Runs Windows Phone 8.1 (see separate stories for announcements concerning this)

Nokia apps pre-installed include Nokia MixRadio, Nokia Camera, Creative Studio, Cinemagraph, Panorama, Nokia Storyteller, HERE Maps, HERE Drive+, and HERE Transit

Additional Nokia apps available from Windows Phone Store in the Nokia Collection.

Other applications of note: Papyrus, A natural handwriting note-taking app; Adidas miCoach

Promotional video