The Lumia 540 Dual SIM will ship with Windows Phone 8.1, but will be upgradeable to Windows 10, once the latest version of Microsoft's OS is released. It will begin rolling out in select markets in the Middle East, Africa and Asia-Pacific starting in May 2015. It will also be available in Italy, indicative of the success of affordable such devices in Europe's most successful market for Windows Phone. It will be available in a number of colour variants, including glossy layered cyan, orange, white and matte black.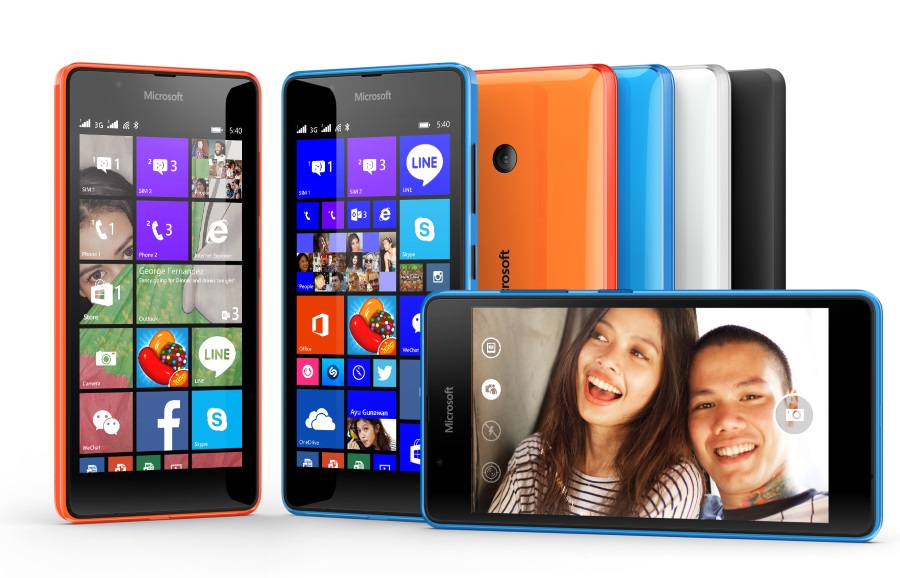 The combination of a higher resolution screen, improved imaging specifications, and slightly higher pricing can be seen as placing the Lumia 540 Dual SIM closer to the 6xx series of devices, most notably the recently announced Lumia 640. However, the Snapdragon 200 of the Lumia 540 Dual SIM, versus the Snapdragon 400 of the Lumia 640, remains a marked contrast and the SoC (processor) looks set to remain the key differentiator between low-end and upper low-end devices.
The Lumia 540 should be seen as offering a different value proposition to previous low end Lumia devices, with the proposition essentially being to pay a little extra to get a higher resolution screen and improved imaging. These device variations may seem slight, but are often driven by market research (i.e. customer demands) and operator requests, under-laid by the reality of thin margins in the low cost smartphone space. Moreover, this segment of the smartphone market is ferociously competitive, with even relatively small changes in specification potentially having large impacts on sales. This is one of the reasons, across all manufacturers, that we typically see a faster refresh rate for low-end and mid-tier devices.
With this in mind, rather than being seen as close to the Lumia 640, the Lumia 540 Dual SIM can be seen as a reflection of the ongoing process of 'specification trickle down'. Increasingly, it is likely we will see 720p screens and up-rated megapixel cameras on even the low end Windows Phone devices. This process has been somewhat masked to date by Microsoft pushing the Lumia portfolio to ever lower price points (e.g. the Lumia 435 is similar to the 530 despite being significantly cheaper), but should become more obvious as further devices are announced (e.g. a global single SIM version of the Lumia 540).
The key differences between the Lumia 540 and the earlier announced Lumia 535 are:
Higher capacity battery (2200 versus 1905 mAh)
Larger volume (slightly thicker) and higher weight (

9.4

1

x 144 x 73.7 mm

, 152g versus

8.8

5

x 140.2 x 72.4

mm, 145.2g)
Different back camera module (8MP f/2.2 versus 5MP f/2.4), superior on the Lumia 540 Dual SIM
Lumia 540 currently only available in a Dual SIM variant
Different market availability (Lumia 540 has more restricted availability)
Slightly higher price (around a $20 / £15 difference in announcement price)
Different design (relatively small, but 540 may have an edge here, given colours and cover)