From Microsoft:
Today we are releasing Windows 10 Mobile Insider Preview Build 15252 to Insiders in the Fast ring.

This build includes all the improvements from KB4038788.
In preparation for the release of the Windows 10 Fall Creators Update, the product version number has been updated to 1709 just like PC.
We fixed an issue where, on powering the screen off/on, high demand for CPU could cause several apps to crash. Background processing of photos is an example of high CPU demand. In a photo shoot session, you may have seen the Camera app crash.
We fixed an issue with the Messaging app where conversation text was displayed incorrectly. Thanks to our Insiders that quickly highlighted this issue.
The worry had been that the so-called 'feature2' branch of Windows 10 Mobile (still with '1703' as its version number) would be the last hurrah for W10M, effectively 'Redstone 2'/Creators Update on steroids. But with the change to version '1709' (as in 2017, September), Microsoft has realigned both desktop and mobile, at least in name.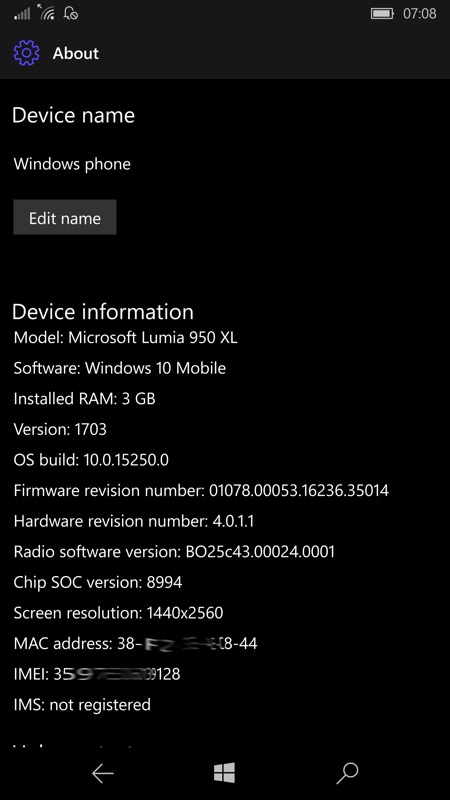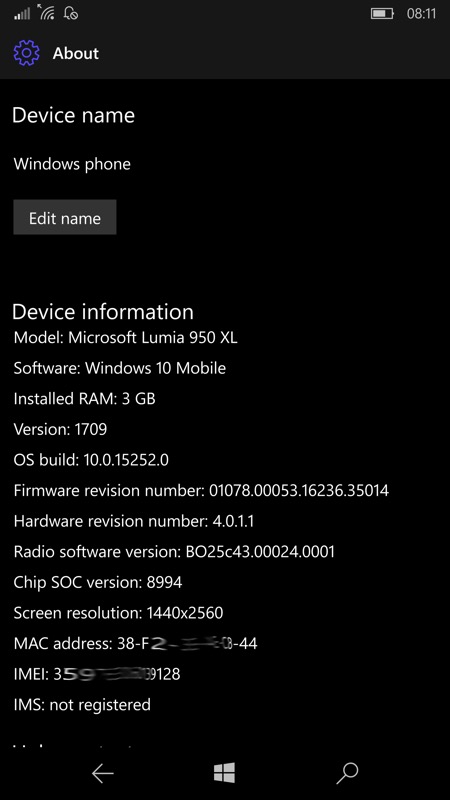 As usual, should you not be following along at home already:
Head into Settings/Update & Security/Windows Insider Programme.
Join the Insiders programme and choose the 'Fast' level in the pick list.
Within a few hours your phone should be seeing the build mentioned above and you'll be running the Fall Creators Update
As I showed a few months ago in diagrammatic form (and reproduced below for convenience), the amount of common code between Desktop and Mobile has been declining through the year (and is set to go further in 2018), but there's still plenty that's common - and this includes the version number and (probably) the name as well.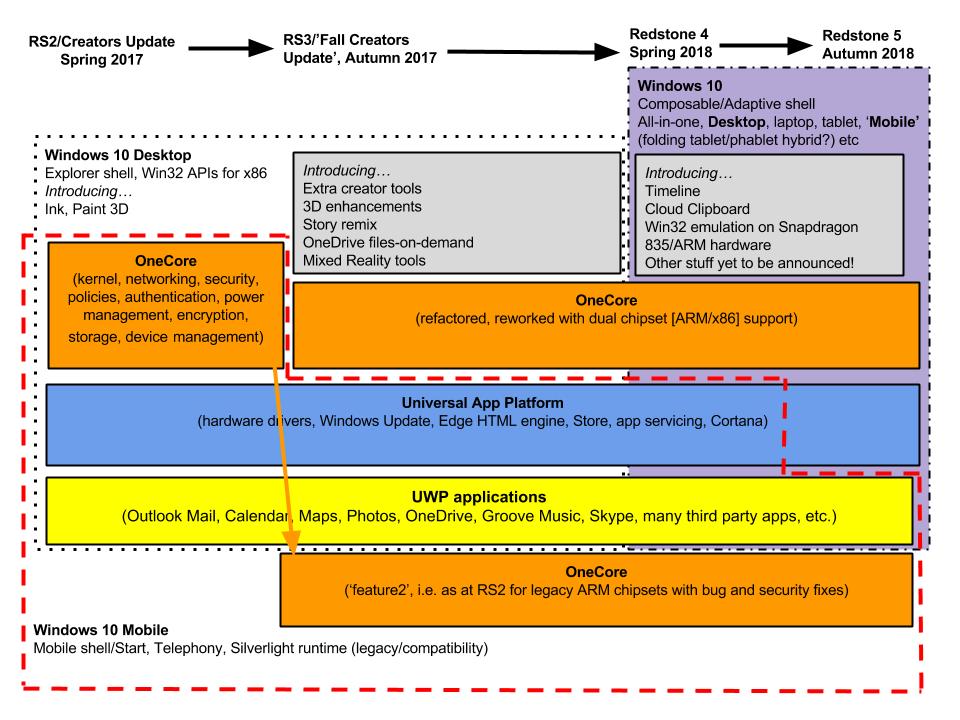 With Windows version number the same, with common Universal Apps Platform and common UWP applications, you can argue that Windows 10 Mobile is still in step with Windows 10 Desktop. Though you could also argue the opposite, of course, that the absence of a true 'OneCore' for the OS and the absence of the 3D and 'ink' features (etc) from the Desktop version mean that the mobile SKU is a poor relation.
Regardless, we can expect to see build 15252 (or something close to it) rolled out as version '1709' to production-compatible devices, effectively the same list as officially got the March 2017 Creators Update:
HP Elite x3
Microsoft Lumia 550
Microsoft Lumia 640/640XL
Microsoft Lumia 650
Microsoft Lumia 950/950 XL
Alcatel IDOL 4S and IDOL 4 Pro
Alcatel OneTouch Fierce XL
SoftBank 503LV
VAIO Phone Biz
MouseComputer MADOSMA Q601
Trinity NuAns NEO
Plus, in theory, the Wileyfox Pro and Trekstor Winphone 5, should they see the light of day next month.
My reasoning here is that all the above are explicitly provisioned for these Fast ring 'feature2' updates already, so there's no reason why they shouldn't also be given the 'production push'.
Again, it's not 100% clear whether Microsoft will make a song and dance about this also being named 'Fall Creators Update' for mobile - they might even - in terms of what they show the user - just keep the 'feature2' name and ship it as a quiet bug fix update, to '1709'. Given the rather silly name for the Desktop, I'd almost welcome 'feature2' as implying new features and functions!
PS. There's an extra bonus and reassurance here, by the way. Microsoft's policy is to support all Windows versions, in terms of updates and patches, for two years minimum after release. So the confirmation that version '1709' is coming to all the phones above also means that Windows 10 Mobile will be technically 'alive' and supported until Autumn/Fall 2019, even if Microsoft's first party ambitions in terms of mobile presence get re-focussed from next year onwards.
PPS. The biggest FAQ here will be for owners of old Lumia 830, 930 and 1520 phones. The current answer is that the '1703' 'Creators Update' Release Preview ring is as far as can be gotten officially. But, no doubt, in time, some unofficial hack will arise that takes them further...!