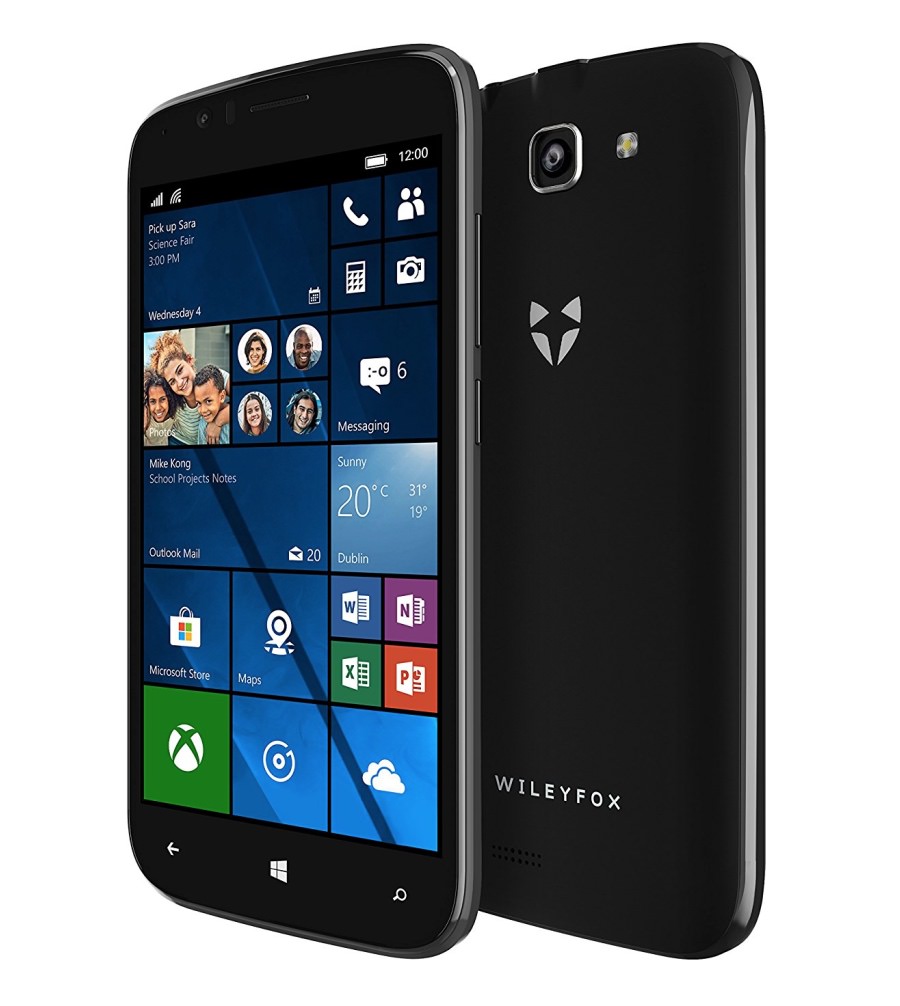 From the Amazon UK listing:
Introducing Wileyfox Business and the new Wileyfox Pro with Windows 10

Access your content from anywhere: Windows 10 Mobile comes with Office apps built-in for maximum productivity on the go while OneDrive cloud storage gives you access to your files whenever and wherever you choose.

Great apps at your fingertips: Enjoy great built-in apps for music, video, photos and more – plus a one-stop shop for all apps, games, music and more with the new Store in Windows 10.

Free personal assistance: Cortana, your truly personal digital assistant, provides help with directions, reminders, and other everyday tasks across all of your Windows 10 devices.
Specs are:
5" IPS LCD 720p display
Snapdragon 210 chipset
2GB RAM
LTE cat 4
2100mAh battery
8MP/2MP main and front cameras

UK and EU adapters in box with USB cable
From my original commentary:
The angle here, other than price - think sub-£150 in bulk to businesses - is security. Android is being shown up more and more as insecure once fallible humans get their hands on the phones - it only takes a sideloaded trojan and suddenly your company data is at risk. With Windows 10 Mobile under the hood, there's bomb-proof security ('restrictions') imposed and, to be honest, far, far less chance of the user trying to hack anything onto the phone that might compromise it.
Windows 10 Mobile really might be pitched as 'the secure mobile OS', I think. And indeed from the official Amazon listing:
Unparalleled Security

The security of your experiences, identity and data on the device and in the Microsoft Cloud is paramount for Wileyfox.

Consistent enterprise-grade security
Device Guard and Windows Store for business, so you only run software you trust
Bitlocker and Windows Information Protection for the security of sensitive corporate data
Edge ad block for malicious sites, enabling you to safely browse the web