* (think Lumia 735, 830, 930, Icon, 1520, all of which shipped with Windows Phone 8.1 originally)
Not that the end of 2018 is terrible for phones which came out in 2014, mind you. But it was still quite cool to take these old classic Lumias up to a fairly modern version of Windows 10.
The original Microsoft announcement was here, though it's not clear when the switch was actually pulled and the OS builds deleted on the server. The reason for the change was given as "Simplification of flight offerings and build storage overhead", while the direct statement says that "Direct updates via flighting will not be offered to devices on older Windows 10 builds (<=14393)".
As a result, you can now disregard my various tutorials on the matter here on AAWP, since they're now obsolete. Sadly. Though doubtless a few gentle hacking pieces circumventing all of this might be created in the coming months. It depends how geeky I feel and how great the perceived need!
If you try and enter the Insiders Programme on one of the AU-running phones above that wasn't deemed suitable for official CU then you get the message captured below. Note that it's not very helpful, in this case!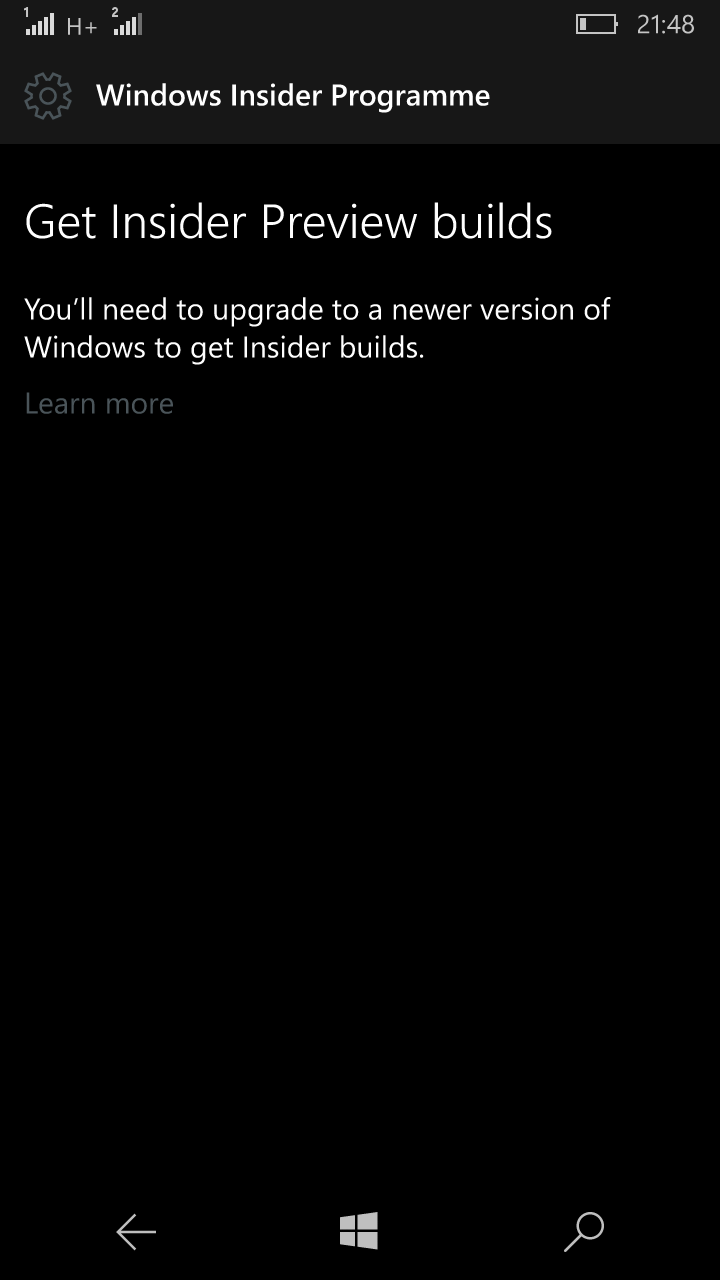 If you have one of the listed (above) phones that you had successfully massaged up to CU through the Insiders Programme then you're fine and you'll carry on getting CU monthly updates until Summer 2019. You can even do a factory reset from within Settings, if you need a fresh start. Just don't do a Windows Device Recovery Tool (WDRT) flash/wipe, as that will put AU back on and then you'll be stuck there forever!
PS. There's another, related matter though, and one I'd welcome data points on. The Alcatel IDOL 4S in the USA and Alcatel IDOL 4 Pro elsewhere still ship with AU out of the box, unless I'm mistaken. In principle, these now should get right up to Fall Creators Update (FCU) through standard production updates. If anyone reading this has such a device that was updated to CU or beyond without going through the Insiders programme, then please do confirm or comment - my test IDOL 4 Pro is stuck now at AU and with no way forwards. I'll carry on with my own investigations and report back in a separate feature if needed. Ditto the Elite x3, if anyone's listening and has the hardware/branch. I've also contacted Microsoft and we'll see if anyone responds.