Here's the official (huge) changelog for v3.0 (note that a few items are PC only, this being a UWP application for Desktop as well):
Preventing from app close on pending uploads / downloads On PC
Added smooth zooming for mobile and PC (PC: Ctrl + mouse scroll)
Enabled dragging for moving the zoomed area
Removed full screen image view for both PC and mobile (Except for profile pictures)
Added support for push notifications thanks to Tung Huynh (Indirect developer) and Ramtinak (Minista Developer)
Added support for Adding users to contacts in people hub
Added support for navigating to direct of contact and viewing profile using people hub
Added support for My people
Added support for Windows Share UI (Support for *.png, *.jpg and *.mp4)
Added support for sharing story
Added support for cropping images and videos before posting on feeds
Added support for re-ordering items on feed before uploading
Added multi-window support (Hold shift and select media in profile, search result, direct thread, story, live, collection or etc.)
Added open in new window option to right click menu in most cases
Added support for deleting items in story creation view using hold/right click
Added support for multi-part video story
Added support for hashtag in stories
Added support for mention in stories
Added support for story quizes answering
Added support for story countdown
Added incremental loading list for profile, Explore and etc. posts
Added support for multiple languages
Added support for updating secondary live tiles
Added pinning support for direct threads
Added pinning support for hashtags
New way of sharing media to stories
Added support for update notification
Added support for viewing comments on post lives (Saved Lives)
Added date for messages in directs
Added badge notification support (Only when direct notifications)
Changed the dialogs to more native flyouts
Better algorithm for compressing and uploading video
Added sound in directs for send and recieving messages
Added support for sending voice messages in directs using backgrounduploader
Added support for sending photos in directs using backgrounduploader
Added support for capturing image on camera in directs
Added voice message play / pause support in direct messages
UI/UX improvements
Fixed is Private toggle switch in settings menu
Fixed captions with line break
Fixed video story uploading crash issue on mobile devices
Fixed errors on uploading videos with Non-accurate X60 Coefficient
Fixed Consent_Required error
Fixed story items positioning accuracy on viewing stories
Fixed story items positioning accuracy on uploading new story
Fixed video uploading to both stories and feeds
Fixed turning live tile off
Add it all together and it's a major update for the client in terms of fitting in with Instagram on other platforms. Having said that, it's optimised for Windows 10 on the desktop - it works just fine on Lumias (etc) and Windows 10 Mobile, but it's not exactly fast - there are occasional pauses while feeds and images load in daily use. I was testing it on a Lumia 950 XL - it'll be faster on the Elite x3 and IDOL 4 Pro, both of which also have more RAM, but don't expect too much on lesser specced Windows phones.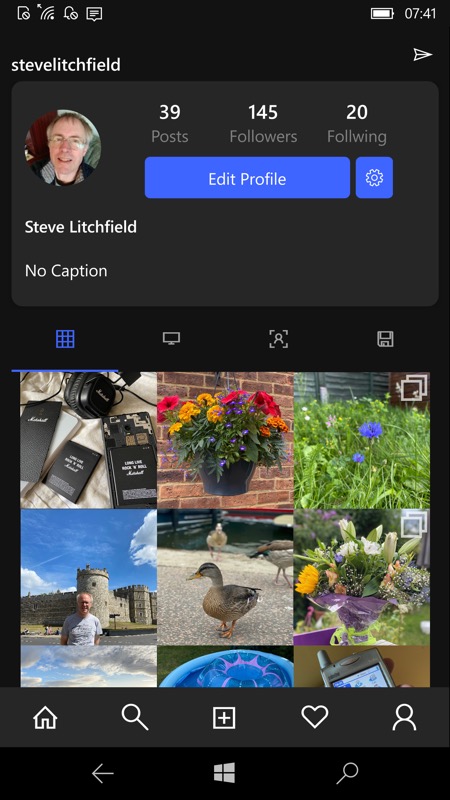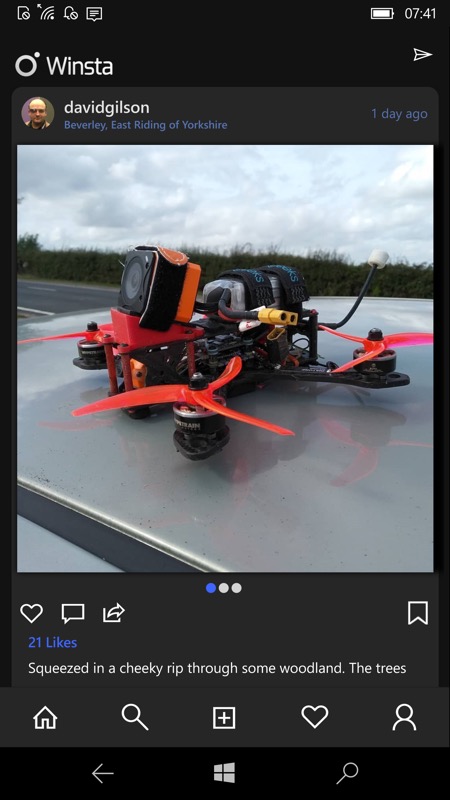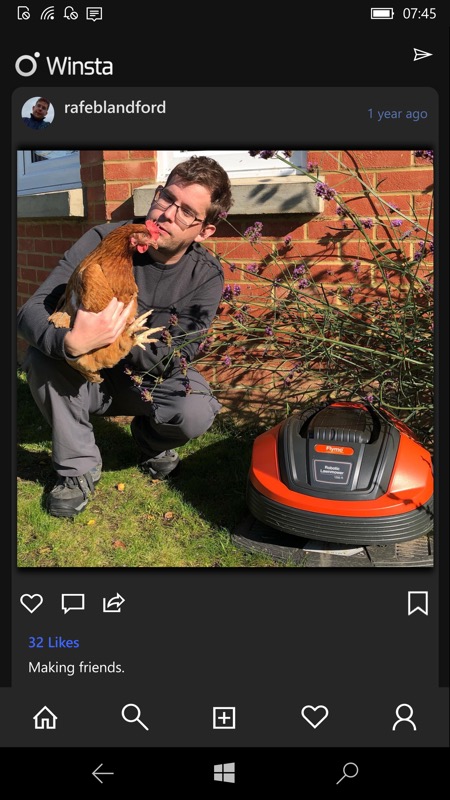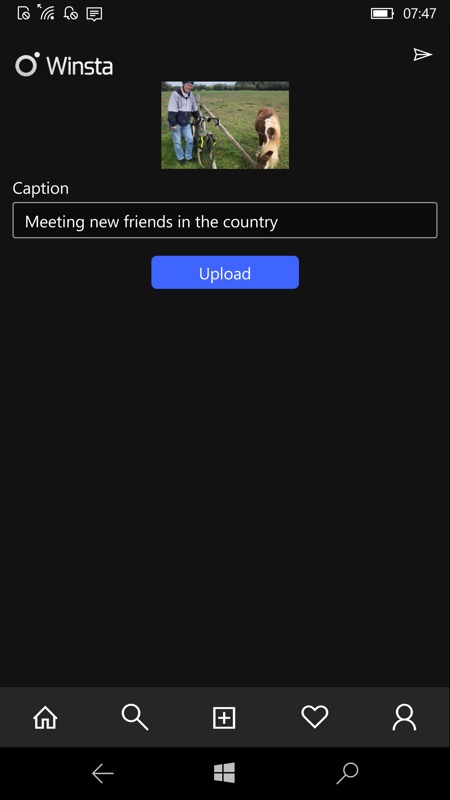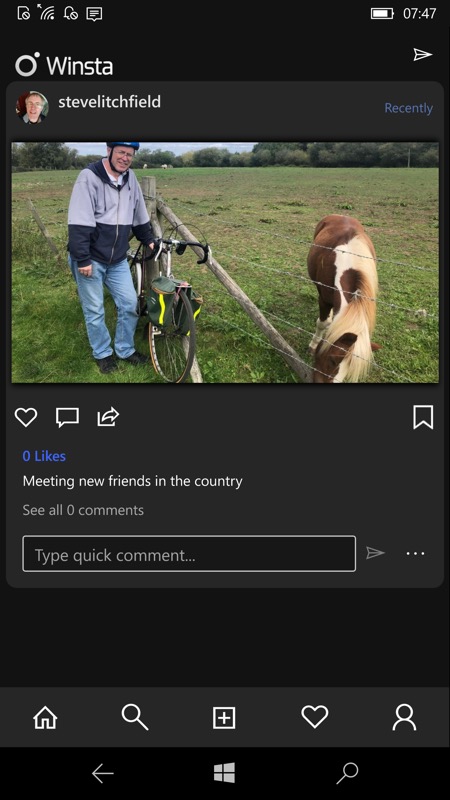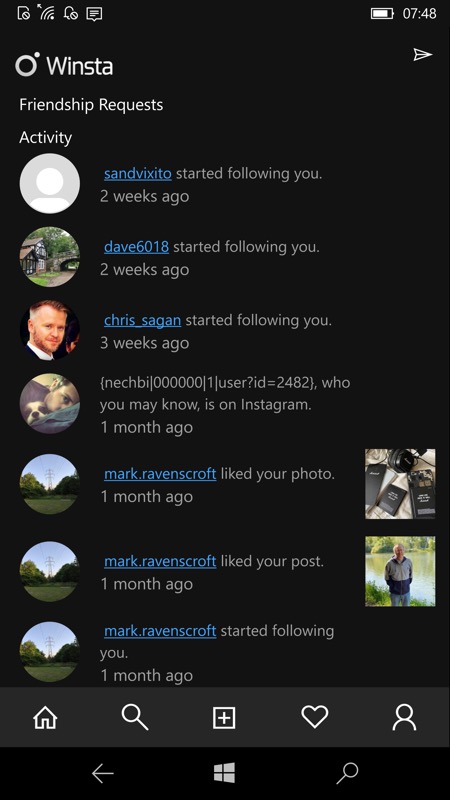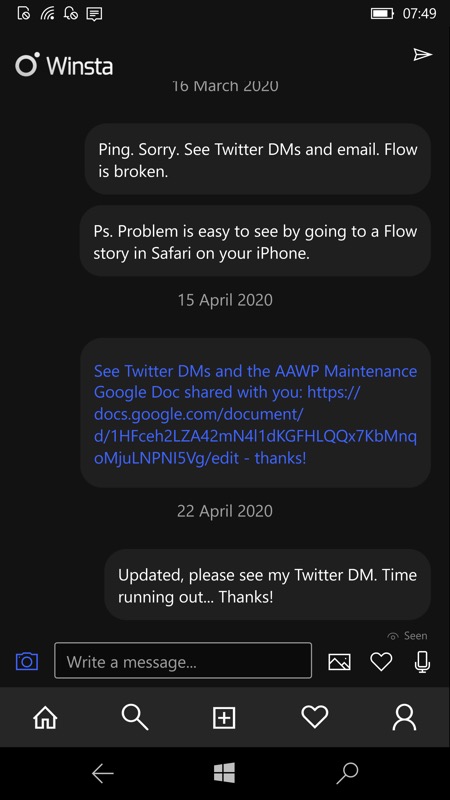 Winsta UWP has a very active developer and there's an Insider user community here on Telegram. (Access the latter through Unigram Mobile Messenger UWP!) See you there?
As I stated before, Winsta UWP is still highly recommended. There's a lot to like about Winsta, it's a breath of fresh air - you can directly encourage the developer by buying Winsta, since it's a couple of quid in the Microsoft Store. Go on, if you want to see this updated further, buy the developer a cup of coffee in this way...
See also the official Instagram PWA, which works very well (apart from notifications) under Windows 10 Mobile.