Review:
Living with the HTC HD7
As part of the launch period for All About Windows Phone, we've all been invited to write about the long term experiences we've had with the Windows Phone hardware that's now around a year old. 12 months certainly makes for an informed 'long term review', in my case with the monster (size wise) of the original device batch, the 4.3"-screened HTC HD7. Here are my thoughts.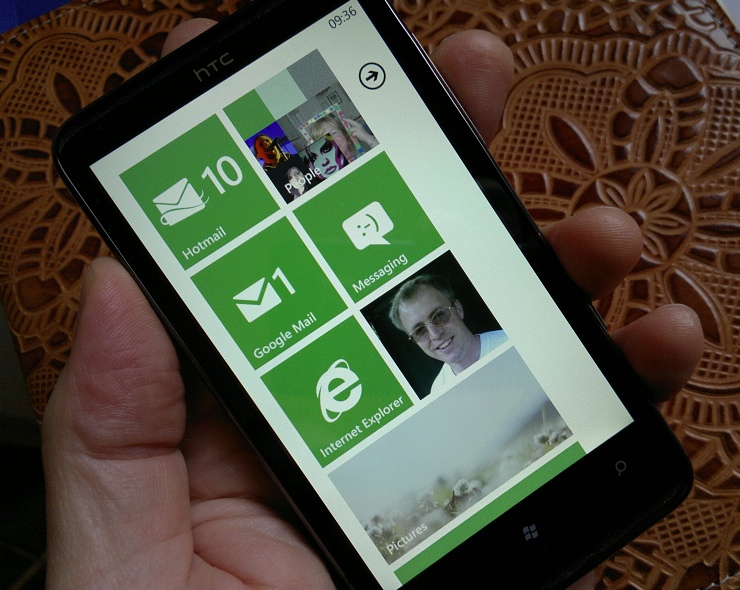 The HD7 is something of a paradox. On the one hand, its form factor and ambitions are very much in tune with the smartphone world of late 2011 - running Windows Phone Mango (via the recent update), a large 4.3" capacitive screen, a kick stand for easy media consumption, decent build quality, and so on. Without turning it on, you could be forgiven for thinking that this was a recently announced 'superphone' and not a year old design.
On the other hand, there are at least a couple of tell tale signs that this is not only first generation Windows Phone hardware, but also HTC hardware pre-2011:
The screen is good enough when it's lit up with pretty colours, but look at the blacks and dark areas and you're very aware that this is no AMOLED display. Worse, take it outdoors and it's hard to read when the sun's shining - it's a standard 2009/2010 LCD affair.



The camera's average at best and poor at worst. HTC have had a reputation for supplying their phones with unremarkable cameras and the HD7 is typical of the breed. (Thankfully, with the new Titan and recent Android offerings, we're starting to see some newer and much better cameras coming out of HTC.)


In addition, the loudspeaker is quiet and tinny, again typical of all HTC hardware - maybe HTC's designers don't get a chance to listen to podcasts or videos without headphones? Come to think of it, the supplied headphones are also cheap and nasty - all round it's a fairly horrible audio experience.
Add it all up and it's rather underwhelming for a late 2011 device in terms of raw hardware.
But there are positives. The form factor, while large for a 'phone' is about perfect for the Windows Phone OS. Whether it's watching YouTube videos, surfing web pages or typing on the excellent virtual keyboard, the 4.3" screen is just perfect. Any larger and the device really would be too large for the average pocket - it's already too large for any belt cases or pouches. It's not quite tablet size, yet offers many of the large screen benefits.
The soft touch back works superbly to make sure that the HD7 doesn't slip onto the ground and the sturdy metal kick stand (shown above with the camera island and below in 'action') is excellent for propping up the HD7 while watching something when doing chores - more smartphones should have kick stands, I reckon....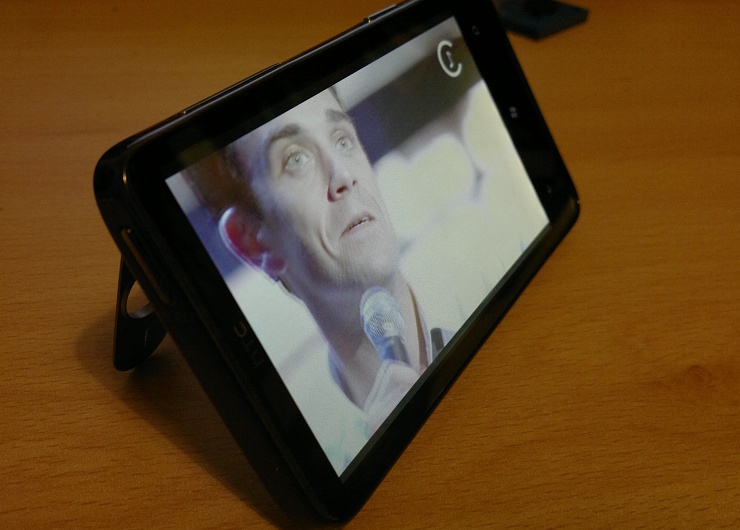 Underneath the flimsy battery cover (it's solid enough when 'on', mind you) is a replaceable battery, at 1230mAh. That's not a lot powering a 4.3" display and it's easy to run out of power before the end of the day if you run with 'everything on'. However, Windows Phone does have a good 'battery saver'/wizard mode that you can set to kick in automatically or turn on when needed. And with the possibility of slipping in another battery, it's not absolutely the end of the world on 'a big day out' if you're organised and have a spare in your pocket.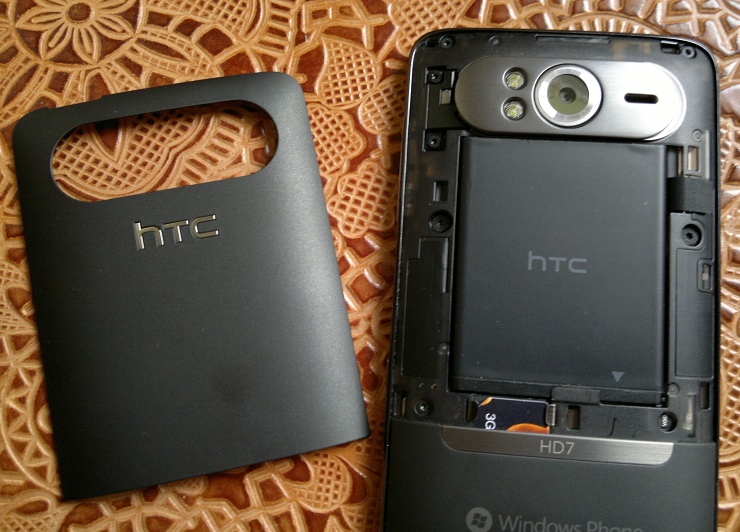 The HD7 received its Windows Phone 7.5 (Mango) update last month and it's made a slight difference to performance - the pseudo-multitasking's still not a patch on the real thing (e.g. in Android or Symbian or Blackberry) but pressing and holding the 'Back' button does at least offer the pretense of multitasking. What we need now is more third party applications to work well with this system - many still don't, a full month after Mango's release, sadly.
Still, early days for the operating system. There are plenty of lovely touches to Mango, of course: the People hub and social integration, the Live Tiles, the indexed application menus when you exceed a certain number of installed apps, Pocket Office, and so on. But there are plenty of gaping holes too - the aforementioned patchy multitasking, the way half the screens work in landscape mode and half don't (including the all important app menus and Live Tiles), I could go on. You'll read more about Mango's pros and cons elsewhere on All About Windows Phone. I rated Windows Phone 7.0 as 'unfinished' and not worth covering in any significant capacity. I rate Mango as 'useable', but the truth is that there's still a good 10% left for Microsoft to do before it can put its feet on the desk and really start resting on its laurels.
Regular followers of mine (on AAS and The Phones Show) will know that my main SIM has been in a Symbian phone most of the year - usually the camera-specialist N8. Begging the question: "If I completely discount camera functions, would I now be happy to use the HD7 as my main smartphone?" And the honest answer is "Yes". There are still some Bluetooth and media transfer limitations (come on, Microsoft, we need more here), but the sheer pleasure of email and social networking that 'just works', the enjoyment of playing games on that big screen, even video watching - never mind the lack of AMOLED, all add up to a smartphone that, while it can't replicate all the things my N8 can do, does enough other things beside and does them well enough, that yes, I could live with the HD7. Camera aside. And that's not bad for a 12 month old design.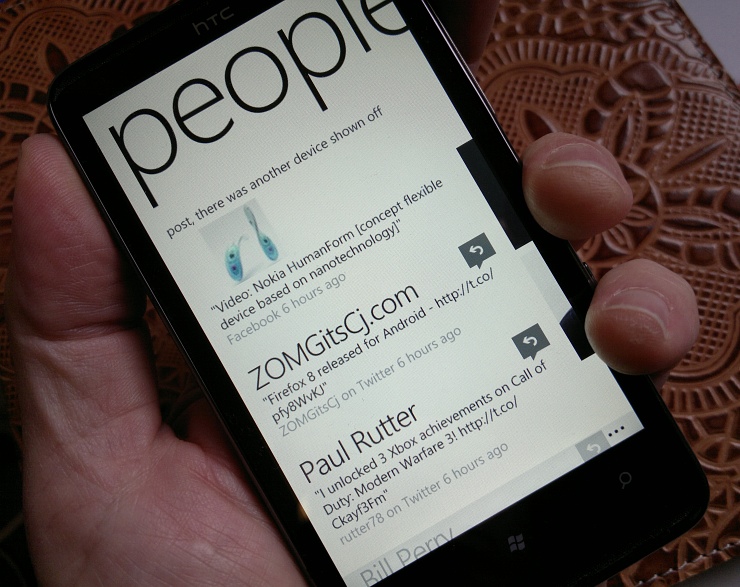 As long as I'm not needing to take photos, I still pick up the HD7 with an air of anticipation - and that's telling.
For me, the under-par camera is showstopper and the 4.3" form factor is at least a deterrent to day-to-day use, but it doesn't diminish the HD7's capabilities in its own right. I'm sure there are plenty of HD7 owners out there who have grown up with the device over the last year, along with Windows Phone itself.
Reviewed by Steve Litchfield at