Review:
Waterstones
Score:
60%
There's more than one online bookstore in the world, and if you search the Windows Marketplace then you'll find something that's... not Amazon. UK book retailer Waterstones has a strong online presence, and its Windows Phone application puts its full catalogue at your fingertips, assuming you know exactly what you are looking for.
Version Reviewed: 1.0.0.0
Buy Link | Download / Information Link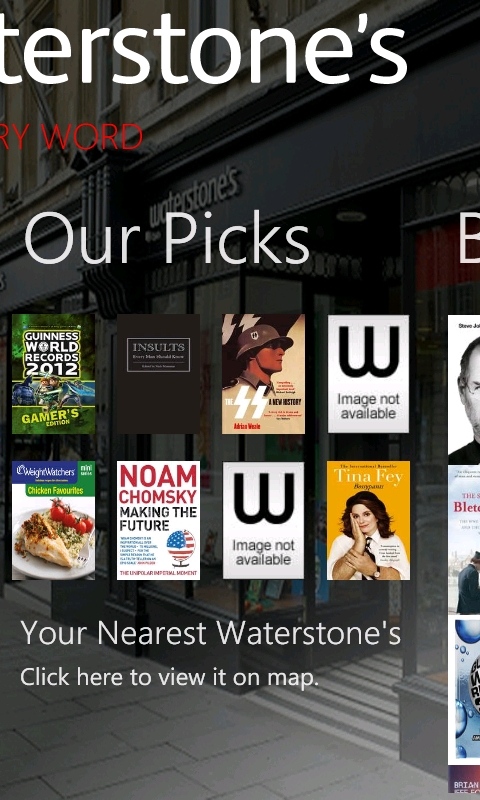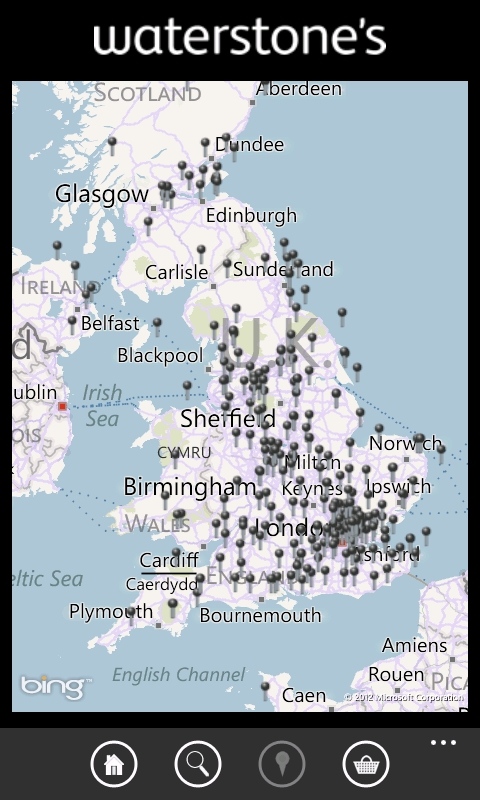 It does help to have an account with Waterstones, which is easy enough to set up inside the application. Being a portal to a retail store, you are naturally asked for your address details along with the regular name and email address.
Adding in your card details is not needed to open an account, but of course you will need to add that in when you make a purchase. If you've not added any card details, you'll be prompted for these when you go through the basket/checkout system, and you'll always be offered payment choices at this screen such as using a promotional code, gift card or Waterstones Card.
It says a lot that my first thought on downloading this application is not "what can this app do for me", but "why am I not using Amazon"? Jeff Bezos' reach is huge. But then Amazon on Windows Phone is either the Kindle eBook reader (which has an HTML5 store inside the app), or you're using the mobile website through the browser. Waterstones is actually ahead of the curve here with its Windows Phone application.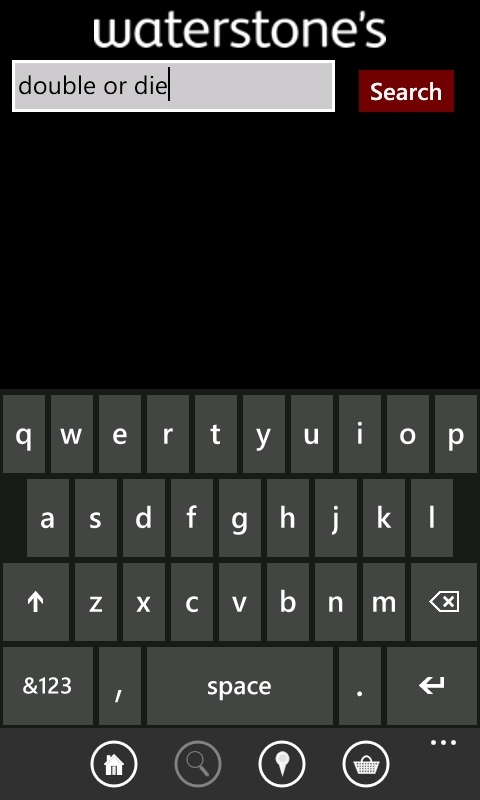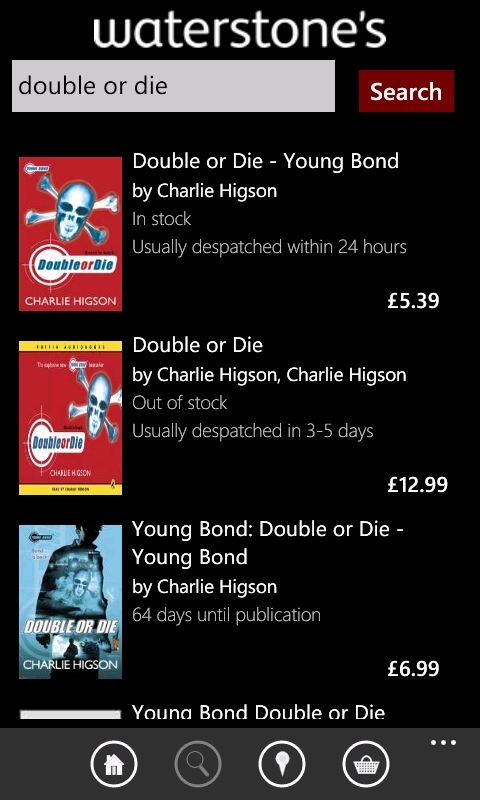 Even with the application, Waterstones is at a mental disadvantage when compared to Amazon, but with free delivery available as an option on all books (mentioned prominently on the splash screen), it is doing all it can - although, like Amazon, if you want it to use Royal Mail or a courier company then it will cost more.
A proper price comparison between the two companies is tricky, as elastic pricing is carried out by both of them, so that Higson book has an RRP of £6.99 in the UK, is on Amazon at £5.31, and Waterstones on £5.39. Picking another title at random...Riding Rockets by Mike Mullane is £9.99 RRP, £7.49 Waterstones, £6.99 Amazon. A third? Diana Galbadon's Scottish Prisoner is £18.99 RRP and £11.39 on both sites. I suspect that Amazon will be a shade better on price overall, but that's only an instinct.

The Metro UI panorama presents the main sections of the application... pre-release, new releases, and genres. There's also a map of its physical stores in the UK, allowing you to zoom in on a map and call up store details. A nice touch, with textual search, but I think using the phone's geo-location sensors to get your nearest store automatically would be smarter.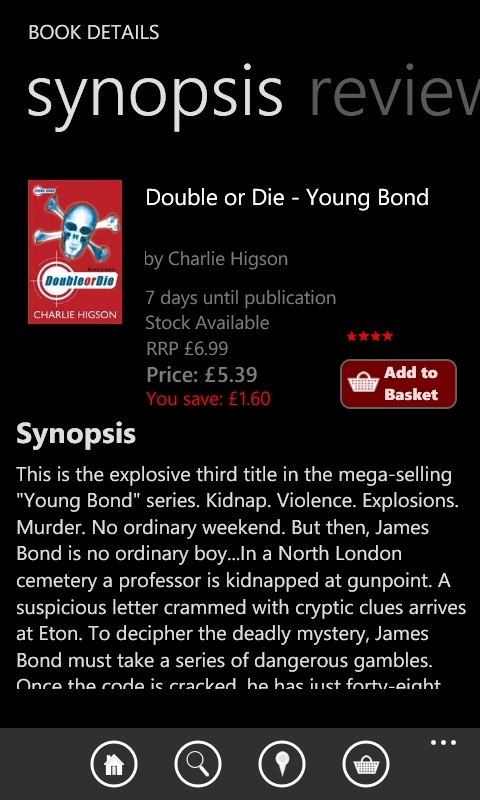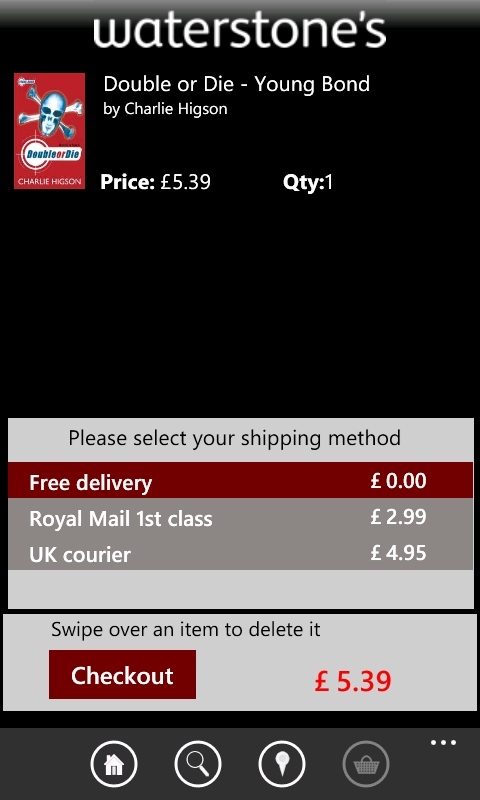 Searching the store gives you a text box to enter the term and a populated list to follow. I went for "Double or Die", one of a series of books by Charlie Higson. Would it pick up the other titles in the series? Would it pick up Higson's other series (about children surviving in a Zombie-infested London)? Unfortunately there is no "we also recommend", which kills the browsing experience for me.
This keeps the discovery focus on those features at the top of the panorama - specifically Waterstones' bestseller list (fifty titles) and "picks". You can go exploring through the genres with suggestions from the retailer being placed in a carousel along the top of the screen. Because the cover art is shown in the list, it takes a lot of scrolling to go through even a small number of books, which again keeps the focus on the titles already selected.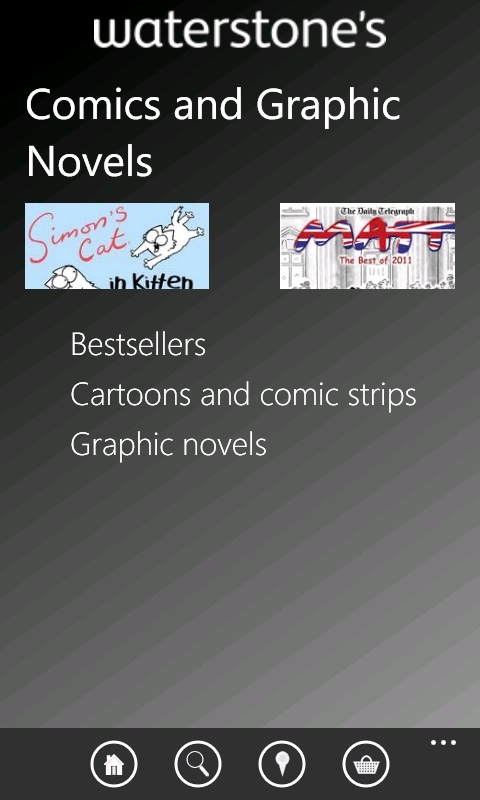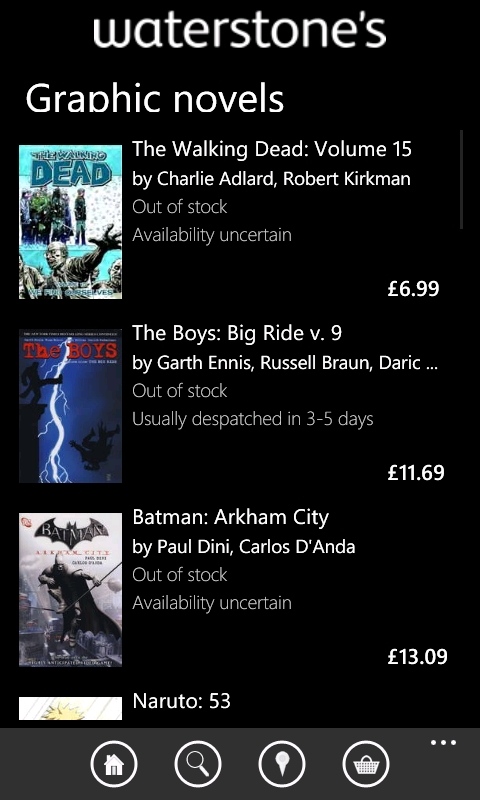 It gives the feeling that the application is telling me what Waterstones would like me to buy, rather than helping me find what I want to buy. Ultimately the latter is how I feel about Amazon. I know both are big companies that need to sell books, but this slight change in perception is enough to make me think twice about using the slick and very presentable Waterstones application.
Ed: Although the screenshots show "Waterstone's" (i.e. with an apostrophe), the official way of writing the company name changed half way through January, and is now without, so this is what is in our main text. Confusing, eh?
Reviewed by Ewan Spence at