Review:
InTheKnow (Google Analytics Client)
Score:
85%
For many online publishers, the key to everything is data. If you have good data, then you can learn from it and improve your content. Throw in the current fascination for real-time engagement and stories that can go from breaking news to yesterdays musings in under an hour, and you'll see that access to your website statistics on your smartphone might be a very good idea. Which is when Doug Rathbone's Google Analytics client for Windows Phone, InTheKnow, becomes very useful.
Version Reviewed: 1.8.0.0
Buy Link | Download / Information Link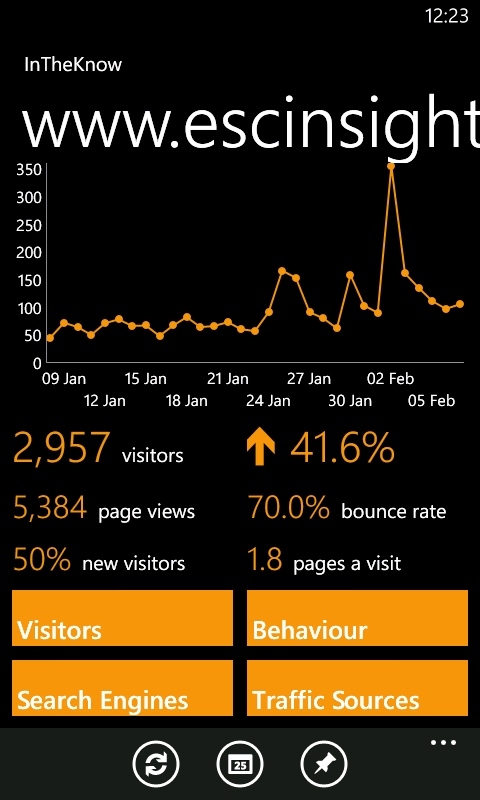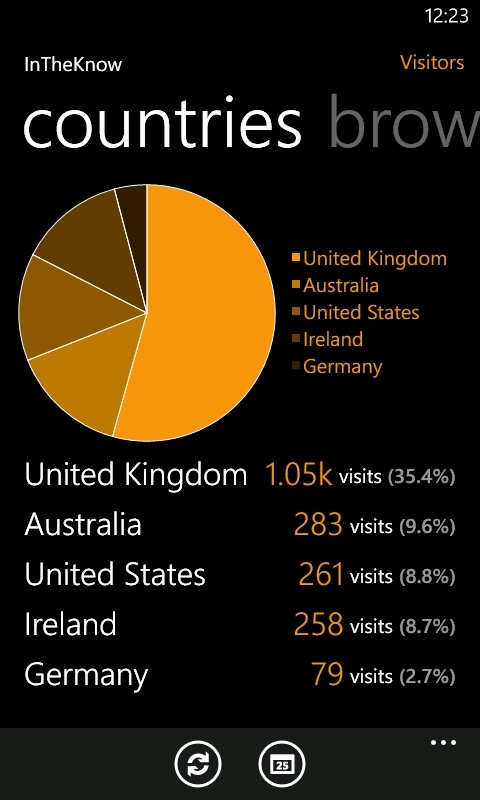 Setting up InTheKnow was easy and surprisingly straightforward, it asked me to log into my Google Account, and it went and did the rest, scurrying digitally over to Google Analytics and presenting me with the various sites that I've already spent time and effort setting up with Google. This final step of using a mobile client was therefore painless!
There's not a huge amount of interaction going on here - Rathbone's goal here is to bring you the vital stats to your screen and allow you to spot trends and issues as quickly as possible.
It's done with a simple grace, and a mix of the Metro design and clear buttons. Rather than a panorama as the top level screen, you have a single page with the high level stats for the website, and you can drill into visitors, behaviours, search engines, or traffic sources from the buttons underneath.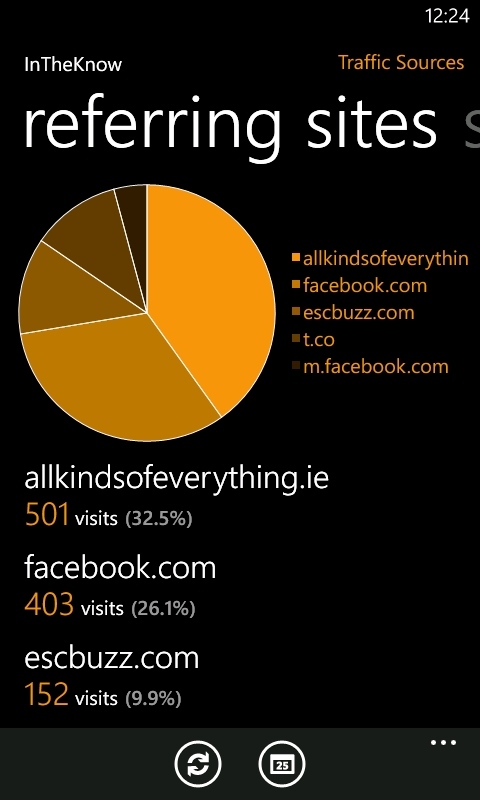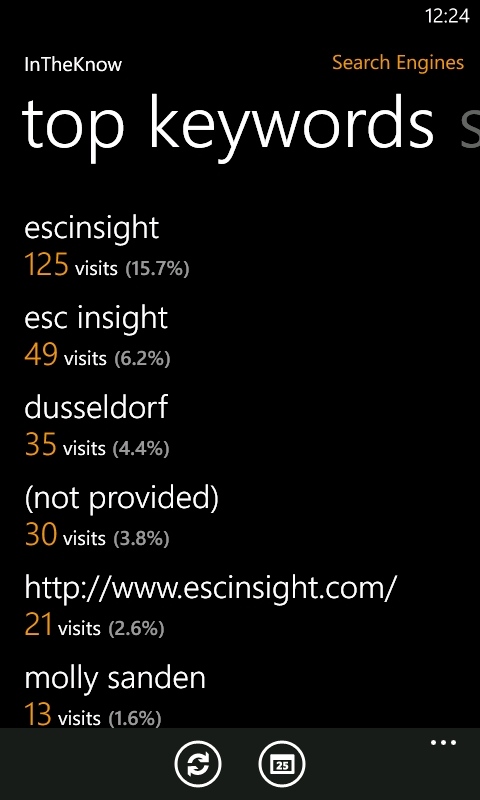 Each of these leads to a panorama view with more details, breakdowns and graphs. For example, the Visitors view has breakdowns of countries that have visited the site, operating systems used (desktop and mobile) and screen resolutions (all with pie charts, for faster comprehension of the numbers). Yes this is data I could get from Google and a big screen, but it's far more accessible here. Congratulations to Rathbone as well for taking the theme accent colour and using various shades of that base colour to populate the charts and highlight the relevant stats. It's a shame that the application icon is a fixed purple background under the graphic and doesn't follow the theme colour selected by the user.

And I do respect the decision on the date filter. Would I like an advanced option to specify my own dates? I think so, but that doesn't mean these quick choices (of today, this week, this month, or this year) aren't welcome, and help to speed up your flow through the application.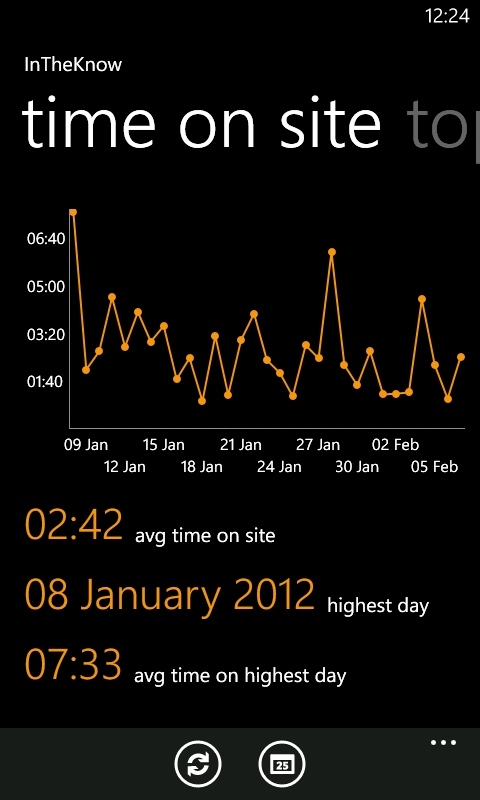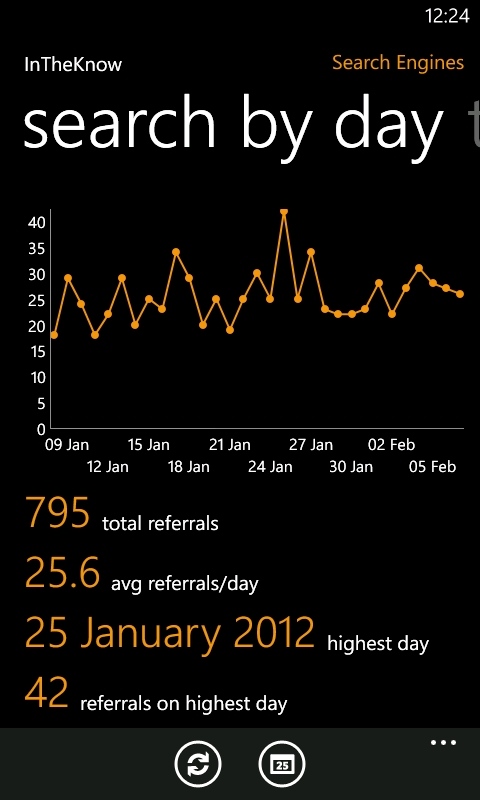 Then there's the Live Tile. Most people like to keep an eye on traffic to their sites, but it's rather like watching a pot of never boiling water. InTheKnow allows you to pin the website stats to your home screen, with visitors, page views, and trends on one tile, with the bounce rate and average length of a visit on the other. You can pin more than one site, or the same site twice with different date ranges (stats for today, and stats for the week, for example). And you will get a little bit of boiling down, as live tiles will only update every thirty minutes, which is enough time for them to go up (or down).
The application has a seven day demo period, which is an unusual approach (timed demos aren't exactly encouraged) but I'm hard pushed to see which functionality Rathbone would meter out for a limited trial. There might be very few options for you to tweak, but it does the job of getting you the numbers both smoothly and beautifully. That's one smart piece of design underlying the application's code base.
With such a useful application (at least for webmasters), I would hope the conversion rate from the seven day trial to the full version is strong. At £1.49 in the UK it's a no-brainer purchase for anyone whose business is web related and uses Google Analytics.
Reviewed by Ewan Spence at