Review:
Nokia Dual USB Car Charger (DC-20)
Score:
85%
Power hungry smartphones are always looking for a recharge. So a car charger is going to be high on the priority for a lot of people. But which one should you get? One option is Nokia's DC-20 unit, which initially draws the eye with its twin USB charging ports. And while USB car chargers are never going to generate much excitement, the Nokia DC-20 is a diamond amongst the rough competition.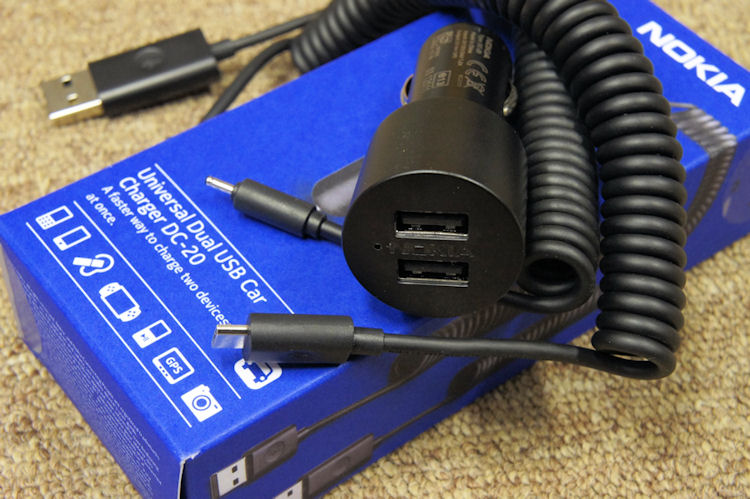 The DC-20's charging unit, housed inside a hard plastic shell, is very solidly constructed, with excellent build quality. The unit is compact too, once plugged in there's only about an inch (2 cm) sticking out. Pushing the charging unit into the connector does require a firm shove because the metal connectors on the side are quite stiff, but that's a good thing as it guarantees a reliable power connection and holds the unit very firmly in place.
For most people, the most important feature of the DC-20 will be its twin USB charging outputs. Two devices can be charged at the same time from a single power source. It's ideal if you carry multiple devices, have accessories that you want to charge at the same time as the phone (e.g. Bluetooth headset), or have power hungry passengers.
The second most important feature of the DC-20 is that both its USB ports have an output of 1000mA. This is higher than many third party car chargers, which often only provide around 500mA. Moreover, from our basic tests, the unit really is delivering 1000 mA, something that's not always true of lower quality units that do claim to deliver this.
The 1000mA output results in quicker recharge times (though still not as fast as a wall charger). It also means you'll be able to recharge a phone even if you're also using it for something that's power hungry (e.g. GPS navigation). Perhaps just as importantly, it also means a greater range of devices can be used with the DC-20. That's because some devices require higher output levels in order to successfully charge via USB.
The sales package comes with the Dual USB Charger unit (DC-20), a Nokia USB to microUSB charging and connectivity cable (CA-19C) and a Nokia USB to Nokia 2mm charging cable (CA-192C). The inclusion of these cables means that you'll be able to recharge any Nokia phone or accessory from the last few years. And with microUSB becoming more and more common, you'll be able to charge a lot of other devices too. You can also plug in other USB cables and these should work fine.
Both of the supplied cables are 190cm long when fully stretched out and about 25cm long in their compact form. The quality of the cables is also very good; they're built to last and should have no trouble standing up to the inevitable wear and tear of in-car usage (I've already shut one in a car door with no ill effects).
Ultimately what stands out about the DC-20 is its high overall quality. In a market flooded with cheap, low quality car chargers, it really is a breath of fresh air. If you need to charge your Nokia device or accessories in the car then this is our recommended solution.
You can pick up the DC-20 from most mobile accessory retailers. The price does vary, so it is worth shopping around. The best price we found, at the time of writing, was Amazon UK for £9.99. That's in line with Nokia's recommended retail price (€15) and is very reasonable, given the high overall quality and the presence of dual USB ports. However, if you're looking for a budget option, try the Nokia DC-6 (microUSB) or the Nokia DC-4 (Nokia 2mm), which are both available from £4.

Video Review
This short video shows you the Nokia DC-20's box and content and offers a quick overview of the key features.
Reviewed by Rafe Blandford at