Review:
Nokia Trailers
Score:
87%
Nokia Trailers, available exclusively for Nokia's Lumia devices, is an app for easily streaming, downloading and sharing trailers for current and upcoming films. Thanks to a beautifully designed Metro interface and a well thought out feature set, it has the kind of great user experience that every app should aspire too.
Version Reviewed: 1.0.0.1
Buy Link | Download / Information Link
Nokia Trailers opens with a panorama view. A spotlighted film, currently The Dark Knight Rises, is shown on the opening featured page, while movie posters for the ten most recently added trailers are shown on the 'just added' page. The 'highlights' page spotlights certain films and the menu page gives access to full content listings and other functionality. Tapping on 'coming soon', 'most popular' and 'all movies', on the menu page, takes you to thumbnail lists that show all the film trailers available via the app, ordered by release date, user rating and alphabetically, respectively.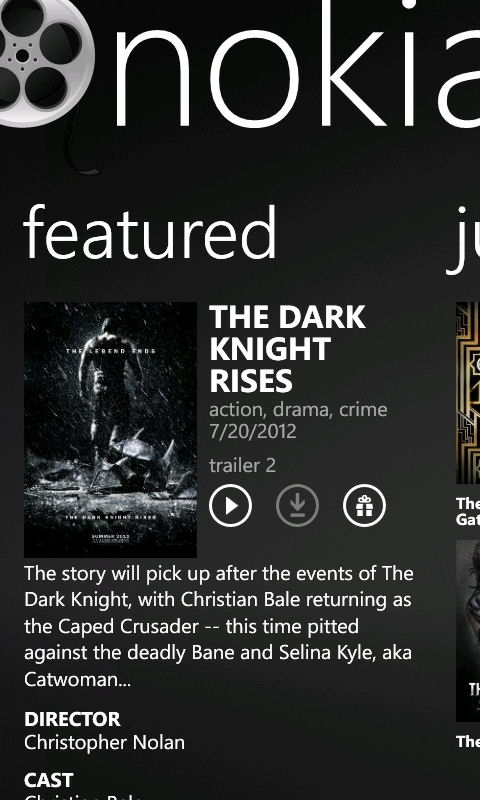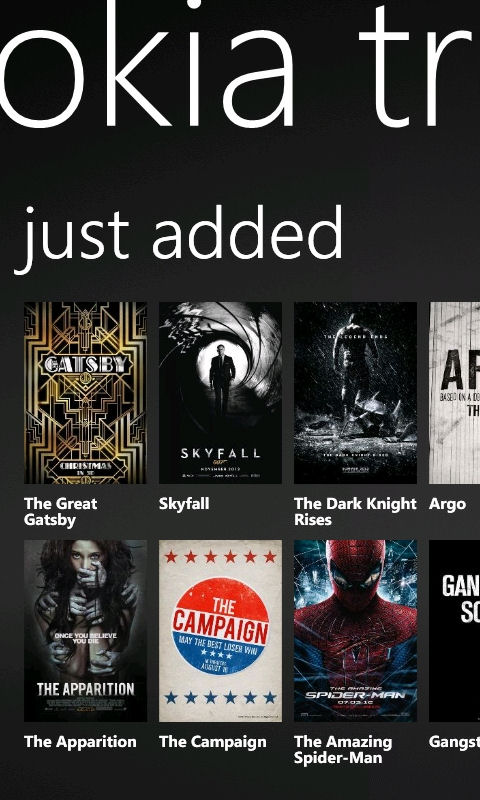 Each film gets its own details page, with information about the genre, release date, user rating, director, cast, summary description and listings of the available trailers. Some films have multiple trailers available (e.g. teaser trailer, trailer 1, trailer 2); each trailer can either be streamed, downloaded for offline use, or shared with friends (via sms, email or social networks).
Film trailers are streamed or played, in full screen landscape orientation, using the standard Windows Phone video player. Both sound and audio quality are excellent; it's clear that all the trailers have been optimised for the best possible experience on Lumia devices.
Tapping the download button for any trailer kicks off a background download and, once it's complete, the stream option, for that trailer, will change to a play option. Completed and in-progress downloads can also be viewed, played and deleted from the 'downloads' entry in the main panorama. The advantage of downloading a trailer is that it will be available offline and there'll be no streaming stutters on slower connections.
Incidentally, Nokia Trailers has a full offline mode, with film data cached from the last time the app was opened, and any previously downloaded trailers available for playback. It will also automatically recognise if a data connection becomes available again. It's great to see this option, as many Windows Phone apps just assume that a data connection is always available, which anyone who uses a smartphone outside a metropolitan area will tell you isn't true.
When you share a trailer, a link to the Nokia Trailers website, hosted by Futurice, is included. This shows the shared trailer running on a Nokia Lumia 800, which is a clever piece of cross promotion, and a good example of the kind of attention to detail that really makes Nokia Trailers stand out from the crowd.
You can navigate to the next or previous trailer in a list by swiping left or right; or by using the toolbar buttons. The toolbar also has a 'watchlist' button. This will add the movie to your watchlist, the equivalent of a favourites list, and also offers the option of setting a reminder.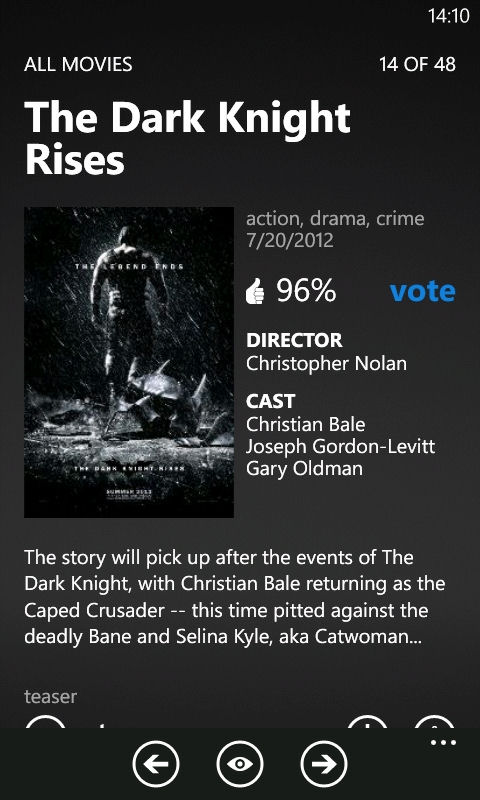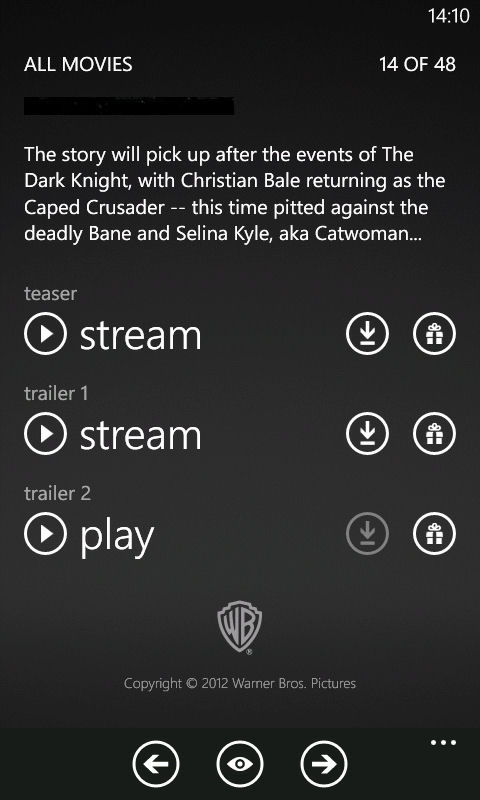 Somewhat hidden away in the menu page of the main panorama is a helpful extra: movie theatres, which helps you find your nearest cinema. It'll also show the cinema details, with address and contact information. There's definitely room for improvement here. For example, I'd like to see film timings and integration with Nokia Maps / Drive for navigation included here (currently the address can only be copied to the clipboard), but that's a very minor quibble.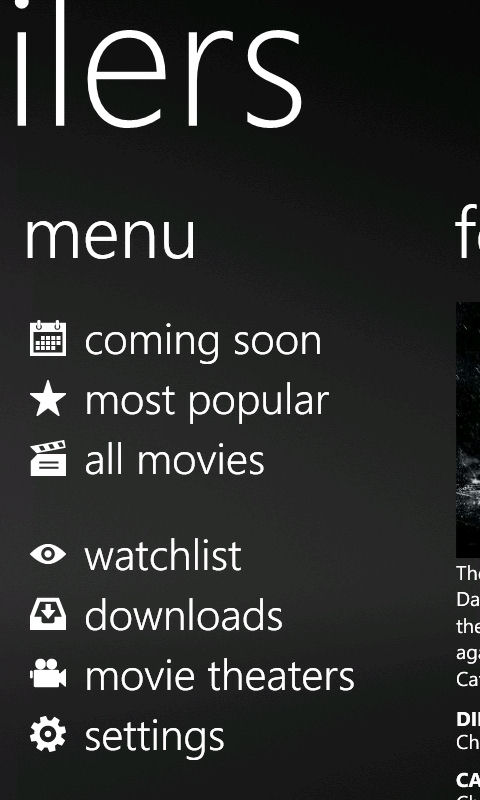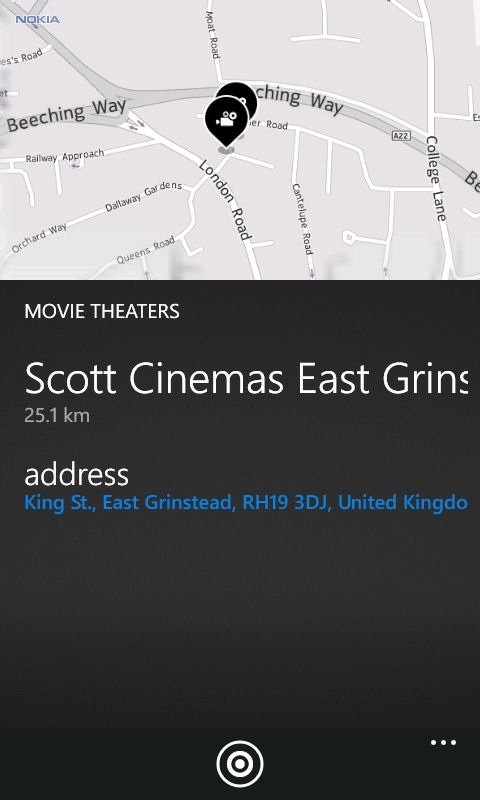 Nokia Trailers includes support for a Live Tile, but do note that you need to manually add this to the start screen (long tap on the app in the app launcher and choose "pin to start screen"). With the Live Tile turned on (via the app's settings) the back side of the Live Tile will be updated when the featured film changes or new content is added to app. There's also support for push notifications, which are used to provide information on new trailers.
The app's settings also let you configure whether you want to use your location for the 'movie theatres' feature, whether you want to be prompted to set a reminder when adding a film to your watchlist and whether to use WiFi only for downloads (useful if you're on a capped data plan).
Nokia Trailers started life on the Symbian platform and you can read our review of that version here. The Windows Phone version makes the most of the UI and feature set of the platform, but also builds on the foundations of the Symbian version to offer a mature app that belies its 1.0 version number.
Nokia Trailers, which has been developed by Futurice, can be downloaded from the Nokia Collection section of the Windows Phone Marketplace (or by using the QR code on this page). It's never been easier to get film trailers onto your smartphone. Highly recommended for any Nokia Lumia owner.
Reviewed by Rafe Blandford at