Review:
Nextgen Reader (Google Reader)
Score:
94%
One of the essential tools for any enthusiast, blogger or journalist, is RSS feed reading. Google Reader is one of the most popular online readers, which many smartphone users require an app for. That's just what we have for Windows Phone 7 with Nextgen Reader. This app has been actively supported, with regular updates and user interface improvements. So it's definitely a good investment. For more details and to find out if it's the tool for you – read on.
Version Reviewed: 3.0
Buy Link | Download / Information Link
I've been using Nextgen Reader for a long time, and even though I know how to use all of its features, there are still beginner guides that I really appreciate. That is, after every major update, or via the settings menu, a tutorial is included to show you how to use every single aspect and gesture of the application. This goes way beyond the simple instruction pages or changelogs that you'll find in other applications; rather it's an annotated guide to every facet of the user interface. Even when you think you've become an expert with Nextgen Reader, it's worth looking at this guide after an update in case there's a new feature to learn about.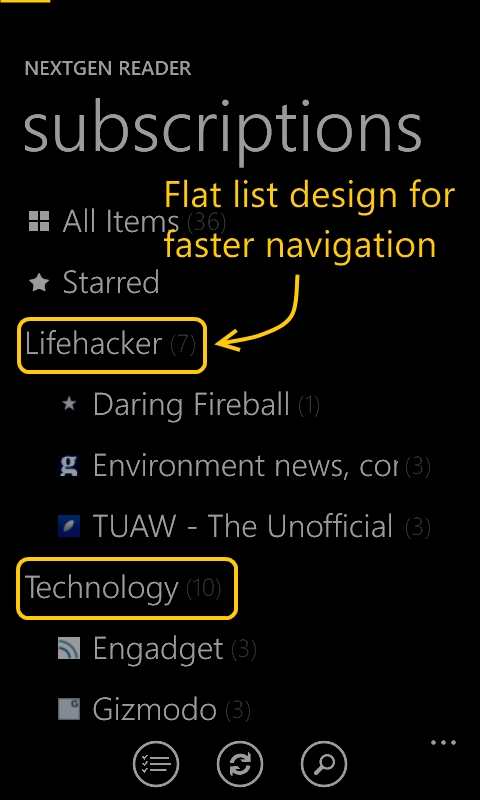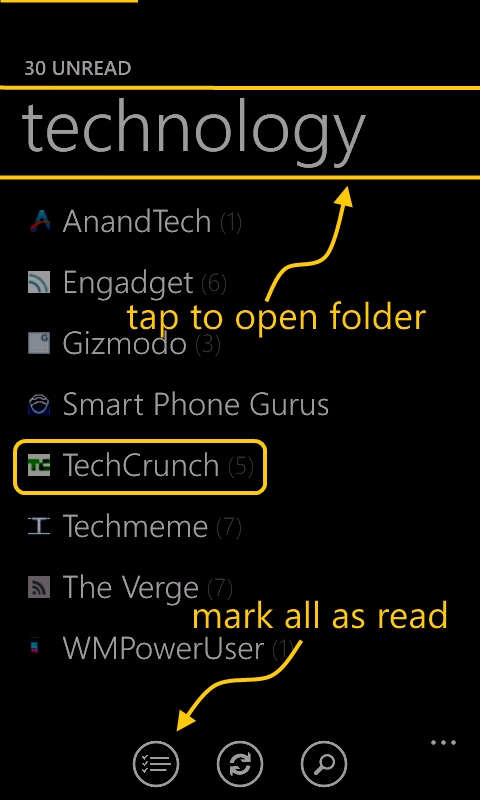 Nextgen Reader tutorial
Nextgen Reader has a simple and elegant user interface, the very model of simplistic Metro UI design. However, beneath the surface there is an abundance of options, so you can tweak the application's presentation and behaviour to your heart's content. Actually, Symbian and Android users would be at home in this application.
The initial view of Nextgen Reader gives you a list of all of your Google Reader folders with unread items, automatically expanded (which is a user preference) to show the updated feeds within them – forming an indented list. The toolbar allows you to mark everything as read, refresh, or search.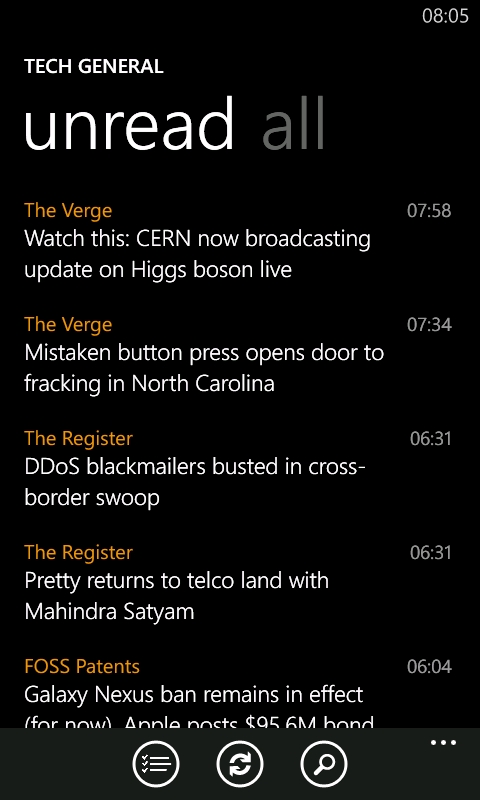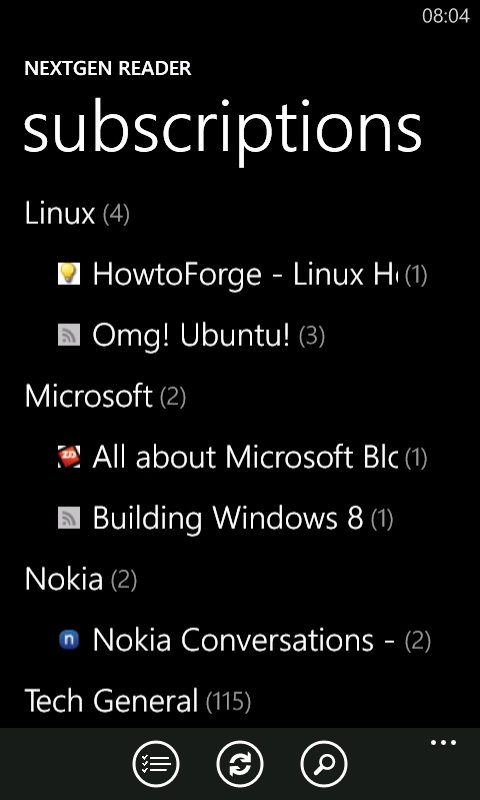 Viewing articles, folders and feeds.
Whether you tap on a folder name or a feed, you'll be presented with a list of all the unread items. However, you can pivot to a list of all items within that feed/folder too. In this view the 'mark all as read' button is replaced with simply 'mark all'. From there, coloured tabs appear next to every story (similar to selecting multiple items in email), allowing you to deselect posts before you use the menu to mark everything else as read. Via the menu, there are options to mark items older than a day or a week as read – making mass selections even more straightforward.
While reading posts, images are shown inline, and you can move from article to article by tapping on either side of the screen or swiping. This makes reading articles feel a lot like reading an ebook (e.g. Kindle or Nokia Reading). As with most things in Nextgen Reader, each of the gestures can be switched on and off in the settings.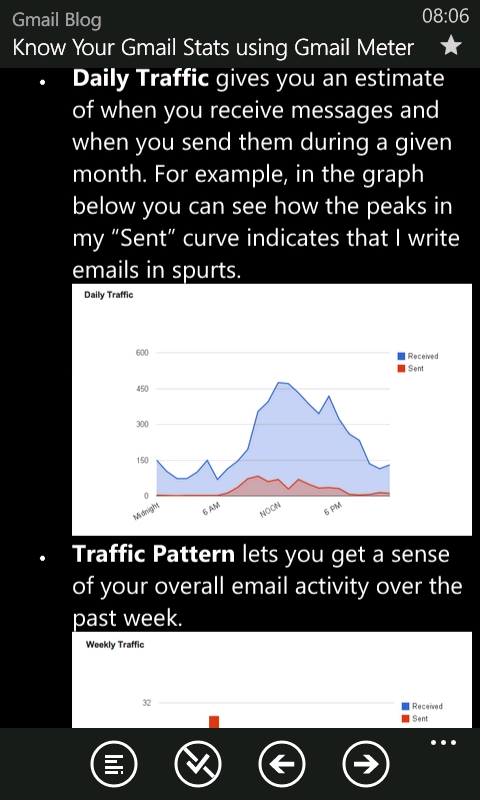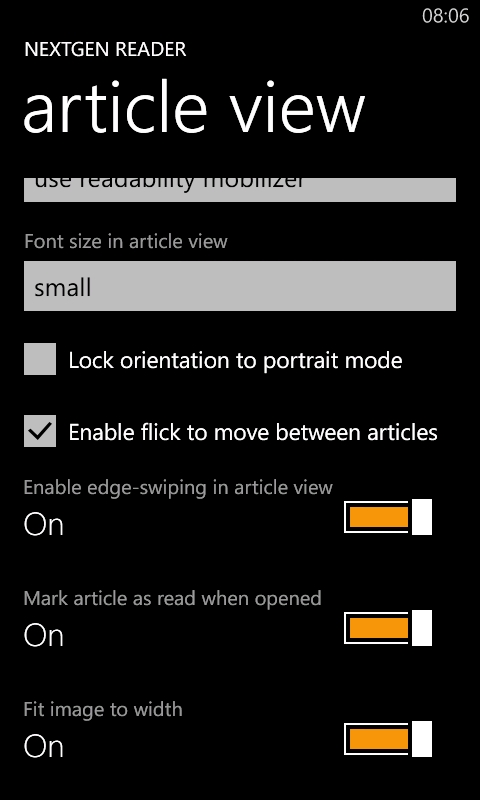 Viewing embedded images and gesture settings
As you'd expect from any Google Reader application, there's support for starring articles. Starring is something that doesn't have a prescribed usage, you can use it as a favourite or long term reference category or as a 'read later' or 'act on this' type of flag, just as you would star/flag emails.
Speaking of 'acting' on posts, Nextgen Reader has just about every option you could think of. In fact, there's a whole section in the application settings for third party accounts. Social network support covers Twitter, Facebook, and Windows Live. However, as most Windows Phone users already use these accounts natively it's a shame that we have to log in twice.
Another way in which some people process stories in their news feeds is to pass them to 'read later' services, and Nextgen Reader supports the three major services in that niche: Pocket, Readability, and Instapaper.
If an article doesn't display well in Nextgen Reader, there are a few options for opening the article on the web. A menu option allows you to open the page directly in Internet Explorer. More conveniently though, is a 'View' button on the toolbar, which can be configured for just Internet Explorer, or to view on the web via various 'Mobilizer' services: Instapaper, Google or Readability.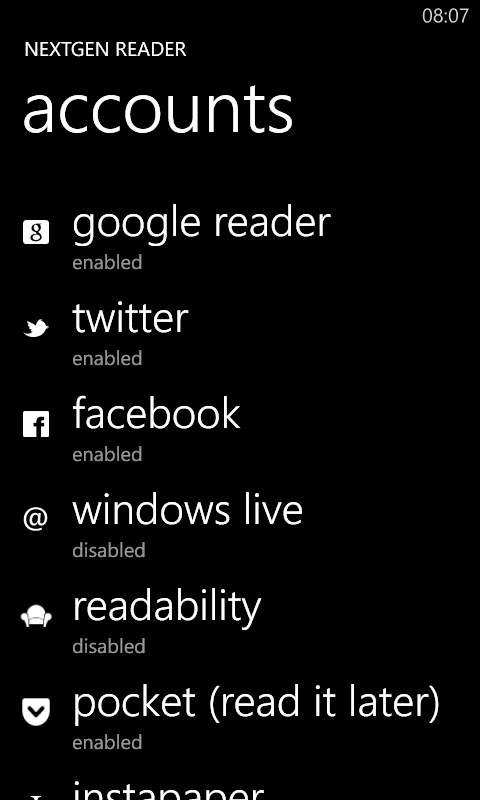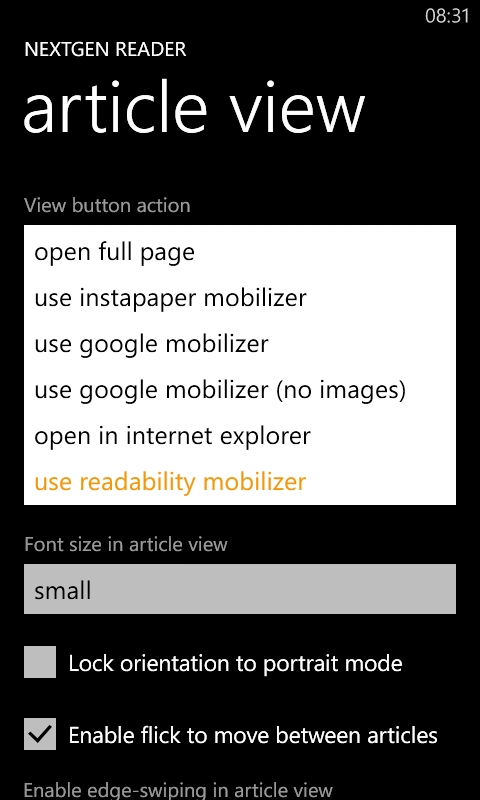 Settings up accounts and 'mobilizer' options
Live tile support in Nextgen Reader is comprehensive too. The main application tile can be static or live with an unread count. The tile can also optionally be set to flip over and show the title of one of the unread articles. You can do the same for any feed or folder in your Google Reader account. Static tiles can also be added for all items and starred items.
The live tile update frequency can be set, so you can fine tune your power consumption, and Nextgen Reader's 'background updates' can be disabled from your device's settings application. In my time with Windows Phone 7, Nextgen Reader has been one of the few applications for which I have not disabled background updates.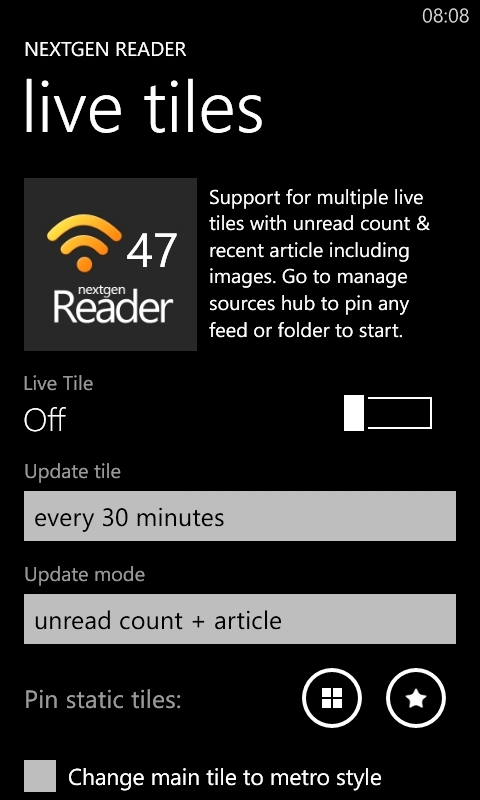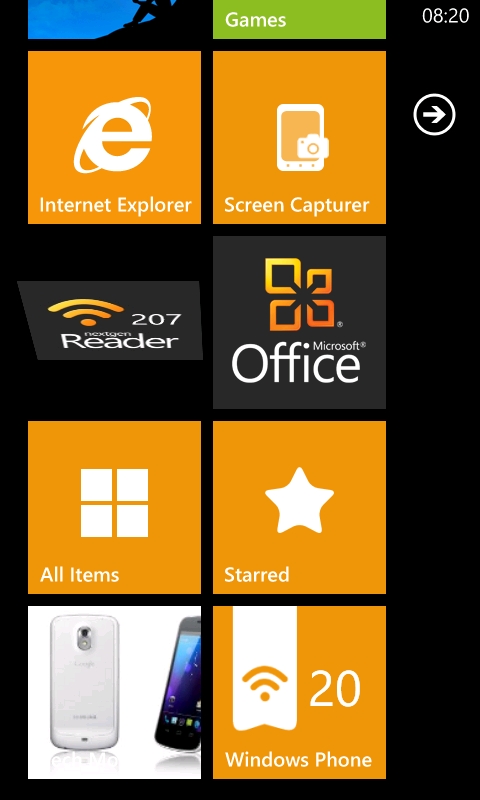 Live tiles in Nextgen Reader
Finally, you might be wondering what sort of feed management is possible with Nextgen Reader. From the "Manage Sources" menu, you can browse for new feeds based on category or search – which is great. Then you can add them to any folder you like. You can unsubscribe via a long-press menu; and you can move feeds to a different folder.
If RSS feeds are an essential part of your daily tech routine, and you manage them with Google Reader, then Nextgen Reader is the definitive application for Windows Phone 7.
Nextgen Reader costs £1.49 and has a free trial. See our AAWP App Directory.
Highly recommended.
Reviewed by David Gilson at