Review:
Podcast Picker
Score:
63%
For some reason, getting podcasts onto a Windows Phone without using the Zune desktop has never been an easy ride. While the Mango update did bring the ability to have the synchronisation of the podcast on the handset, it still needed to be set up in the Zune PC suite in the first place. A number of applications have stepped up to try and fill the deficiency of podcasting in Windows Phone, now it's the turn of Podcast Picker.
Version Reviewed: 2.0.0.0
Buy Link | Download / Information Link
One of the major problems that any podcast application will have is that the environment on a Windows Phone handset is going to limit many of the areas that users would hope would just work - a third party application is not going to be able to download any audio files into the main media library, it can't sit in the background, it will struggle to sync podcasts quietly, and any application is going to be a bundle of compromises.
And it's very hard to not look at an application that has done its best to try and get round those compromises and ignore the precarious position it's been put in by Microsoft. But let's try to do so with Podcast Picker, and the areas important to a podcast client - discovery, download, listening and user interface.
Podcast Picker allows podcasts to be added through two methods. The first is by direct input of an RSS feed, which is nice to see and means that it's impossible to not have your favourite podcast in the system. The second method is through search. A simple dialog box so you can go for the name of a podcast, or some generic search terms, and you'll have a list of podcasts presented to you. These are sneakily culled from iTunes, which is arguably one of the definitive sources, although using it as the search engine isn't something I would plan a long term business around.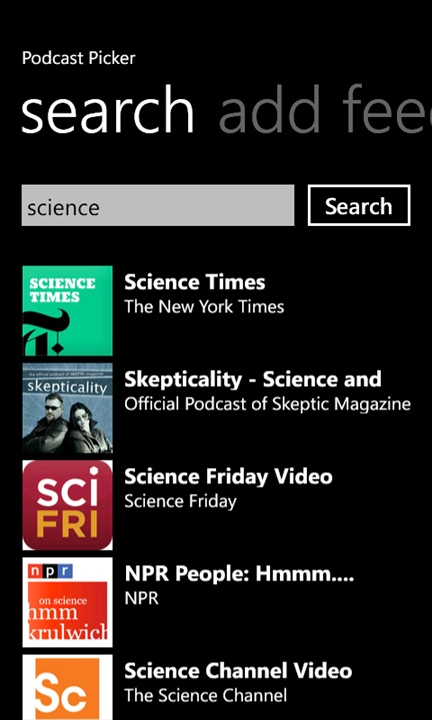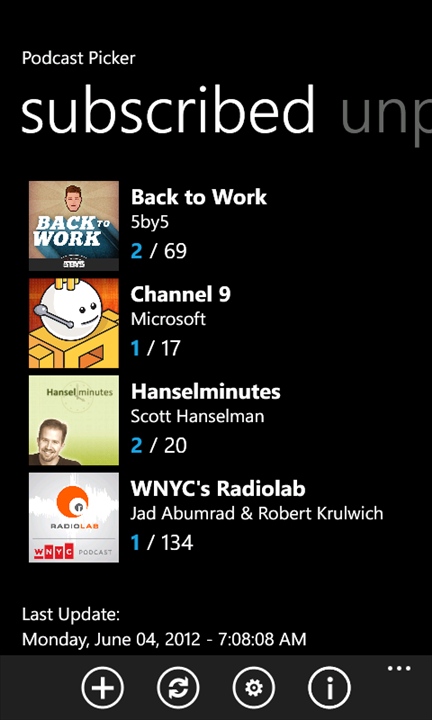 Once you've added some podcasts, they'll appear on the main panorama, under the subscribed section. Swiping left and right brings up lists of unplayed podcasts, those that are still being downloaded, and (if there is one) the podcast episode currently being played. These filters should guide you through your podcast collection and help you stay up to date.
While it is possible to stream a podcast episode (the button is there when you click through on a show's episode list), under most circumstances I think people will end up downloading podcast episodes to listen to on their device. Downloading can be restricted in the settings so it only happens when you're connected over wi-fi to keep down your data costs, and you can set the app to automatically download the latest episode of a podcast.
Of course, with the app checking when it starts-up (remember how Windows Phone handles 'multi-tasking' doesn't fit in well with what you expect a podcast client to do) this reduces a few button presses, but doesn't negate the "must remember to check" nervous tic that you'll need to develop while using Podcast Picker (or just set a regular alarm that says "Run Podcast Picker" thirty minutes before leaving the house for a regular commute).
You always have a manual button to download a podcast as well.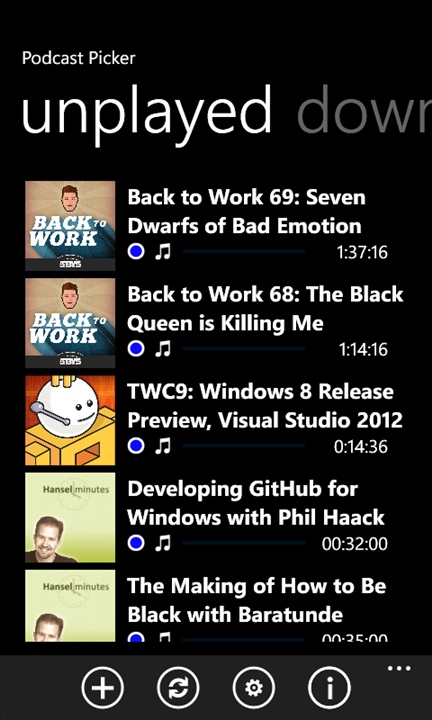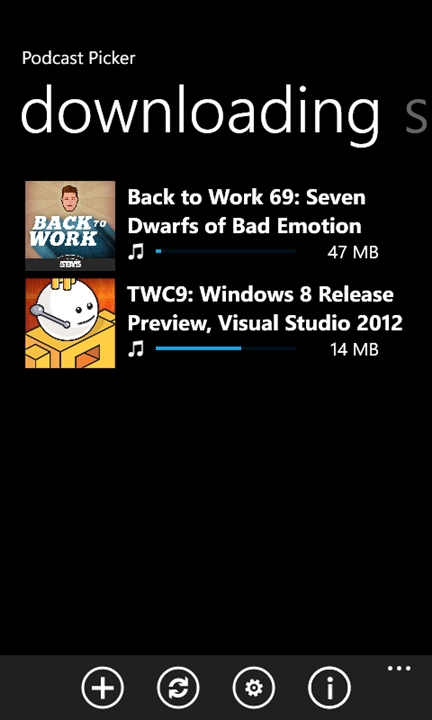 It's important to realise that, as a third party application, Podcast Picker will not be able to see any of the podcasts that you have set up in the Zune PC suite. Neither will it be able to see any episodes that belong to these podcasts, or have any of the podcasts downloaded by Podcast Picker added to your media library. Essentially Podcast Picker (like many podcast apps) is an island of audio.
There are some options developers can use to build bridges with media applications. They can integrate the app into the Music and Video hub so it shows up as an application; they can have their audio or video tracks listed in the History section of the hub, any new downloads can show up in the New section... Unfortunately Podcast Picker doesn't do any of these. The furthest down the integration route it goes is to use the standard volume and playback controls when a podcast is active.
When there's one major point of integration into an operating system, and you avoid it, well, that right there is a missed opportunity, and one that Podcast Picker needs to look at very soon.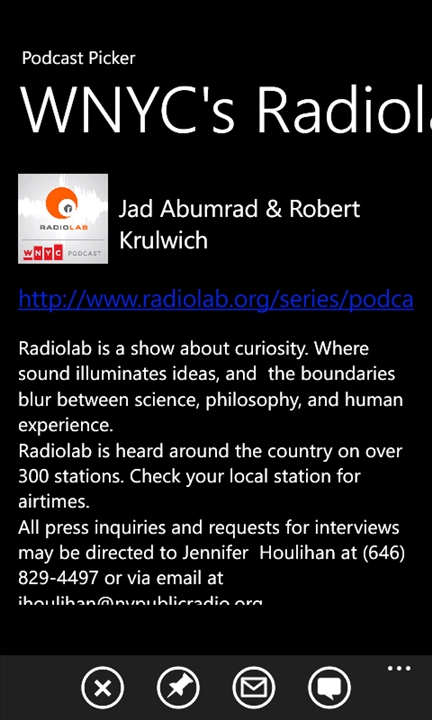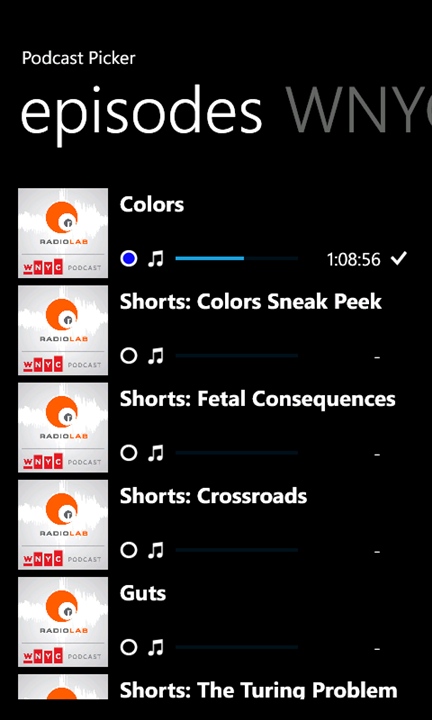 Podcast Picker will let me grab podcasts while I am out and about, and it does this in a totally self-sufficient way. There's a lot of appeal for that service, but for me it doesn't quite click. I'm pretty settled in the podcasts that I listen to, and I'm close enough to my laptop at least once a week that I can pick up the latest shows. That means Podcast Picker has little to offer me. How it fits around your podcast listening style will determine how useful the app will be for you. There's still scope for some polish in the app, so it's a good swing for the podcast ball, but it doesn't quite connect.
Reviewed by Ewan Spence at