Review:
BoxShot
Score:
90%
Cloud storage is an integral part of Windows Phone 7, and in Microsoft's vision of the third ecosystem, SkyDrive plays a large part in your online life. However, what if you're already using a different cloud service? What, if like many people, you're already using Dropbox? Well you're not as stuck as you might think you are. Windows Phone 7 has several Dropbox clients, and BoxShot is one of them. Here you can browse and open your files, and even automatically sync your camera roll.
Version Reviewed: 3.0
BoxShot does well at implementing the Metro UI style; it has a wide panorama, complemented by accent colours and live tile support. The first section you'll find yourself at is Favourites. Of course, when you start using BoxShot this will be empty and you'll build up entries as you find which folders you access most frequently.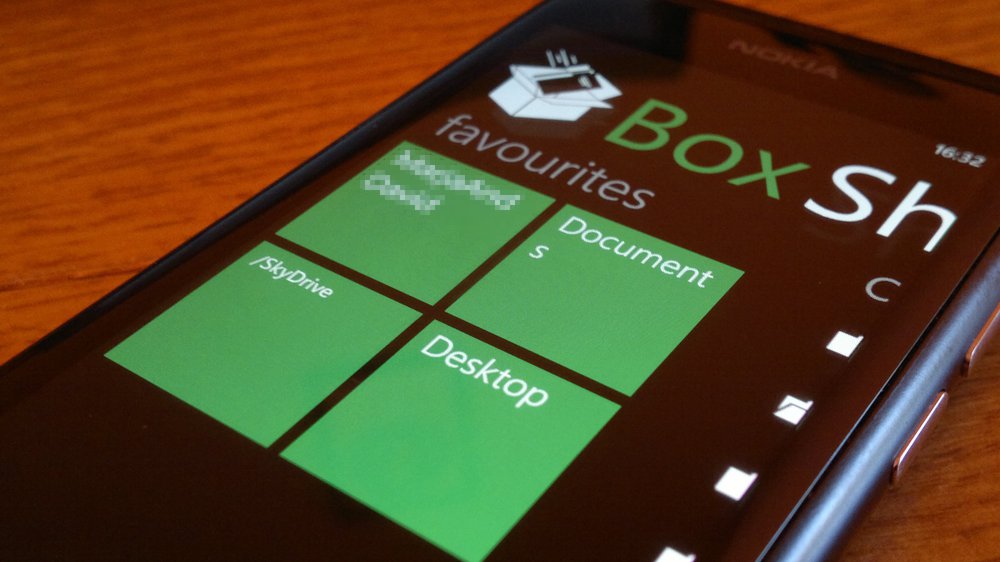 Favourite Folders
The next section is 'Contents', where you can start browsing from the root level of your Dropbox folder. As you scroll through files, small thumbnails are shown for images, which is a great help when you're looking for a specific photo. Due to the platform restrictions of Windows Phone 7, there are a limited number of actions you can perform for saving to your Dropbox account though. Note that once you navigate into a sub-folder, you are restricted to an "up-down" navigation model, there's no pivot view for files or folders.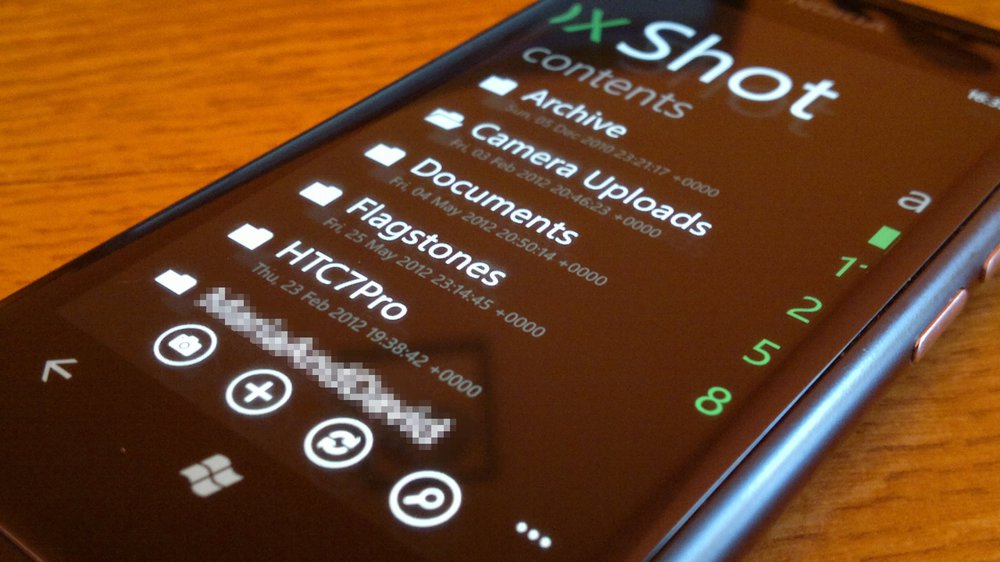 Browsing contents
Both directories and plain text files can be created – and similarly you can edit text files via the built-in editor. However, it's only possible to upload images from your device – even captured videos are excluded from the available 'files' for upload. It bears repeating that this is a limitation of the platform and not the fault of the application.
For files on your Dropbox account, a long-press menu provides you with a comprehensive set of actions to perform; e.g. delete, rename, move and copy. The 'Open' option downloads a temporary copy of the file to your phone. However, if it's a file type for which there's no compatible viewer on your phone, the chances are you'll get an error page in Internet Explorer telling you it's an unsupported file type.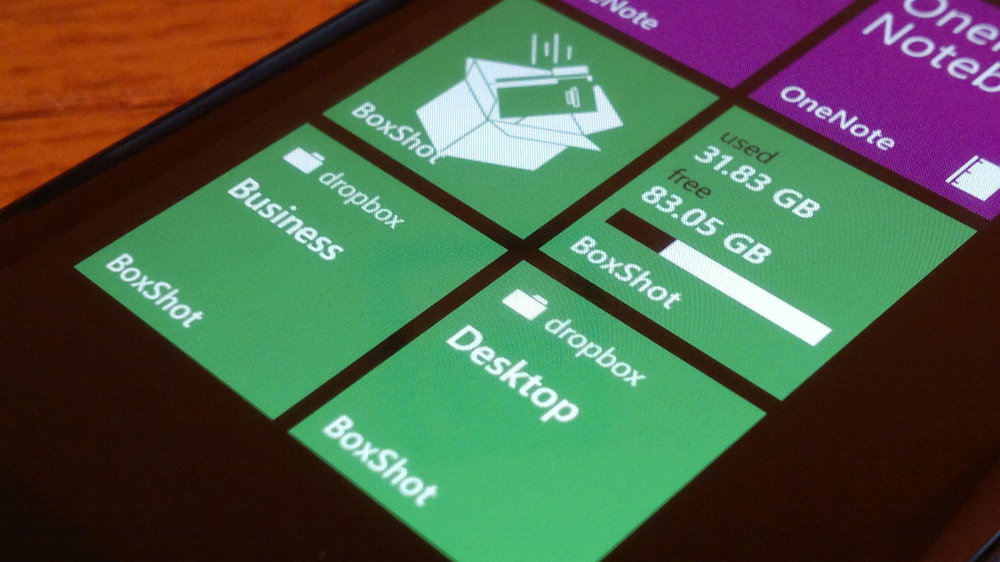 Live Tiles of BoxShot
Similarly, folders can be renamed, deleted, copied and moved. However, the long-press menu also lets you add them to your favourites section and to your start screen as a static tile.
The main application has an option for an actual live tile. Rather than displaying the application logo, the tile displays a meter indicating how much of your Dropbox quota you've used. This will be particularly useful to people on free accounts who could easily get close to their full storage allowance. This information is also displayed in the "Account" section of BoxShot, where it includes how much space is given over to your shared folders as well.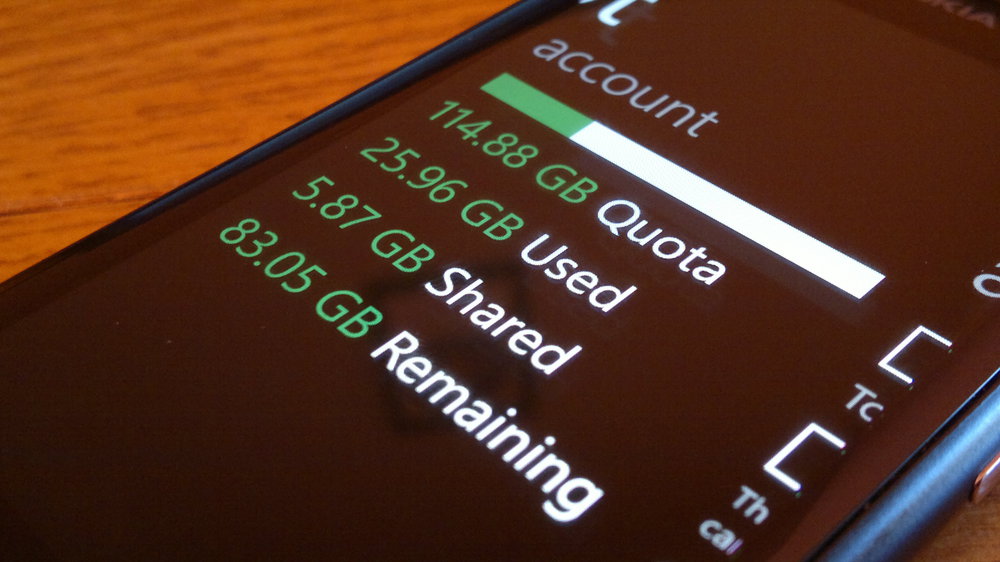 Viewing your Dropbox usage
One part of life as a Dropbox user is trying to earn more space by passing your referral link around. If that applies to you, then you'll be glad to know that BoxShot makes it easy to send your referral link by both email and social networks.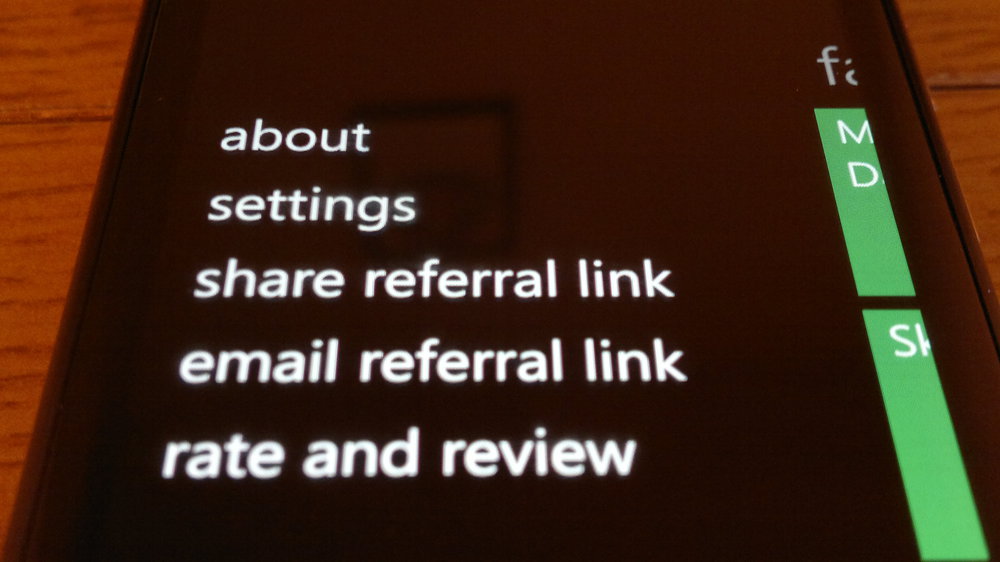 Accessing your referrals link
In yet another limitation of Windows Phone 7, when you want to select photos from the gallery for whatever reason, there's no way to select multiple items from the native gallery view. So uploading a batch of photos from your Windows Phone 7 device to Dropbox (in whichever app) has always been fiddly.
Some may say the remedy to this is to enable automatic uploading to SkyDrive. Well, I'm sorry but that isn't good enough, as you can't limit it to WiFi only, and photos are scaled down to 719 pixels wide. This is hardly a robust backup solution.
Good news, BoxShot recently added the 'album sync' feature, which synchronises selected albums on your device with a folder in your Dropbox account. Fortunately, BoxShot does not scale down images – and can therefore be used as a true wireless backup service. One that doesn't depend on the Zune desktop.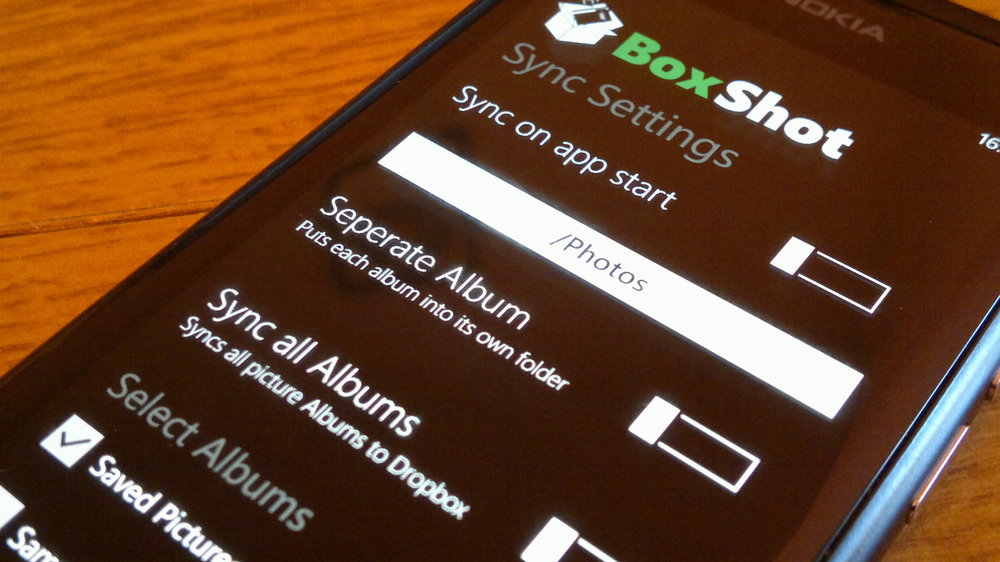 Photo sync settings
The album sync does not have an explicit option for limiting uploads to WiFi. However, there is an option to have BoxShot synchronise automatically whenever it is started or to initiate manually. If you opt for the latter, you can avoid mobile data usage by waiting until you're in range of a WiFi hotspot.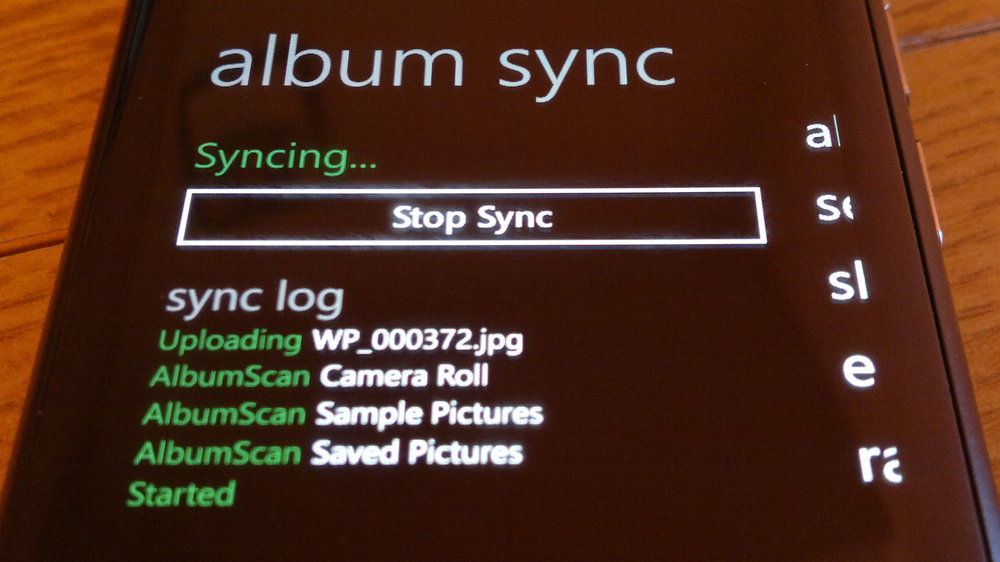 Synchronising photos
An important question to ask is whether BoxShot (via Dropbox) can completely replace SkyDrive on your Windows Phone 7 device? The answer here is an unsatisfying "almost". While BoxShot is actually better than the native SkyDrive integration for backing up photos, the same is not true of handling office documents. You can download a Microsoft Office file from your Dropbox account and open it for editing. However, your changes must be saved to SkyDrive, or to your phone. Therefore, there is no way to 'round trip' a file to Dropbox and back – unless you're a power user who has some way of uploading via email. Alternatively, try my solution of having the SkyDrive folder be a sub-folder of the Dropbox folder on your PC and always have your computer switched on, keeping the two services in sync!
BoxShot costs a mere £0.79 in the Windows Phone Marketplace, and you can find it in the AAWP App Directory.
Highly Recommended.
Reviewed by David Gilson at