Review:
Qype
Score:
60%
Even if you are not a member of Qype, it's likely that you'll have benefited from the European based service when searching the web for local customer reviews of shops, cafés, etc. With the mobile app, you can look up reviews of locations in your area, as well as checking in at and reviewing places you've just visited. Fortunately, Qype is available on all major mobile platforms, including Windows Phone.
Version Reviewed: 1.7
Author's note: I recently reviewed Qype for our sister site, All About Symbian. Some of the text of that review has been duplicated here as the same service is being described.
Qype is a social network where everyone is a critic – literally. The site is full of user-created reviews and ratings of a wide variety of venues that you may wish to visit. You can either search for a location you've just visited, or create an entirely new venue if there's no existing entry. In addition to reviews you'll find user submitted guides to various locations, mostly in the UK, and also various types of venue.
Using the established social network model, you can request friendships with other users, and choose to follow particular venues – e.g. similar to 'Liking' businesses on Facebook. Updates from contacts and businesses will be shown in your Qype newsfeed, the appearance of which varies across each mobile client.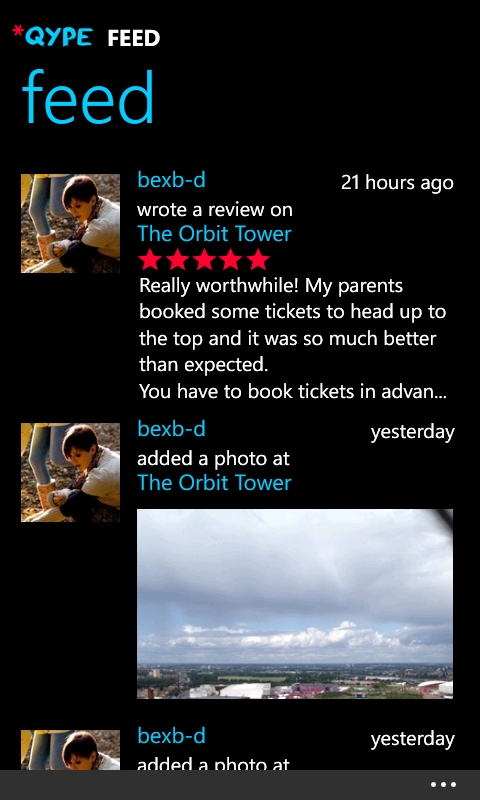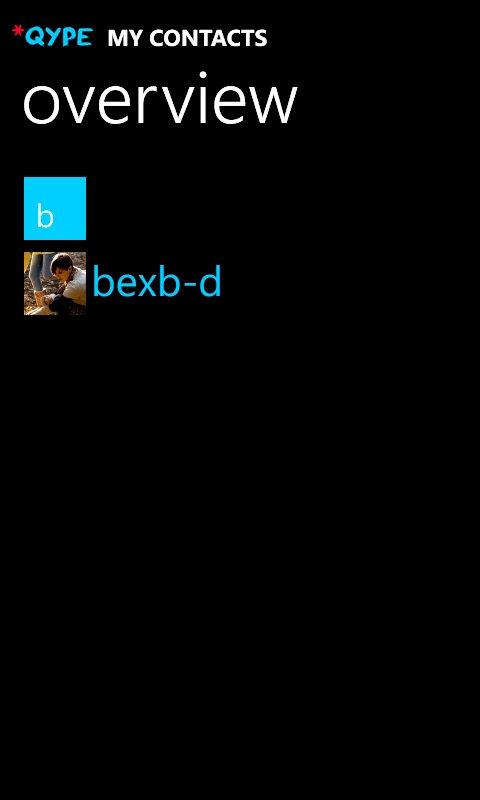 The newsfeed and contacts
As you browse venues, both on the web and in the app, you can easily spot the venues with the best reputations thanks to the simple star ratings. The thing to bear in mind with Qype is that because its coverage is user driven, you will probably find gaps in some areas while others will be covered in spectacular detail, with everything from high quality restaurants to little corner shops that have user reviews filed.
Another aspect of Qype, and is presumably one way in which it monetizes, is its vouchers service. A little like Groupon, you can find special offers from local businesses. The Windows Phone 7 version of Qype allows you to filter the list of nearby venues showing only those that have vouchers in addition to a specific section in its pivot.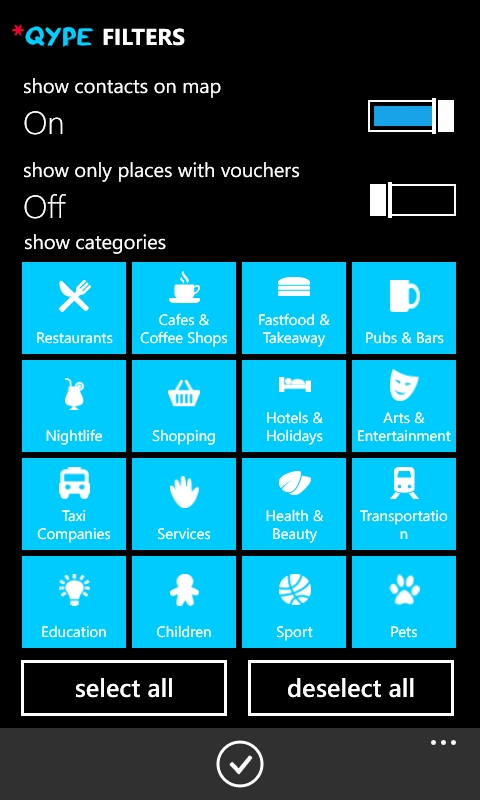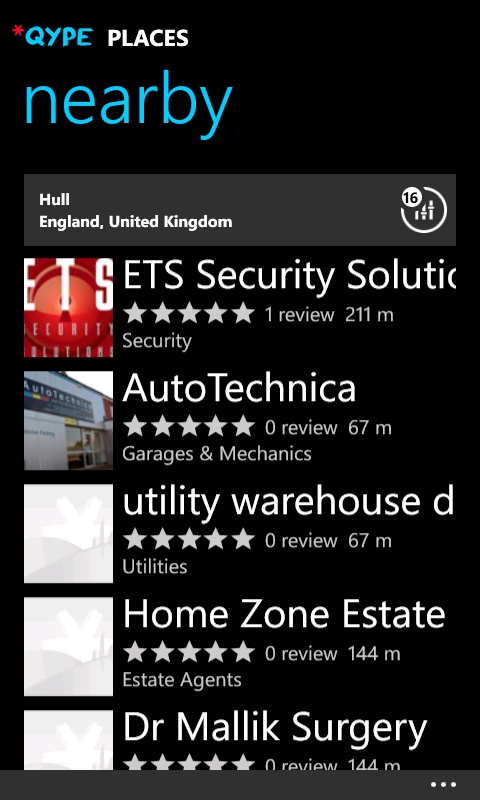 Filtering categories and browsing nearby locations
The Metro panorama of Qype for Windows Phone 7 consists of sections for the main menu, recent location check-ins, nearby places, 'highlights' (which is nearby voucher deals), and your newsfeed. Oddly, the latter section doesn't show updates from your contacts, in my case it showed the photo of a local business which was labelled as a "premium partner". Obviously, the newsfeed of your contacts is found via the main menu, but the presence of this additional feed pivot is just confusing.
The other important part of any Metro user interface, is of course live tiles. In the case of Qype, these are limited to venue shortcuts, and they're static, not live.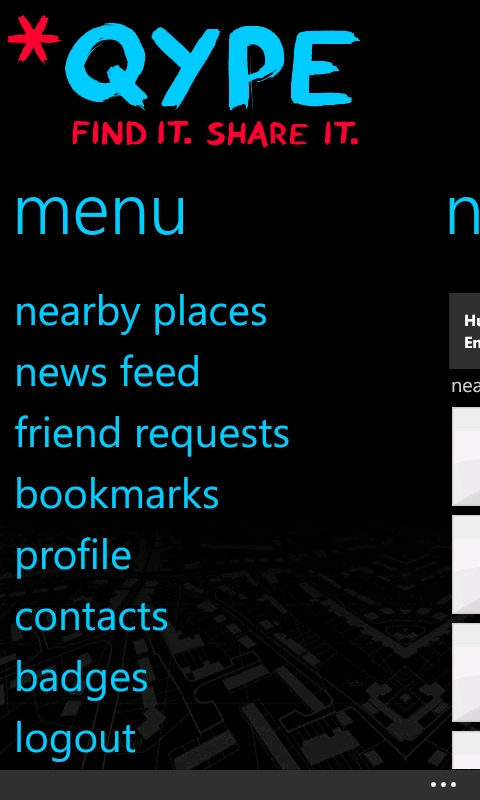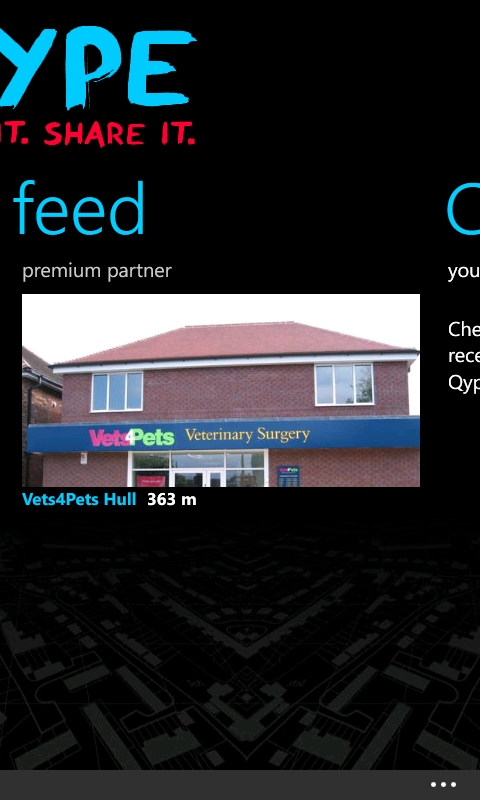 The main menu and possibly misplaced premium partners
Qype allows you to contribute photos and reviews of locations – whether those places exist in the Qype database or not. You can also check-in to locations – an activity which has been turned into a FourSquare like game by means of achievements, which come in the form of virtual badges.
It's also interesting to note that the Windows Phone 7 version of Qype only has a category filter, which means you cannot browse specific categories without adjusting the filters accordingly. Browsing one merged list of venue types makes finding things trickier than it needs to be.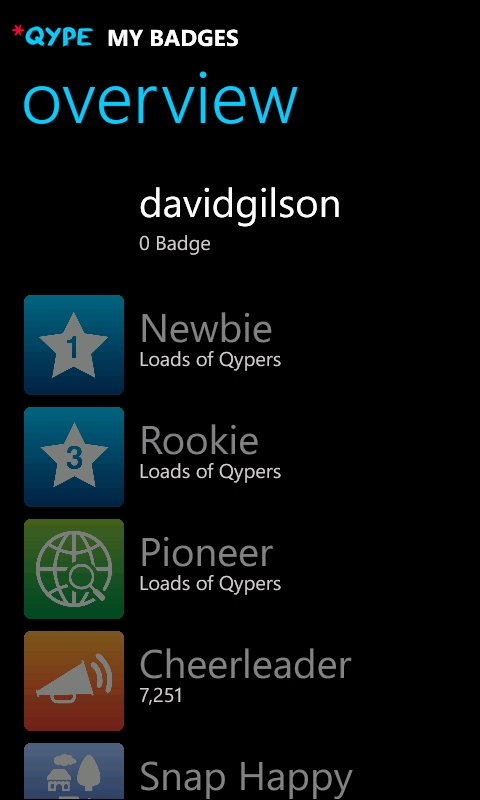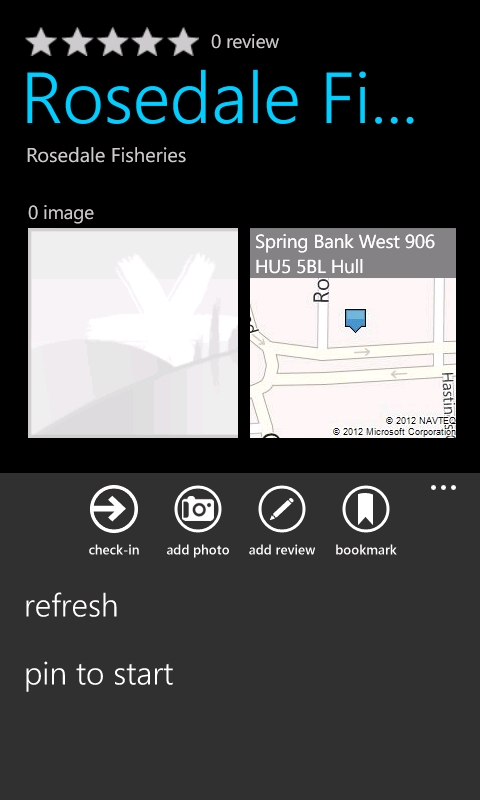 Badges and contribution options
The page layout for an individual venue has two tile like images for photos and a map link which also feature the address. From the menu you'll find options to add a review or photo, check-in and to bookmark the location. Also shown are opening hours, links to call and visit the venue's website, and of course user reviews. Tapping on the map tile gives you a map showing the relative position of yourself and the venue. However, there's no deep-link to the built-in Maps application so that you can go on to navigate your way there. Another lack of integration is when you submit a review, the standard keyboard lacks predictions, which makes entering text that much more haphazard.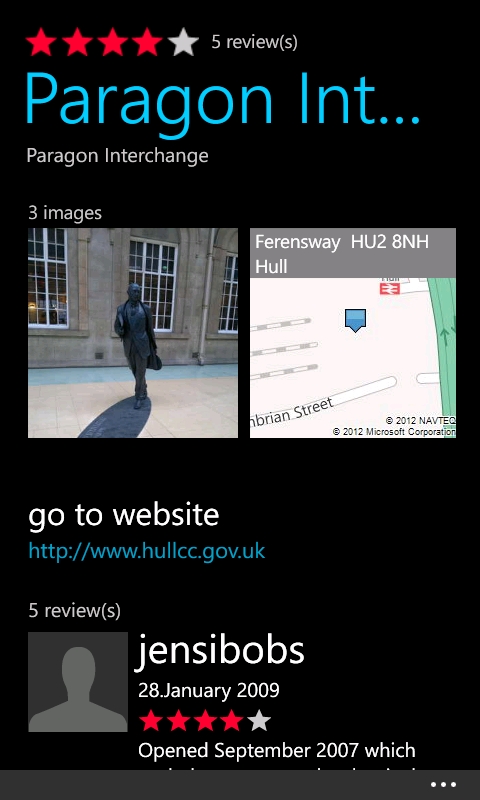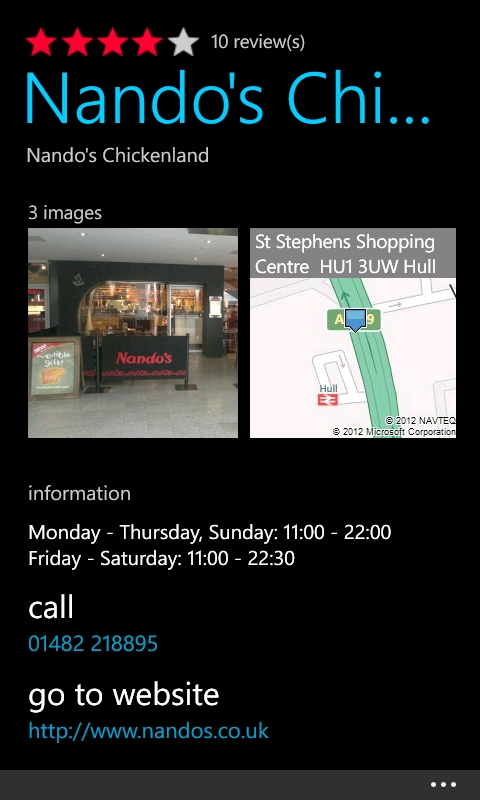 Venue details
Conclusion
The good thing about Qype is that you can use it as a simple reference tool, or you can actively participate by contributing reviews and checking in at as many locations as you can. With location based social networks like FourSquare, the act of checking in is done for the sake of it, but with Qype checking in has the purpose of appraising a given venue or business.
The Windows Phone 7 implementation of Qype looks great and at a cursory glance it seems to work within the Metro style guide. However, once I started trying to use it in practice, I felt that things were a little confused. For example, whole sections of the main panorama were given over to features that were not that useful, while the most functional parts were hidden behind the main section. Ironically, while the Symbian implementation lacks the buttery smooth interaction that is representative of all Windows Phone 7 applications, it did far better combining form and function than this version.
Reviewed by David Gilson at