Review:
Phototastic
Score:
72%
With so much focus around the camera and sharing images on your smartphone, it always surprises me that so many apps focus on adding funky filters and image twisting, as opposed to doing something that's a bit more useful. So picking up Phototastic to review is a pleasant surprise.
Version Reviewed: 1.6.0.0
Buy Link | Download / Information Link
The goal here is to do something artistic with your pictures and build up a photo mosaic, which is then saved as a single image. While you can use Phototastic to take the images, it's far easier to capture the images using the regular smartphone camera and then select the images from the media library when you can spend a little bit more time on the process.
Because the app hooks into the 'pictures' part of Windows Phone, you can also pick any images from any albums you might have. In practice that means all your pictures uploaded to SkyDrive or into galleries on Facebook are available to select and work into your mosaics.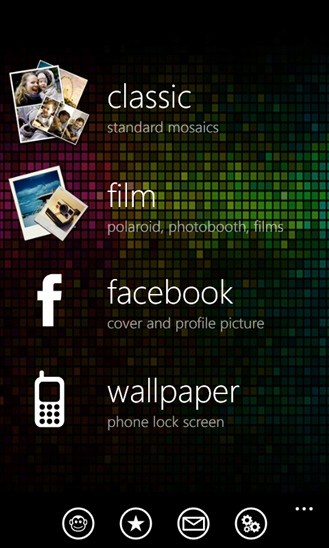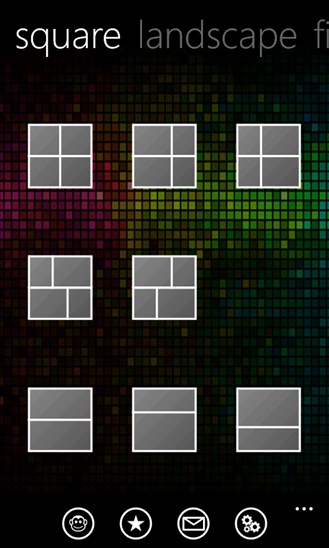 Phototastic is really easy to use. That's important to point out because there is a lot going on here. Layouts need to be chosen, pictures need to be cropped and placed correctly, little edits may need to be done, and, yes, there are filters so you can put the final touches to the images.
There are a huge number of layouts for you to choose from, ranging from single pictures in standard portrait or landscape orientations (which in essence gives you a cropping tool for your images), through to a number of 'complex' layouts with six different sizes of images on offer. Once you've selected your layout, a quick tap in each space and the image picker will be brought up.
As mentioned, you can select pictures from the built in library, but you can also take pictures from inside the application. It's the same software as you would normally use to snap a picture (an instance of the camera app being launched), but Phototastic has one nice trick here. By allowing you to take a series of photos you can fill in all the spaces in a mosaic in one moment of furious shutter pressing action, suitable for a night out on the dance floor or a film strip style layout.
Personally, I prefer the more artistic ability to take my time and select each individual picture at my leisure, but I'm glad that Phototastic gives users the choice.
Once the pictures are in the layout, you can shift them around to other boxes in the layout to see which works best for you. The regular editing options are also here, with pinch to zoom to crop the image, and a dragging action to move the selection around.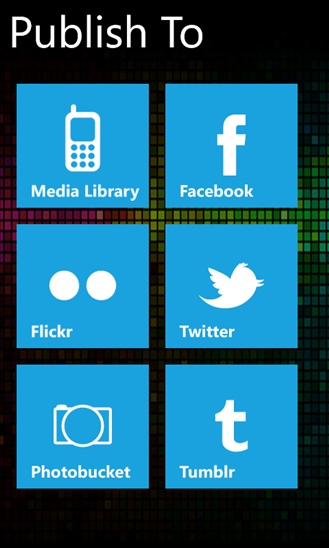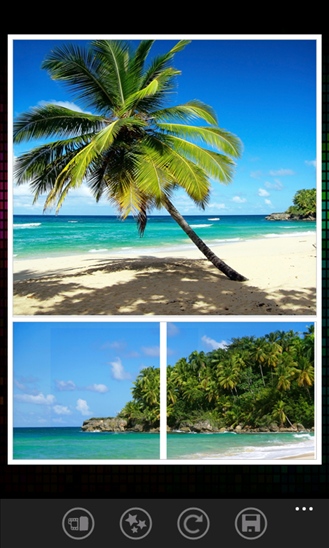 Finally you can choose a filter on your images (because you know that filters were going to come into it at some point). Brightness and contrast controls can be found in here, and these are genuinely useful. Your own personal opinion on other filters (such as old photo style, lomo, and tints) will come into play here. I regard these as an added bonus away from the core feature of the app, but there are some who will regard these as the last step to make Phototastic a complete app.
With your completed mosaic, you can hit save to decide where your masterpiece is going to live. The easiest option is saving it back to your media library, but you can also push it out directly to a number of web services and social networks, including Facebook, Flickr, and Twitter. One thing to point out here is that the output resolution is not the same resolution as your camera images, you're looking at around one megapixel in size. I still think that's suitable for social media sharing, but as Steve points out, don't bother trying to print out the resulting image. Your mileage is going to depend on what you want to do with the final mosaic.

As well as the regular layout options on the opening screen that let you build up classic layouts, or layouts that mimic printed photography such as polaroids and photobooths, there are two more really useful options, allowing you to edit pictures for specific parts of your digital life.
The first is to edit a suitable picture for your phone's lock screen. Yes you can already do that with a single image using the built in software, but Phototastic's mosaic options can give you a very personal look to your Windows Phone.
The second is a collection of mosaics specifically set up to interact with your Facebook account, allowing you to create personalised profile images and cover photos, again using the same procedure.
Phototastic does something really artistic, but makes it simple. It's a great way to express yourself online, and I love that it has thought about how to make digital items feel personal. It's more than a photoediting application, and that left me pleasantly surprised. Definitely worth a look, especially if you are a big shutterbug looking to share photos in a unique way while staying mobile.
Reviewed by Ewan Spence at