Review:
London Bikes
Score:
72%
One of the great innovations in public transport around the United Kingdom's capital city is the availability of communal bicycles. The "Boris Bike" scheme covers the centre of London, offering eight thousand bikes for short term hire. But how do you know where to find the nearest bike station and if there are any bikes available? With your Windows Phone, of course.
Version Reviewed: 1.2.0.0
Buy Link | Download / Information Link
Thankfully, there's not a lot going on with this application. It has one major goal, and it does this really well. The main interface is a view of Bing Maps, with a layer of information over the top. This layer shows the location of each Boris Bike station, and through a simple red/green flag on each marker pin, whether there are any bikes available to pick up, or spaces to drop off a bike, at each station.
As this is an instance of Bing Maps running inside an application, it's as smooth and responsive as the main Bing Maps app in your Windows Phone. You have pinch to zoom, scroll, and can zoom in on your own location with a touch of your finger.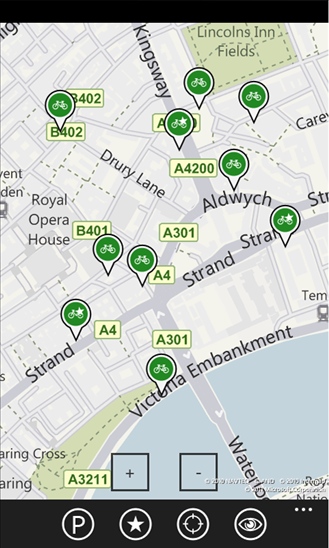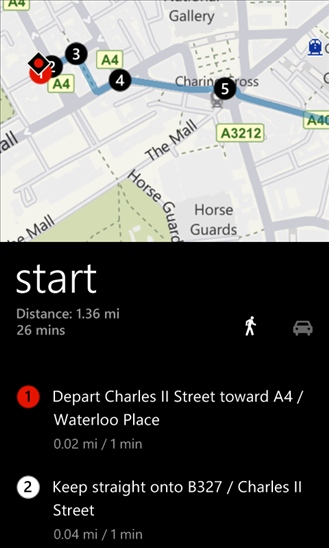 The app does double duty, so you can use it for one of two things. The first is to find a location where there is a bike free for you to use, and the second is finding a station to deposit a bike at the end of your hire. You can toggle between these two functions with one menu button.
The map pins will show either "P" for parking or a little bike for pickup. Red and Green highlights will show which stations can fulfil your need. With the number of stations in central London, you don't need to travel that far, even in peak hours.
The most useful function for me when visiting was being able to 'favourite' a number of bike stations. Calling up my favourites list, I can see the current status of bikes and free slots at each of my stations.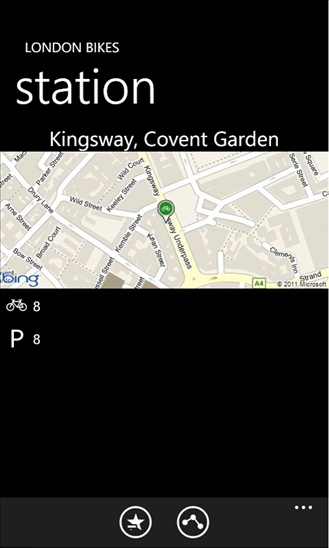 Partial route planning is also available, allowing you to call up directions to any station from your current location, again piggybacking on the built in software suite and using the Bing Maps navigation system to bring you to a bike station.
London Bikes is an application with one task, that it does very well. It also does it by repurposing as much of the built in code as possible, creating an application that fits naturally into Windows Phone, doing everything as if it was a native app. Naturally it has a very small target group of users (Windows Phone... in central London... who want to find a bike...) but if that's you, there's no finer way of doing this on your smartphone.
Reviewed by Ewan Spence at