Review:
AE Doodle Dash
Score:
71%
Sometimes, when you're on the run, you just need a quick gaming fix. AE Doodle Dash takes that notion rather literally. This doodle style game tests your reactions and sense of timing as you dash across the screen, jumping deadly doodled dangers. It sounds simple, but in game design, less can be more, so join us on our review to see if AE Doodle Dash is worth running to the Marketplace for.
Version Reviewed: 1.1
Buy Link | Download / Information Link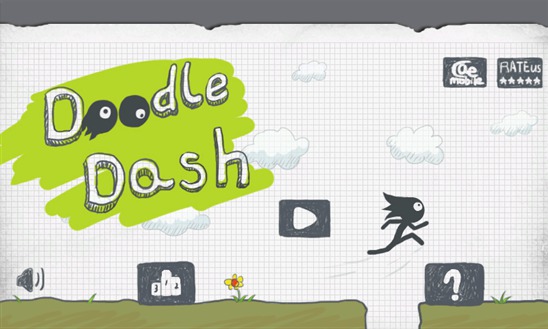 AE Doodle Dash has the simplest control mechanism I've ever come across – simply tap the screen to jump. The game instructions say that the greater the duration of your touch, the higher the jump will be. In practice, the difference is minimal, but it makes far more difference as things speed up.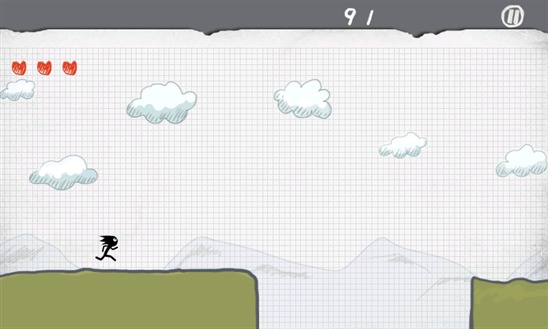 The artistic style of the game isn't new, we've seen crumpled paper with 'living' drawings before, but it never ceases to look rather magical. What's better is that everything is rendered smoothly and quickly (even on Windows Phone 7).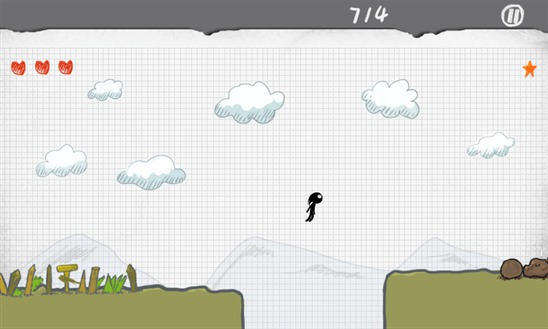 The primary things to be jumped over in AE Doodle Dash are massive gaps in the ground. Even though you have three lives, they don't help you if you fall down one of these gaps – it's game over. If you happen to misjudge your jump and hit the opposing wall of the gap, you'll see your character flatten itself against the wall in a spatter of blood. Amusing, but it's a bit of a shock given the cutesy nature of the rest of the art.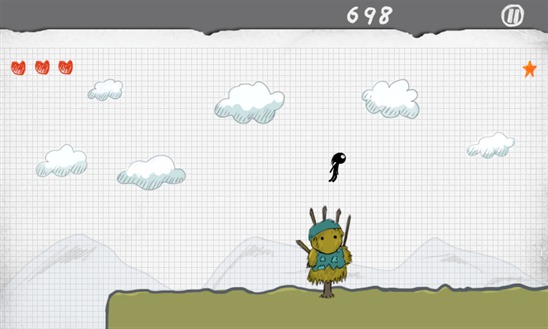 If you've had to previously jump an obstacle before embarking on another jump across a gap, you need to make sure you've enough distance to begin the second jump, or you'll see your little runner trip and fall down the hole. It's strange – the way in which this trip is animated gives an added sense of realism.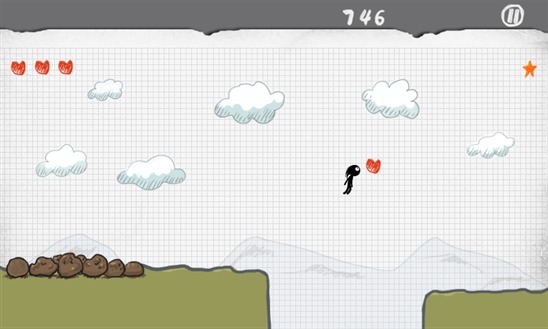 Talking of obstacles – there are a few boulder piles, but they are the exception – most other obstacles are noticeably spikey. It's with all the obstacles that your lives come into play. You can touch them, or simply run through, losing just one life. After losing a life, you get a temporary flashing phase of invincibility – very old school. Fortunately, you can pick up extra lives during the game.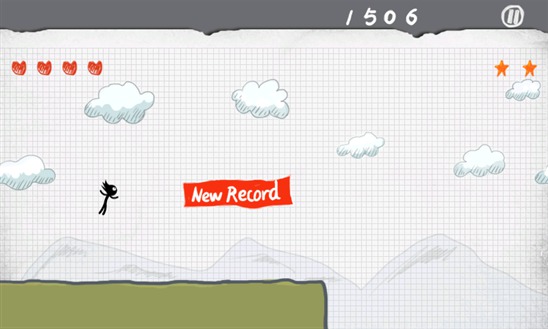 After reading this far into the review, or indeed playing this far into the game, you'd be forgiven for asking what the big deal is. Indeed, that's what I thought at first. However, the addictiveness of this game, and hence its longevity, comes from the chemical reaction that happens inside your body as you try to cope with higher and higher speeds and increasingly difficult jump sequences.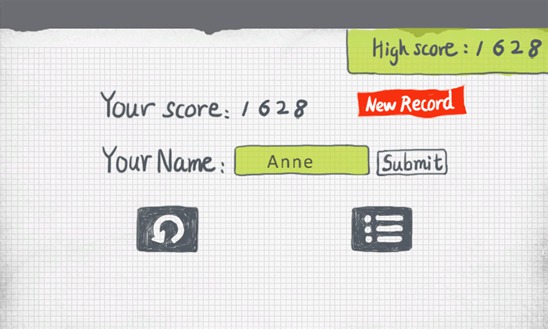 Making a mistake and dying gives you a marked shot of adrenaline, and every successful jump, or sequence of jumps, is somehow highly satisfying, probably giving you a nice hit of dopamine.
These natural highs are what keep you coming back for more. In my case, I kept wanting to play even when things began to feel repetitive, I couldn't stop playing, to see if I could get further, and do better. I should also note here that the metric for how well you do is a score that ticks up as you play – basically it's a measure of time, the longer you survive the higher the score.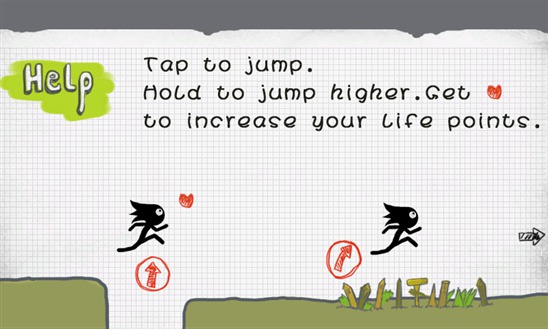 AE Doodle Dash is free, but is ad-supported, which spoilt things a little. I didn't really enjoy having ads for companies I don't really care for glaring out at me while I was in the middle of ramping up my adrenaline and cortisol levels.
Recommended – for adrenaline junkies.
You can find AE Doodle Dash in the AAWP App Directory.
Reviewed by David Gilson at