Review:
London Travel
Score:
75%
Any busy metropolis is going to have a complicated public transport system that takes many months for those new to the city to understand. In historical times this meant lots of paper maps, guesswork, and leaving a lot of spare time. Now you have any number of public transport applications on your smartphone. Given the increased complexity of London, how well does London Travel handle the options? Quite well, actually!
Version Reviewed: 3.2.0.0
Buy Link | Download / Information Link
There's a lot going on in this application, but at its heart is the simple goal to get you from A to B on London's public transport network - primarily the London Underground, the London Buses, and the occasional overland train.
Starting with the route planning capabilities, you can use the geo-location sensors to get your current location, and then tell the app your destination. Unfortunately there isn't a simple address or venue look up, so if you want 'The Science Museum' there's no direct way of entering this information. The closest to a 'general location' entry is the space to add a postcode.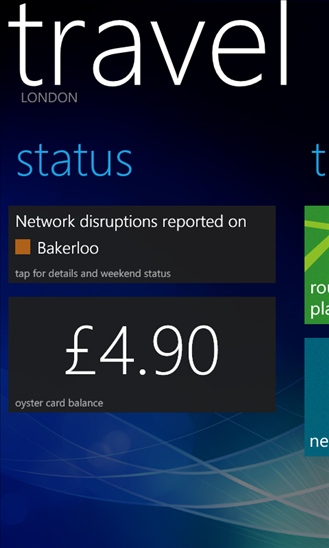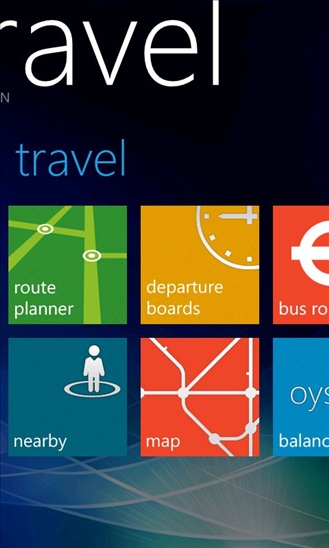 Building ad-hoc routes is one of the few areas where the interface lets itself down. Not everyone will know the names of the stations or bus stops they want to travel to, and there's no accommodation of people with little local knowledge of the areas they are travelling through to search on generic terms or place names.

Once you search for a route (along with setting departure and arrival times, and toggling which methods of transport can be used) you'll get a breakdown of options, with icons showing the various transport options you have. If you're lucky then you'll get just one or two icons, but more complicated routes might involve three or four changes between various modes of transport.
Thankfully, London itself usually signposts the travel destinations quite well, and most stations will have a map of the nearby bus stops, so a quick look up from the screen will help you on your way, although it would be nice to have access to the maps from the station, rather than the Windows Phone default mapping service.
All your routes can be saved, so the regular run to and from work (and to the BFI IMAX at Waterloo) can all be recalled quickly. The routes are also saved locally, so will work when you are out of coverage, which is likely to happen in the London Underground.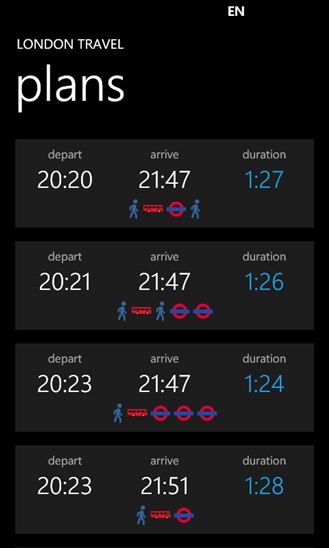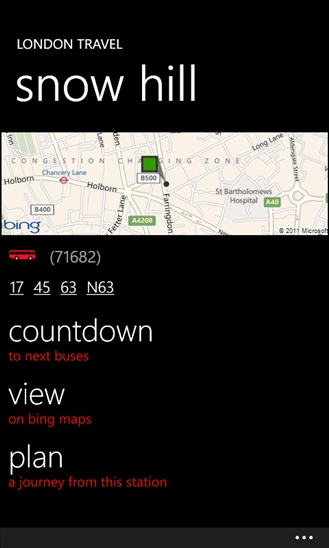 London Travel holds a lot of static information as well, including the world famous tube map and a list of all the bus routes organised by London Transport. These show up in a similar fashion to a route using the built in Windows Phone mapping app, which shows both the flexibility of Windows Phone and a familiar look to the user.
Then there's the current information on the London Underground, and this is a really wonderful part of the application. You can poll any Underground station to see when the next departing trains are on each line and in each direction. You can find out how an entire line is running and if there are any delays. All the information you would need to know so you can get to where you are going easily is available from the main panorama screen. You can even pin a tube line as a live tile for regular and visible updates in the full version, which is a nice touch.
Finally, Oyster users can log into their account to check their current balance, rather than having to find a ticket machine or work through a mobile website.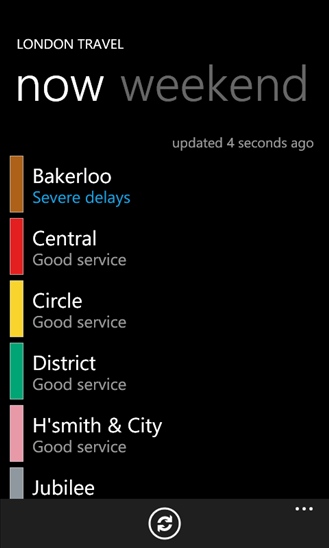 This app is a great little toolbox for getting round London. Yes, it has a lot of options when you first open it up, but it's a very flat structure so it's unlikely to confuse. Even with all these options, when you let the app sort out your routes and travel it does bring them all together. And that's the point, bringing order to the chaos.
The app is 79p, and while a trial version is available, this is limited to just seven 'runs' of the application before you have to pay. I suspect this is because the official London Transport maps have been licensed by the developers, and this isn't a cheap option.
But 79p is a very cheap option for getting round London. For the regular commuter or for someone with business meetings, where being a few minutes late would be worth far more than 79p, that's when I would recommend squirreling away a copy of this app on your Windows Phone.
Reviewed by Ewan Spence at