Review:
Fuse
Score:
68%
If your smartphone has replaced the newspaper, you're probably looking for the best app to catch all information you can get. There are plenty of apps for Windows Phone for specific sources of news, such as BBC News Mobile and our own AAWP app, although there are not so many that collect news from numerous sources. Other platforms, for example, have Flipboard and Google Currents. Fuse is an app for Windows Phone that provides curated news feeds and presents them in an attractive, dare I say glossy, format for your reading pleasure.
Version Reviewed: 2.1
Buy Link | Download / Information Link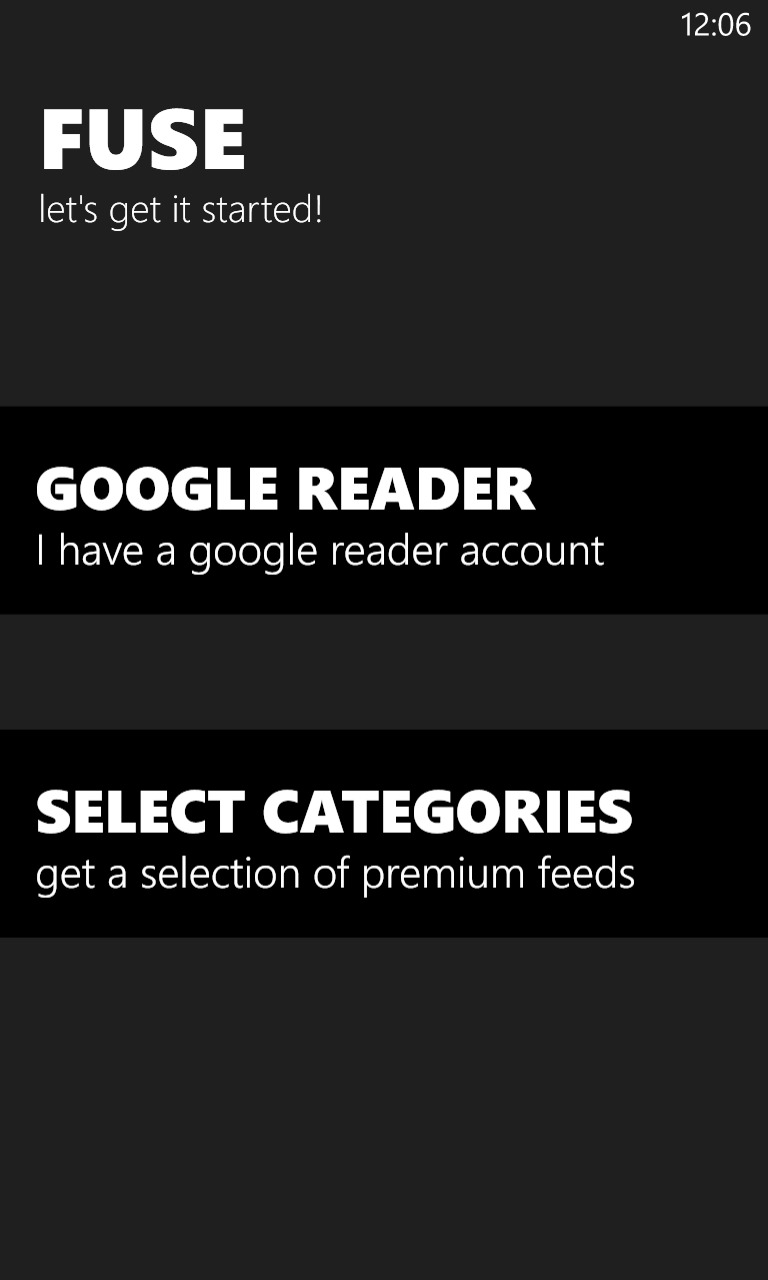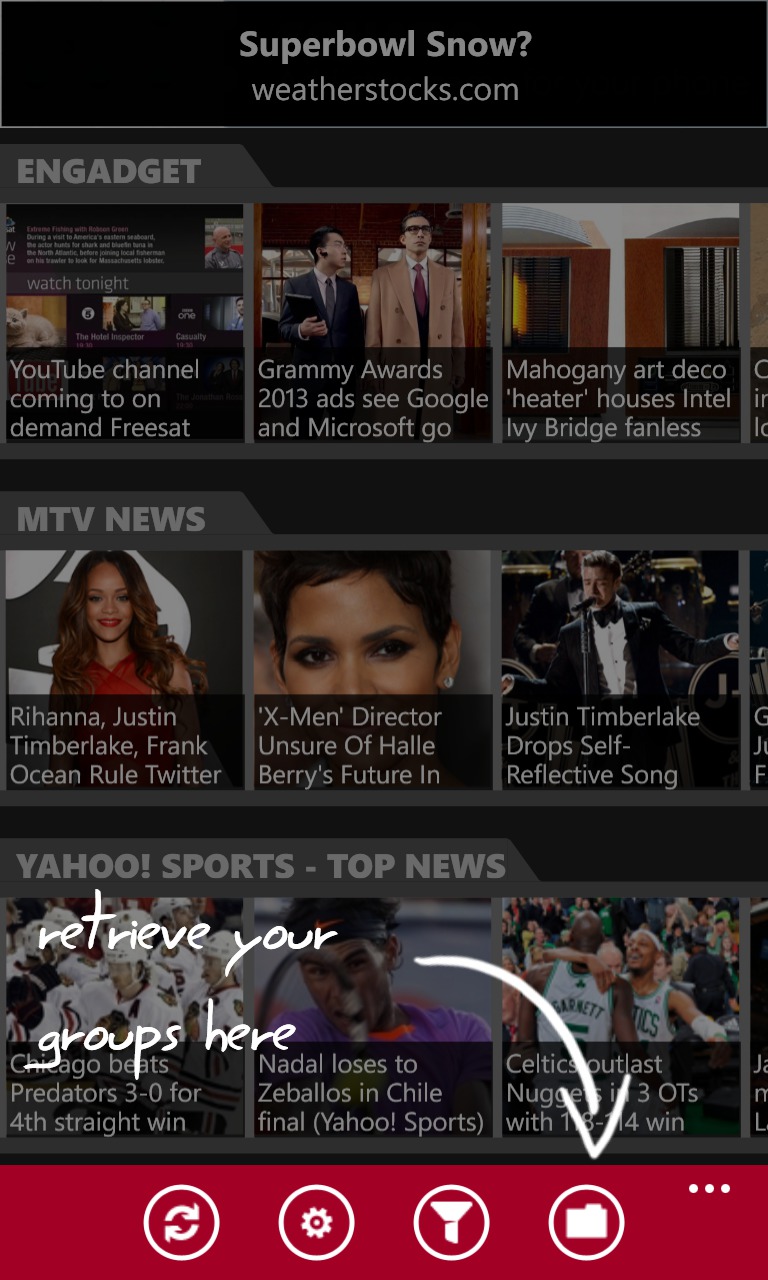 Getting started
Fuse starts off by asking you to select topics groups that interest you. Each of these groups are already populated with feeds. Don't worry though, you can add, remove, and rearrange the feeds in each group later on.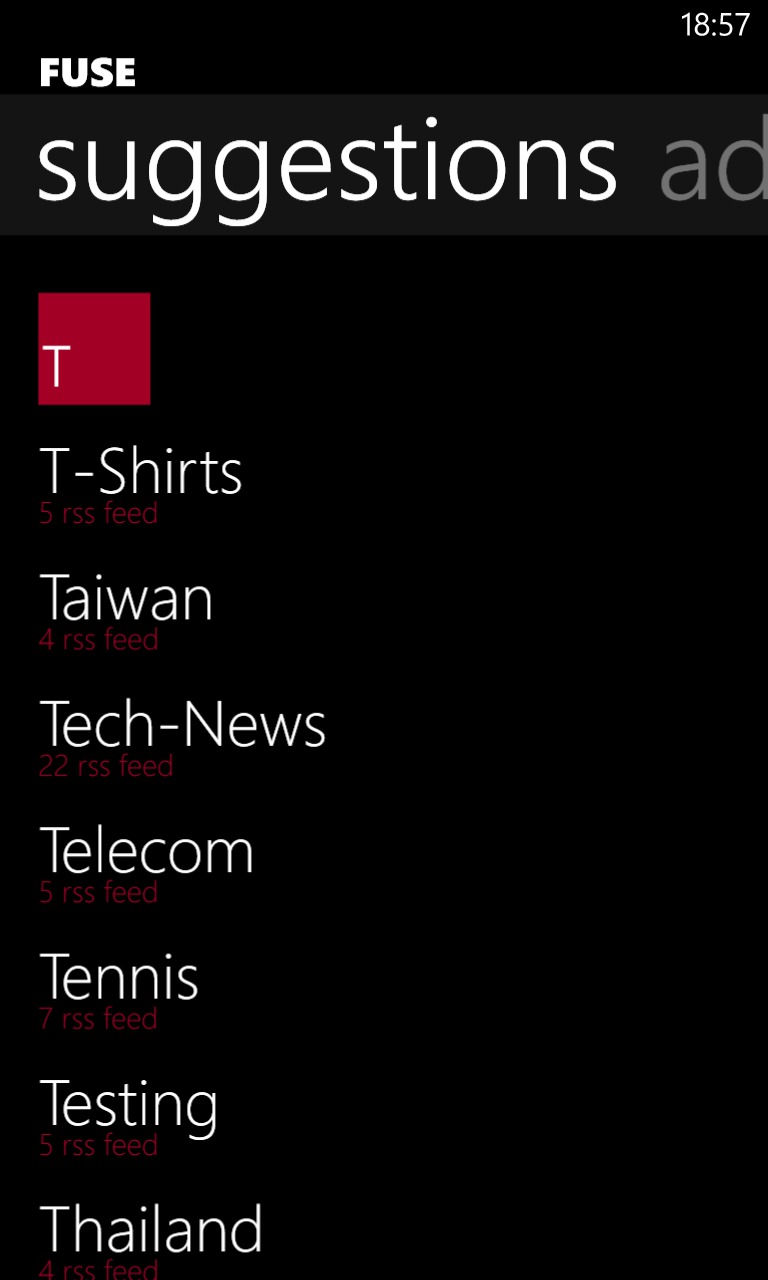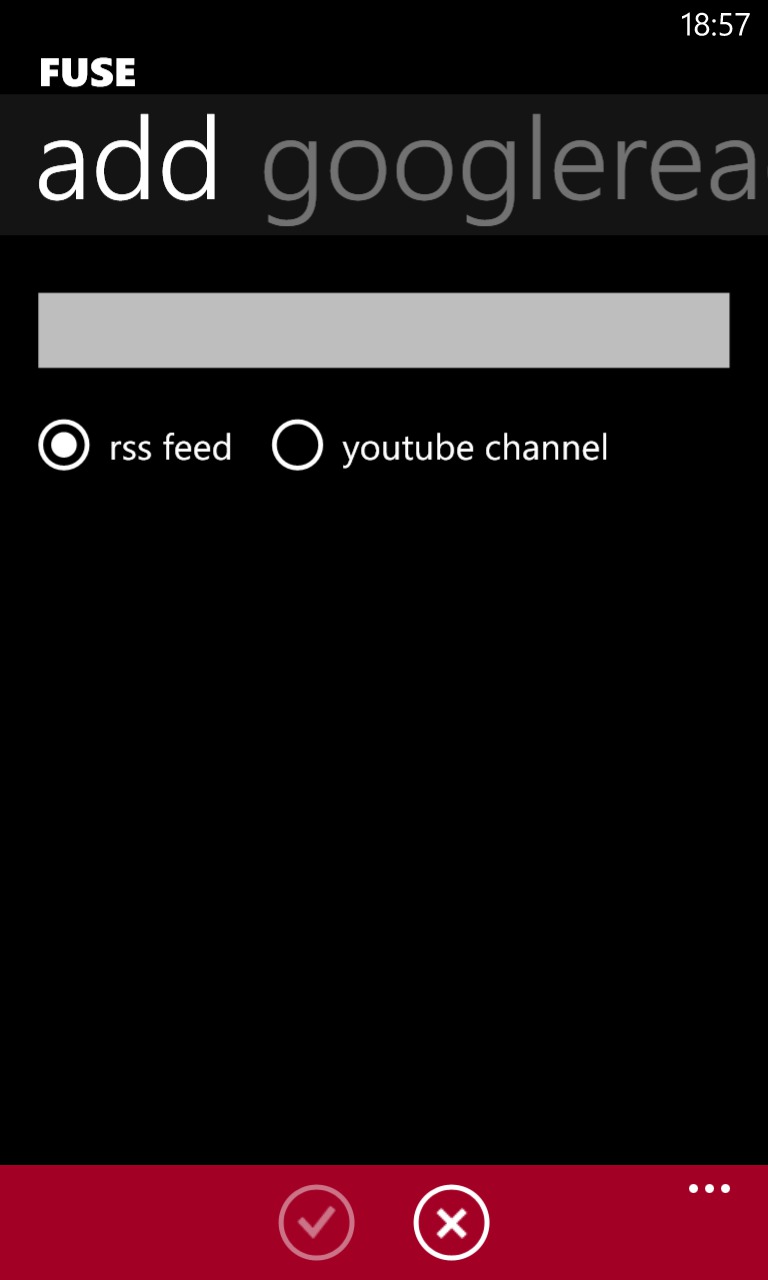 Adding feeds

It's the curated nature of Fuse that sets it apart from basic RSS readers. Having curated content overcomes the tricky part of building up your own RSS collection – i.e. finding RSS URLs and copying them into your application. However, as part of editing a group, you are able to input an RSS feed address if you prefer to do things manually.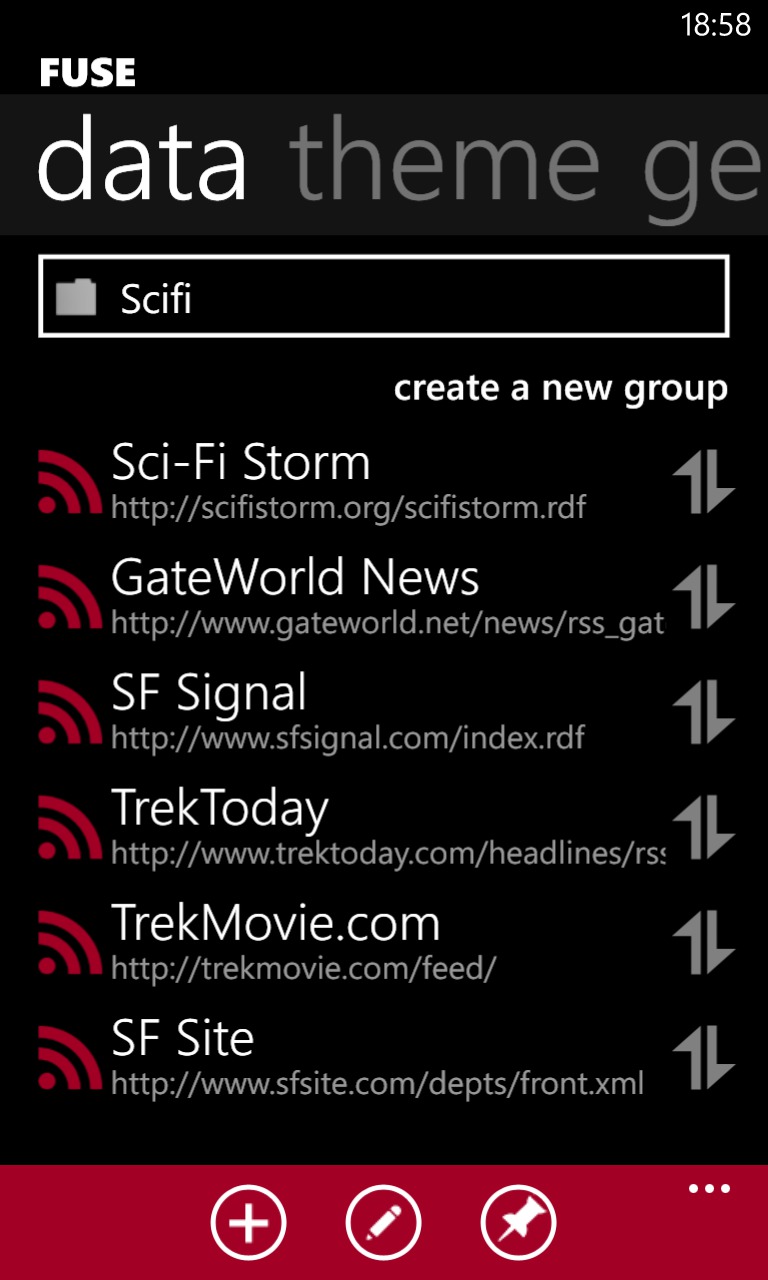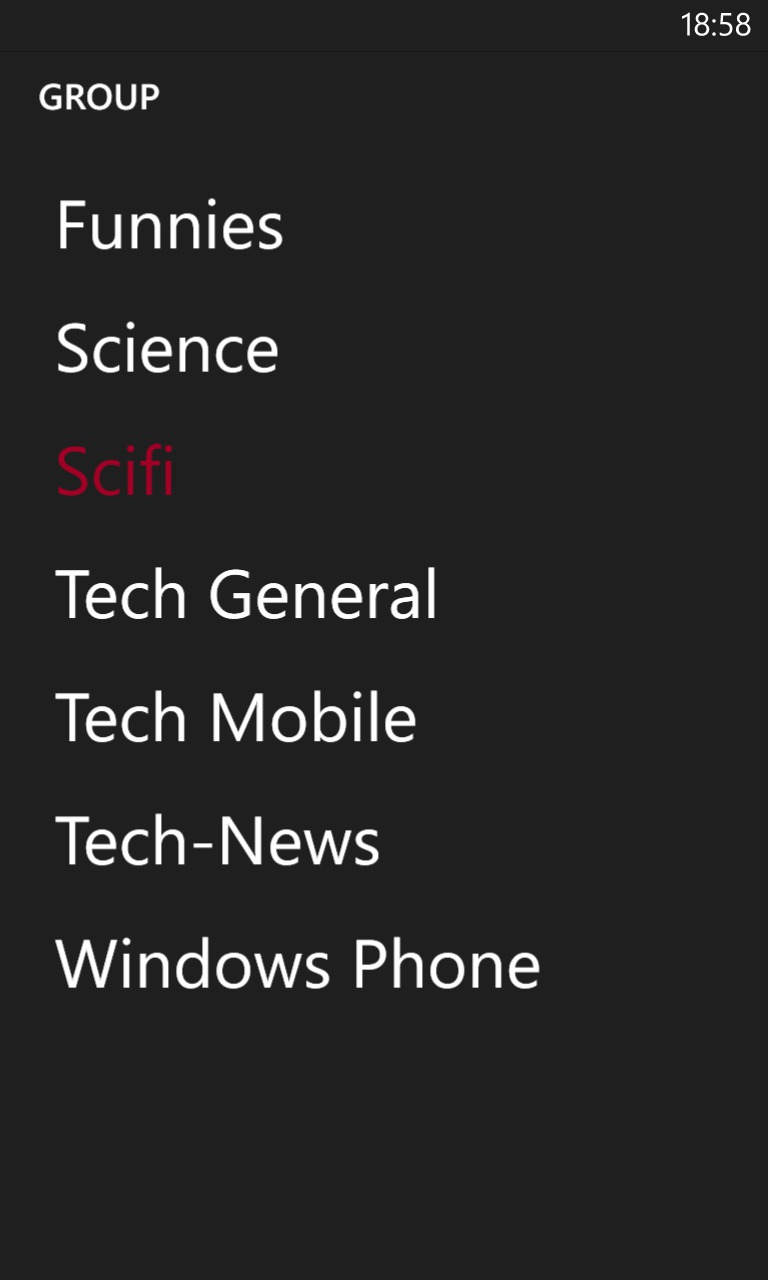 Editing groups

We'll come back to more of the settings later on, but next let's look at the graphics. Fuse stands out amongst other Windows Phone applications by successfully breaking away with the (ahem) Metro styling. In each group, the feeds are represented by rows, which can be scrolled with sideways swiping gestures. Vertical swipes allow you to scroll through all the feeds in that group. Feed titles are shown off in tab-like boxes, and individual stories have an image thumbnail to grab your attention.
Opening a story triggers a transition effect that lends an extra degree of polish. However, if you have enabled the sideways swipe gesture to switch between stories, it's a little jarring to then see the screen just switch, because there is no corresponding transition for moving between articles.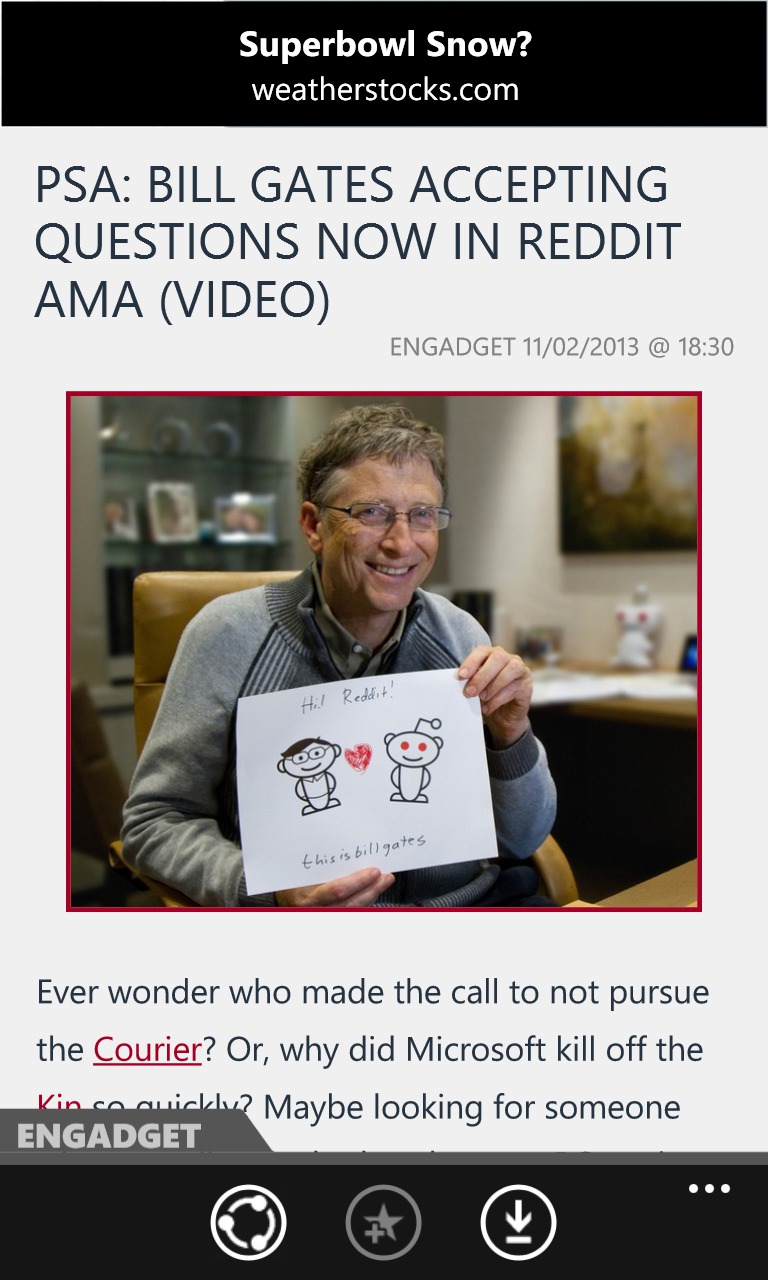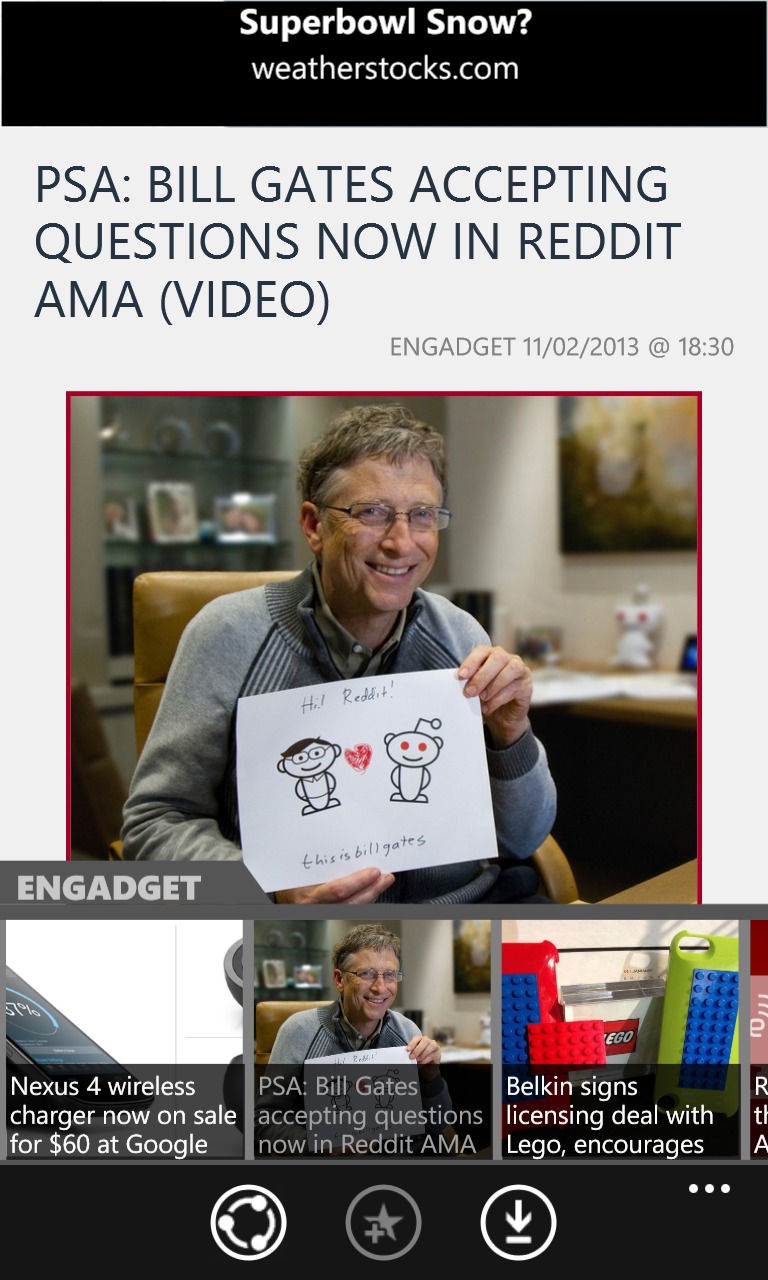 Viewing Stories
An animated Easter egg can be found while viewing a story. You'll notice that the tab showing the feed's title is still present at the bottom of the screen. Dragging this upwards will reveal an overlay of the entire feed. This lets you can choose another story within that feed without having to hit the back button to return to the group view.
The toolbar takes some experimentation to understand all of its functions. Tapping the groups icon, which is styled as a folder, brings up list of all the groups you've selected or created. This is presented by showing a transparent black layer with the group names on top. Each group has a small superscript number denoting how many unread stories each has.
Another toolbar icon provides a filter to show all stories or only unread stories. One aspect of this that looked untidy to me, is that feeds with no unread items are still shown, but as a blank grey block. I think it would have made much more sense to have feeds with no unread items simply disappear and let the feeds with unread items move up the list. Also, I was disappointed there wasn't a single feed view. Having a row expand into a fullscreen grid would have been great for focussing on a particularly noisy feed.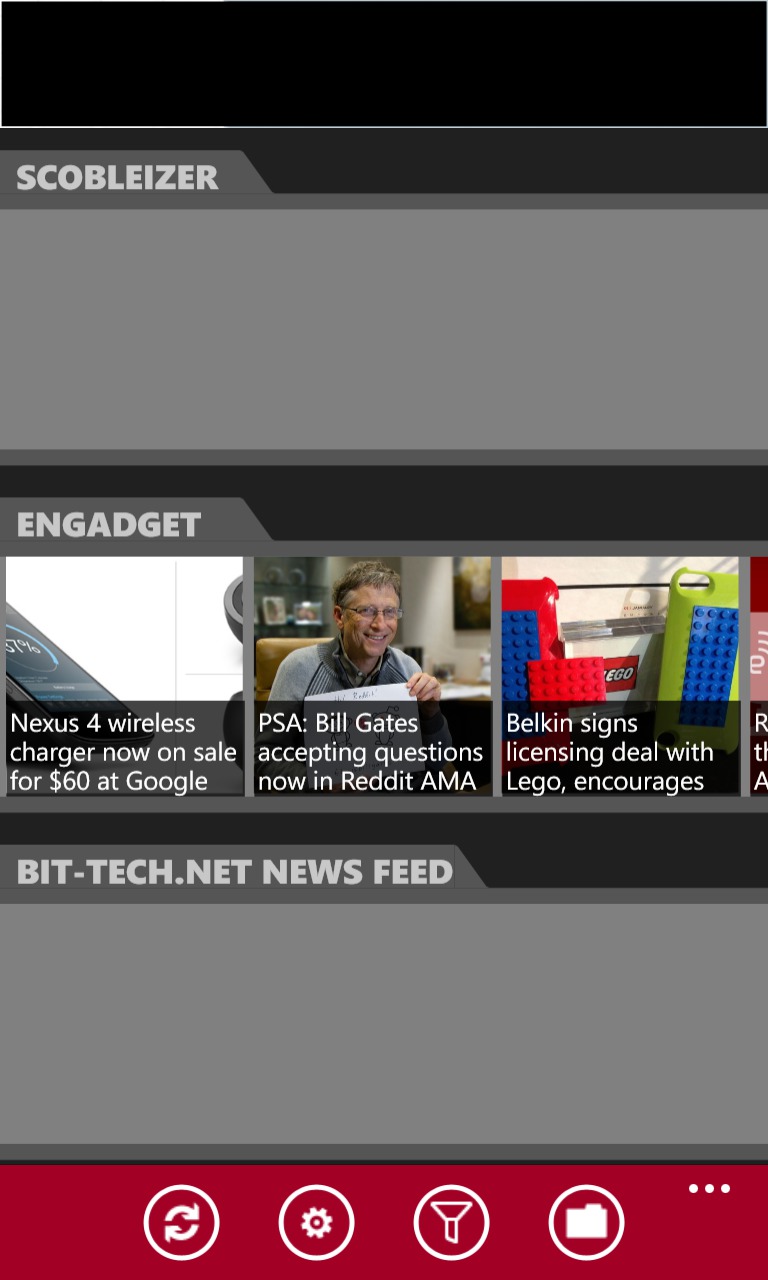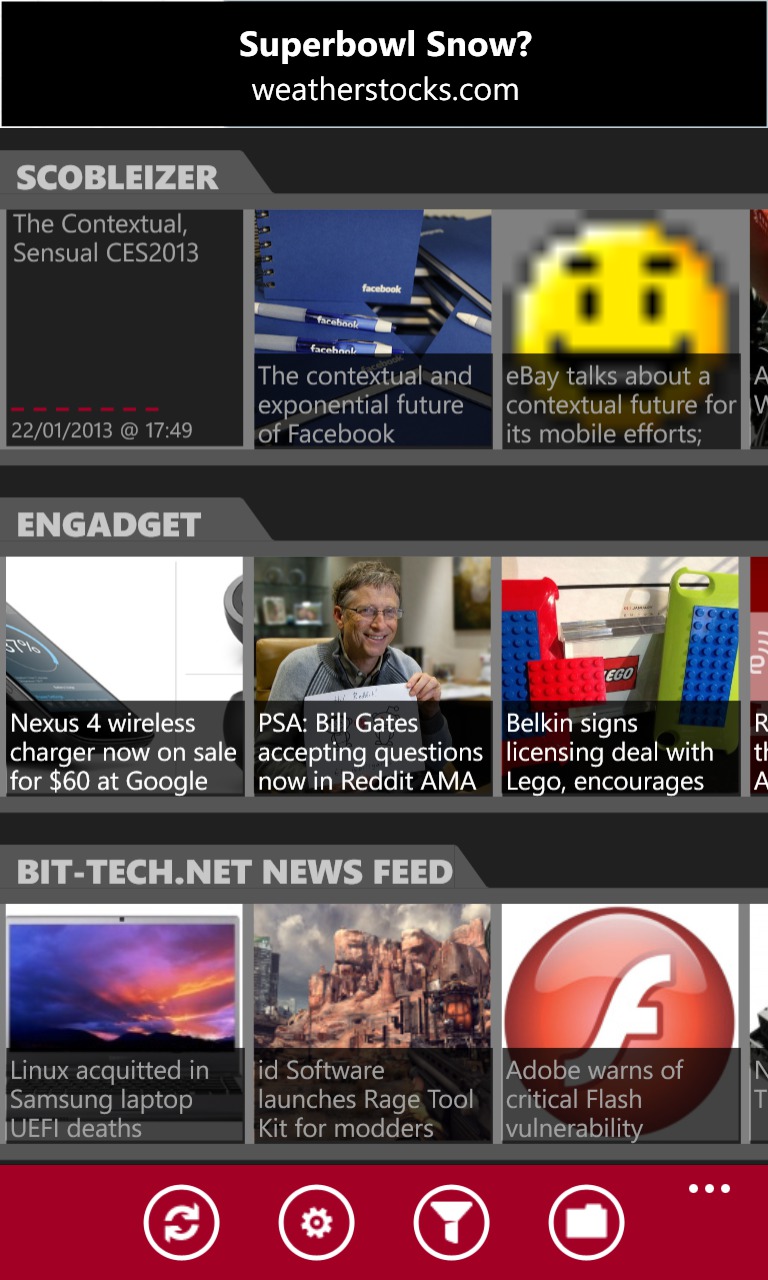 Viewing unread and read items
When opening a story, you'll usually see the first few lines, and will have to tap the 'Download' icon to get the rest of the story. It isn't until you hit the 'update feeds' icon in the group view toolbar that you see anything referring to downloads. I have to say that I found this way of handling content quite confusing, and dare I say labour intensive. I think it would have made much more sense to have had a universal option in the main settings pages.
When it comes to live tiles, Fuse provides ultimate flexibility. It supports all of the new tile sizes present in Windows Phone 8. Furthermore, tiles can be pinned for the main app, groups and feeds. However, if you can discover how to pin an entire group(!), you'll be rewarded with a prompt informing you that its tile will not be able to automatically update due to background agent limits. I.e. a group of RSS feeds would go over the allowed number of requests a tile can make – that sucks, but we have to point the finger at Microsoft rather than Fuse on this one. However, the group tile will still show an unread count. The tiles for the app and for feeds show an unread count and flip over to show the title of unread items.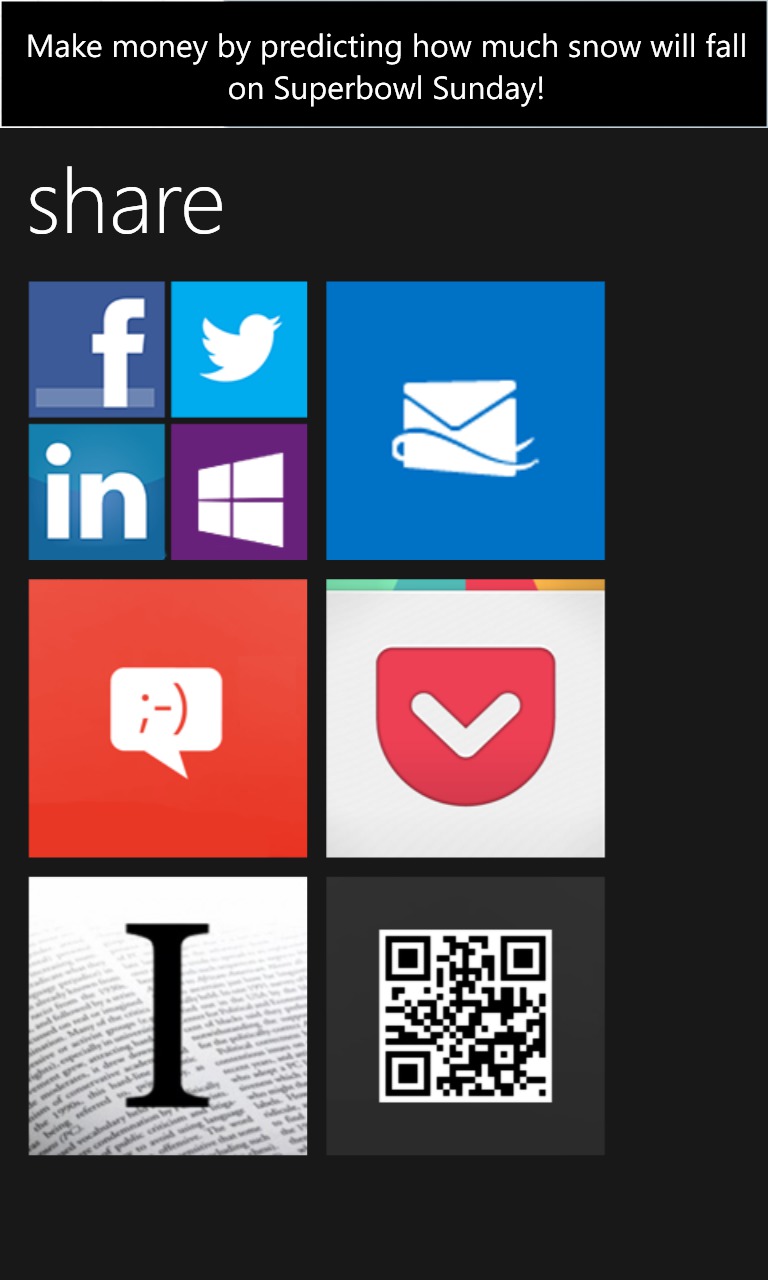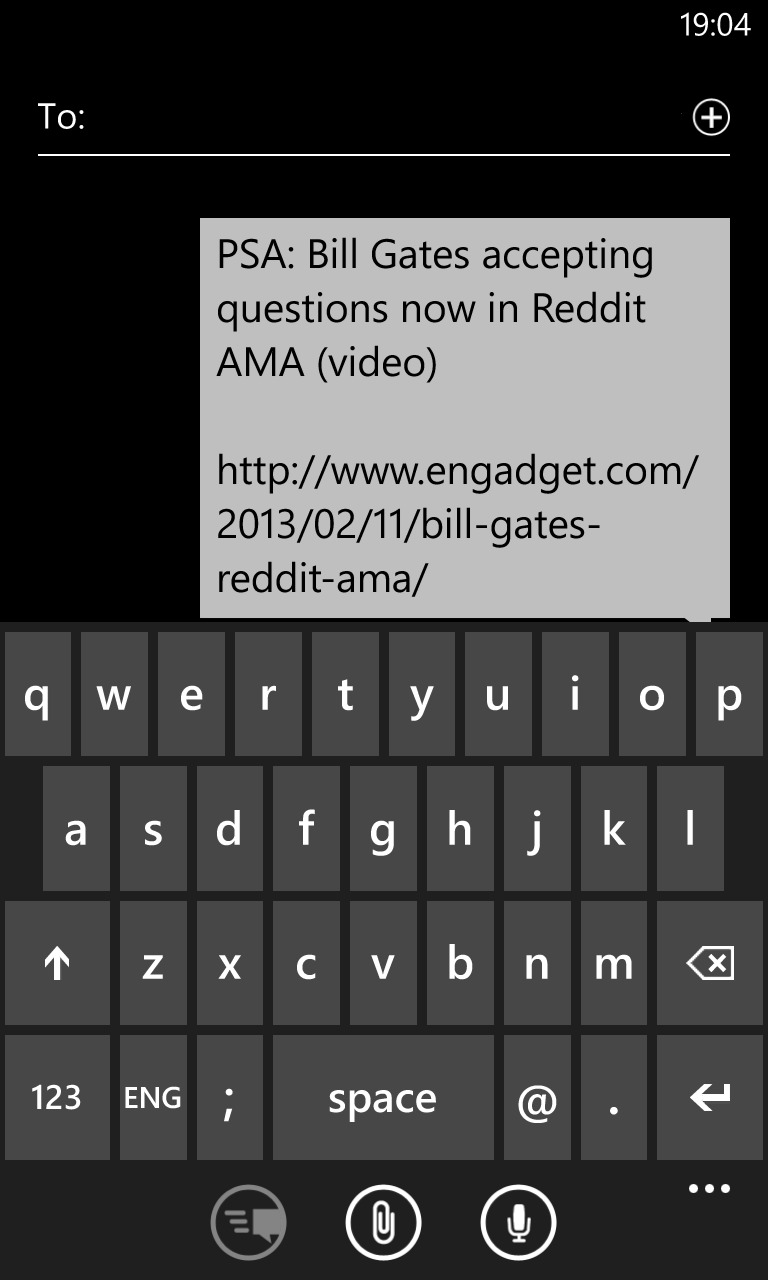 Sharing items
One other thing with any sort of news reading application that is essential to have these days is plenty of sharing options – Fuse does not disappoint here. Tapping the share icon brings up a set of six tiles. One links to the People Hub's update page, another to your email accounts, and another to the Messaging application. There are also tiles for Readability and Pocket for reading later on. Then a rather clever tile brings up a QR code with a URL to the article for quickly sharing with another smartphone user. The latter tile is a really innovative use of existing technology that I haven't seen in other applications.
Power users of RSS may well already be settled into using Google Reader, and so may be leery of using curated news apps. Fortunately though, Fuse allows you to use your Google Reader account as an additional source of news. If you have arranged your feeds into folders on Google Reader, you opt to use each of them either as groups or as a combined feed to add into another group. It's good to be able to pull from your preferred feeds, especially if they aren't in Fuse's directory. In terms of Google Reader functions, you can star items, and as items are automatically marked as read in Fuse, those changes are synchronised with your Google Reader account.
Conclusion
If you're looking for a Currents or Flipboard equivalent for Windows Phone, then Fuse is actually a great place to start. Other alternatives are Nokia Reader (on Lumia devices) and Pulse. However, even though those apps are much more compliant with the Metro design language, Fuse benefits by using its own style, because it actually works. It's quite similar to the official BBC News app on Android and iOS. Still though, I would say the design (including the relatively small font size) of Fuse makes it impractical to drill very far back in time, which is why if you are a Google Reader user then you should still use a dedicated client. Fuse just isn't good for scanning every single headline in your quest for good content. However, if you're happy to skim current headlines to take the temperature of the moment, then Fuse will work well for you.
Fuse is £1.99 or free with ads.
Reviewed by David Gilson at