Review:
Disqus
Score:
80%
Disqus, which powers the commenting system used here on All About Windows Phone and on many other websites (e.g. Nokia Conversations), has released an app for Windows Phone that makes its easy to find, follow, and contribute to conversations across the Disqus network.
Version Reviewed: 1.0
What stands out about the Disqus app is that it reinforces one of the service's key themes, that comments should be about community, not just a fire and forget piece of feedback - that's something that is very much in line with how we like things to be on this site. Or, to put it another way, the best comments system needs to combine good discussion tools with social networking functionality. The app, like the matching Disqus website, actively encourages you to return to conversations you're already participating in, and promotes other conversations that you might be interesting in reading or participating in.
The app's opening dashboard page gives quick access to your profile (view comments you've made, people you are following, people who are following you, and your top communities), settings, and help. But the section you'll probably find yourself using most often is notifications, where you can see who has replied to comments you've already made. Optional live tile functionality means these notifications can also be delivered to your start screen. Tapping on a notification will take you straight to a page for the comment in question, from where you can quickly add a reply or view the conversation in its entirety.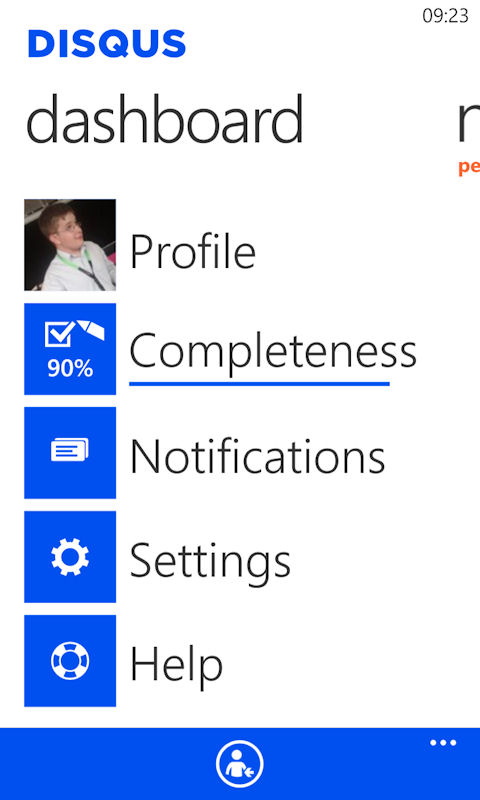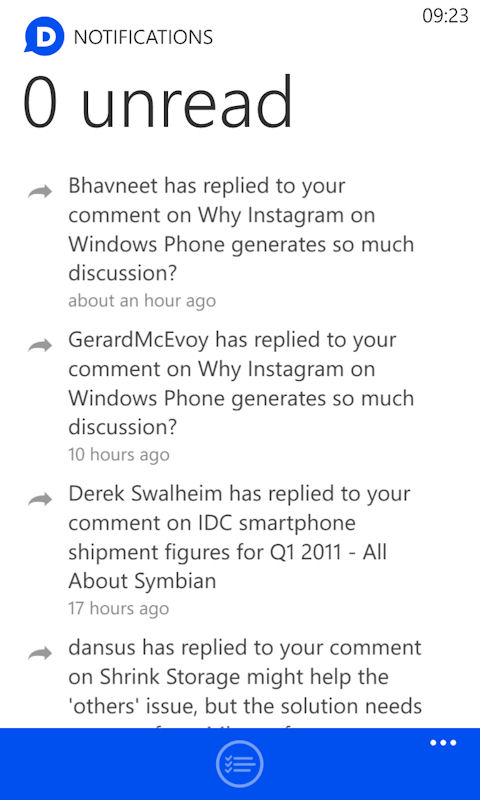 While the notifications feature is the most obvious way to dive into a conversation, there are also several other entry points via the network and explore sections of the app.
Part of the Disqus platform's philosophy is following people, social network style, the idea being that you may want to follow the comments of friends or people you find insightful. This is what's behind the "network" screen in the app's main panorama, where you'll find the latest comments from people you are following.
The third page of the main panorama, explore, is a way to find comment threads grouped around a specific topic. Explore is essentially a curated directory of topics, drawn from the many websites that use Disqus. For example, there's a Windows Phone sub section, that lists recent comments from a number of Windows Phone-related websites (Nokia Conversations, WMPowerUser, Liveside.net, All About Windows Phone). The explore section also has a powerful search tool, which enables you to search by keyword across the Disqus network, and there's an option to pin search results to the start screen for fast access to your favourite topics.
It's also possible to view trending comment threads for a specific website. This can be accessed from any individual comment page by tapping on the community/website name, or from the list of communities in the explore section of the app.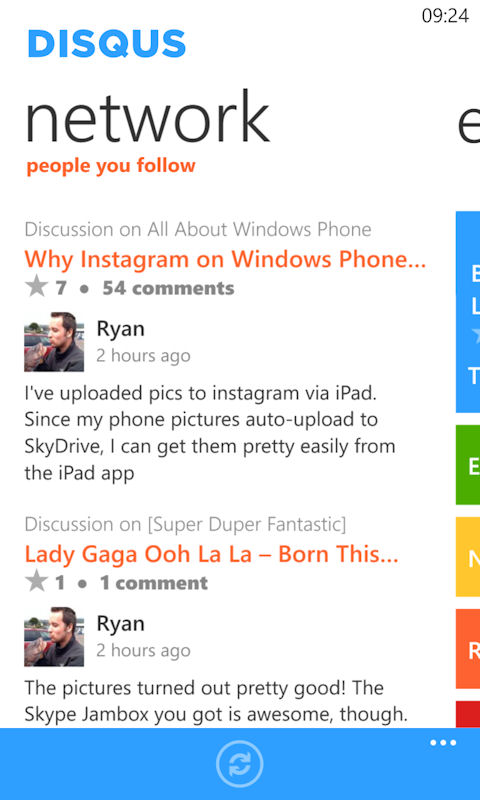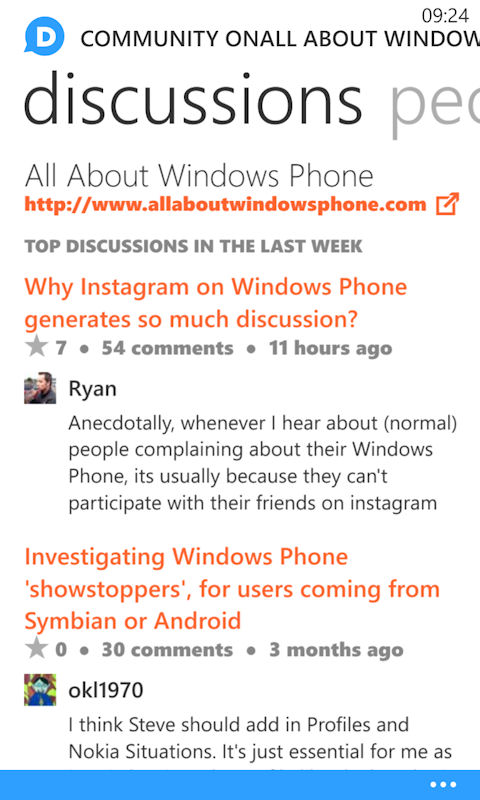 When viewing comments it's worth noting that there's a distinction between a discussion page (a comment thread) and a comment page (an individual comment). The notifications and network entry points deliver you to the latter, while the explore entry point delivers you to the former. It's easy to switch between the two by tapping on an individual comment or a discussion title, respectively.
Discussion pages show a list of comments, sorted by either time (newest or oldest) or popularity (best) and let you add a new comment to a discussion. By default, a comment thread page will display 15 comments, but this can be adjusted to 30 or 50 comments in the app's settings. On the discussion page you can also tap on a link to the originating article or web page (opened in Internet Explorer) and star a thread (which will then appear in the active discussions area of the network section of the app).
Comment pages allow you to reply to a specific comment (as opposed to adding a new comment) and, for longer comments, view the full text of a comment. It's also possible to vote a comment up and down. This voting system is used to determine which comments are popular, which is one of the sort methods available when viewing a comment thread. You can also, by tapping on a commenter's name, access a profile page for them, which is where you can opt to follow an individual, after which their comments will show up in the network section of the app.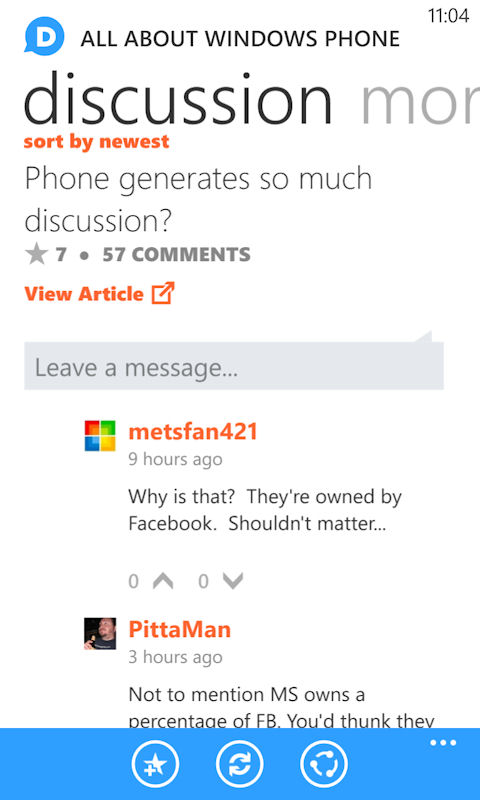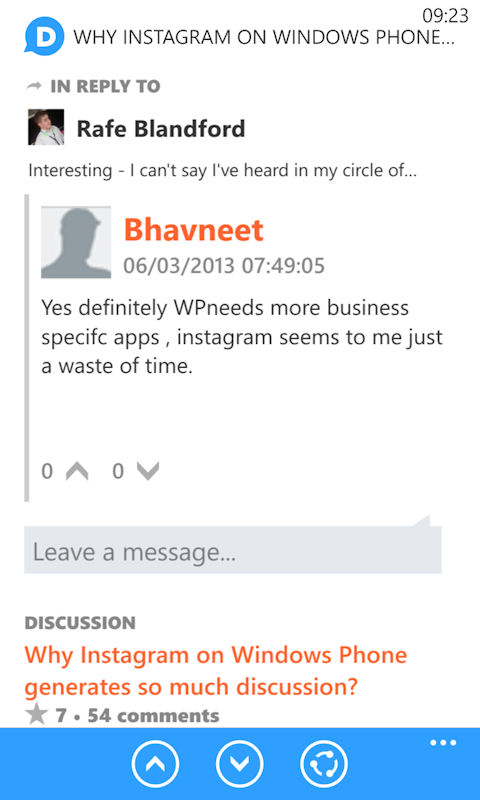 Adding or replying to comments is straightforward, and, thanks to Windows Phone's excellent on-screen keyboard, is not as onerous as you might think. Disqus has also included some nice touches that let you add basic formatting and mentions to a comment, the latter of which is part of the social nature of Disqus. Mentions means it is possible to reply to more than one person (and ensure they are notified of your comment) when making a new comment, or replying to an existing comment, ensuring the virtuous circle of discussion continues.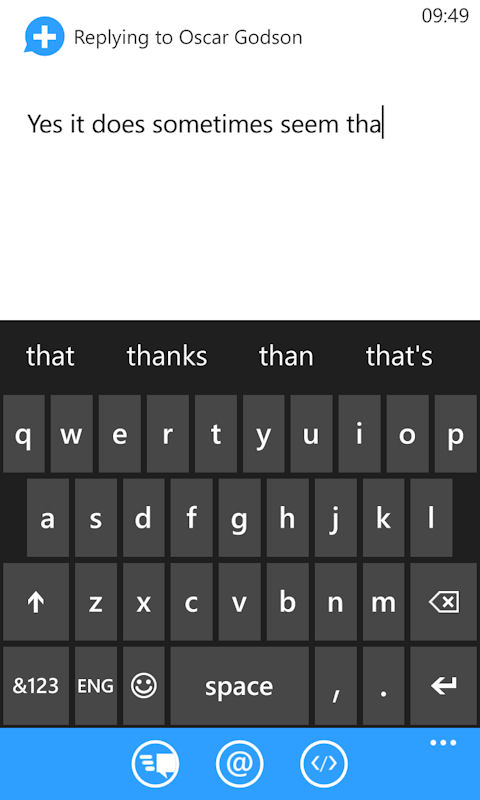 If you're a moderator for a site that uses Disqus then you can also use the app to administer comments. The app allows you to mark comments as spam (or approved) and you can also delete comments. Moderation functionality is relatively basic, but it is certainly enough to allow moderators to keep conversations flowing smoothly.
Overall, Disqus for Windows Phone is a very impressive app, with an impressive features set and a degree of polish that's unusual in a version 1.0 release. If you regularly comment on Disqus-enabled websites then it is definitely a recommended download. You'll almost certainly find yourself returning and contributing more often to existing conversations, but you may also find something new too... and don't forget to comment on All About Windows Phone!
Windows Phone Store description:
A mobile gateway to thousands of live discussions across the Disqus community of communities. Find, follow and discuss the stuff worth talking about, no matter what stuff you're into.
Disqus can be downloaded from the Windows Phone Store for free. It is available for both Windows Phone 7.5 and Windows Phone 8.
Reviewed by Rafe Blandford at