Review:
Fodor Travel Guides
Score:
68%
Long time publisher of travel guide books Fodor's have brought out a series of digital versions of their guides for Windows Phone. Currently there are seven tourist destinations around the world (Austin, New York City, Paris, London, Rome, San Francisco, and Barcelona). As I'm spending this week at SXSW, I've been looking at the Austin version of the application.
Version Reviewed: 1.1.0.2
Buy Link | Download / Information Link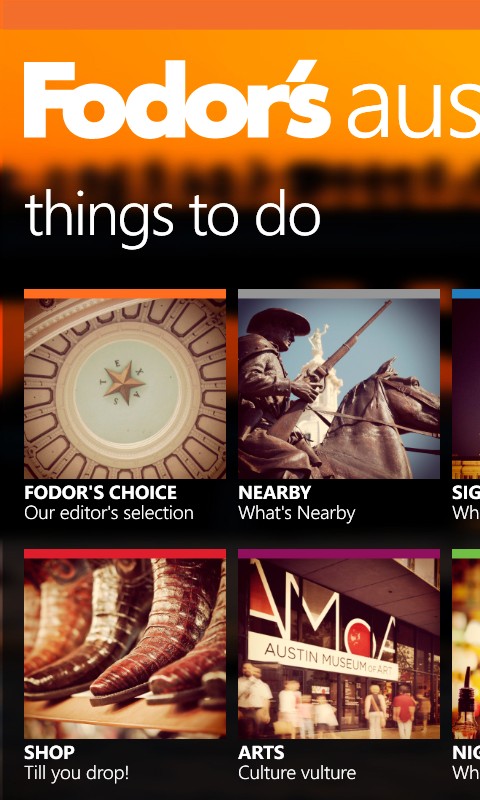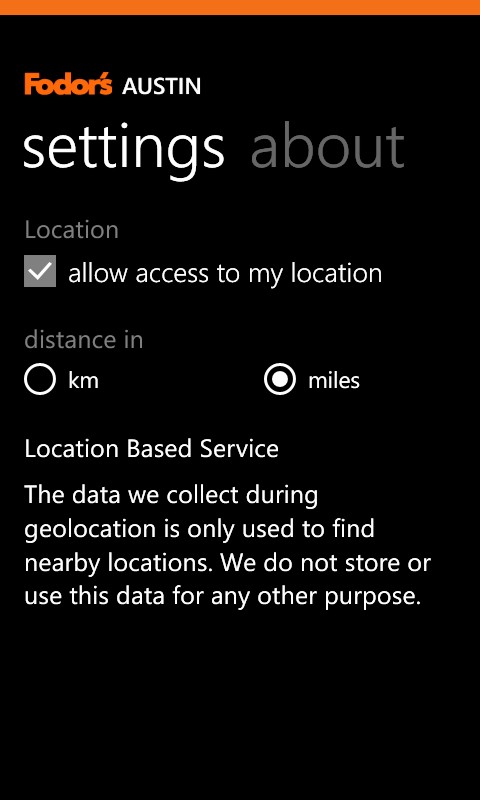 Opening up the application you have a typical Windows Phone panorama layout. There are eight boxes taking you into the content of the application. Six of them are traditional breakdowns that you would expect to see in a travel guide (Shops, Arts, Nightlife, Stay, Eat, and Sights).
Joining these are two tiles with a touch more interaction. The first is 'nearby' which looks at all the sights and notable destinations in the database and places them in context with your current location. The second is Fodor's Choice box, which narrows down the contents of the categories according to Fodor's own criteria.
Much of the data for the application is stored offline, which is a smart move. Data connections while travelling can be expensive, and while wifi may be available it's not always there for you when you are walking round a new city, with a roaming data connection.
It's also worth noting that the Fodor's guides are not event guides and 'what is happening in the city right now'. It doesn't pull down gigs, cinema times, or special events. What it does do is have the locations for all these events and links out to their website, addresses, or phone numbers. These interface with Windows Phone. You'll be taken into the web browser if you want, passed over to the built in mapping app to get directions from your current location, or you'll be asked to confirm if you want to dial the noted phone number.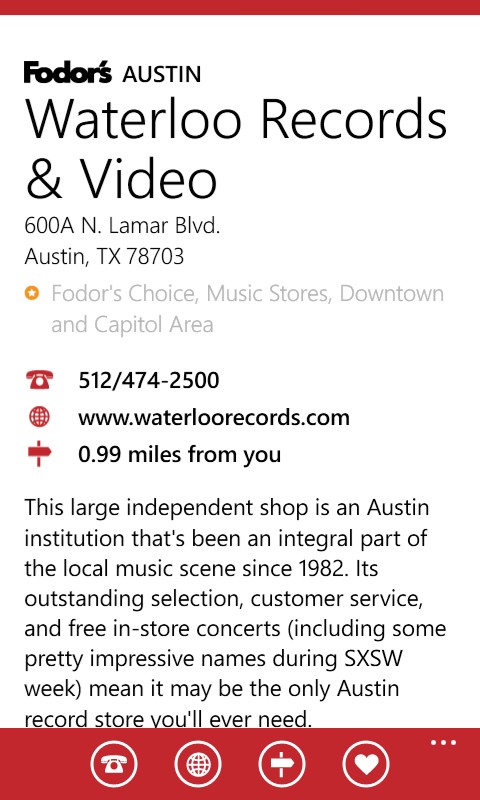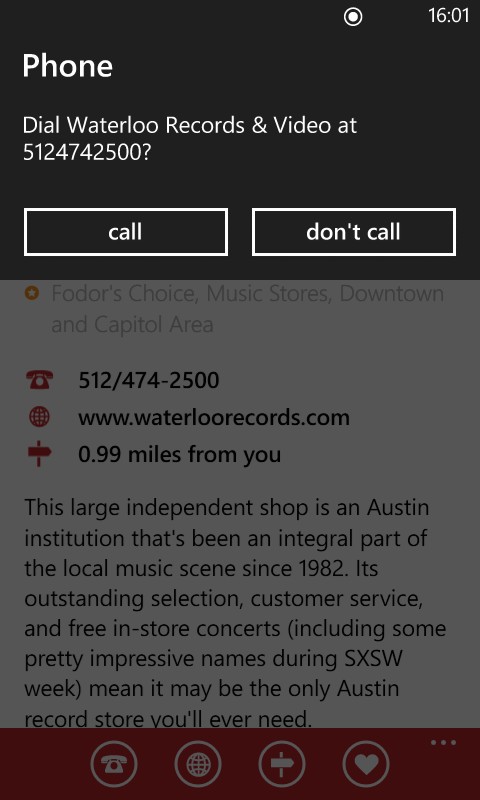 Given the number of times I've had to copy details between apps when travelling (and sometimes to a bit of paper, because it's easier than copy and paste), this integration, while simple, should not be scoffed at. Neither should the ability to pin a specific location as a Live Tile be ignored.
The editorial content is of a good quality. It is concise, with short details about each location, and the contact details are especially welcome. In previous years at SXSW, I've used the Bing local search engine to find businesses, and while that still works, Fodor's is a good complement if you have a rough idea what you are looking for (although I'm surprised it only returns one result in the state capitial of Texas for 'BBQ').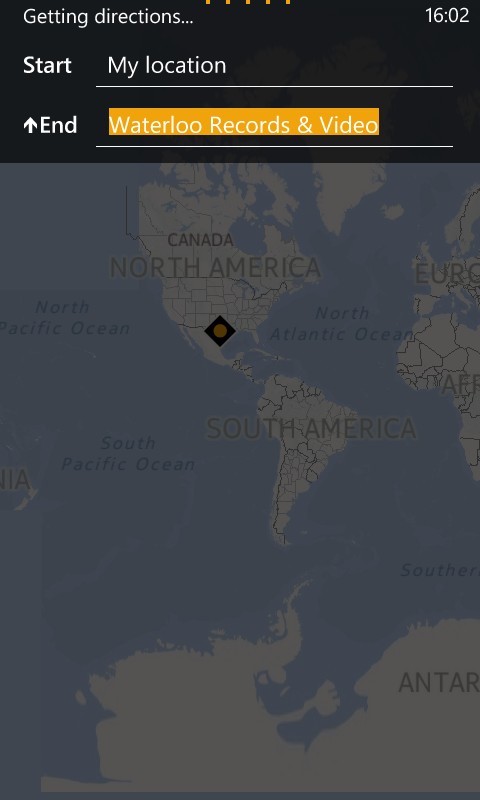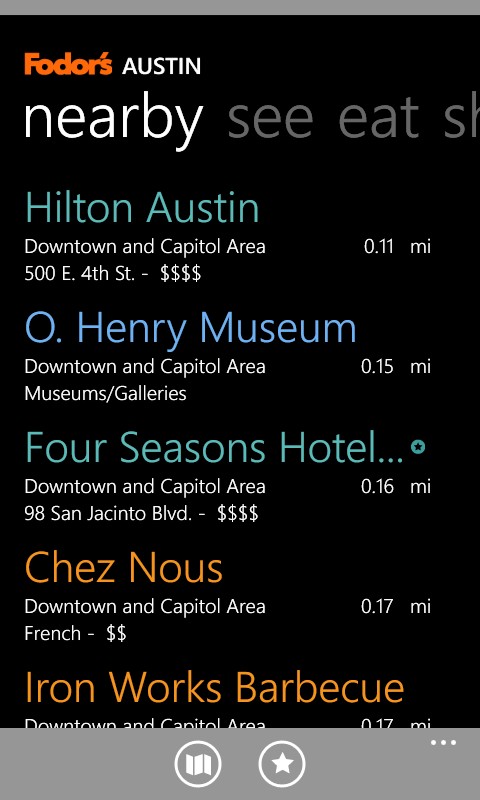 During my time in Austin, Fodor's has felt like a digital guide book done properly. It talks about places, it helps me explore, but it also is aware of the digital environment that it is in. I've a rough idea of Austin, but with other cities being added, I wouldn't hesitate to download Fodor's for a city that I am planning to visit in the near future. The majority of the time, there's no need for me to have this application. But in the moments when it is needed, it's incredibly useful, and definitely recommended.
Reviewed by Ewan Spence at