Review:
Movie Junkie
Score:
71%
The 'can you name this' genre of games is a popular one in the Windows Phone store, and we've mentioned a few before (such as 4 Pictures 1 Word). They can be quick to program, but they all need a bit of polish to become more than a distraction. Movie Junkie has that style, along with some tricky puzzles and a forgiving text parser that helps it to stand out from the pack.
Version Reviewed: 1.0.0.4
Buy Link | Download / Information Link
Packaged together over ten levels are four hundred movie posters, DVD covers, or memorable marketing images. All you need to do is name the movie. Now you're not going to get to see all the posters. When you open up a single puzzle you'll have a blank canvas, and a cursor randomly jumping around twelve squares in the canvas. Hit the reveal button, and a part of the poster is revealed. You have three 'reveals' to show you a quarter of the poster, and from that you type in the name of the film to clear the puzzle.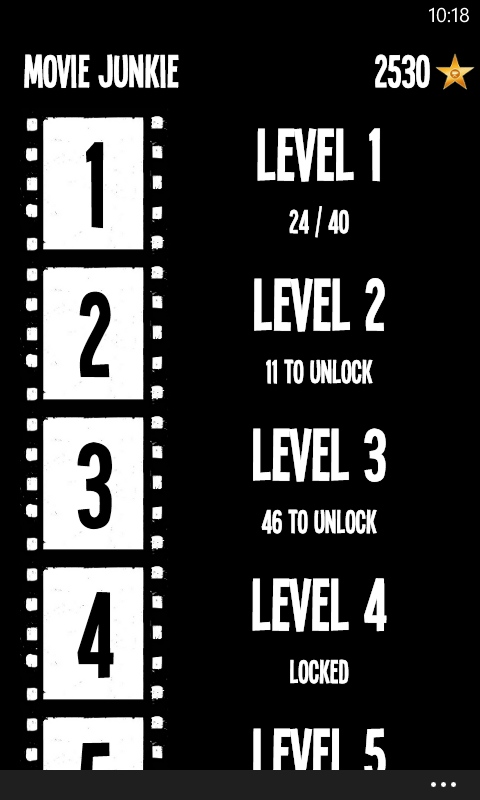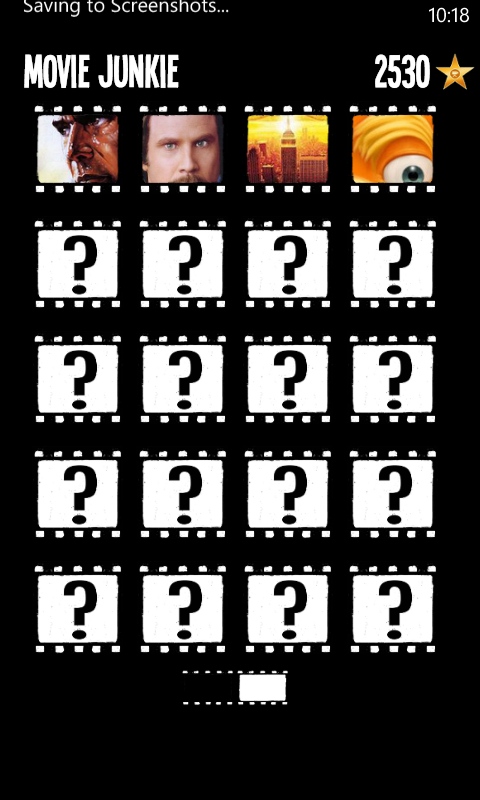 Movie Junkie uses its own interface on top of the standard Windows Phone keyboard, so you don't have any of the suggestions or error correction you would have if you were composing a text or an email. What you do get though is the ability to be two or three letters 'out' in a long movie title and still have the film name accepted by the game - presumably because you are close enough to the actual title.
Once you get a movie right, you'll score 100 stars, and can select another puzzle. You'll need to clear a certain number of puzzles in one pack to move on to the next, but thankfully 100% completion is not needed to advance, so you can happily stay stumped on the occasional poster.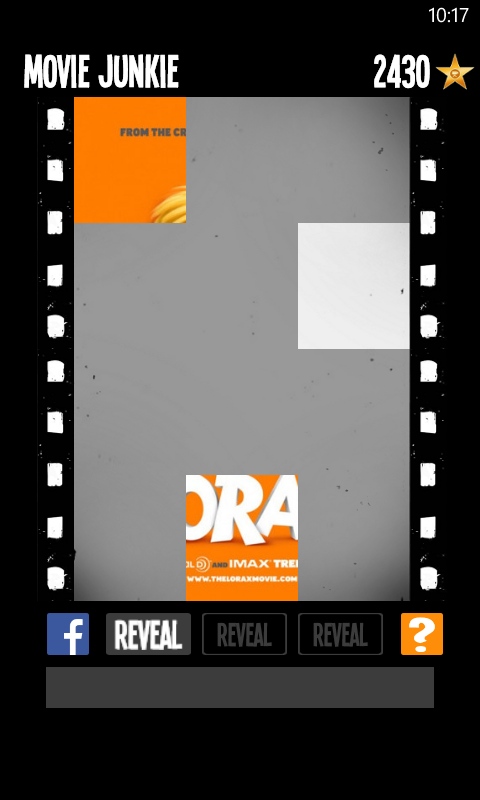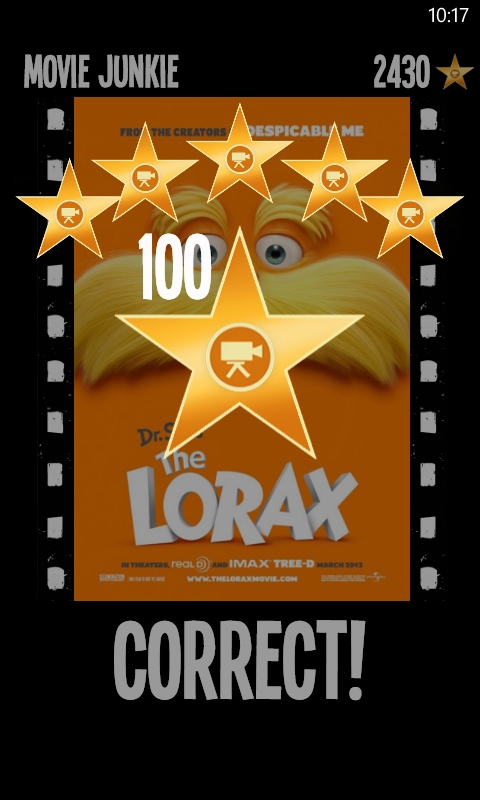 You don't need to stay stumped, as you can buy more 'reveals' by spending the stars you have earned by playing the game (you also start with 2000 stars). This is the one point where Movie Junkie might ask you for some money, as you can get more stars through an in-app purchase - although I found that it was far easier to go ahead and solve some more posters and then come back to a tricky puzzle.
This is a very light freemium model (coupled with in-app advertising) and it's nice to see that the developers have not lumbered Movie Junkie with too many freemium options.
Movie Junkie is a rather cerebral challenge, which misses a number of game mechanics that could provide more of a gaming challenge... It would be nice to have a bonus star award if you can solve a movie poster using just one or two reveals, rather than the supplied three reveals... maybe you could hold 'in hand' a spare reveal for another poster in the same pack?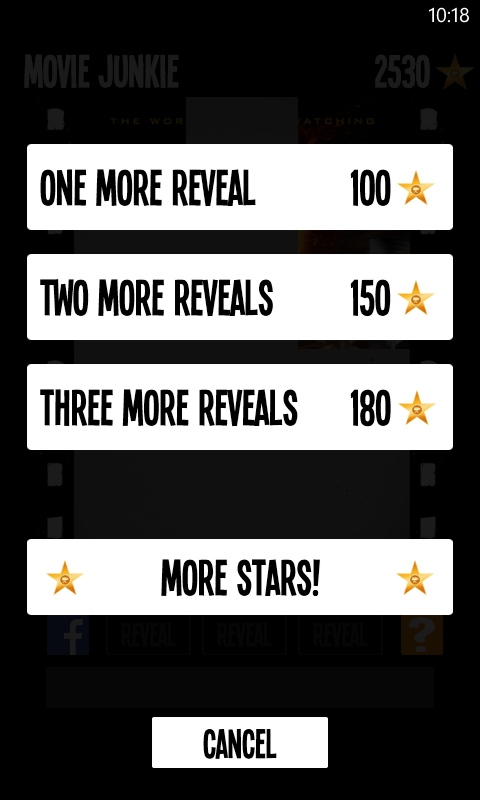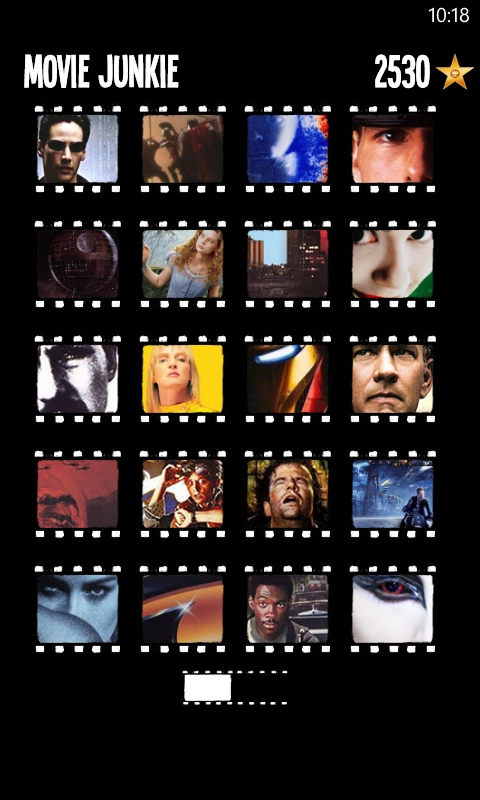 I think it would also be nice to have a visible cursor when editing the movie name you have typed in, and have some sort of indication of puzzles you have previously opened.
But those very small issues aside, Movie Junkie is a well coded quiz game on your Windows Phone. It is going to appeal to the cinephile, and I think that a casual user is going to purchase far more star reveals than I have been using (not everyone can recognise 'Akira' from the tyre on a motorcycle), and while it might not have a steep difficulty level, it's diverting to play, it is challenging, and it's a good game to share with others when you are stumped on 'Q: The Winged Serpent.'
Reviewed by Ewan Spence at