Review:
Ruzzle
Score:
82%
Some words for the weekend? Only if you're ready to challenge your friends to find the most words! As the summer continues to shine down, let's take a closer look at Ruzzle, the multi-platform wordsearch game from Sweden's Mobile Access Group.
Version Reviewed: 1.3.0.1
Buy Link | Download / Information Link
With just a hint of 'Wordament' in the design, Ruzzle challenges you to slide your finger through a 4x4 letter grid to make as many different words as possible. Unlike Wordament, where you played the same grid as everyone else in the world concurrently, and then saw your score ranked in a single global score table, Ruzzle is a more personal challenge. You'll select your opponent and play for two minutes on the same square grid of letters - score the most over three rounds and you'll be the winner!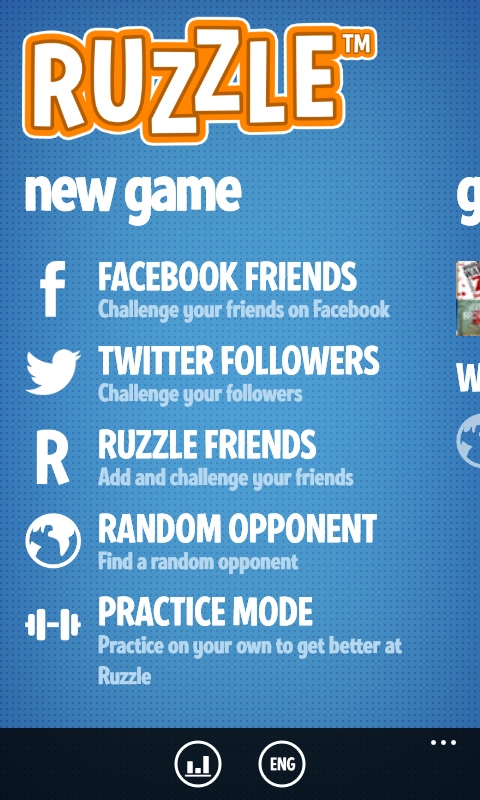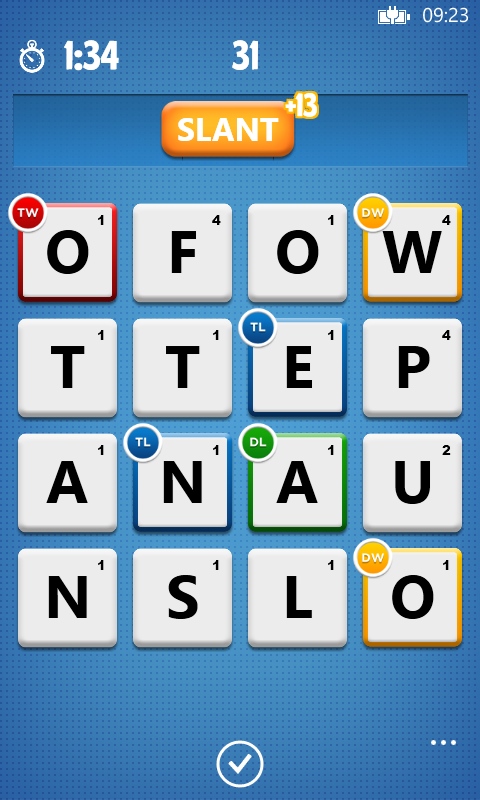 Ruzzle is designed as a head to head game from the very start, so finding opponents is a key part of the interface. Naturally you can be assigned a random opponent so you can get started as quickly as possible on first opening the game, but you also have the opportunity to invite and play with friends on Facebook or Twitter - Ruzzle is also available on iOS and Android.
Anyone you do find or play against in the game can be added to your friends list inside the application, so it's an easy matter to start a rematch.
You also have a practice mode, which gives you a grid for two minutes so you can practice making words and aiming to beat your high score - while the statistics are being kept while you play, you can only access your high score, best round, and other stats if you purchase the full priced version of the game, which is £2.29. In terms of gameplay though, Ruzzle is fully featured in its trial mode.
So, you've selected your opponent and you start a game. Let's talk a little about the timing here. As mentioned, Ruzzle eschews the idea of playing your opponent at the same time. All that matters is that you both play the same grid for two minutes before the scores are compared. So if you've started the game, you'll play through and then wait for however long it takes for you opponent to play the same grid so the winner of the grid can be found.
Luckily you can have multiple games going on at the same time so while you might be waiting for some players to take their turn, there's nothing to stop you starting up a number of other games. This way you should never be waiting to play a game, but if for some reason you do have to wait, don't forget the practice mode.
The game grid asks you to link letters to create words, scoring points as you go along. Much like Scrabble, letters can be worth differing points value, depending on how useful they are in making words. To mix up the scoring in each grid a little more, you will have a number of tiles that offer double or triple points for that letter, or double and triple score for that word.
Given you're shooting for the highest score possible, these tiles are key. You know your opponent will use them, so it's in your best interest to use them as well.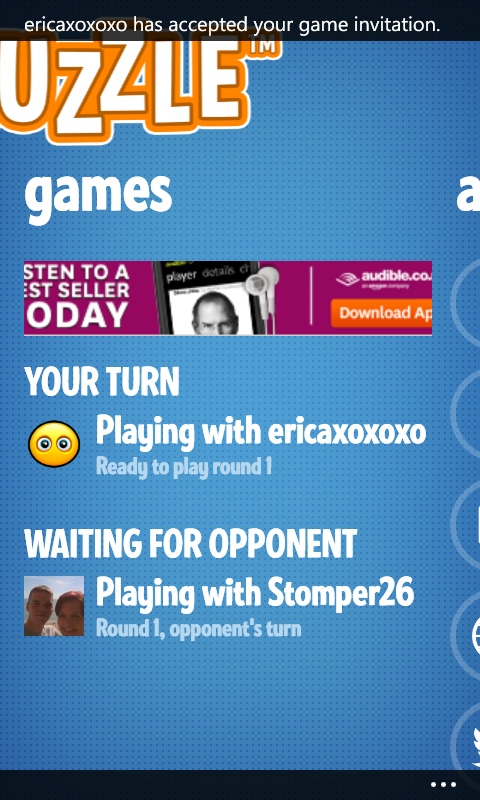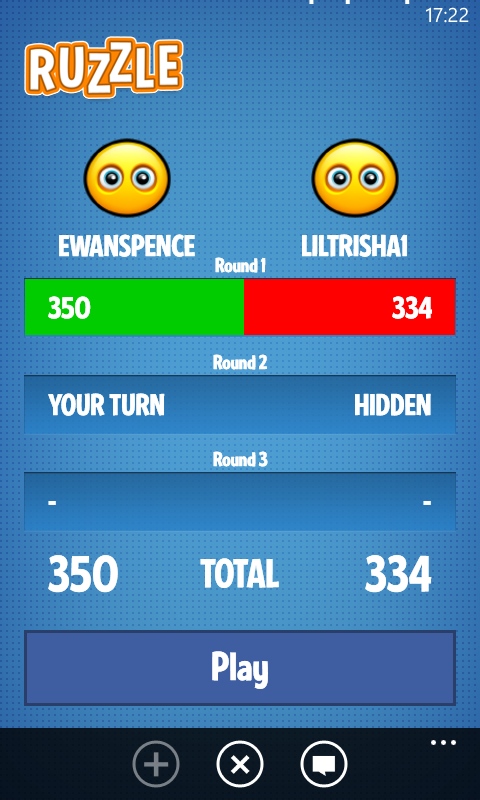 With Ruzzle being a timed game, having a good code base that is responsive and clear is vital, and thankfully it does have that. Selecting a word is a simple matter of running your finger between the tiles (diagonals are allowed, just like in Wordament). The only blot on the gaming landscape is that if you make a mistake, you can't simply backtrack one letter to correct it, you need to start again with the word from the first letter. In a timed game, even losing half a second (or a second on a longer word) can be frustrating.
Focusing on the letters means non-visual cues to your progress are important, so the chirps and whistles on successfully completing a word are welcome and fit in well with the happy nature of the design. The quick 'brrrrrr' of an incorrect word created is also good for feedback, perhaps more so than the enthusiastic bell of 'you did very well with that long word'.
The challenge mechanism works well, although I think I would have preferred the scoring to be whoever wins the most grids, rather than adding up the scores over the three rounds, but I can see the thinking behind this, and it does mean you don't have a 'dead' round to ignore when playing a strong opponent.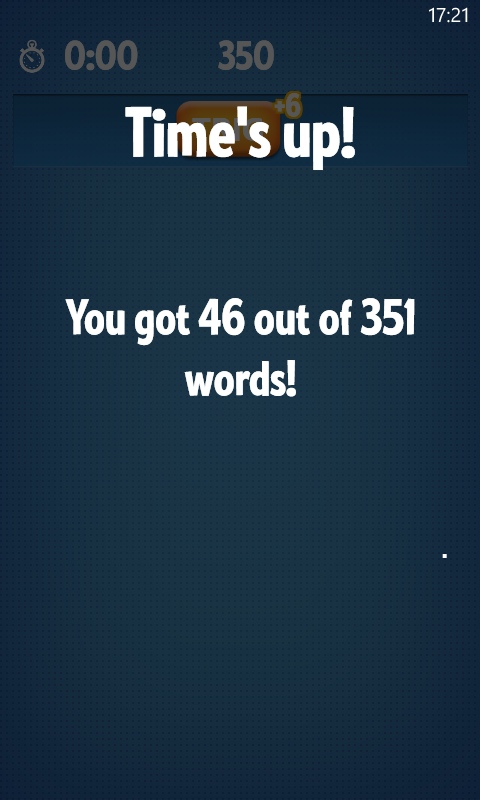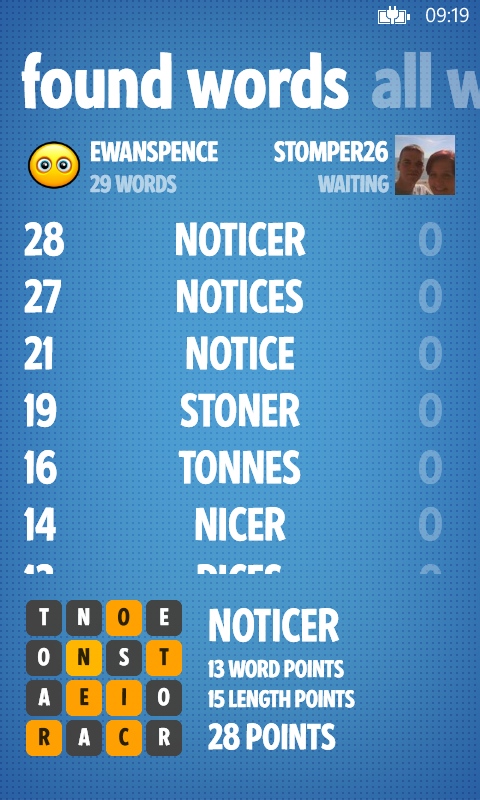 Taken as a whole, Ruzzle has the same starting point of design as Wordament, but the final game is a lot more friendly in presentation and in playing. The graphics are all curved edges, and the font used takes probably the best elements of Comic Sans and Arial. The game grid itself brings a tile-shaped physicality to the world, and while it still remains relatively minimalist, it's far more friendly and easy to play on than Wordament's flat tiles.
Add to this graphical look the pace of the game itself, with asynchronous playing against human opponents, and you have a slow-paced but intoxicating personal challenge that's nice to look at, fun to play, accessible, and most definitely value for money.
Ruzzle is highly recommended for word puzzle fans, and if you've a competitive streak in you, so much the better.
Reviewed by Ewan Spence at