Review:
TuneIn
Score:
81%
TuneIn Radio is an American service that allows you to stream audio from around the world. Primarily set up to allow you to listen to international streaming radio, it also allows for some podcasting and fixed audio programming to be played in the interface. If you're looking to listen in on a station from anywhere outside the transmission range, this is the app for you.
Version Reviewed: 2.4.0.0
Buy Link | Download / Information Link
The application looks very much like a regular Windows Phone 8 app, it follows the design language of the platform through the majority of the interface, with the main panorama view offering you categories and topics to explore, while a quick swipe to the side shows you your saved stations (the presets) in the second of two panes.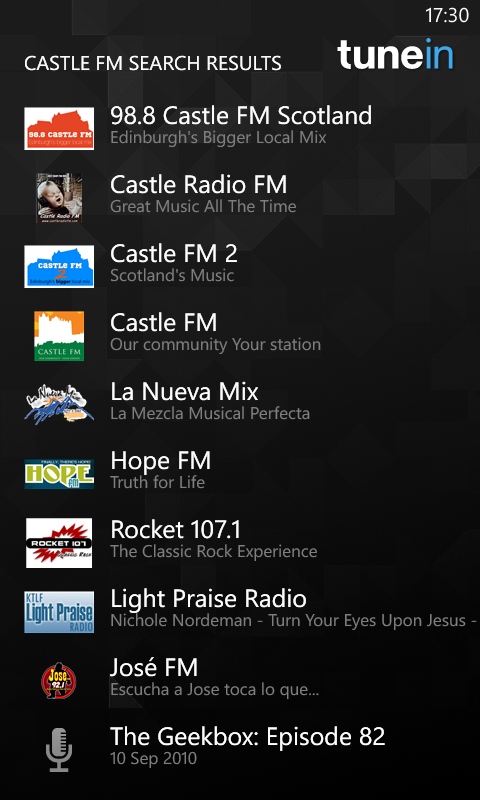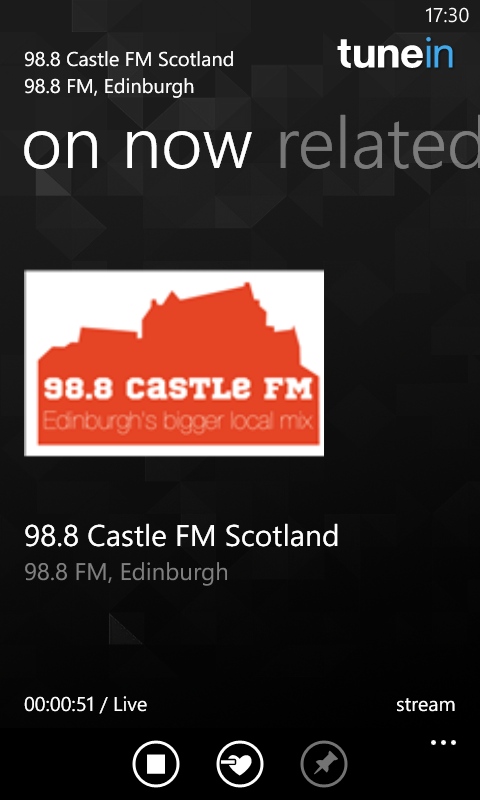 There's a huge range of stations on offer here - it's a simple matter for a station to submit itself to TuneIn, and if the quality is poor or not as advertised, listeners can report the station's issues to the TuneIn team. This means that the stations in the lists are pretty much guaranteed to work.
The quality, both in terms of the audio stream and the shows on offer, are down to the radio stations themselves, but one advantage of having all this choice is that if you're not keen then it's not difficult to change station.
Discovery is always tricky with an app like this, but I suspect most users will be looking for familiar stations to them, so the direct name search will be more than enough. You also have the option of searching for stations that are 'available' around your current location, using your Windows Phone's GPS, or you can select a region yourself to see what's on offer for a location. Want to listen in to stations in New York or Melbourne? Not a problem - although I would have loved a search box to type in a city name, rather than having to go through a 'continent / country / region / city' set of stacked text options.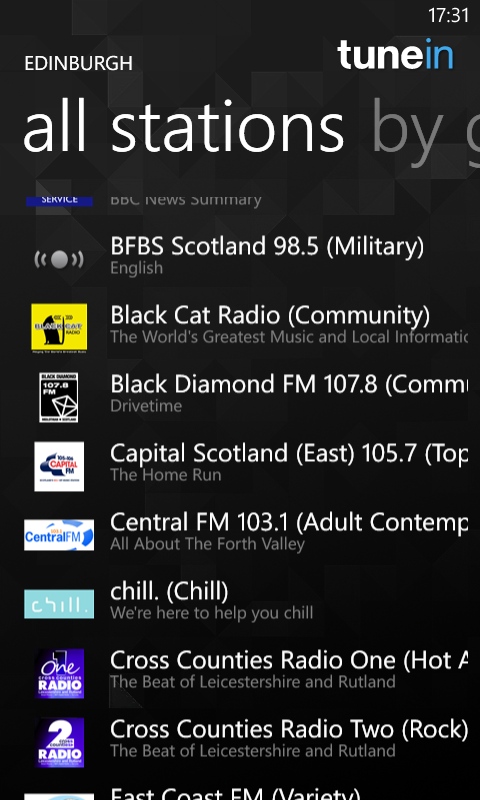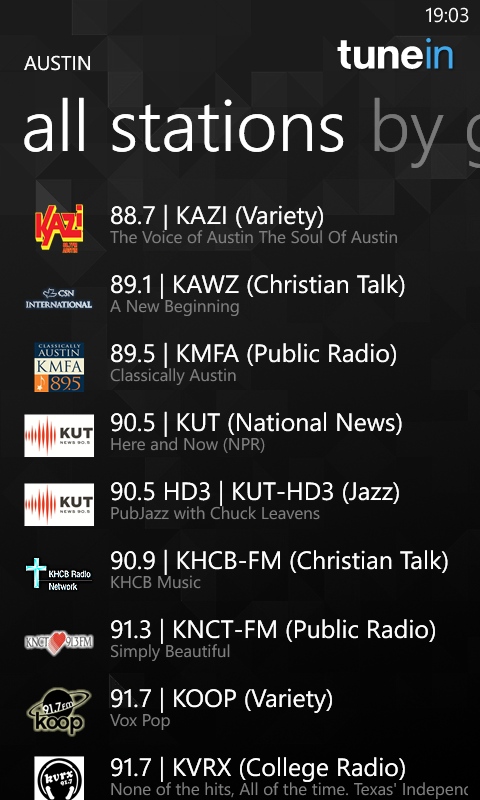 Once you find a station you like, you can tap the heart icon to mark it as a favourite and it will show up in your list of presets on the panorama screen mentioned before. If you want to take them off your presets, you have to go back into the station screen - the long press option will only offer you the 'pin to start screen' option. This shouldn't be too difficult to tweak in the next version.
As well as radio, TuneIn also allows you to stream a number of podcasts from around the world. You can't add your own podcasts to the app, and have to rely on the directory in the app, and neither can you save the podcasts for listening offline. So this is a nice backup option for podcast listening, but it's not one that I would recommend if all you want is an app to listen to podcasts. A good addition, but not a major one. TuneIn is all about the streaming.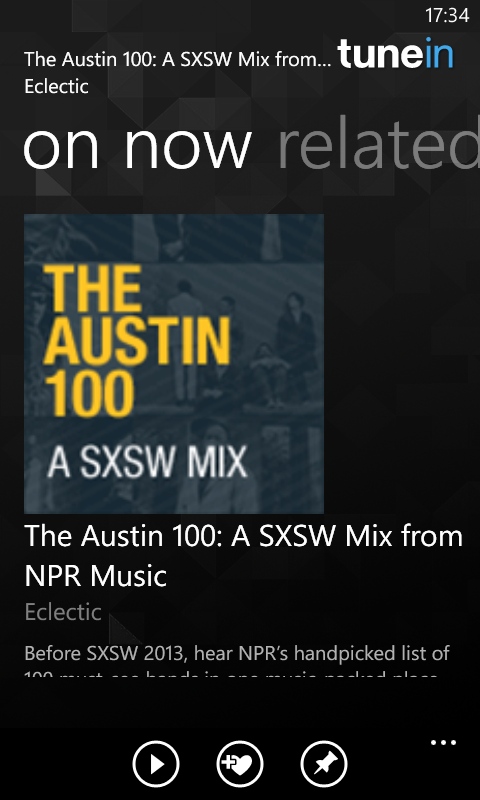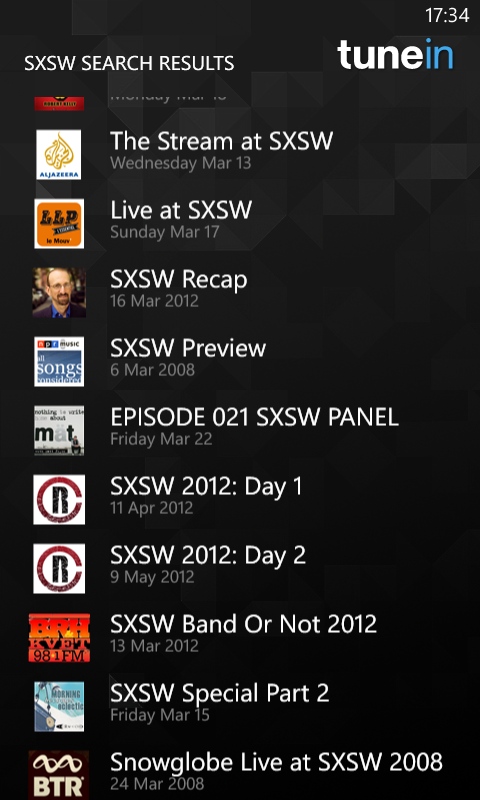 As a rough rule of thumb, listening to one hour of streaming audio at 64kbps takes about a Gigabyte - double the stream rate to 128kbps and you double the data, and so on. To help with data, some stations offer multiple streams of varying quality, so you can dial back the bitrate if you're watching your usage.
Naturally TuneIn can suck up a lot of your bandwidth when on a cellular connection, but (technically) the app copes well with this, with a decent sized buffer and whatever black magic is used to fill it and keep up with the tiny data dropouts that any streaming service has to cope with.
TuneIn shows itself as a media application to Windows Phone, so it is listed in the Music+Video hub as an application, and the media controls will work with the application when it is running in the background. It also goes the next step and causes the stations you have been listening to show up in the history list so you can jump directly back to a station previously listened to.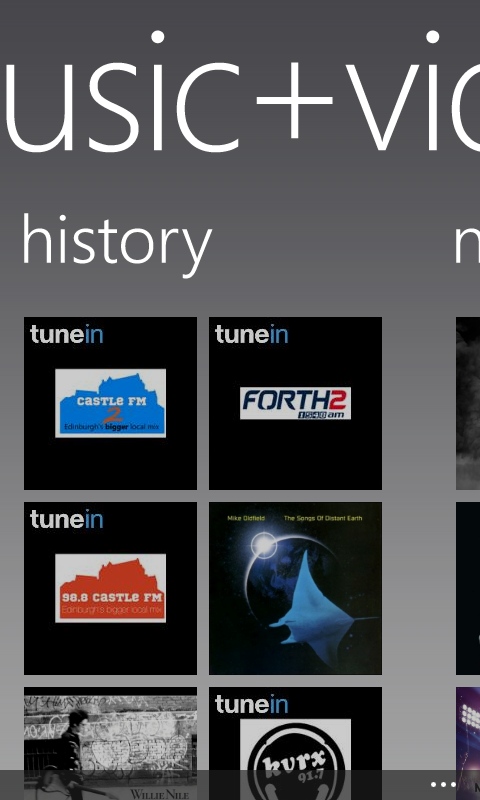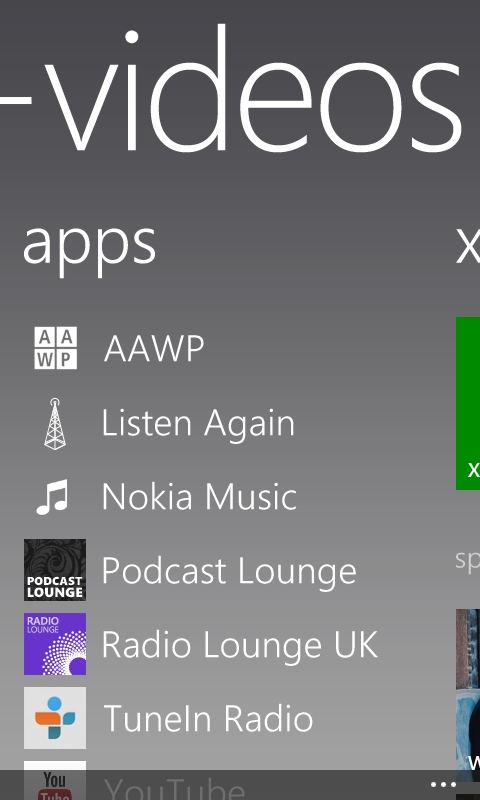 TuneIn does exactly what it sets out to do, with little fuss or flourish. Thankfully the Windows Phone UI, with the pivots, panoramas, and screens, means that even a basic layout is easy to use, fits in comfortably with the rest of the phone's system, and looks smart enough.
Besides, most of the time you'll be listening to the radio running in the background while working on other tasks with your phone, or you'll have it tucked in your pocket with some headphones on.
If you're into your world radio, TuneIn is a free app that I would be happy to recommend.
Reviewed by Ewan Spence at