Review:
NewsSpot
Score:
82%
NewsSpot is an RSS-based application that offers you content from your favourite website, letting you know what you have read, what you still have to read, and allowing you to share those stories with friends, the social web, and other online services. There's still a need for a solid RSS reader in 2013, can NewsSpot fill that gap?
Version Reviewed: 3.1.1.1
Buy Link | Download / Information Link
NewsSpot, like many RSS reading applications, was dealt a bad hand by Google when they decided to shutter Google Reader. At a stroke the main sync engine was lost for these clients, and others had to be sought out.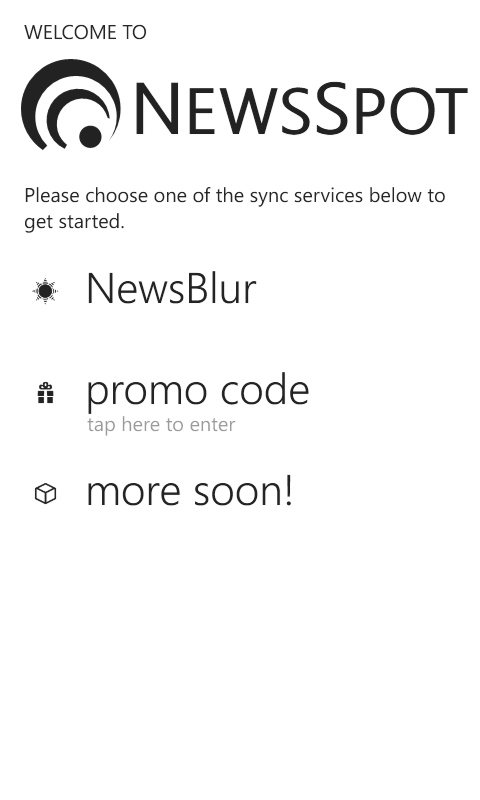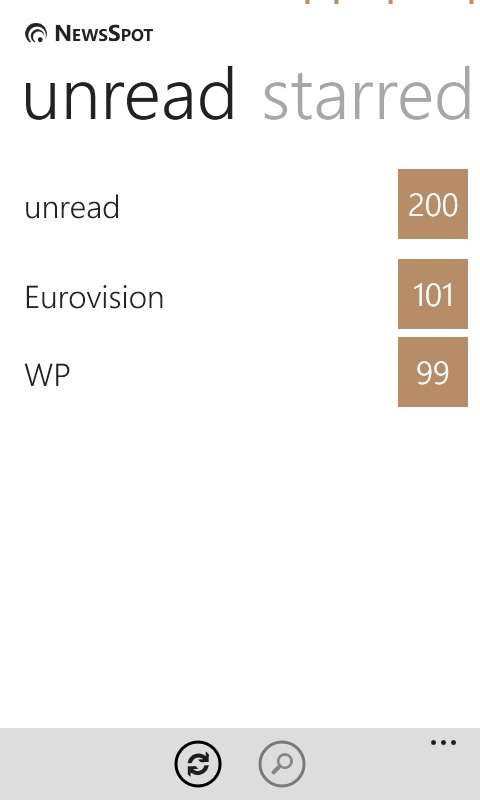 NewsSpot now syncs using the NewsBlur web service as a sync engine - NewsBlur also has a web page portal, so you can do the management of your RSS feeds on a desk-bound or laptop PC. When you're looking to add a lot of RSS feeds, this is a far easier way to do so. If you remembered to export the XML file of your Google Reader subscriptions, then simply import them back in to NewsBlur and you're good to go.
Once your happy with the changes, hit the refresh button in NewsSpot and you'll have the latest feeds, headlines, and stories synced to your device.
It's worth noting that this is where the trial version restrictions kick in, you get to sync 200 unread stories and 50 starred stories to try out the app, after that it's £1.49/$1.99, which feels like a good balance of functionality and limitation - if you're not sure by then, I don't think there's much else that would convince you.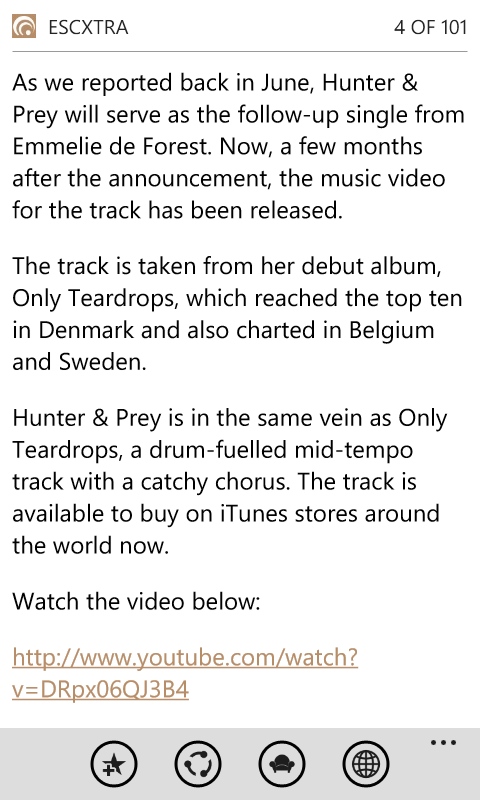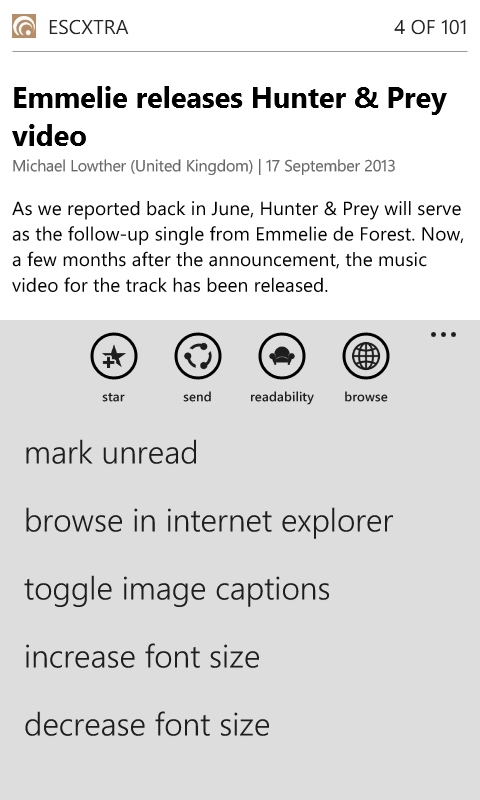 Depending on how you want to read the articles, NewsSpot is going to be wonderful or frustrating. Although you can organise your RSS feeds into folders on NewsBlur, you can't separate out the feeds when reading on NewsSpot. So if I want all my Eurovision feeds in one long ribbon of headlines, that's not a problem. If all I want to do is read the headlines from a single site (such as the official Eurovision.tv site) then I'm out of luck - or the option is hidden away in a maddening place. Either way, it's something that is missing from the app.
Which is a shame because a lot of thought has gone into the user interface. While every headline can be tapped through in the application to be read in a secondary screen, after that you have a number of options to help read the app. The obvious one is to open the page in Internet Explorer and get all the layout, images, and website backgrounds. You also have a readability mode in the app, which parses the content of that feed item through a basic browser engine to improve the layout of the text, and bring in some images and media.
You also have menu options to increase or decrease the font sizes to get the best view for your eyes - older RSS fans such as Steve and myself will probably want to zap the font size up, but there's also the fact that a font that works on a Lumia 928 won't provide the same experience on a smaller Lumia 520.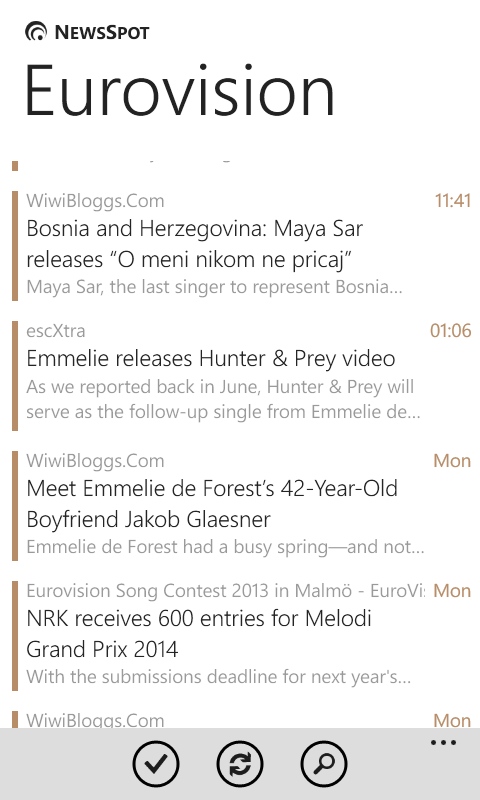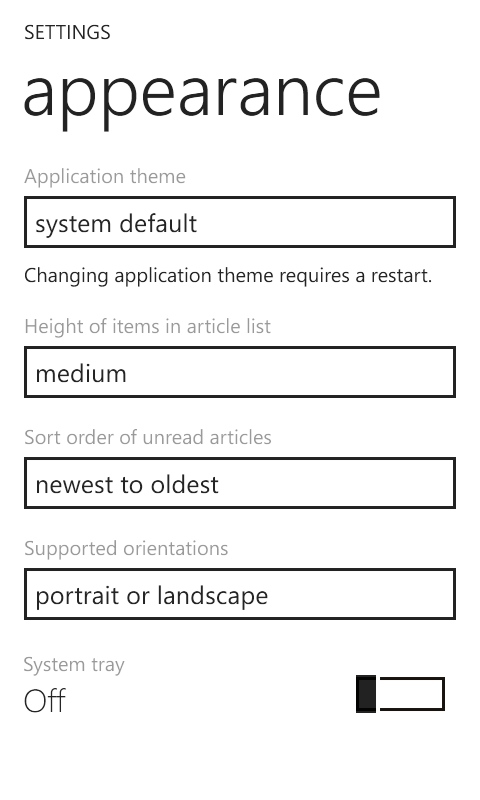 Keeping track of all these stories is aided by a 'star' system. Once you find a story you want to mark for later perusal or follow-up, just hit the star button in the menu bar. These stars are also synced back to NewsBlur so you have a track of them over all your devices.
Finally, the 'send' menu option brings up thirteen different options to share the content, be it copying the link to the Windows Phone clipboard, submitting it to Delicious, Facebook, Twitter, Instapaper, Evernote, and more. I get the feeling many of these are used by the developer of NewsSpot, but they all have their place in the social web.
There's also rather a lot of settings, with six different sub-panes to look through (although one of those is the about screen, so it shouldn't be that scary, even though it has a detailed changelog and seven varieties of contact/interact options to work with the team at FourSpotProject).
They are well laid out, from the general settings which deal with how you move through the application, through the ability to add multiple accounts for syncing, to the details of syncing the app. You can set NewsSpot to sync when it opens, on a regular schedule, or never at all (so you will need to manually hit the sync button to download new content).
Don't forget the appearance pane either, allowing you a choice of themes, article sizes in the views, and how you want the sorting to be undertaken.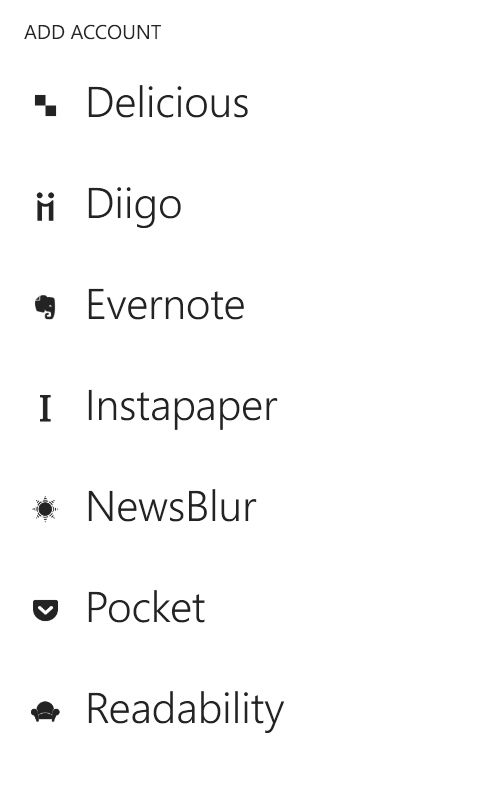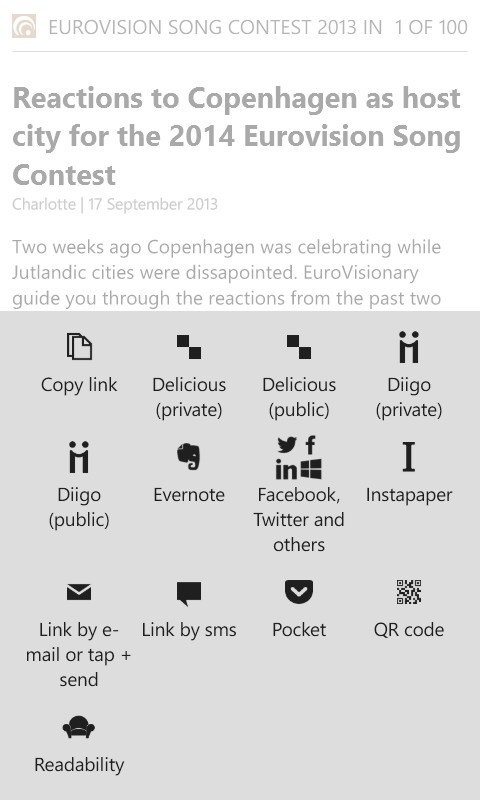 While the Windows Phone purist in me thinks that a strict following of the Windows Phone Design language would remove the need for many of these options (just follow the book!), having spent a long time working with RSS readers and eBook apps, setting up any sort of prolonged reading experience on a mobile device is intensely personal, and having the options to tweak NewsSpot to such a fine level is welcomed.
There are some rough edges to NewsSpot, and I would like to know a bit more about the NewsBlur service that is used as the sync engine - to make full use of NewsSpot I have to commit totally to NewsBlur, and I want a background check and two letters of recommendation (or at least the Web 2.0 equivalent) before I'm comfortable. The ability to decouple and run NewsSpot without an external sync engine and power everything from the handset would be nice, but I don't think the design of the current app would allow that to happen easily.
Functionally, it does about ninety percent of what I would want an RSS app to do, and in the current climate that's a pretty high strike rate. If you're looking to move on from Google Reader, but want something you can tweak and adapt with ease to your own feeds, rather than a curated list, then NewsSpot should be very near the top of your list.
Reviewed by Ewan Spence at