Review:
Nokia DC-19 Universal Portable USB Charger
Score:
90%
Nokia's DC-19 Universal Portable USB Charger provides an easy way of topping up your phone's battery when out and about. That's something that seems to be an increasingly common requirement, a result of integrated batteries having become the norm, and the reality that most smartphones need to be charged at least once a day. There are a large number of portable battery charging products on the market, so is there anything that makes Nokia's latest entry in this category stand out from the crowd?
The Nokia DC-19 is the latest in a long line of portable battery charging accessories from Nokia, but it is most obviously a direct upgrade from the Nokia DC-16, with which it shares a similar columnar shape. But, as we shall discover below, the DC-19 is very definitely an upgrade, with the most important factor being a 50% increase in capacity, with no commensurate increase in volume (both the DC-16 and DC-19 are around 50cc in volume).
As with other recent Nokia accessories, the DC-19 is available in multiple colours (yellow, white, and cyan). These colours provide a match with some of the most popular colours used in Nokia's Lumia and Asha devices. However, it is worth noting that the DC-19 is a Universal Portable Battery Charger, which means it will work with any device that charges via microUSB.
The box contains the DC-19, a CA-189CD USB to microUSB charging/data cable, and a small user guide/warranty leaflet. The charging cable is colour matched to the DC-19 unit and is around 25cm long. The cable is covered with a rubber material that adds extra grip and that should stand up well during day-to-day usage.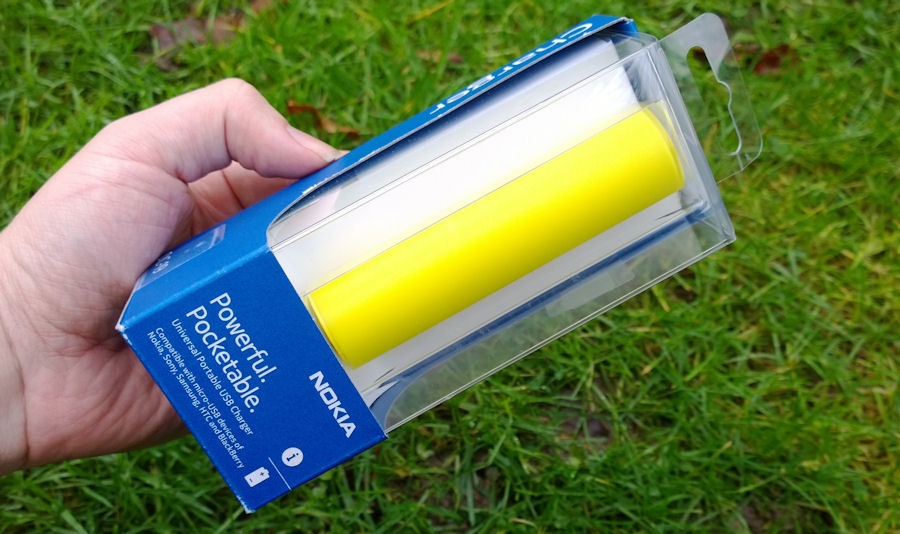 Even a quick glance at the DC-19 makes it obvious that this is a Nokia product, carrying clear hallmarks of a product that has benefited from the attention of the Nokia design team. It's not just the now ubiquitous use of colour, it is also about the shape and feel of the product. Also notable is the use of a dual-shot casing design similar to that of the Lumia 625.
At one end, there is a button (with battery icon) and four LED lights. On pressing the button, the LEDs will light up to indicate the charge level, something that is particularly useful if it has been a while since you used the device. At the other end, there is a Type A USB port and a microUSB port. The first of these is used when charging a device, while the second is used to charge the DC-19 itself. This means the device can both charge and be charged with the cable included in the box.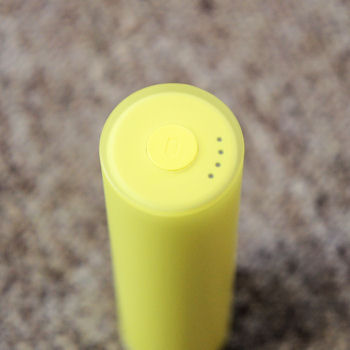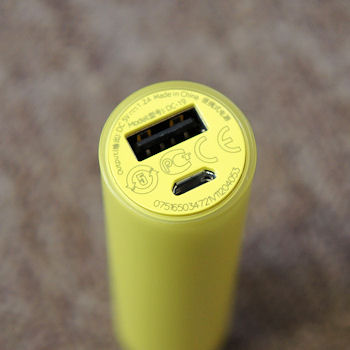 The DC-19 has a capacity of 3200mAh, more than enough to fully recharge every device in Nokia's Lumia and Symbian device range, with the exception of the Lumia 1520's 3400mAh battery. For a relatively small device it is an impressive capacity, an indicator of both good design and advancing battery technology. Equally impressive is the 1200mA charger output, which means the DC-19 will recharge devices faster than many competing products (a charger output of around 950mA is more typical). It will also charge a greater range of devices, since some require higher levels before the charging circuits will activate.
The recharge time is impressive too, with Nokia quoting a full recharge time of 200 minutes, though this is partly dependent on what you're using to recharge the device. Recharging off a computer's USB port may be considerably slower than recharging using a wall socket, depending on the power set up of the USB port being used. When recharging, the DC-19's LED indicators will light up one-by-one to indicate the charge status, with a flashing light indicating the current charging level (e.g. three constant lights and one flashing light indicates the charge level is between 75% and 100%).
The DC-19 supports "daisy chain" recharging too, whereby the accessory is connected to a wall socket (or USB port), and a phone is connected to the DC-19. In this scenario, the DC-19 will recharge first and then, subsequently, recharge the phone. It's particularly handy when on the road with limited cables / power sockets / USB port, or simply for the plug-in everything and "forget until morning" use case.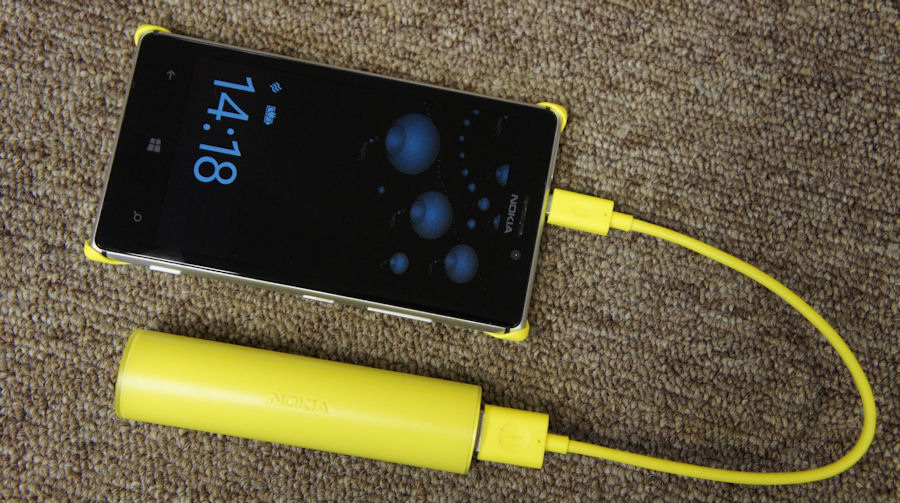 At the start of this review, we mentioned that the DC-19 as essentially being a replacement for Nokia's earlier DC-16 charging accessory. Making a comparison between the two shows several significant advantages in favour of the newer accessory. Battery capacity has been given a boost of almost 50% (2200mAh to 3200mAh). The increase in the output current, which means the DC-19 will charge devices faster than the DC-16, is also a notable upgrade, as is the the faster recharge rate.
| | | |
| --- | --- | --- |
| | Nokia DC-19 | Nokia DC-16 |
| Height | 99.5 mm | 120 mm |
| Diameter | 25.4 mm | 23.3 mm |
| Weight | 78g | 75g |
| Capacity | 3200 mAh | 2200 mAh |
| Charger Output | 1200 mA | 950 mAh |
| Standby time | 6 months | 3 months |
| Recharge time | 200 mins | 300 mins |
| Charging Indicators | Yes (4 LEDs) | Yes (4 LEDs) |
| Connector | microUSB | microUSB |
There's no need to upgrade if your current accessory is serving you well, but if you're looking to buy a new Nokia branded portable battery charger then the DC-19 is the unit to go for, even bearing in mind the £12 or so price difference between the two accessories. The DC-19 is currently available from Amazon UK for £31, but we expect that price to fall as the accessory become more readily available.
Compared to other portable USB chargers in this category (e.g. Anker Astro Mini), the DC-19 is relatively expensive, but you're paying for both a superior specification and the reliability that comes with the high quality Nokia design and branding. You will also find other products that offer a higher battery capacity, but that comes with a size increase, which means they are generally unable to match the slip-in-the-pocket convenience of the Nokia unit.
That balance between portability and capacity, together with excellent design and top-of-the-line specifications, is what makes Nokia's DC-19 accessory stand out from the crowd and makes it one of the very best portable battery chargers in its class.
Essential for every Nokia device owner? Not quite, but it's really not that far away.
Reviewed by Rafe Blandford at