Review:
Podcast2Go
Score:
76%
Unbelievably, even after my exhaustive round up of podcatchers recently, it seems that there's another candidate to consider - and a potentially good one, too, with Podcast2Go both relatively new and also massively updated recently and taking it (almost) into the top flight of contenders. You'll see what I mean from the UI screenshots when I say that this is more than reminiscent of Pocket Casts (the top Android podcatcher). Emulating the best is clearly a good way to proceed, producing a top notch podcatcher, though UI purists will no doubt tut over the lack of adherence to Windows Phone UI guidelines.
Buy Link | Download / Information Link
The 'modern Windows' UI makes a lot of sense for some applications and not so much for others. The developer of Podcast2Go has clearly decided to go his own way and it's rather refreshing for me, as someone with one foot in the Android camp most days - this podcatcher reminded me at every turn of Pocket Casts on Android, which should most definitely be considered a compliment.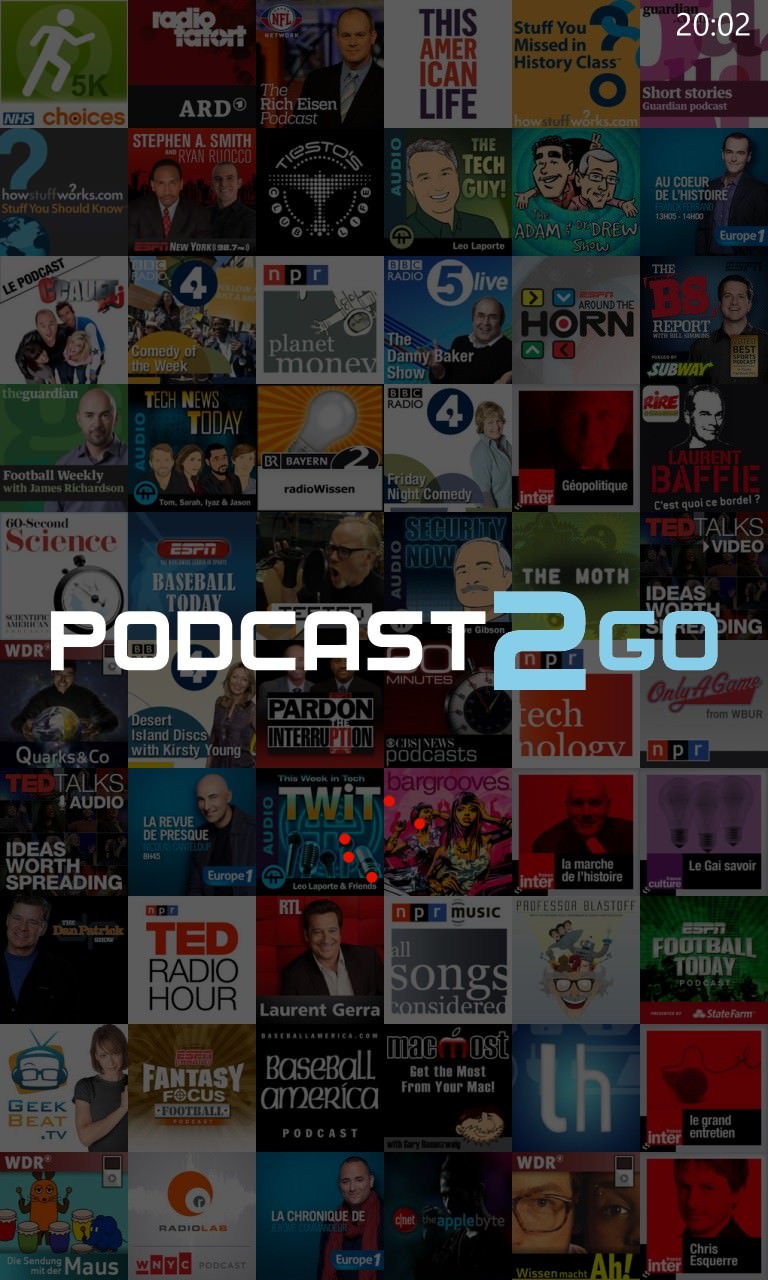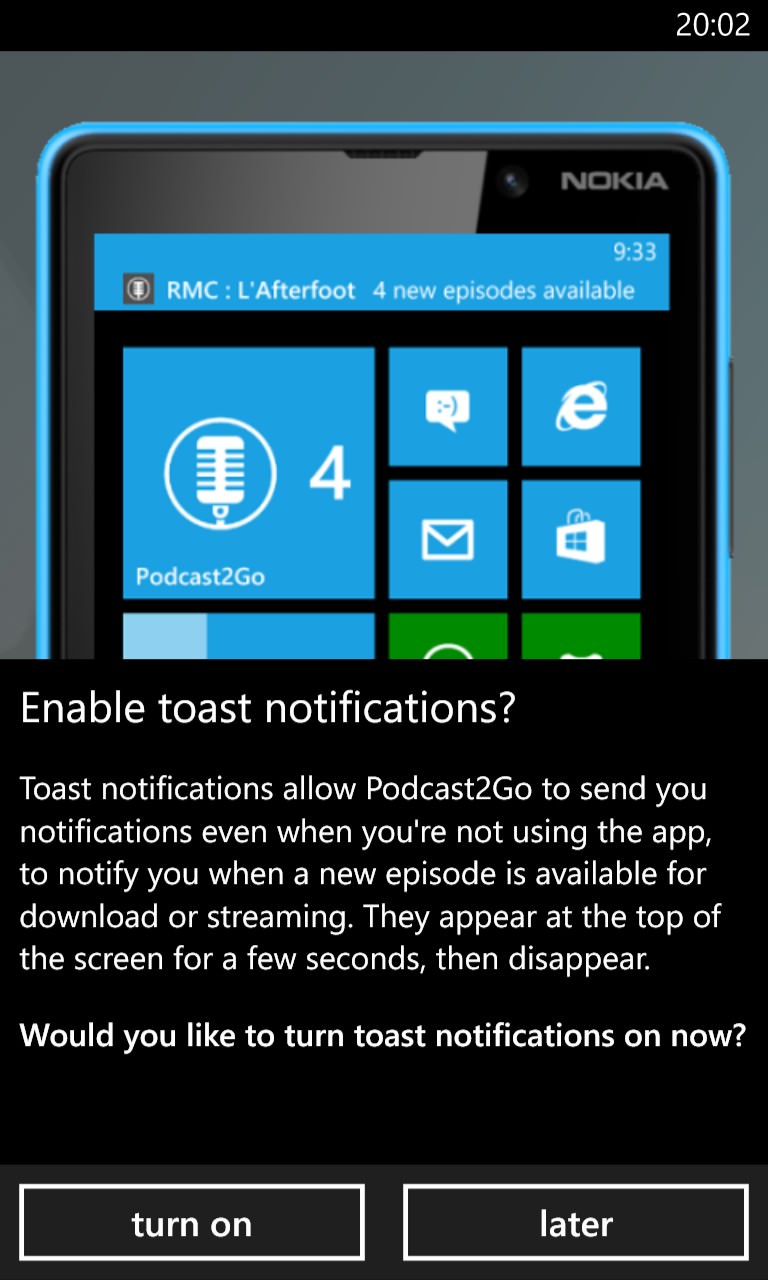 The UI hinges on two swipe in (from left and right) menus, one for podcast catalog, search, import, etc. and the other to provide views and status, as shown in the two screenshots below.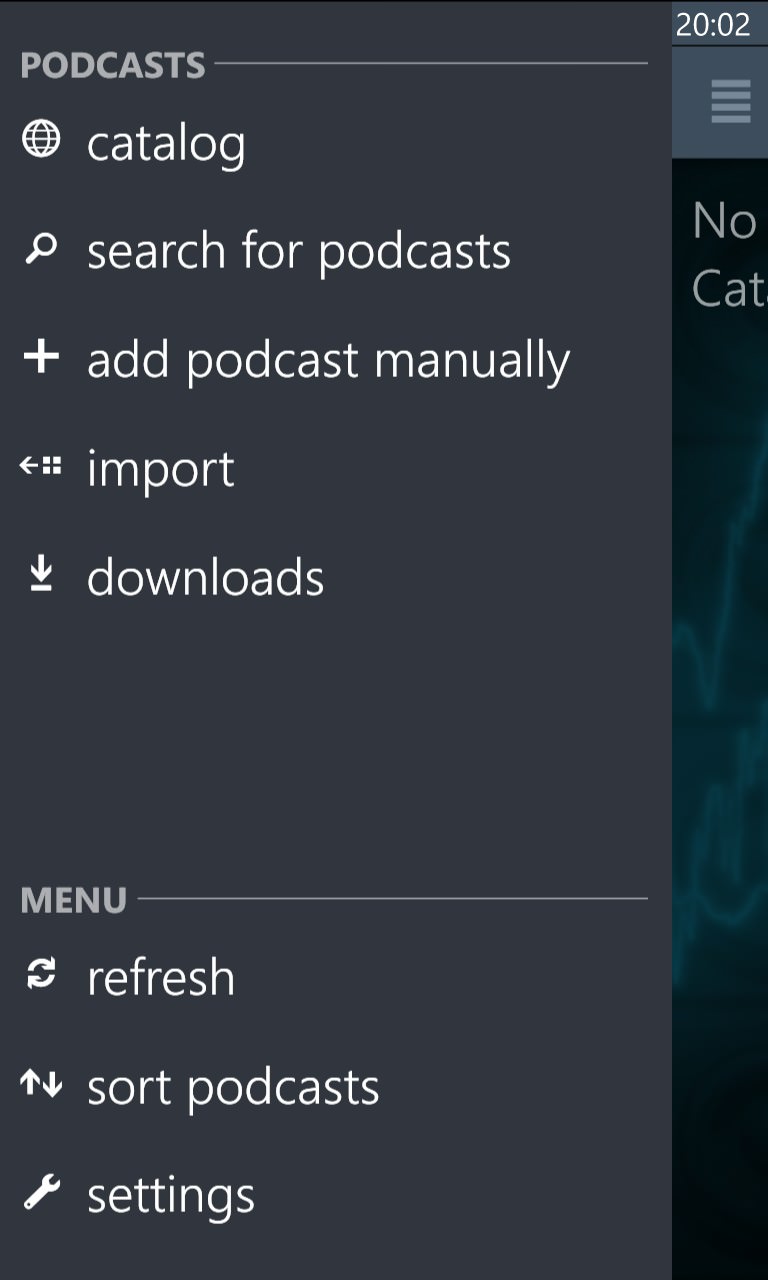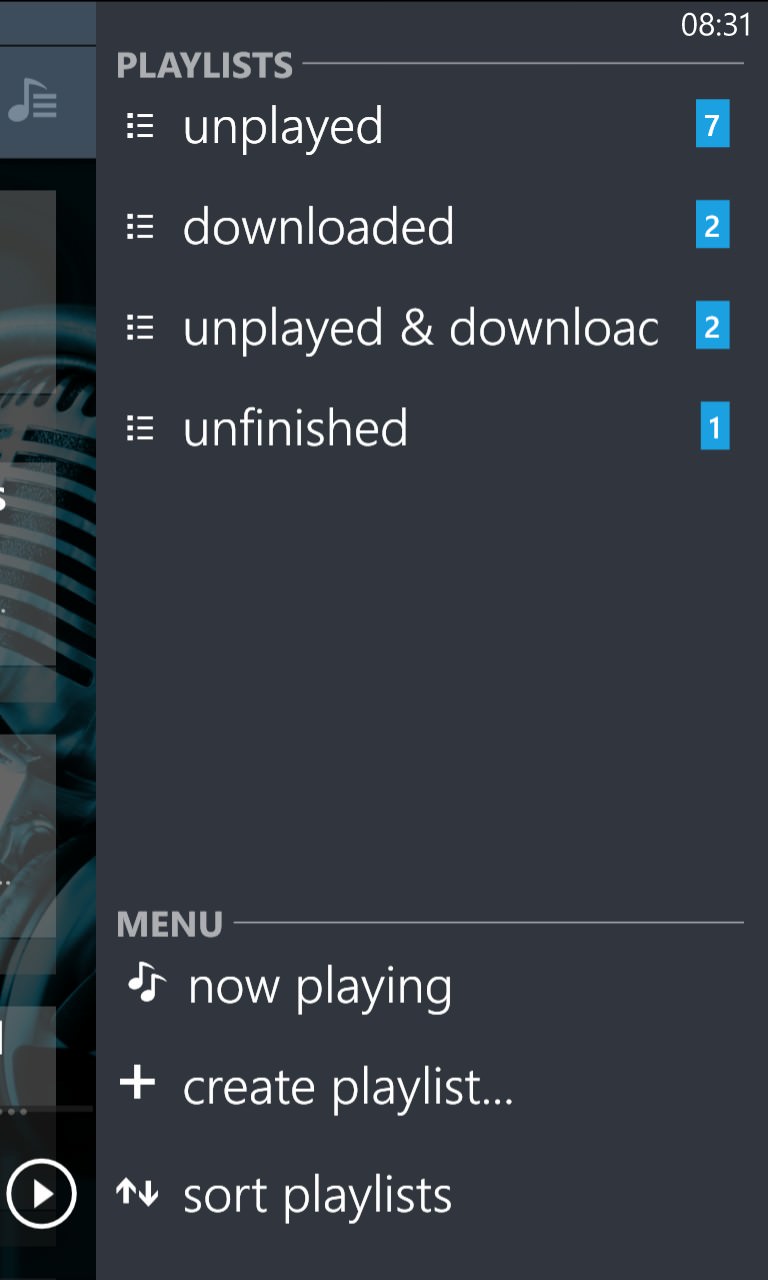 What you see is very much what you get, in terms of subscriptions. Tap on one to see the episodes and any relevant settings, use the menus to discover new podcasts or import OPML files of previous favourites, while the auto-playlists on the right hand menu includes the useful 'unplayed and downloaded', for when you're looking for something new to listen to and don't want to wait while 50MB is grabbed or streamed. It's a nice touch.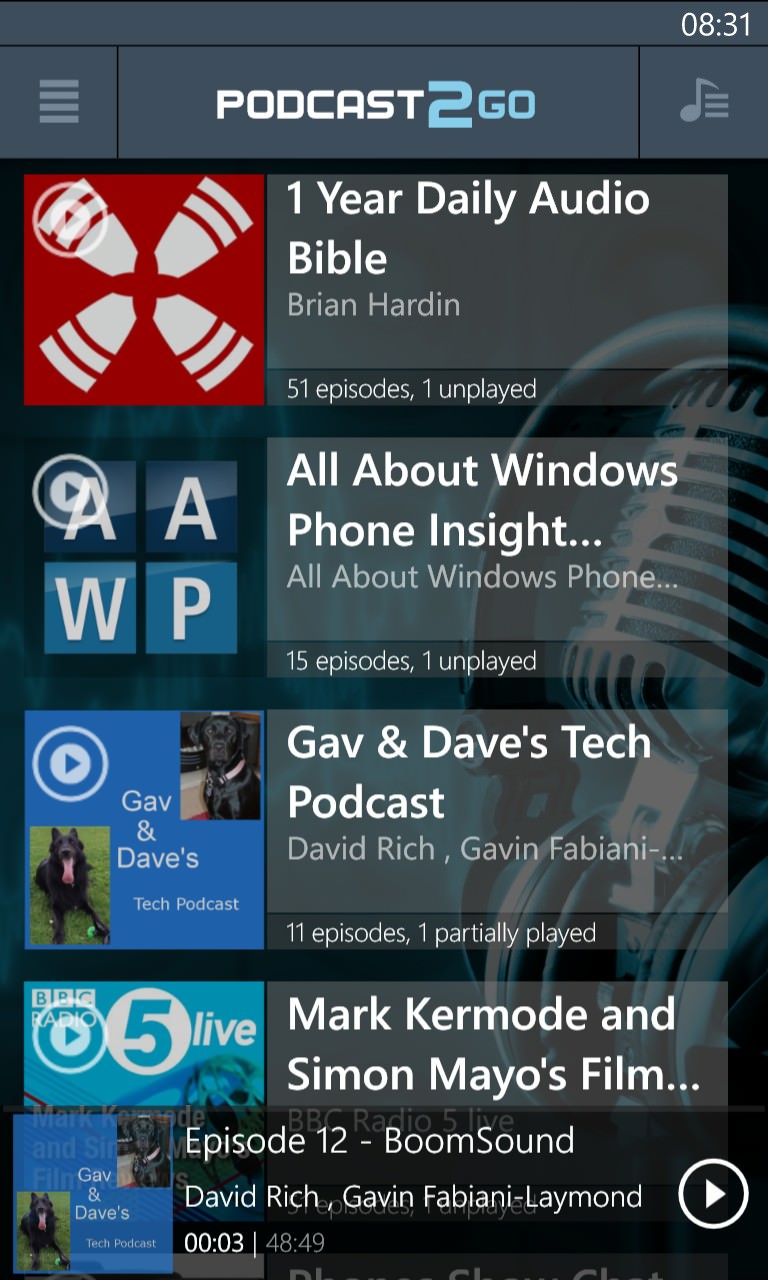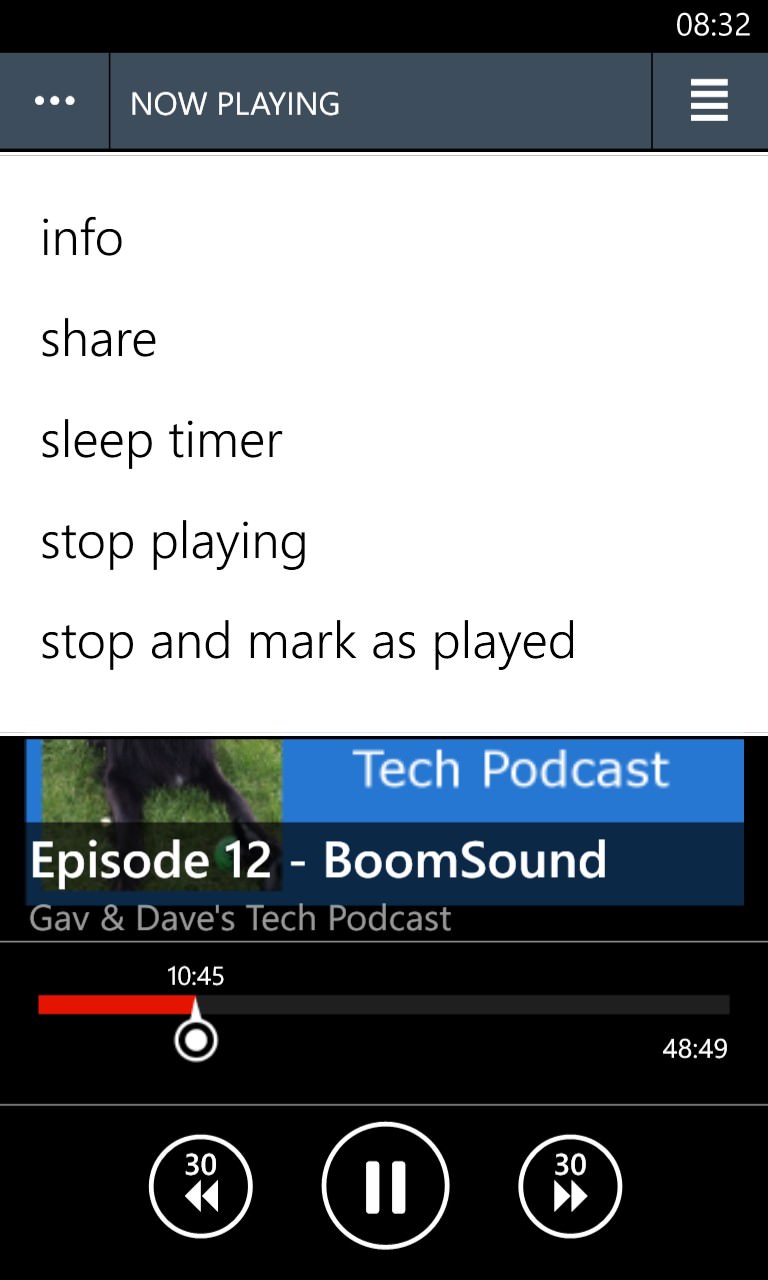 While playing, you can scrub along the timeline to your heart's content or skip ahead with nudge controls - which also work on the pop-up player that the OS provides while playing podcasts in the background. Also notable here (on the pop-up menu) are a sleep timer (a function that only just made its way into the latest versions of other top podcatchers) and the rather useful all-in-one function 'stop and mark as played'.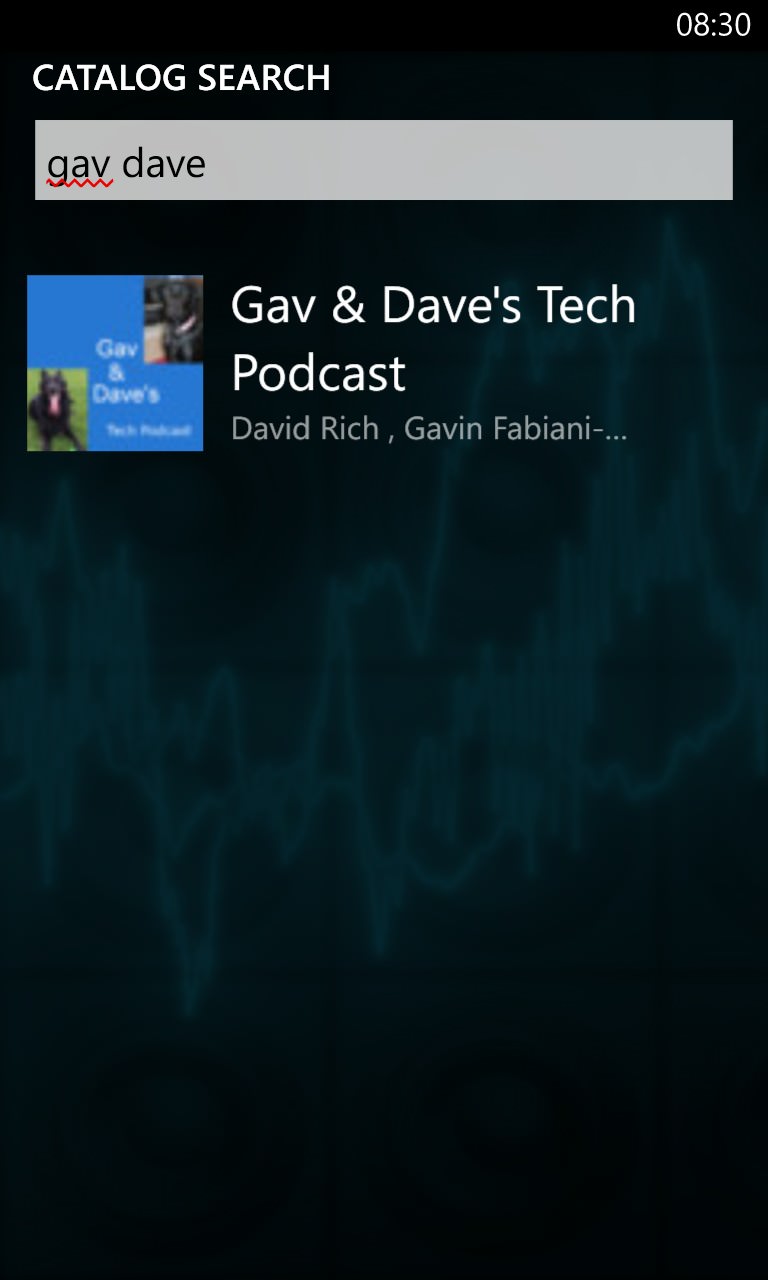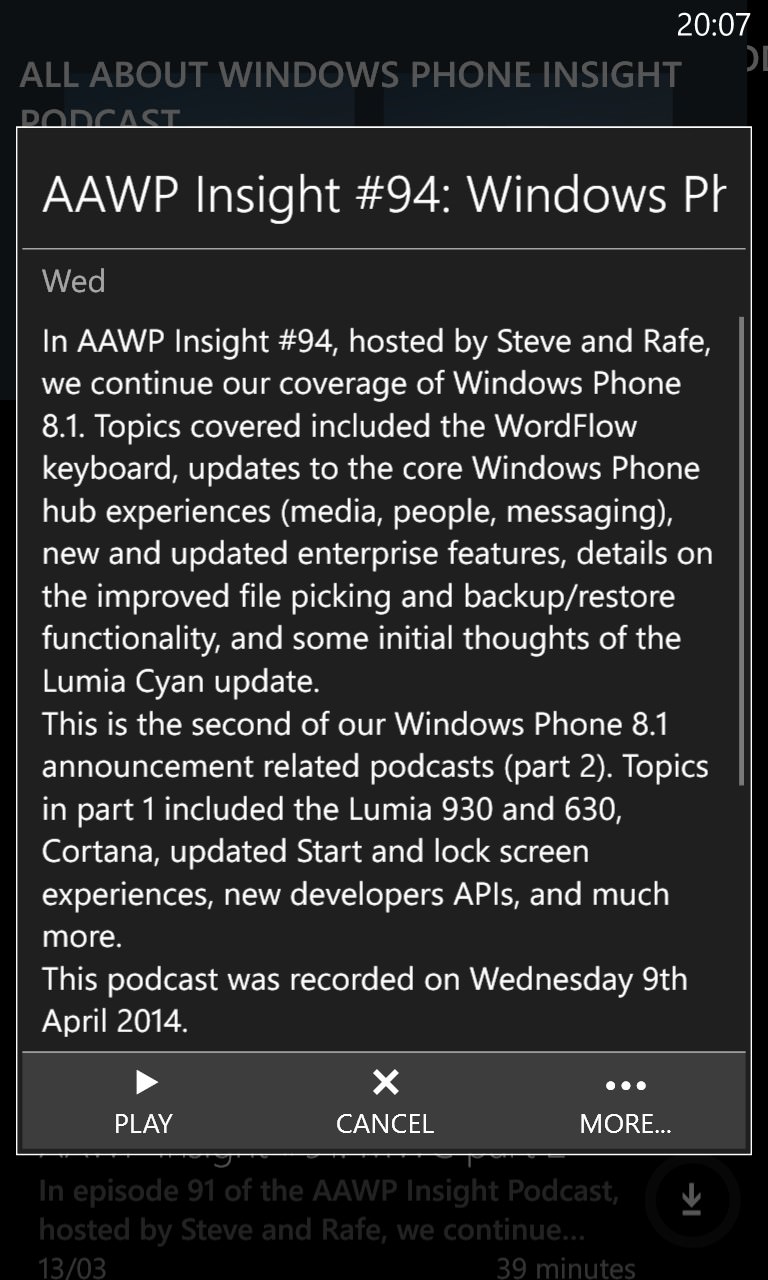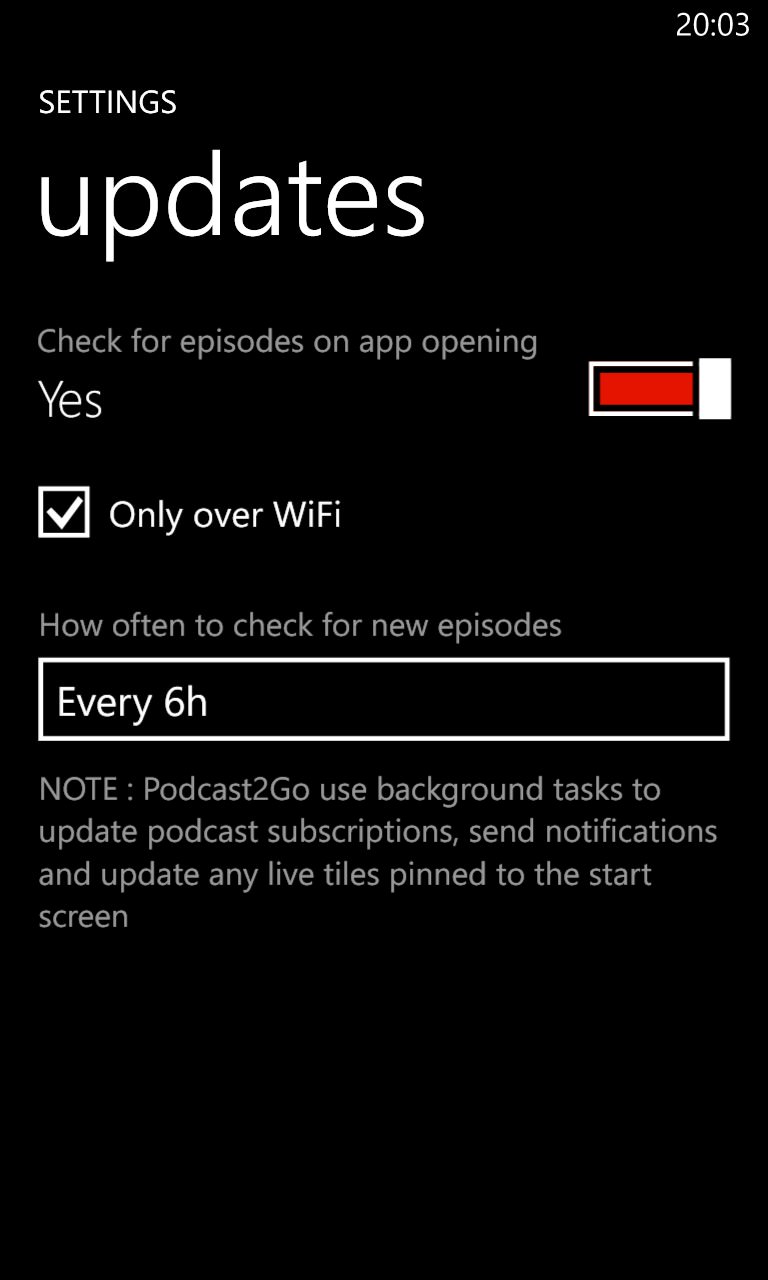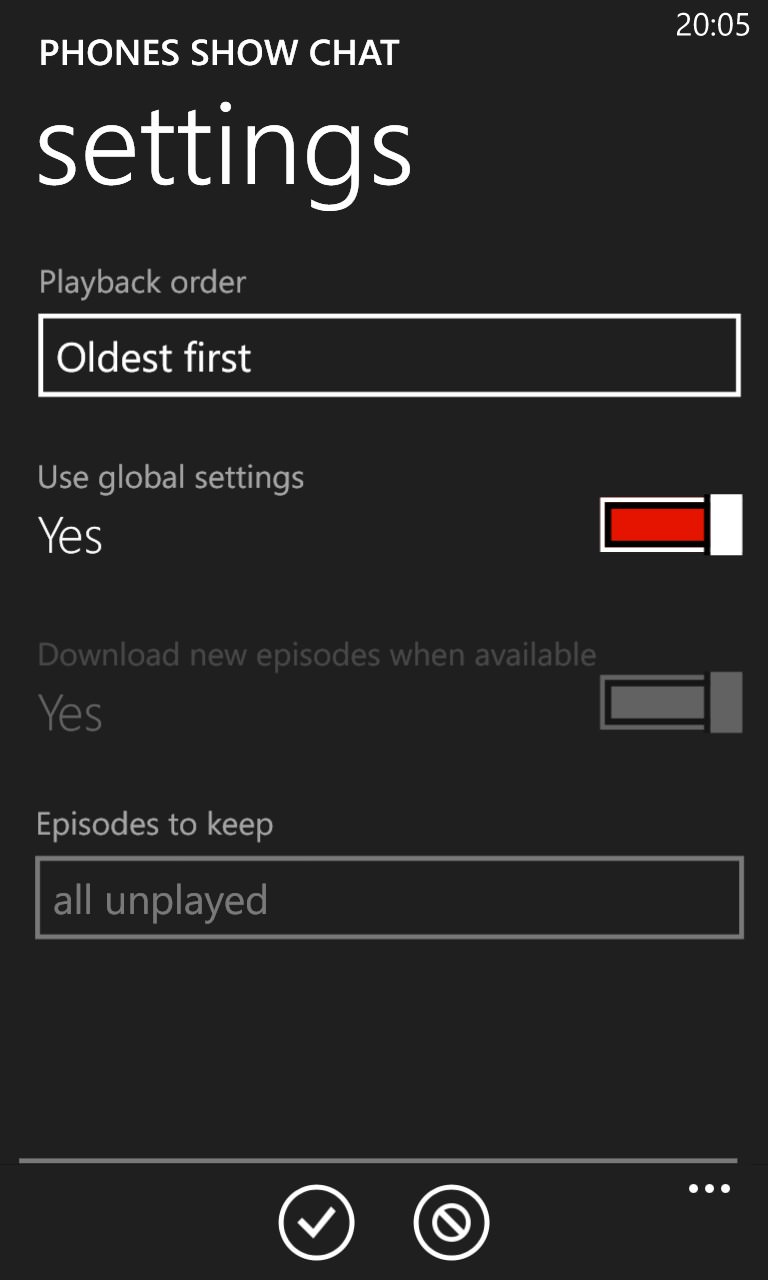 In fact, everything's almost perfect so far, but don't worry, Podcast2Go does manage to trip over itself a couple of times. For starters, there are a few oddities in terms of UI flow - while playing a podcast full-screen, there are two menu drop downs but neither take you back to the main UI - instead you have to press 'back' (wondering, at that time, whether this is going to take you back out of the app altogether). And, while playing and 'minimised' at the bottom of the main UI (Pocket Casts-style), tapping on the podcast artwork does nothing, but tapping its name does - going into the full-screen view, as you'd expect.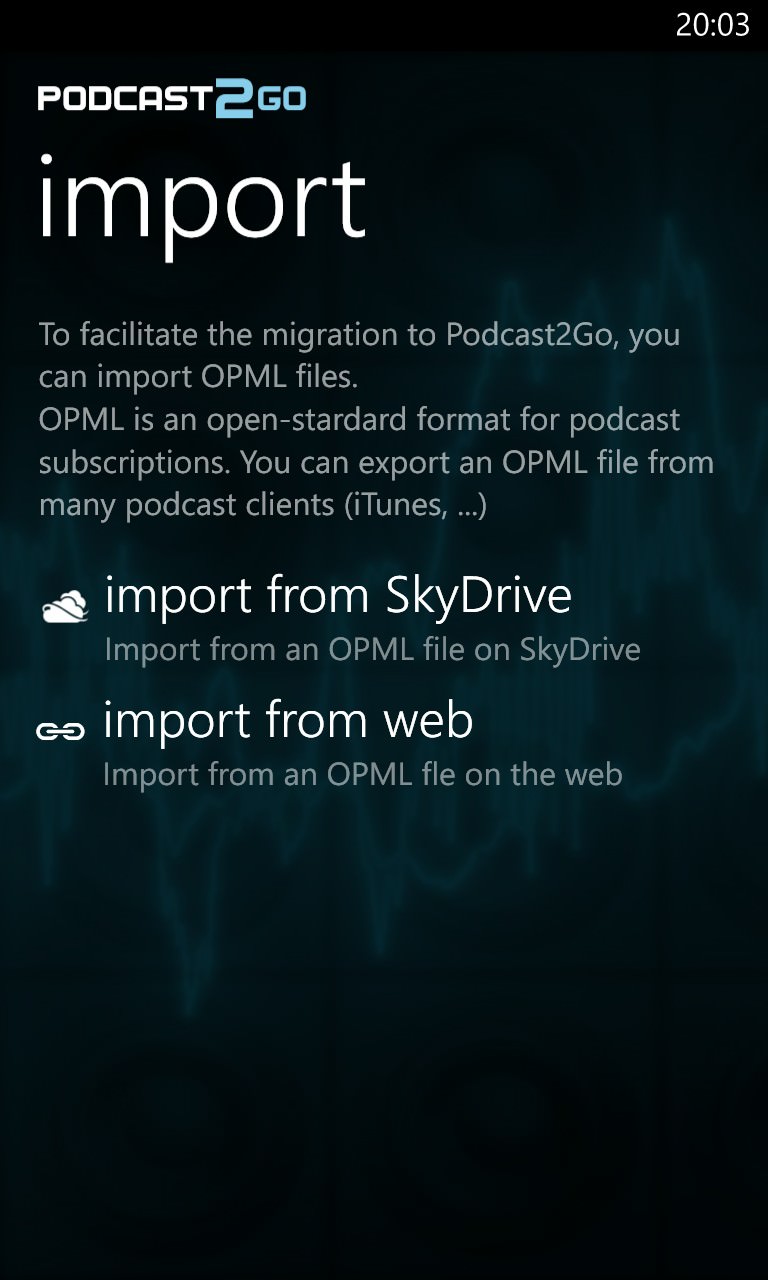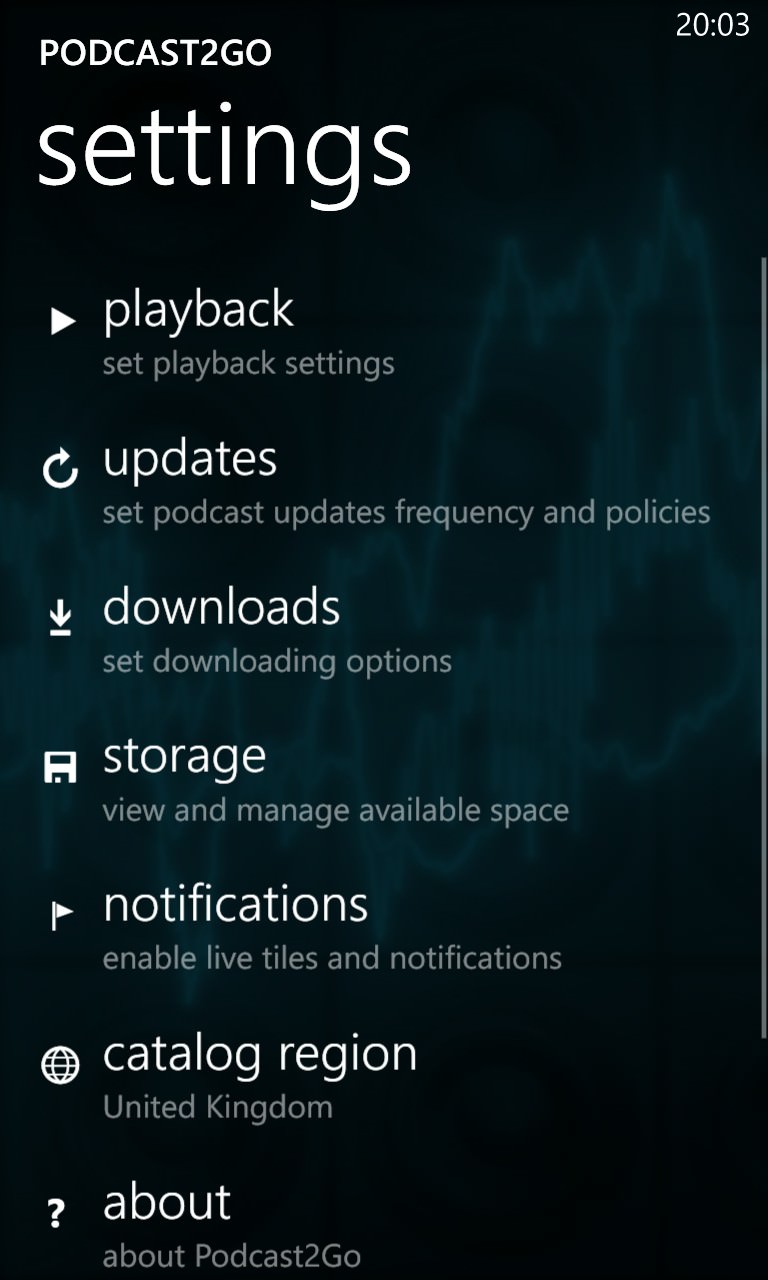 More disappointing were the lapses in playback position. With a podcast playing in the background, switch away and do something else that uses the Windows Phone sound system - and then tap on Podcast2Go's icon again and see that your playback position has been lost completely.
We're used to players doing a better job of saving position often and thus being able to get you back to very close to where you were - doubtless another bug-fix version here will help a lot and, with that important functionality in place, get Podcast2Go right up into the top echelon of podcatchers, where it belongs.
In the meantime, Podcast2Go seems to be free and with no strings attached, so it's well worth grabbing anyway, to play with yourself and await developments.
Reviewed by Steve Litchfield at