Review:
Wordament Snap Attack (Xbox Live)
Score:
82%
Fans of quick action word games will already know that the sequel to Wordament is here. Snap Attack brings the same simultaneous global challenge to a Scrabble-like random board for word building fun. For everyone else, Snap Attack is slick, engrossing, but perhaps a little bit harder than the original.
Version Reviewed: 4.4.10.1012
Buy Link | Download / Information Link
Generating an 8x8 grid for each game, with a handful of words already on the board (and locked in), you must build interlocking words (like a crossword, or Scrabble) on the grid and build up your score through the letters used. Bonus tiles are available to boost your score. You also have the same tiles for the whole game, so just keep shuffling them around to make as many words as you can.
The key to getting a high score in Snap Attack is to create more words by adding letters and not moving existing ones. So if you can make 'ad' then 'mad' then 'made' you have three snaps in a row, which will be worth much more.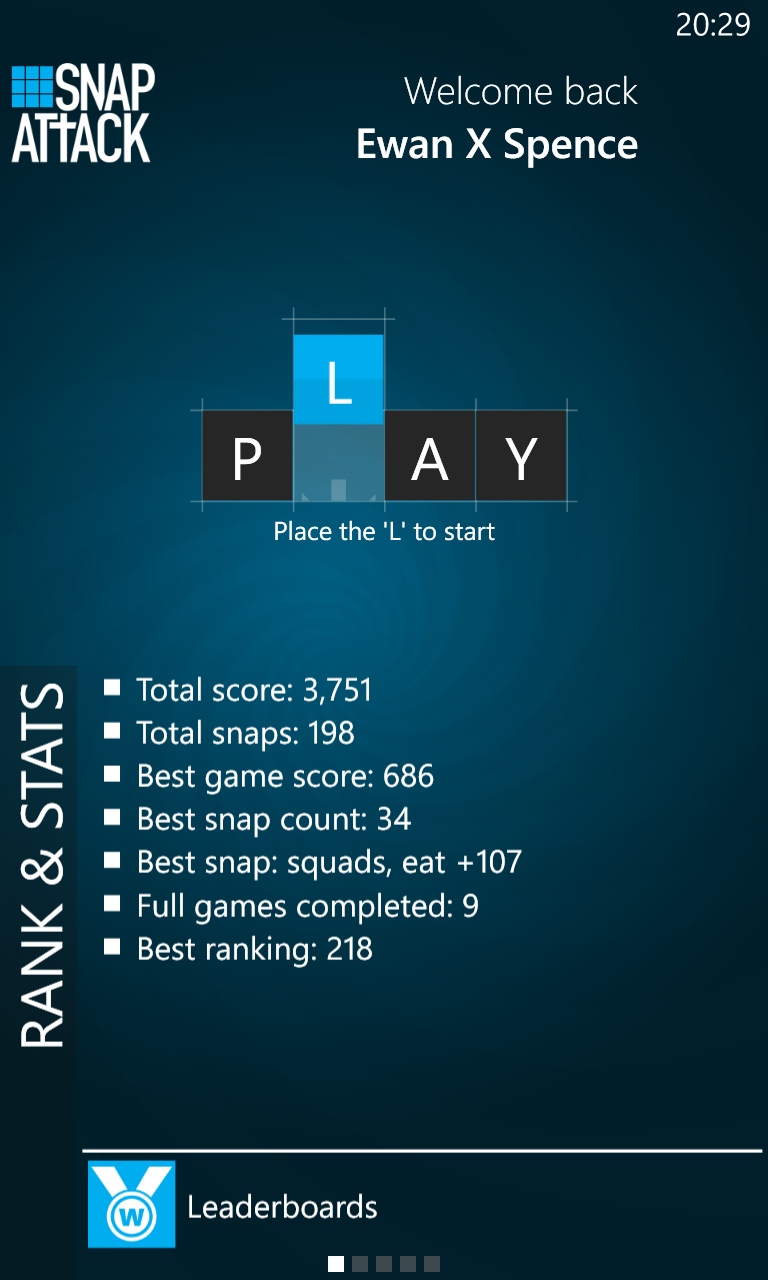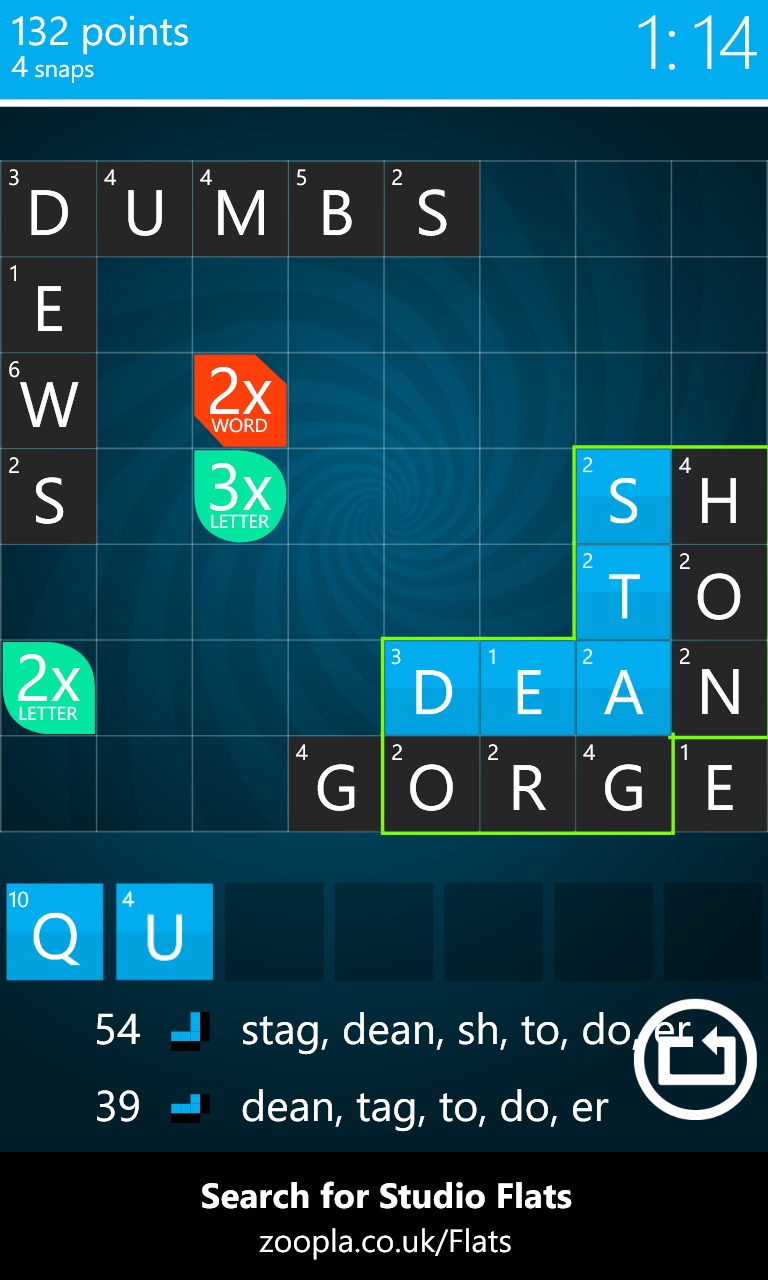 That allows players of Snap Attack to make a huge difference with smart strategy. How and when you make words is just as important as the number of words you make. This is something that makes Snap Attack a worthy sequel to the original Wordament game. It takes the concept of finding words and adds something more. And it manages this while not changing the basic flavour of the Wordament brand.
I think a lot of that is down to Snap Attack retaining the idea that you are playing a timed game along with everyone else in the world. When you start, everyone else starts. You all have the same board, the same letter tiles to rearrange into words.
In comparison it does raise the difficulty level, wordplay is not as accessible as a match-three game and wordplay combined with spatial awareness is going to be a tougher audience niche to reach out to... but once Snap Attack finds that audience, it is likely to have a very high retention rate.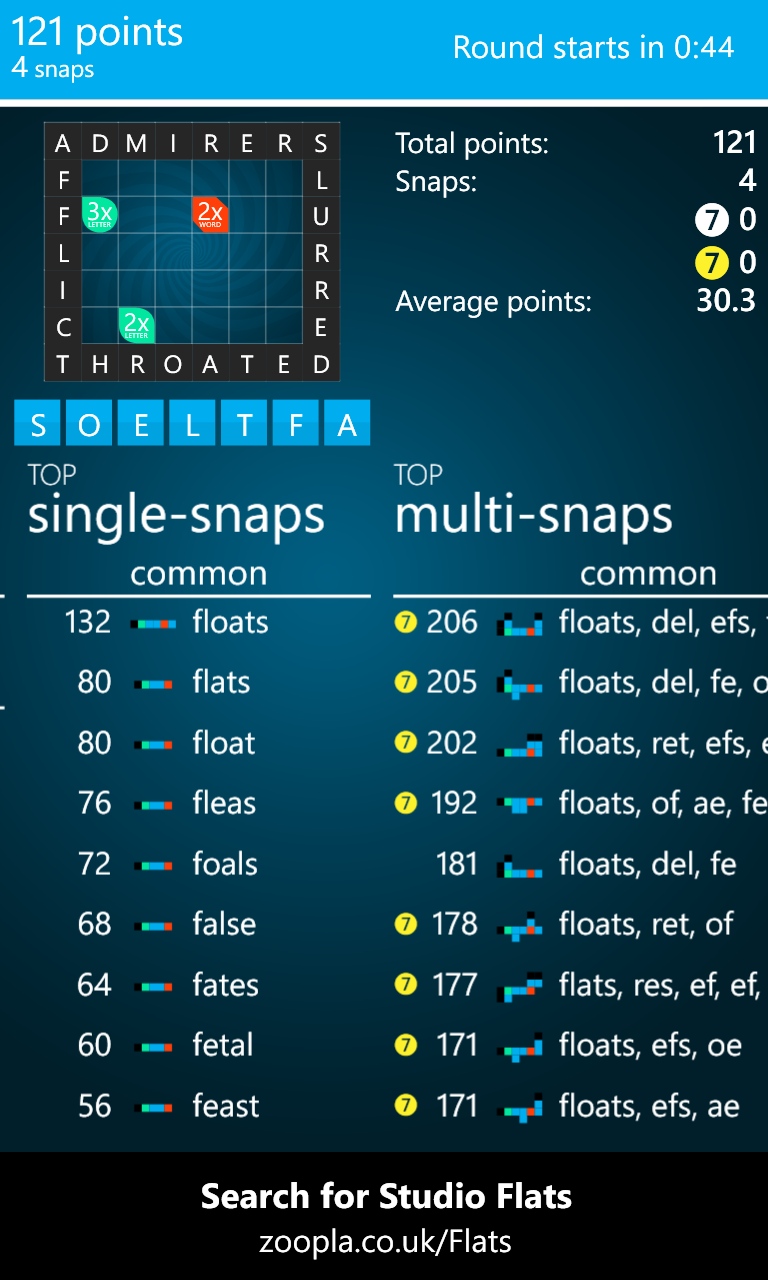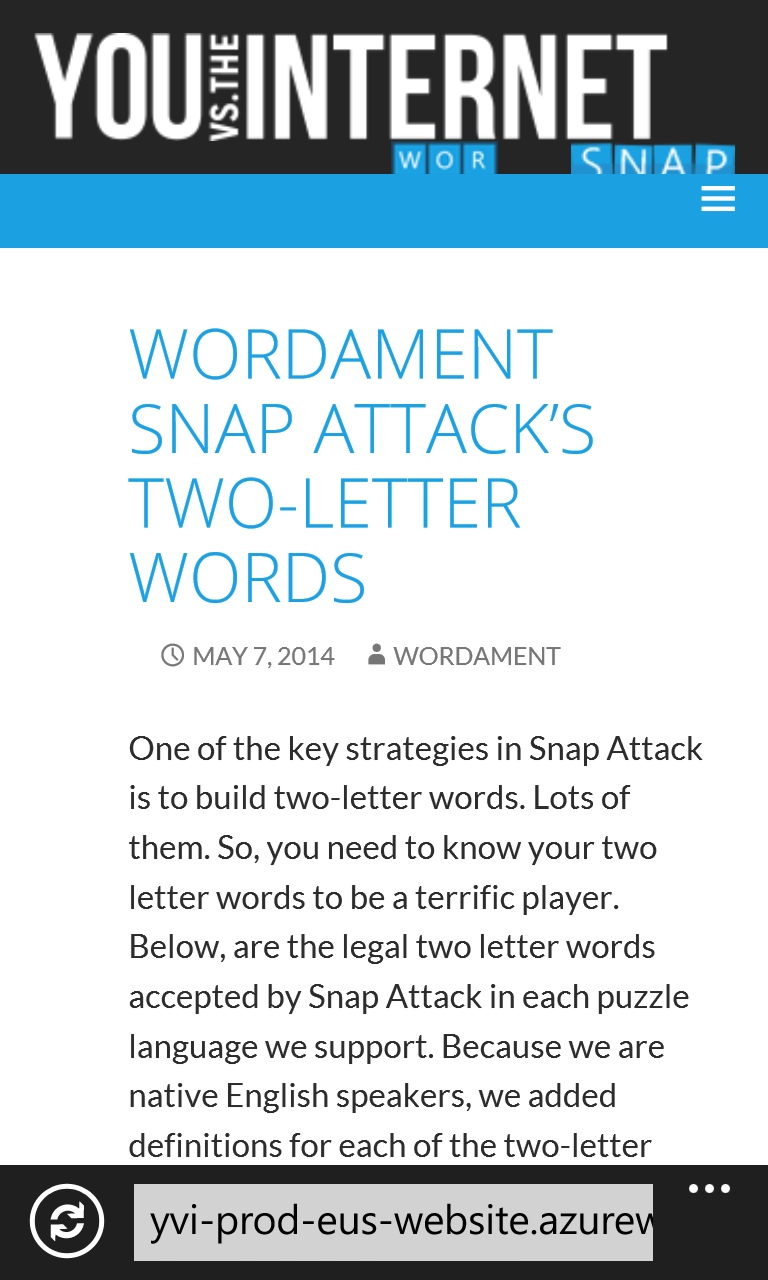 The key to the experience is to keep people playing. The worldwide challenge element does just that, and the extra Xbox Live goals add an extra layer to the game, but the majority are either of the 'easy because you'll play' (at some point in the first hour of play you will use all seven tiles on the screen) and the insane ideas, such as 'score 250,000 points'. Still, nice to have them here, and the insane levels do mean they stay relevant for a long time.
The UI is very much 'blue' when you start and I've not found an option to change the theme colour in the game. It looks good, but part of me wishes for a bit more colour in the game, it does feel a bit drab. Tiles are moved with a drag of the finger, but you also have the option of tapping two tiles to exchange places (naturally, if this makes two new words, it counts as a snap so the score multiplier is in effect).
It all works, the tiles and squares on the grid are easy to make out, and the bonus tiles are very easy to distinguish. I think I would like the ability to change the colour palette in the app (as you can in Wordament).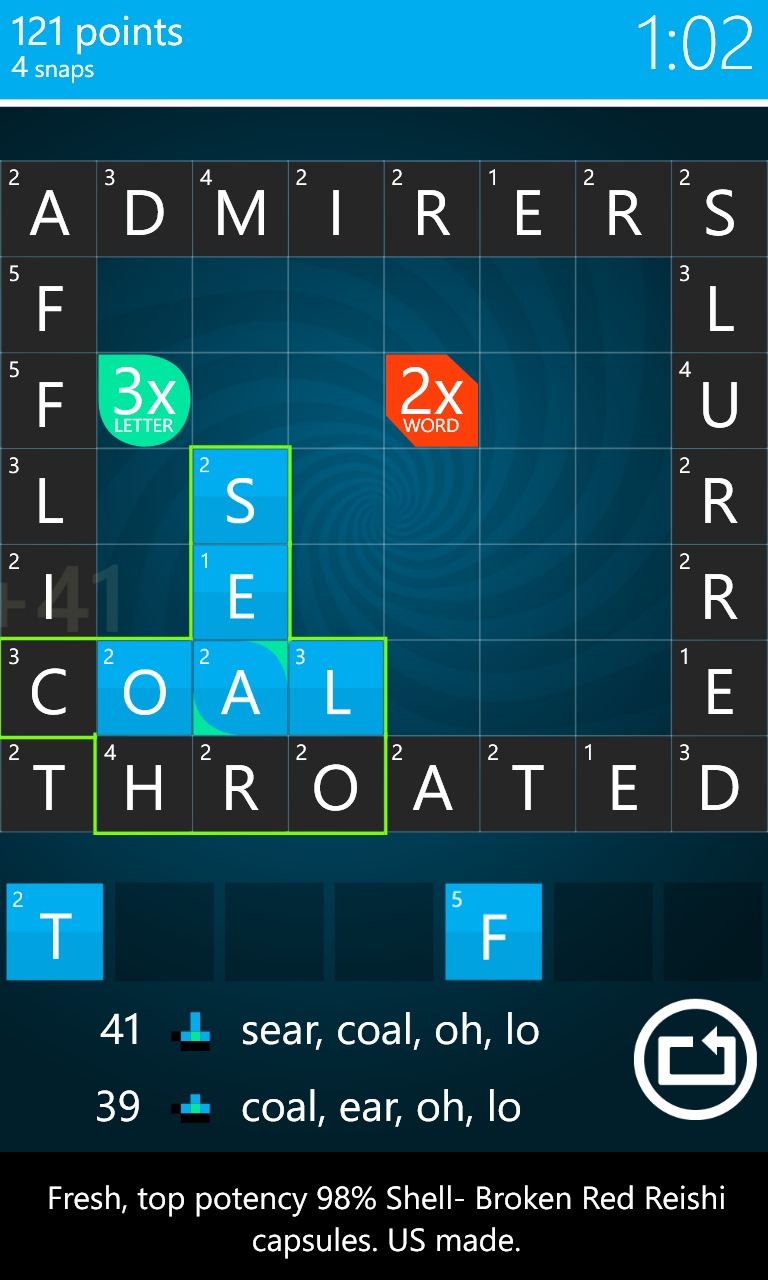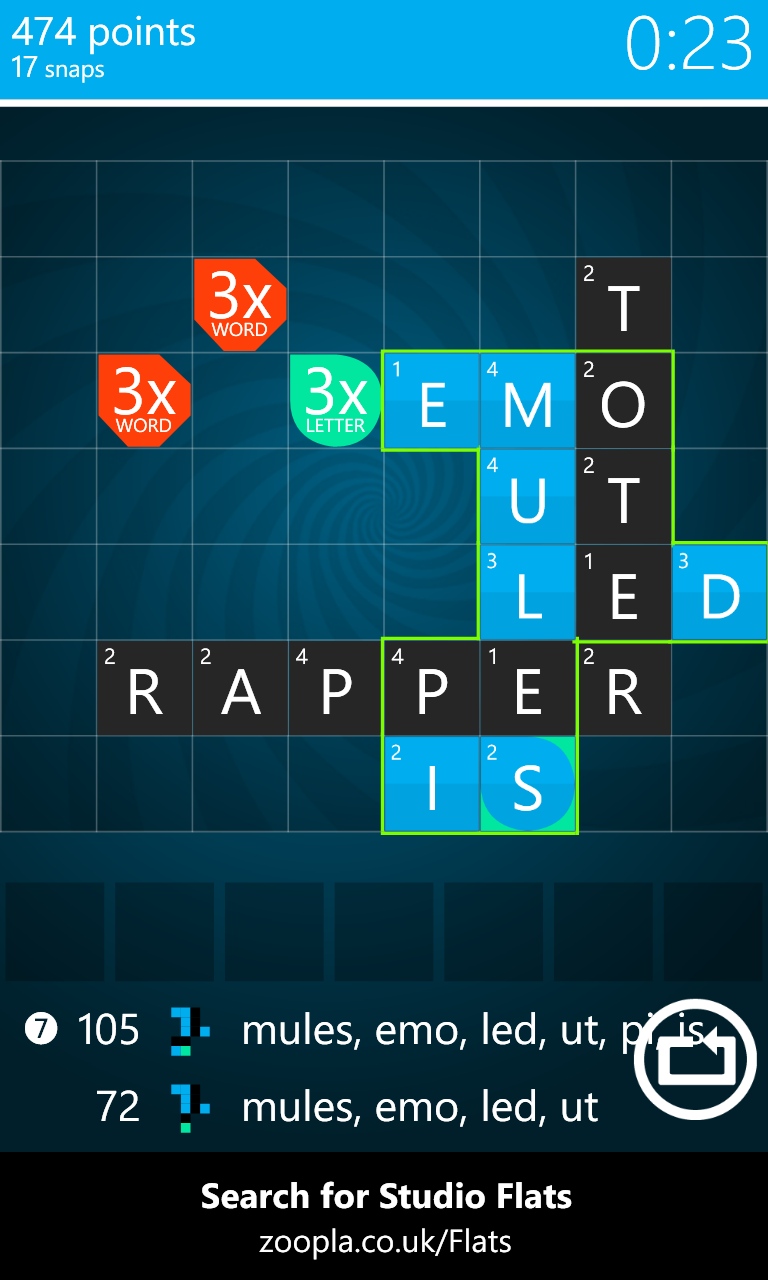 Even though I can't get close to the top of the leaderboard (every player is given a percentage ranking at the end of the level comparing their score to the top score for that two and a half minute round), this percentage to me is far more useful than the raw score. It gives a quick comparison between the score on different grids, and it's easy enough to recall this in later games - although adding it to the statistics screen would be nice.
Snap Attack is available as an ad-supported free download for Windows Phone. I also note that some of the ads in the game are for hints and tips, such as 'know your two letter words', which came up frequently as I started.
The game is also available for Windows 8 computers. Because your Xbox Live sign in is used, the data and high scores will be synced between devices. There's not a lot to sync, but what does is handled well with no fuss and the phrase 'it just works' springs to mind.
Reviewed by Ewan Spence at