Review:
Riptide GP2
Score:
86%
It's fast, it's glossy, it's polished 3D... and it's very, very wet. Released earlier today, I've put on my futuristic competition wetsuit and headed out to see if the new Riptide GP2 is worth its purchase price (summary: it is, but the price isn't the whole story!) It's by the people who brought me Beach Buggy Racing a few days ago, though, so I'm hugely optimistic.
Buy Link | Download / Information Link
[Writer's note: we usually downsample screenshots to some degree for publishing on the page, but the graphics in games like this are too beautiful for that - resize your browser windows up and you'll see the graphics in all their glory!]
Featuring 'hydro jets' (i.e. high performance jet skis) in a futuristic ready made course, Riptide GP2 uses the same 3D engine as in Beach Buggy Racing but used to even greater benefit. As with the other title, the physics are simplified a bit in order to make the game playable, but after a few laps of some of the supplied nine watery circuits, I'm very happy with the balance. Happily, as in the best motor racing games on land, an overlaid schematic on-screen shows the corner layout coming up, so you can plan your turbo boosting and water-braking appropriately.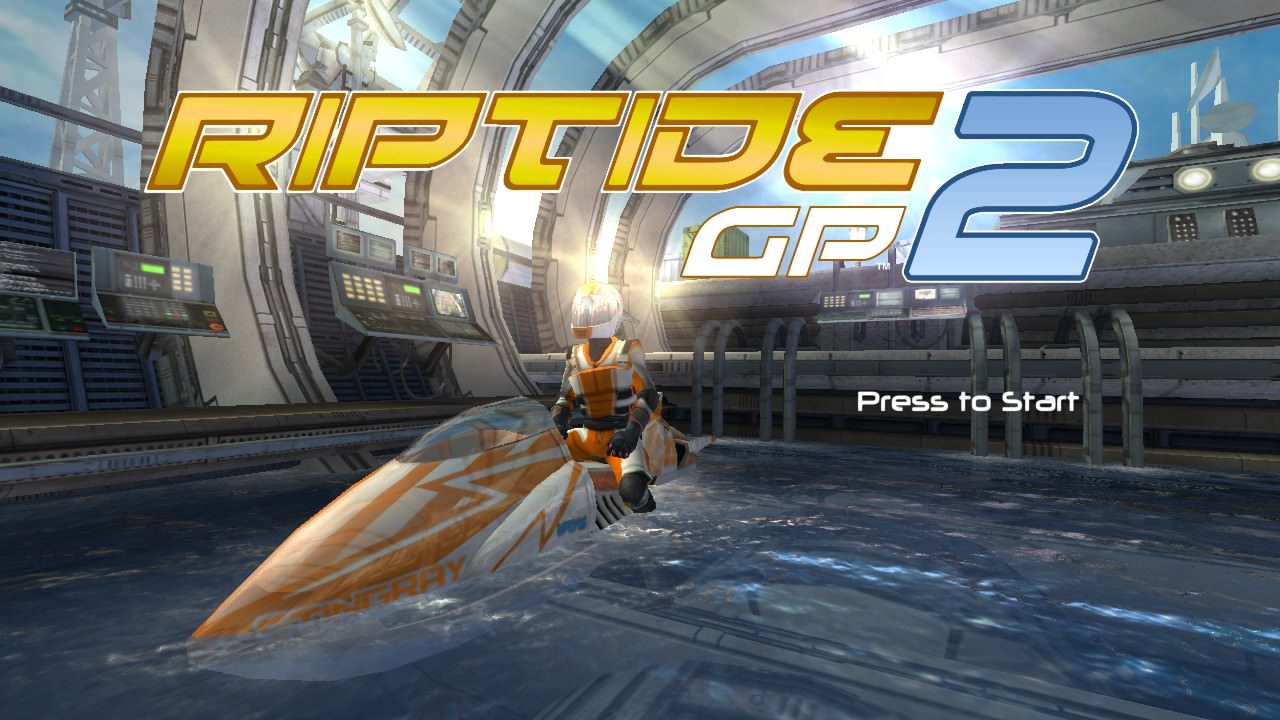 Riptide GP2 is tremendous fun - the observant will notice that there are two 'currencies' in the game, dollars and stars, but don't worry too much, although there are in-app purchases that let you top up the dollar balance (to buy stuff), the thing you really want are stars, and these are achieved by doing well in the hydro jet races themselves, with more stars letting you open up new circuits and competitions. So a nice mix of lowish purchase price (£2 in the UK) and in-app purchases for the really dedicated player. And, as some have noted, the same title is also available for Windows tablets and laptops and, in theory, one purchase gets you the working game on both platforms.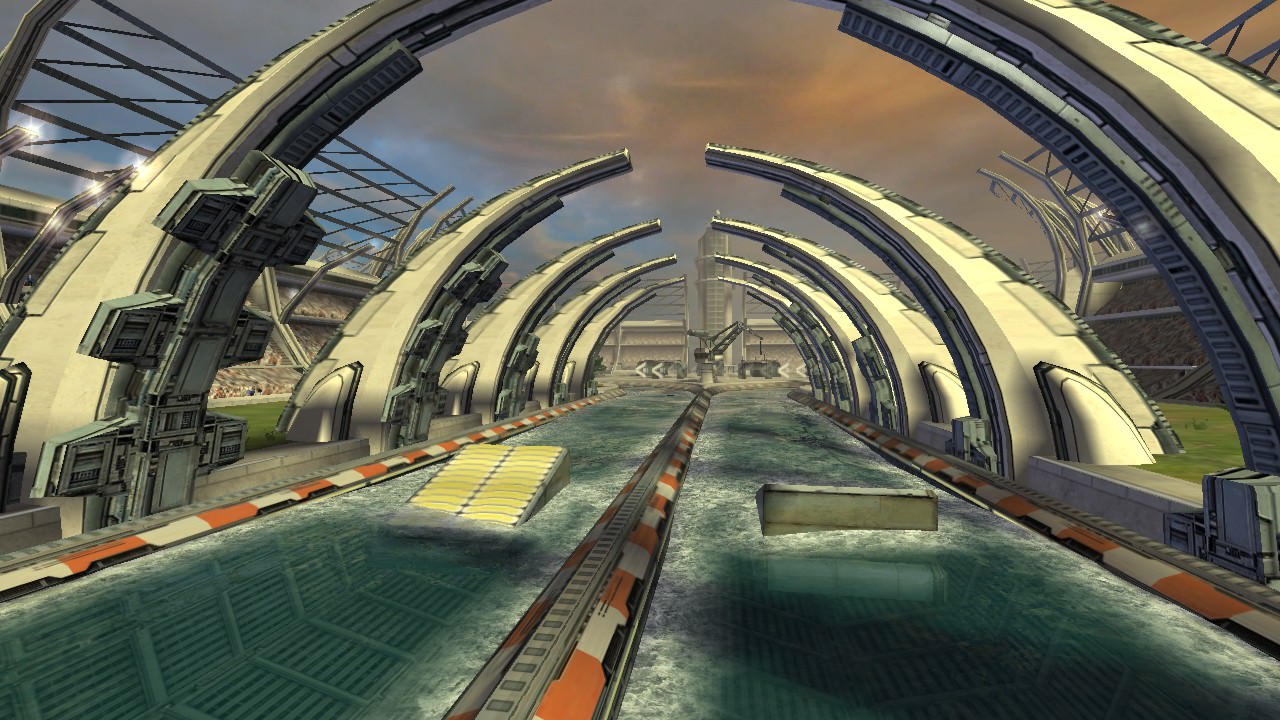 In fact, there's more, since 'skill points' come into the equation too, mainly so that you can perform new and better stunts. Yes, that's right, stunts. Not content with being a good water racing game, Riptide GP2 adds in ramps of various kinds, with combinations of swipes on screen controlling what happens 'in the air'. Mix up the stunts and do them well enough and your 'boost' gets filled faster, ready for activating and shooting off at Knight Rider speeds (no, wait, that was on land....!)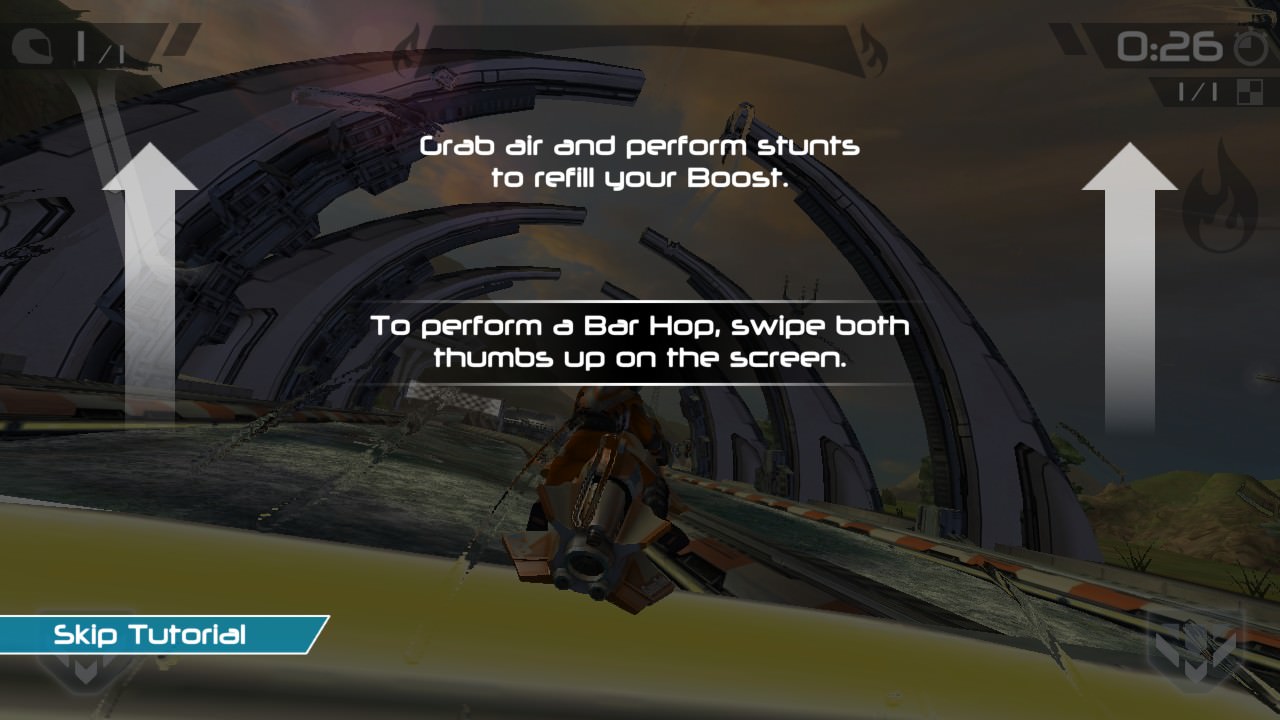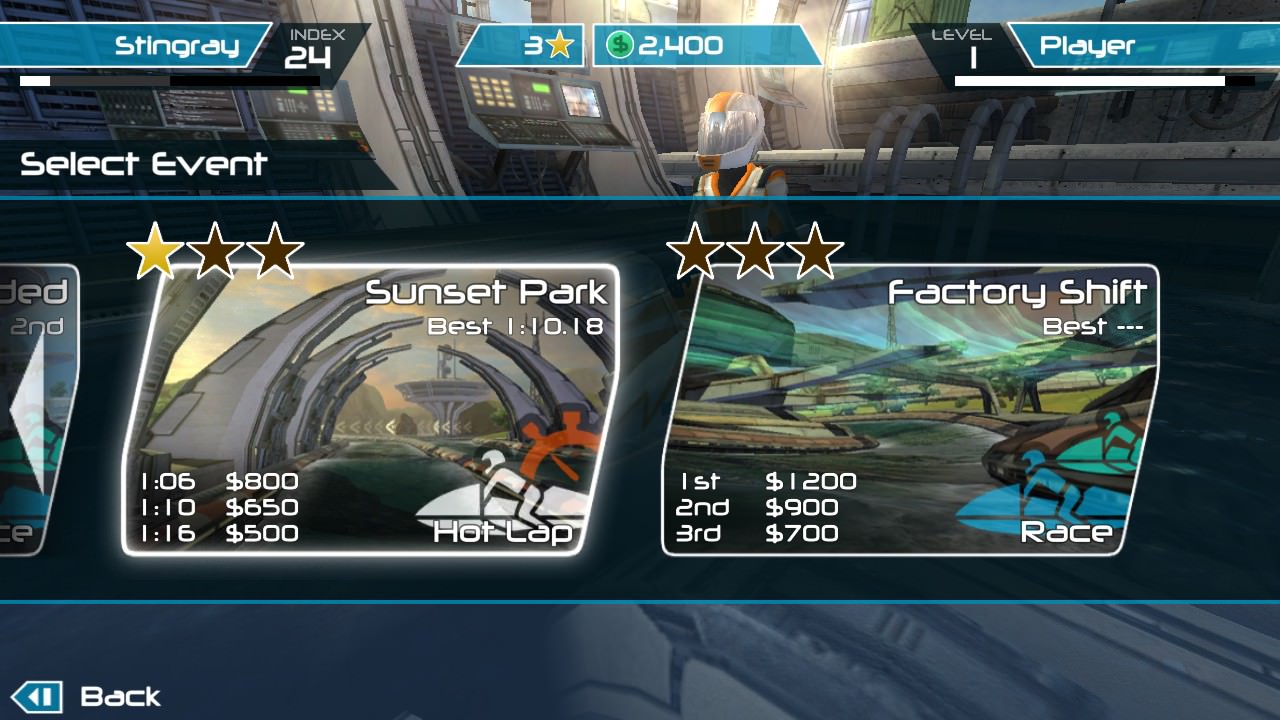 Is this all a bit too much? Not quite, Riptide GP2 managed to keep me onboard, mainly because the actual racing is so well done, with watery effects that at times can be jaw dropping. The 'swell' of the water in the channels appears to have real mass, the spray from the hydro jets, the water across your helmet's visor after a big landing, plus the sheer speed, all add up to a cracking game.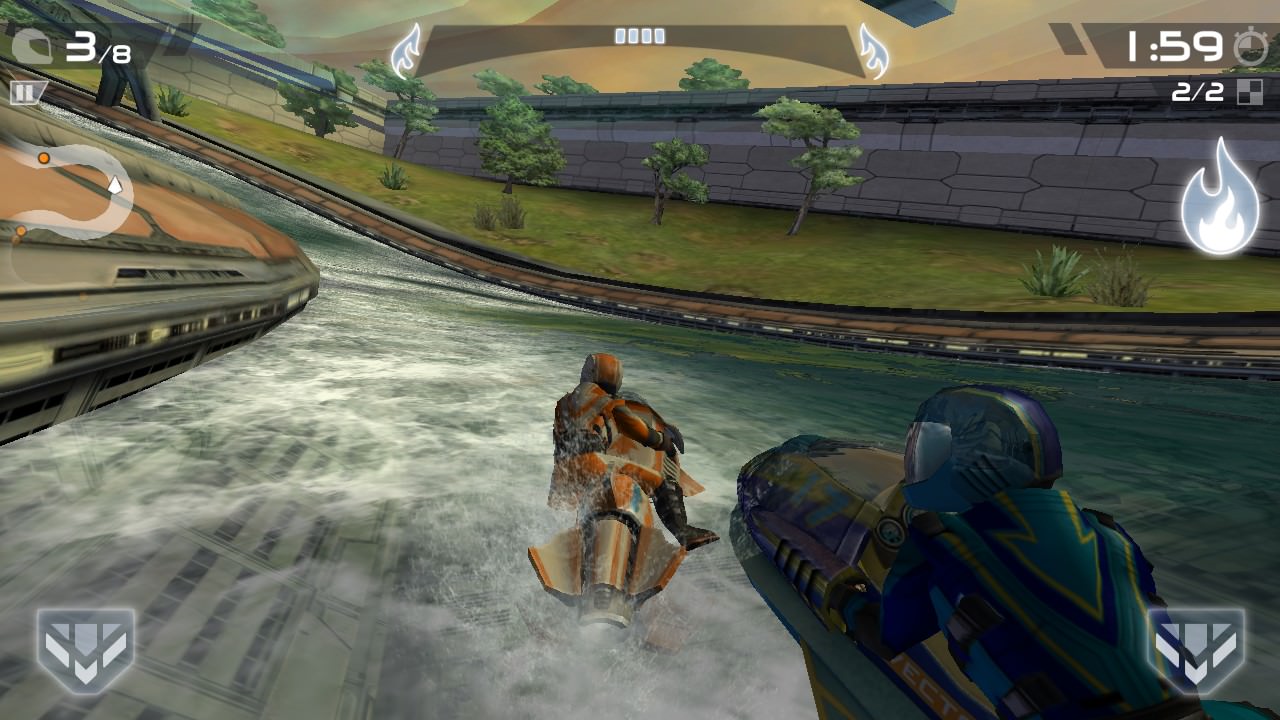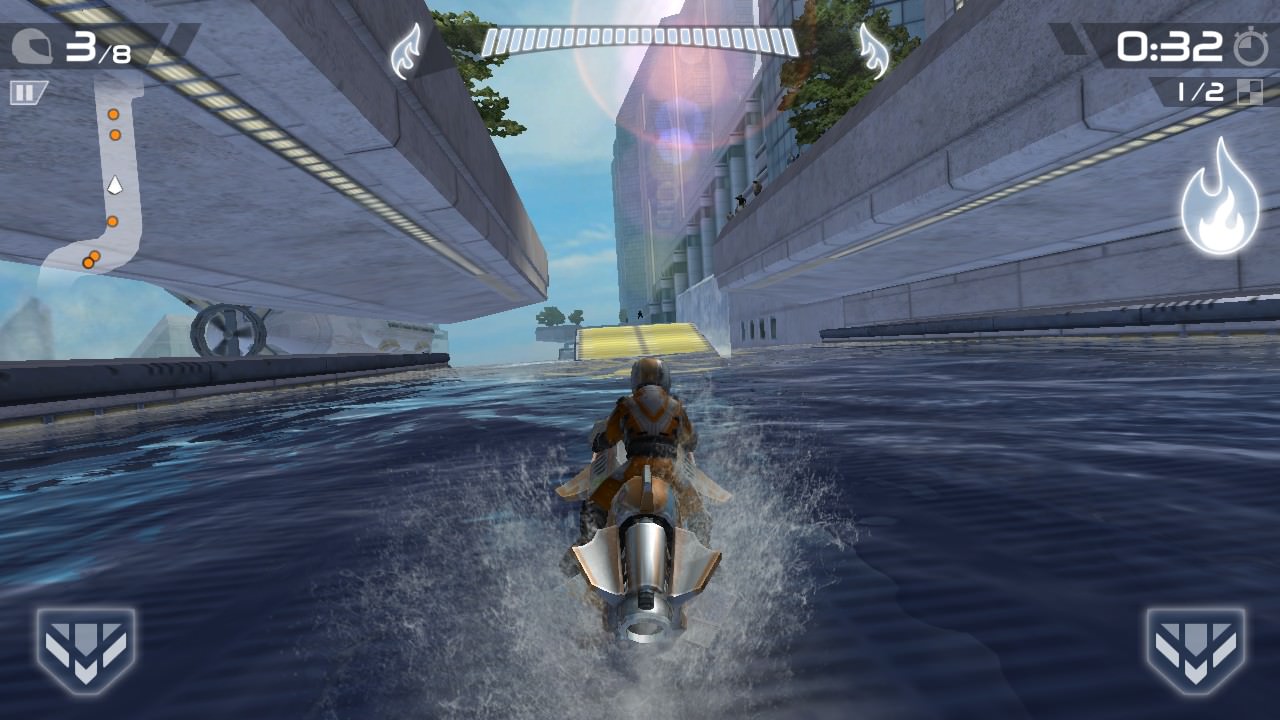 With the money earned through racing (and placing) you can start upgrading your current hydro jet in various ways (e.g. "impeller tuning"), giving it a new paint job or even (eventually) buying a new hydro jet, though the sums of money for these (hundreds of thousands of dollars in some cases) mean that the latter will be for those using some in-app dollar purchases rather than getting there 'the hard way'. The other hydro jets do at least have different default handling characteristics, so it's not all about cosmetics and vanity.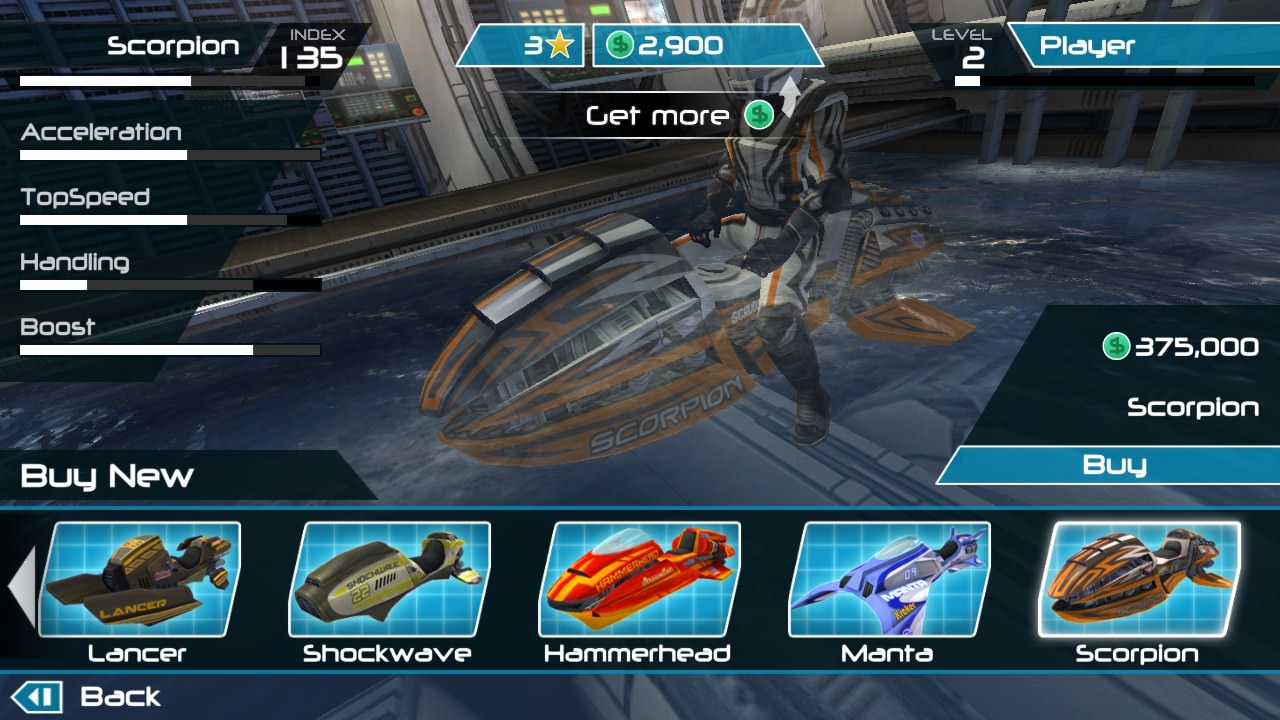 Control of your hydro jet is intuitive, with auto-acceleration, tilt left and right to steer, plus the aforementioned swipe gestures when in the air, to do stunts. There's also a bottom of screen tap-to-brake system, though I found this wasn't often needed if I judged the leaning/turning points correctly.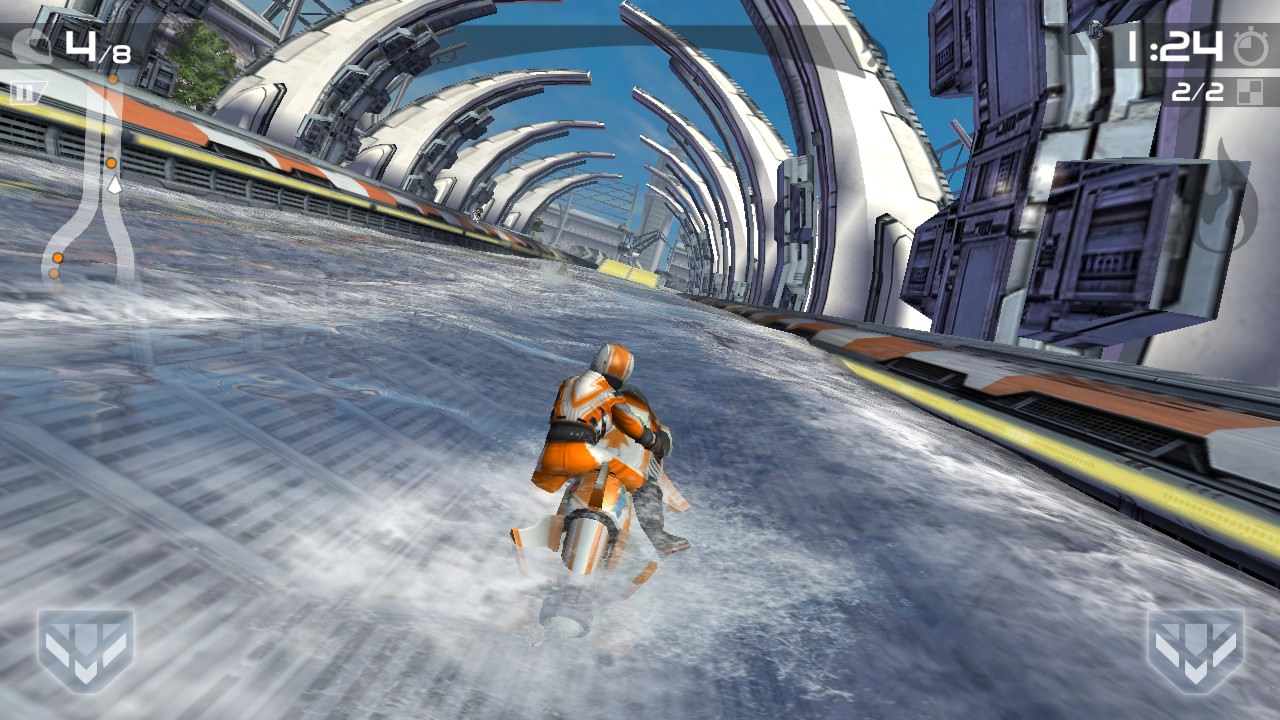 Support for 512MB (RAM) devices is good to see, plus there's a graphics panel in Settings, where you can dial back the effects on slower phones - if need be. In theory, your progress in the game is synced across multiple devices/platforms, though unless I'm being stupid, there's no way to stay on top of this - maybe it's automatic and tied to your Microsoft ID?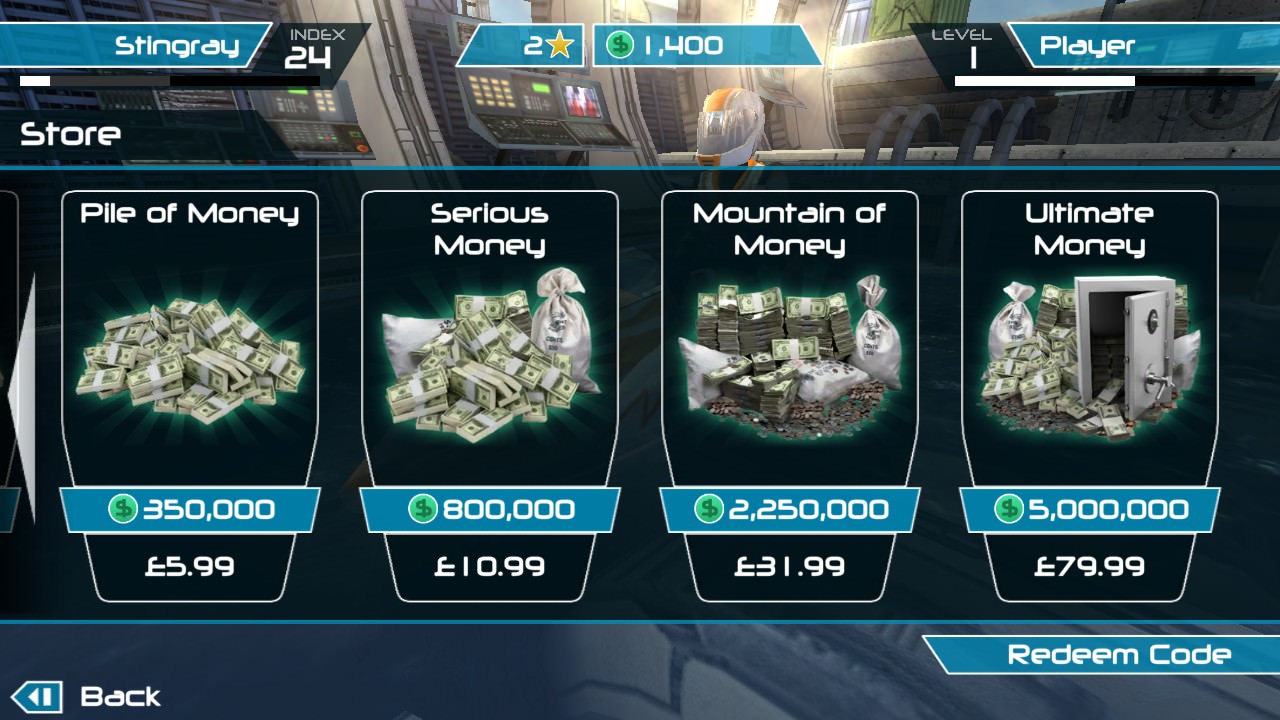 All of the above adds up to Riptide GP2 being a top notch title - and if you have a Windows 8 laptop or tablet then it's effectively half the price too (though again watch out for any in-app purchases if you want to really go hard core). Highly recommended, and if anyone starts moaning about the physics not being quite right then I challenge such people to tell me what hydro jet racing in the year 2200 should feel like...!
Reviewed by Steve Litchfield at