Review:
Stickman Soccer
Score:
90%
My usual confession before reviewing football games is that I'm not really into football - I mean, I take a casual interest in world level games and kick a ball around in the park, but I'm not a super-fan. And yet Stickman Soccer is.... fantastic, it's perfect. It's utterly believable in the way players move and slide and shoot... The best football game ever on mobile? This has to be a contender. Heck, it's a contender for the best game, full stop...
Buy Link | Download / Information Link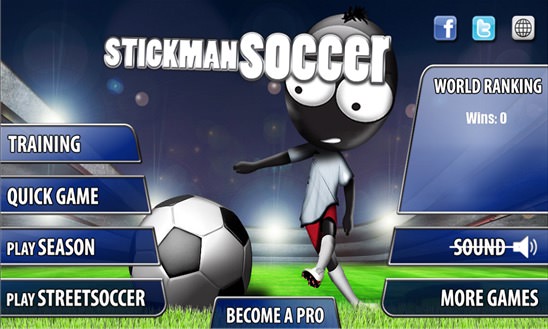 If all that sounds like high praise then you only have to grab Stickman Soccer to see what I mean. It's a free download and the only in-app purchase is a measly pound/dollar to remove the ads - something which I felt very happy to pay after only 15 minutes play. In fact, the generosity of the developers only serves to increase my positive impression towards the game.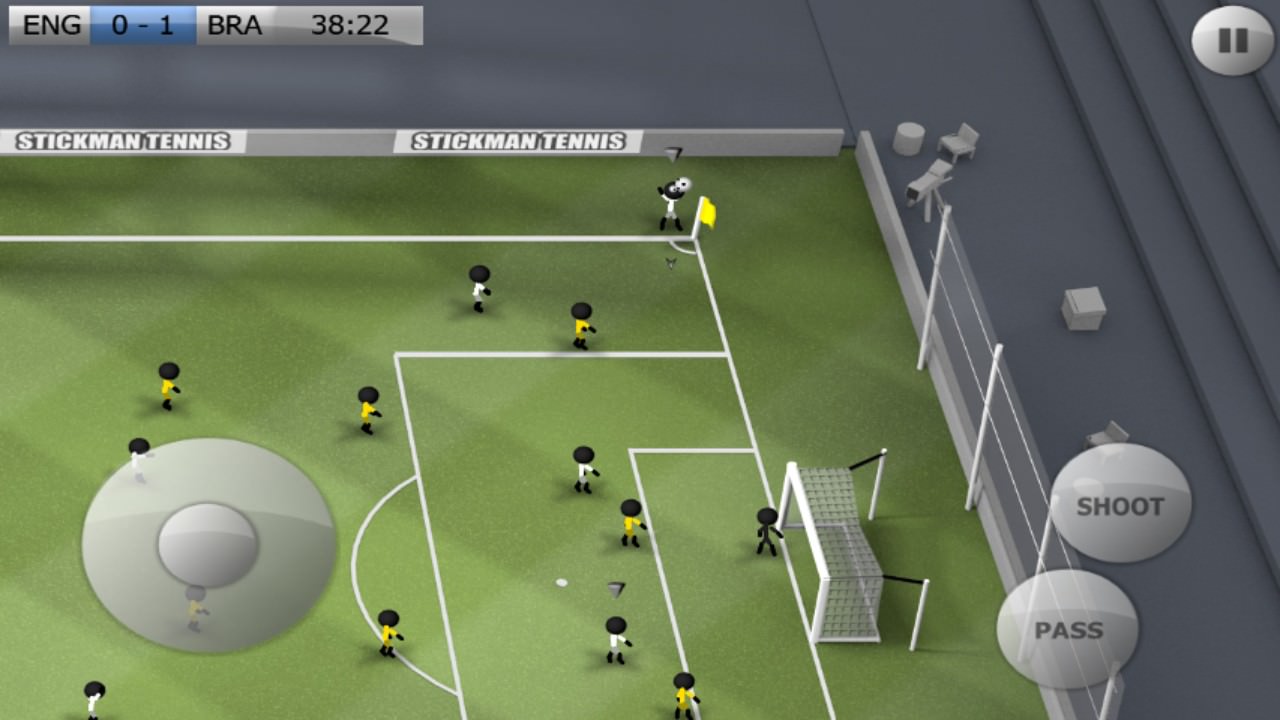 It's at this point that you look at the screenshots and start to wonder why I'm rating this game so highly - after all, the graphics don't seem state of the art and the players aren't that much more than the eponymous 'sticks'. The secret is in the UI and AI. That's the user interface in terms of controlling your players and the artificial intelligence of all the players on both sides.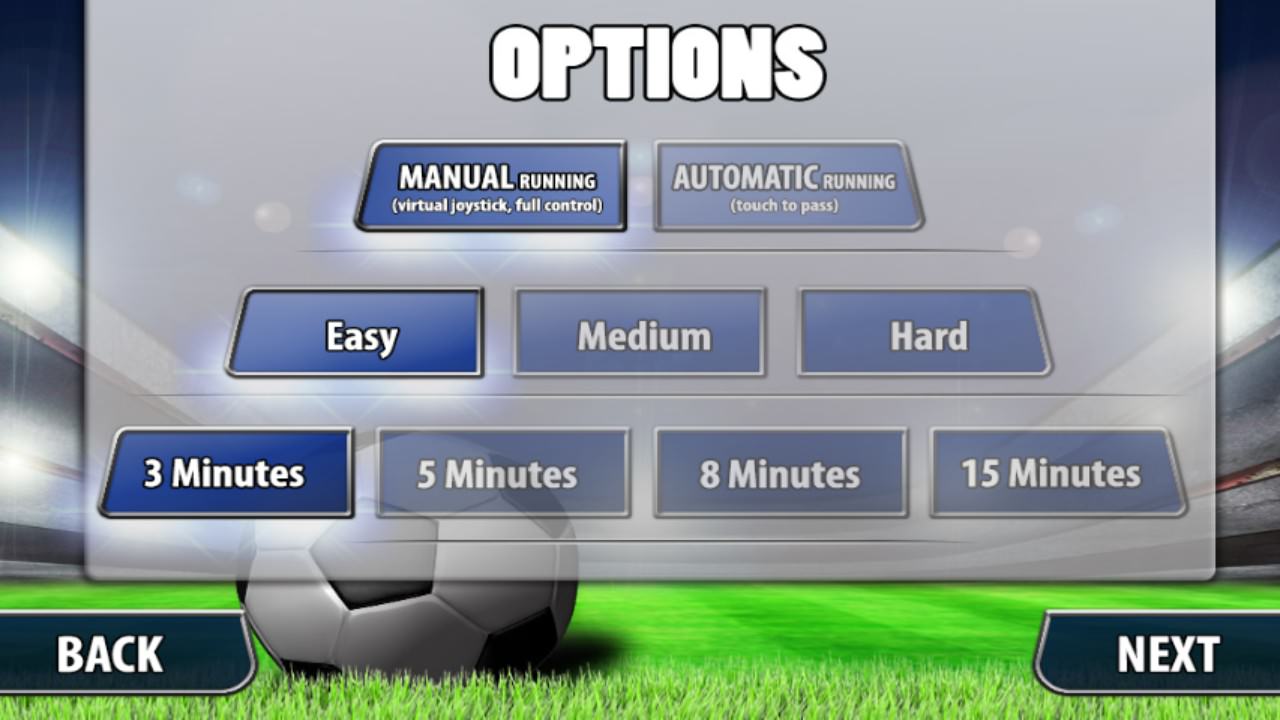 The first is worth going into in detail - the developers have rethought the interface to work beautifully with touch on a phone - you use the virtual joystick to indicate a direction for the currently selected player to start running in, and you tap the 'pass' control to pass the ball to the nearest player in that approximate direction. And, when near a goal, 'shoot' obviously takes a shot in the (automatic) direction of the open goalposts.
Given the fluidity of movement of all the players, this control scheme works wonderfully well. As you work your way into your opponent's half and pass from player to player until you're within striking distance of the goal, you'll build up a huge amount of satisfaction. And if you do hit the back of the net, past the opponent goalkeeper AI, then it's GOOAAALLLL!! And so on.
But there's more...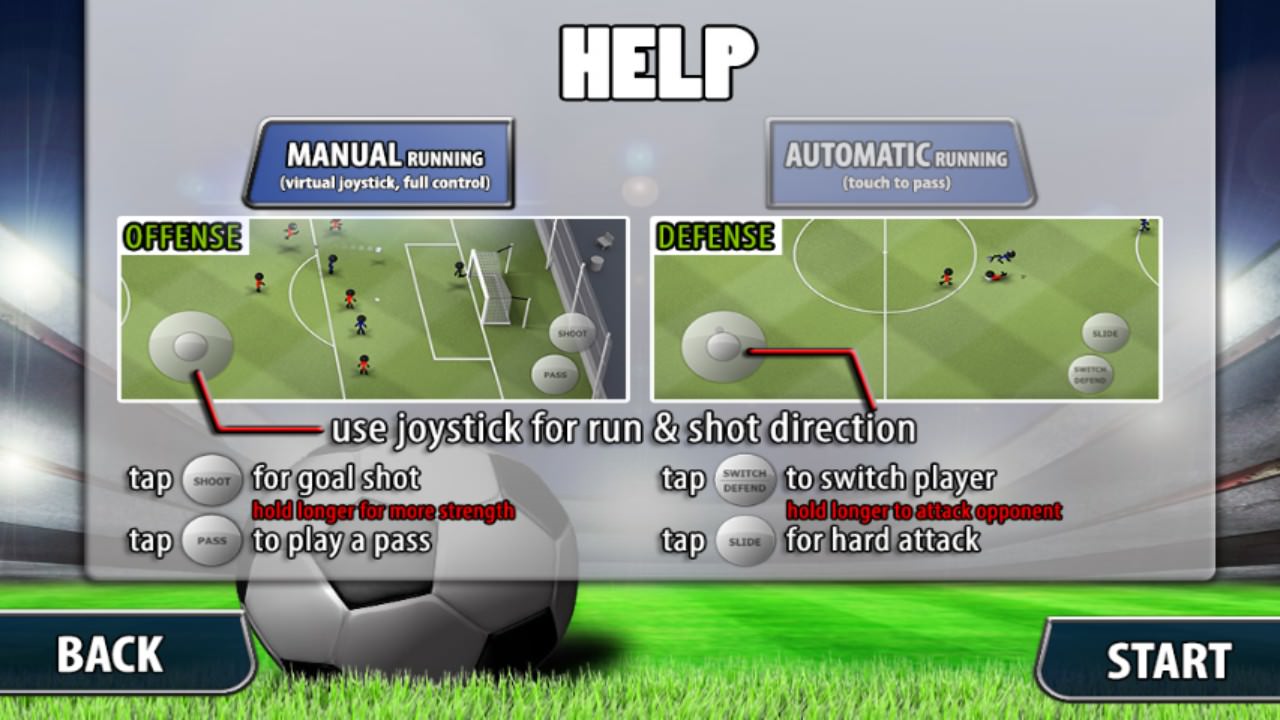 At the risk of adding complication to the controls, you can long press on the two controls to both shoot harder at the goal and to slide-tackle an opponent player that's close by (i.e. when your own players don't have possession). I was in two minds about whether these extra presses broke the simplicity of the UI here, but then I started having fun doing outrageous sliding tackles, in order to regain possession, and all was forgiven.
Again, bear in mind that I'm not a fan of football games as a genre, yet the speed, fluidity and even believability - the AI reference above - of all the little stick players won me over. They seem to behave so naturally - the goalkeeper even falls on the ball sometimes, to stop it rolling away!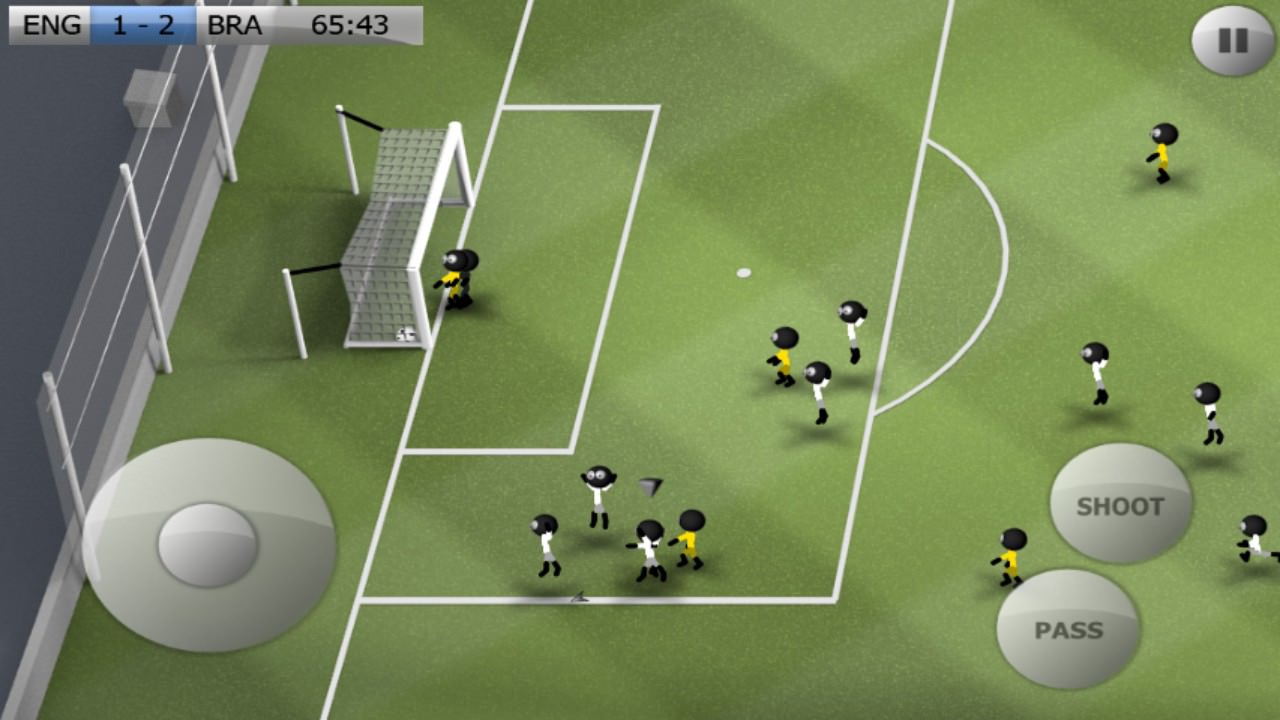 The final pieces of genius are the soundtrack, which is faultless stadium ambience throughout, and the length of the games. There are various options, but a 3 minute game works out perfectly for a little casual fun. In each case, whatever length is selected, the clock stills runs to '90 minutes', complete with a half time changeover - it's just the 'clock' runs at different rates.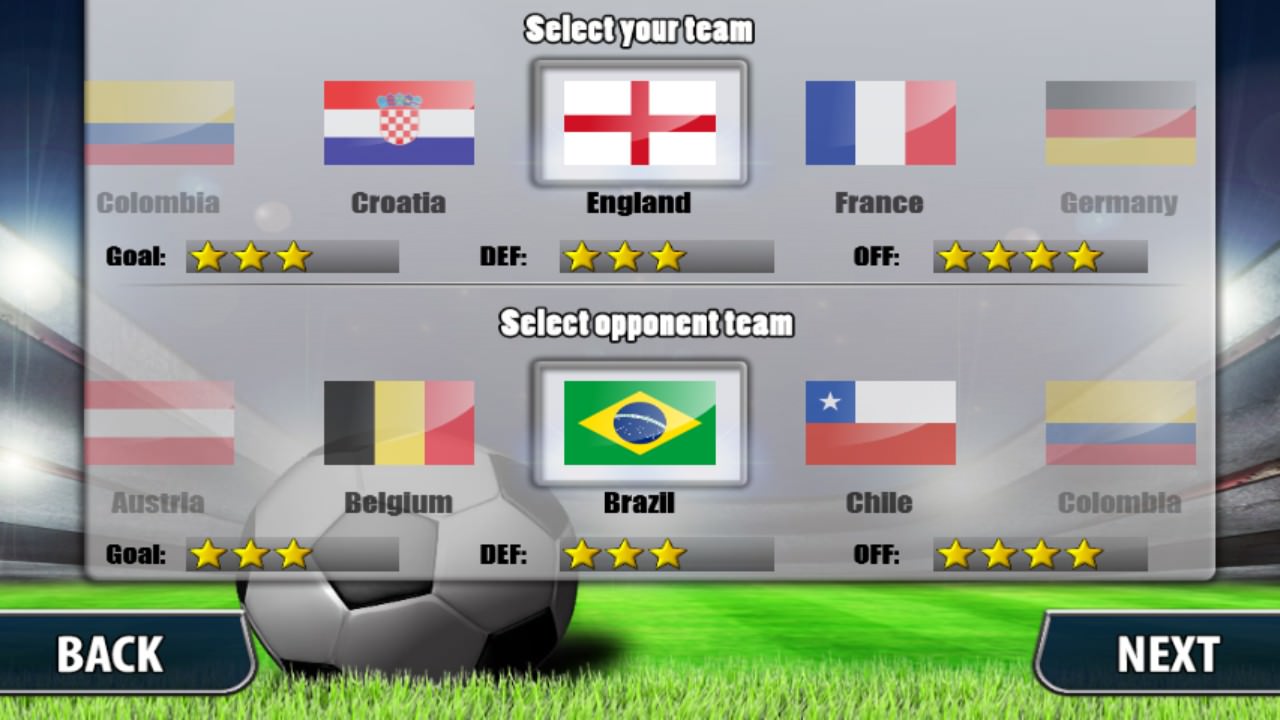 In terms of set-up, there are a multitude of match length, difficulty, and team name/colours/strip options, so you can 'play' as any team against any other team - plus there's a full 'Season' mode if you have the time and patience over a few weeks to play a number of games and try to win out overall.
Stats are kept, TV-style, within each game and summarised at the end, if you're this way inclined. Oh, and realism? See below - Brazil (the opponent AI) beat England (me) 3-1, a scoreline which sounds about right!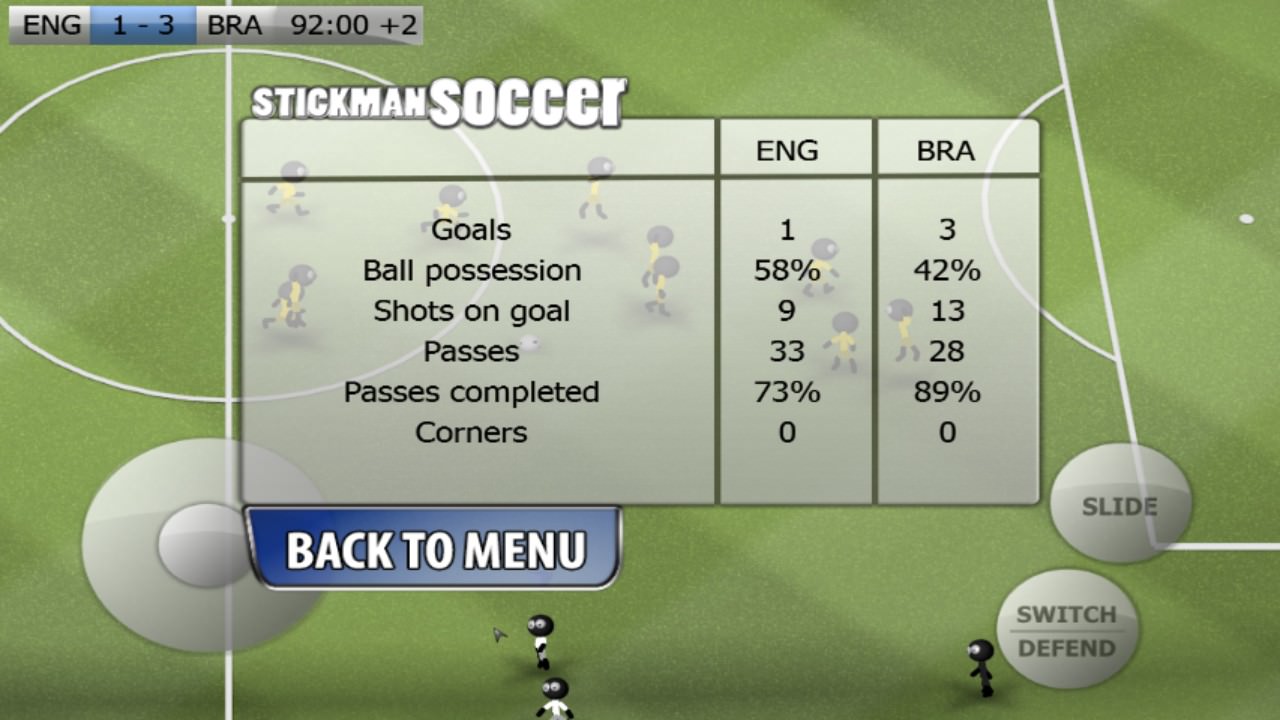 Also included is a Street Soccer game variant, five-aside, with different theme, sound, etc - it's a nice option to add variety but it's not as impressive as the full game on the bigger pitch.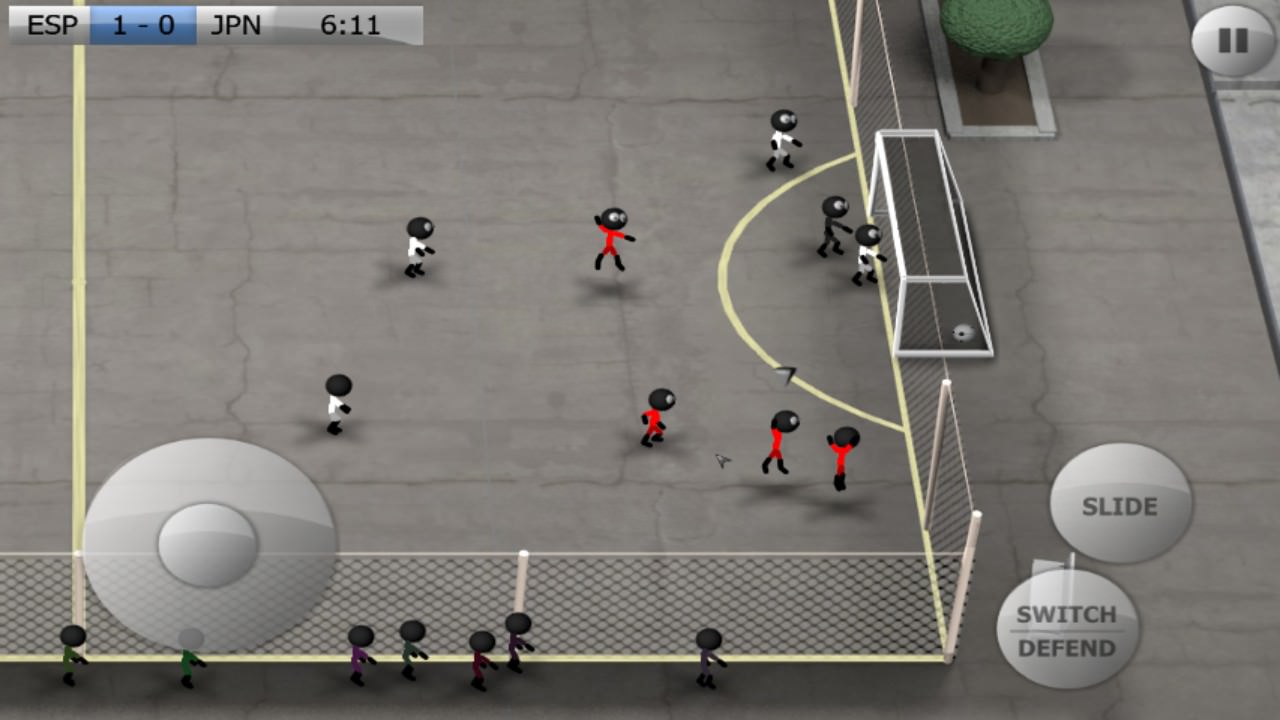 Now, you'll have noticed above that in Stickman Soccer there are two different playing modes as well. Everything above represents me playing in 'Manual' mode, with the intuitive control of the selected player, the almost organic feel for how he behaves, the very real sense of emotion and excitement as your teams fortunes wax and wane. It's perfect, and all just about within my ageing memory and hand/eye coordination skills - and if I can do it then so can everyone else.
There's also 'Automatic' mode, in which all the directional control, running, passing, and so on are handled for you and all you've got to do is tap where you want the ball to go and the game does the rest. Again, it's a handy option to have included, and may suit some kids or really casual players, but in automatic mode it feels far too simplified, you don't feel as involved or in control - by quite a margin.
Whether or not you're into football, you'll know the basic rules (don't worry, there's no offside rule here, the AI always makes sure one of its players is further down the field than all your players!), so I'd encourage you to download (it's free, though I guarantee you'll pay the quid/dollar to get rid of the ads) and have a go.
Play a few games, experiment with the manual controls, set game length nice and short, the difficulty to 'Easy', and if you don't get charmed and sucked in by Stickman Soccer then my name's not Lionel Messi.... [oh wait....]
Hugely, massively recommended.
Reviewed by Steve Litchfield at