Review:
Mini Golf Club
Score:
73%
It's a fair cop - I'm whiling away the time to Christmas and Lumia Denim/Camera 5 arriving by play-testing the latest games for Windows Phone. But then the chances are that you're on a bit of a wind down to the holidays too, so why not have a crack at a game? Mini Golf Club is somewhat minimalist and, by default, ad-strewn, but zap these with an in-app purchase and you've got six 9-hole courses of gradually increasing crazy golf intensity...
Buy Link | Download / Information Link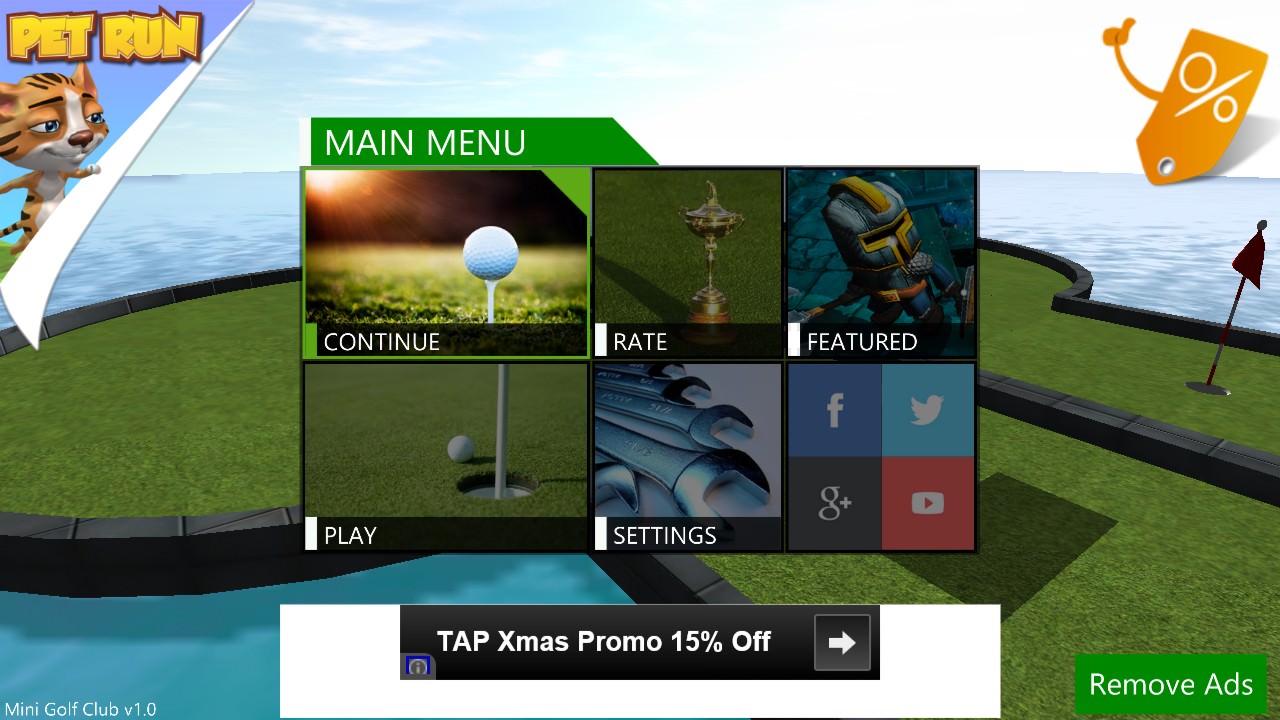 Built on 'an advanced physics engine' (it's not specified, but might well be Unity), the environment here is bare-bones, with just an endless ripping sea and textured, solid crazy golf holes to be navigated. Everything behaves realistically in terms of ball movement and contacts.
The hole designs start as per real world crazy golf (you'll recognise the configurations), but then start to get more and more outrageous, not least because of the amount of water involved: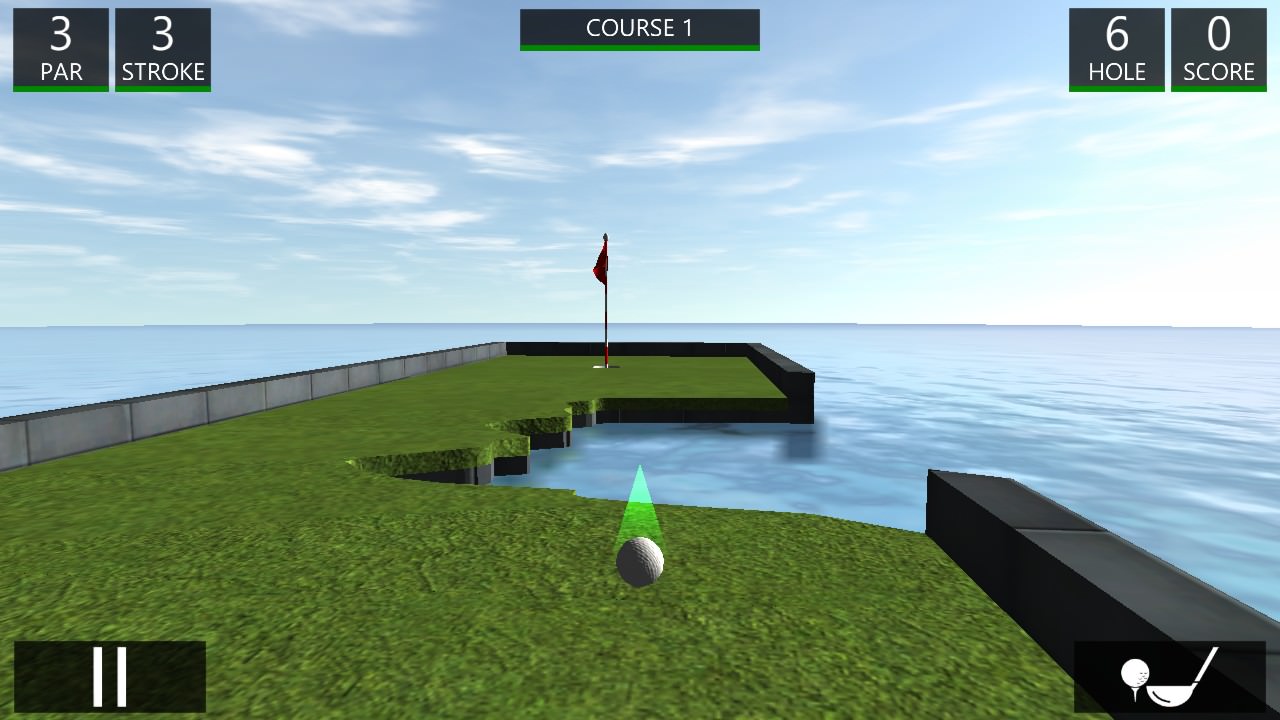 Ball control is intuitive, swiping left and right rotates your view/aim (plus there's limited up/down swiping too, to adjust the viewpoint) and then long pressing the club icon, bottom-right, starts increasing the shot power - just take your finger off when you feel the strength is about right,
With crazy golf, the danger is always that everything's too blocky and boring, but the use of textures and animations (e.g. the flag on the stick) actually make Mini Golf Club rather beautiful...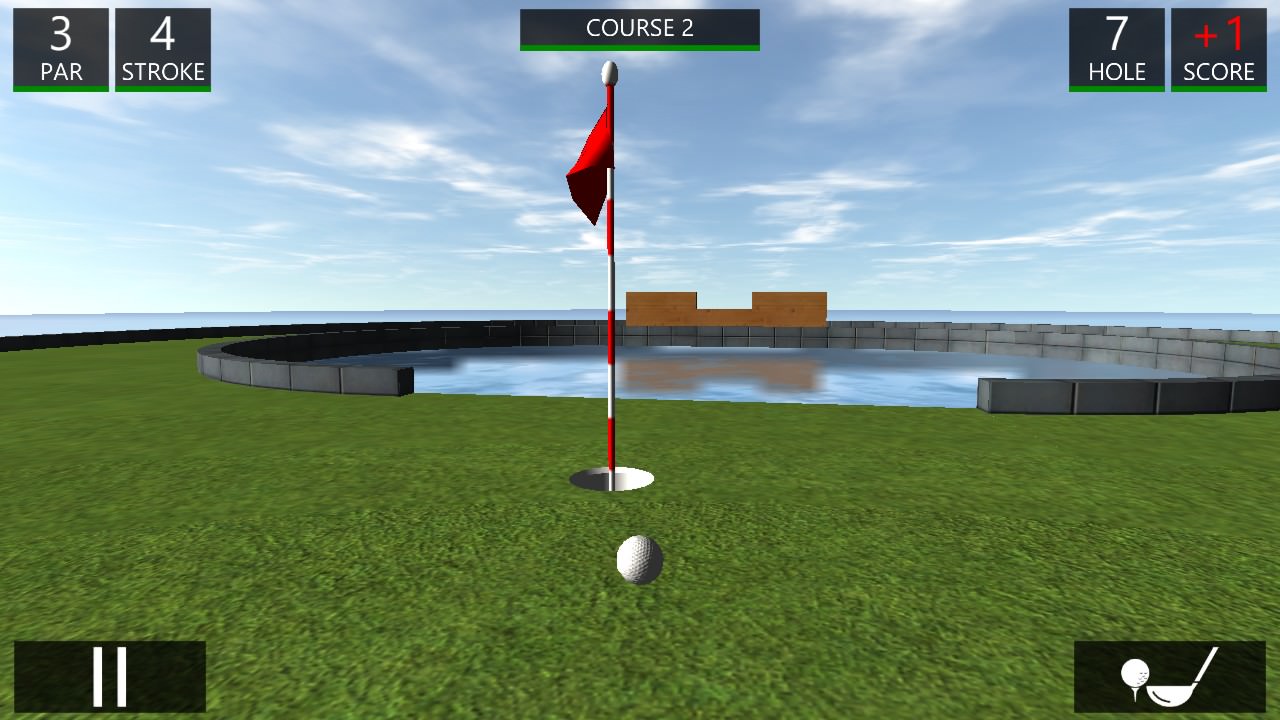 The core gameplay here is to finish each hole in the shortest number of strokes possible and then progress, of course. And, just as with real life crazy golf, some holes will utterly fox you. Here we have rotating obstacles, outrageous ramps and jumps, rotating sections of ground, holes through to the sea below, and so on. There's a lot to get round.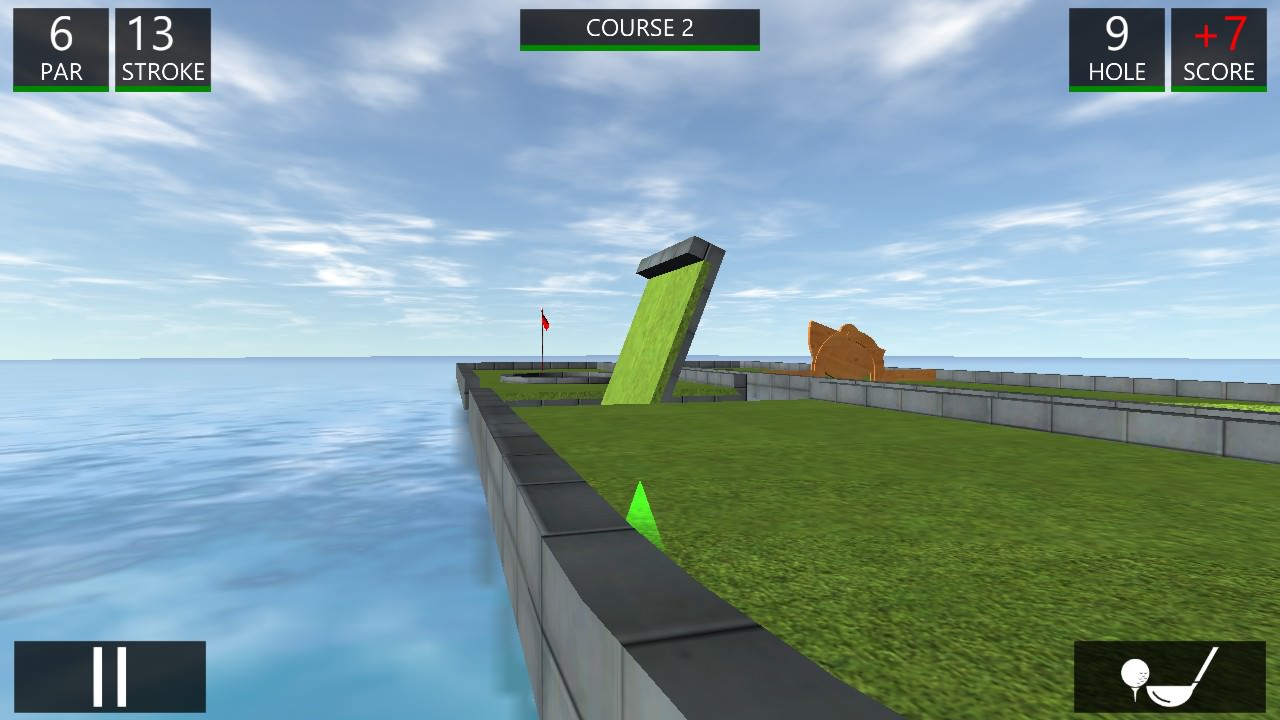 At each stage, i.e. between holes, there are banner ads and also interstitial full-screen ads, as shown below - these are a pain in the butt, but it's trivial to remove all of these with one £1.29 (in the UK) in app purchase, and this seems good value for money - there's a lot of gameplay here - 54 holes doesn't sound like a lot, but you'll need ten minutes on the hardest ones, plus you can have fun in a month's time working your way through them all again, with the physics meaning that the ball never lands up in exactly the same place twice.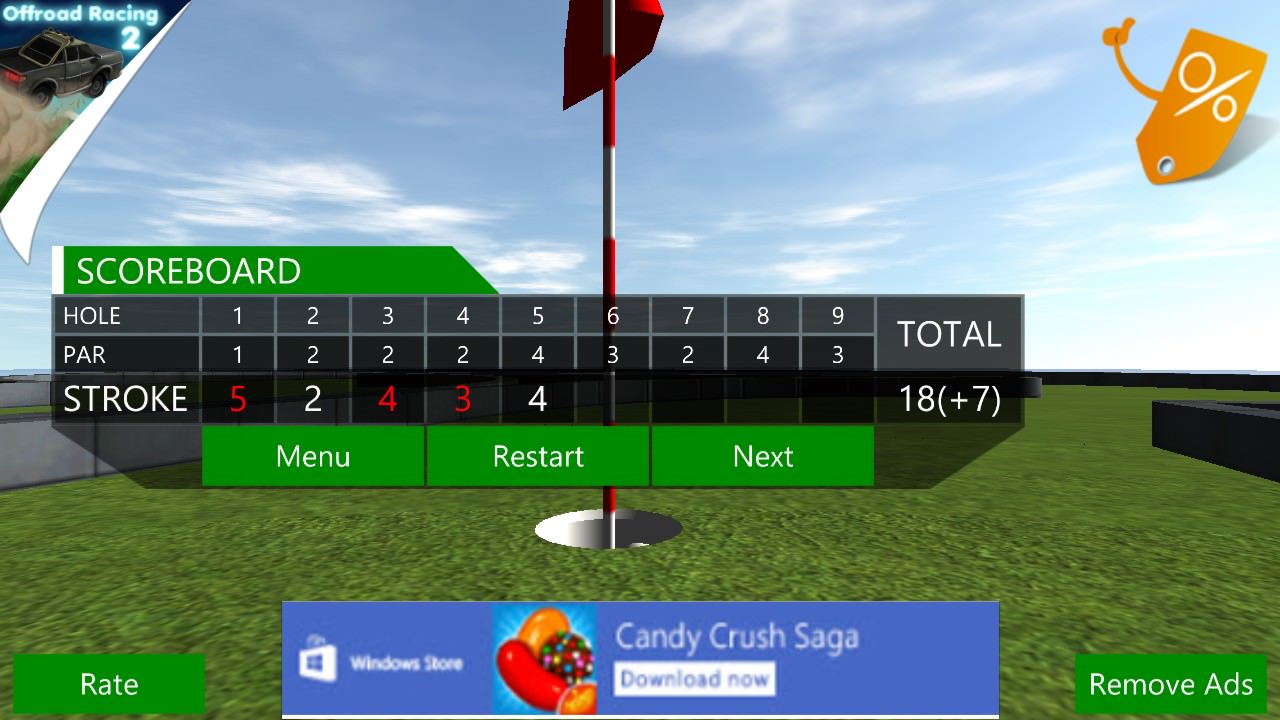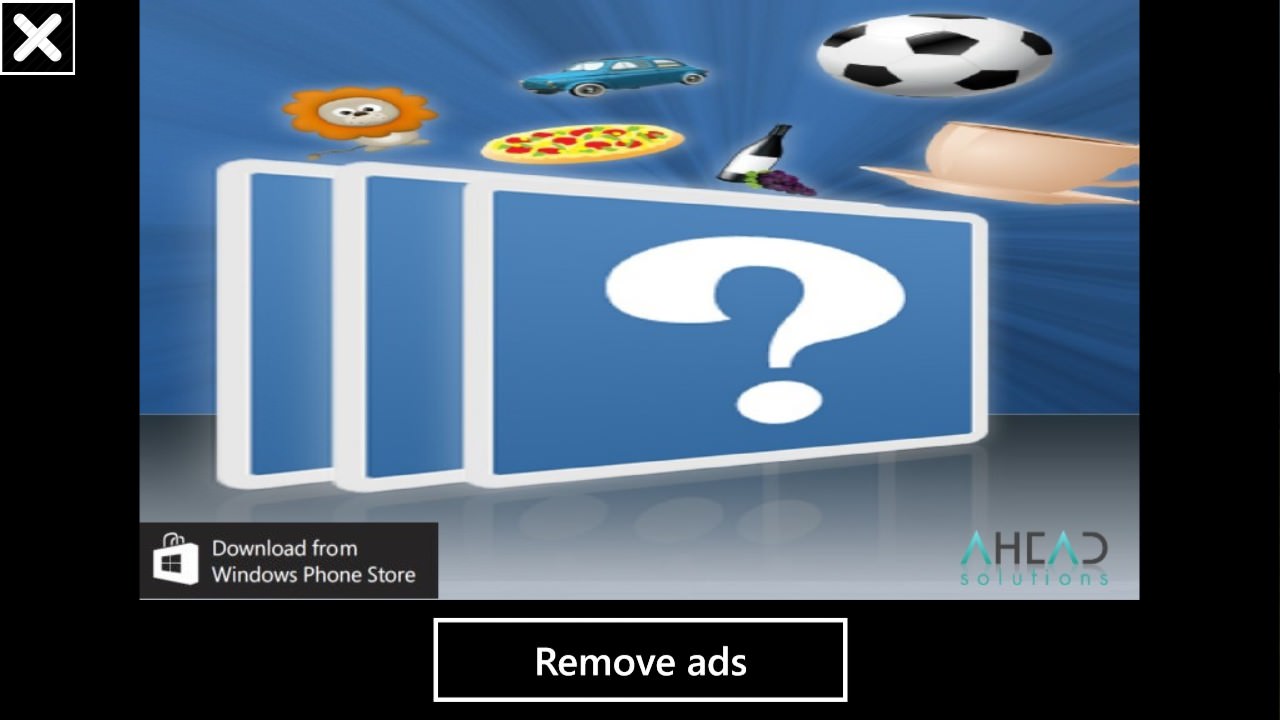 The ads are one of only three negatives involved here. The full-screen ads take a second to load up and it's far too easy to be tapping the 'next' control when the ad swaps in and you find yourself jetting off to a web site or the Store. The other negatives are that the application's ad-removal workflow is buggy - if you start to remove them and then back out, the game is left blank and unusable. Finally, the start up through the splash screen is on the slow side - the developer really needs to implement a 'loading' progress bar!
This niggles aside though, this is a very competent crazy/mini golf game that looks the business and provides a significant physics-based puzzle challenge.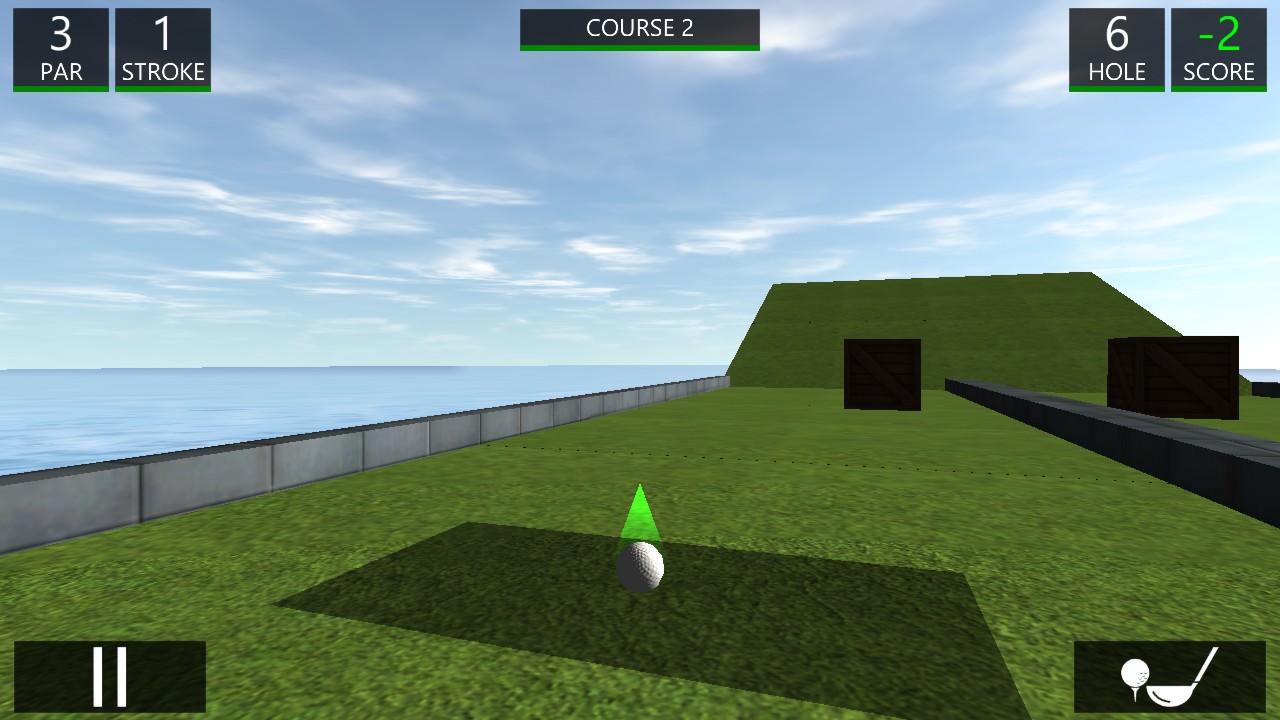 (Thanks to WMPU for the heads-up on this game, by the way)
Reviewed by Steve Litchfield at