Review:
Microsoft Lumia 435
Score:
73%
The new bottom of the Lumia range is upon us, a low price but does it all represent a compromise too far, as on the ill-fated Lumia 530? Surprisingly, no, the compromise is very modest, as long as you're happy with a slightly smaller screen and don't need to shoot macro photos...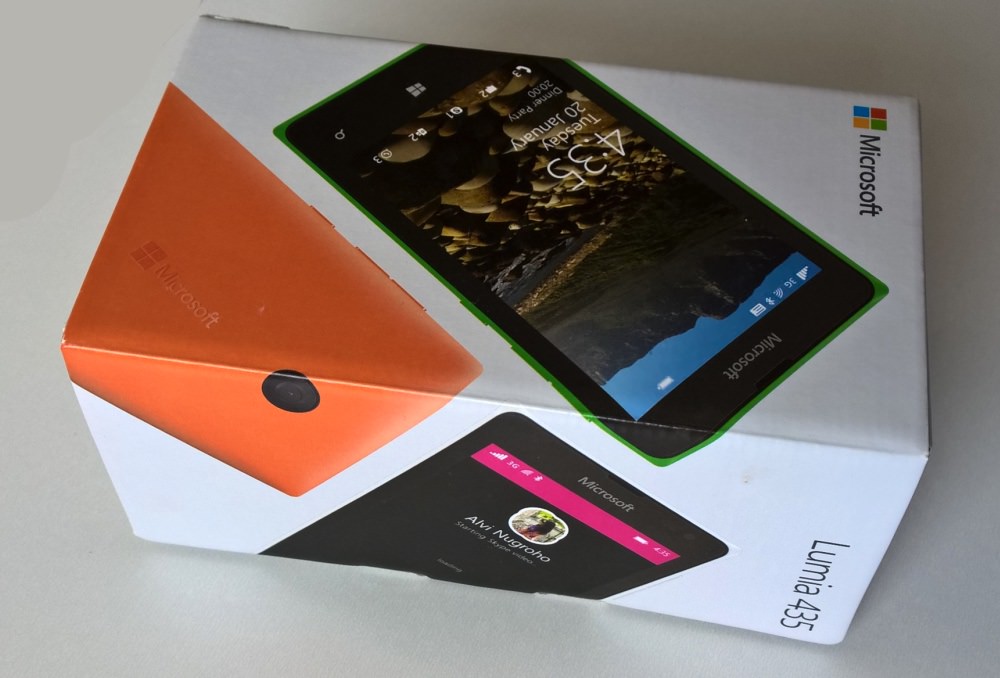 "Another low end Lumia?" is the usual first reaction, but this is destined for the lowest ends of the phone market, the people who'd traditionally buy a feature phone - and as such, does a pretty darned good job of bringing smartphone functions and the Microsoft properties like OneDrive, Office and Cortana to new users.
The obvious question is where this fits into the other recent low end offerings from Nokia and Microsoft over the last year or so. Here's the range, laid out in terms of specifications:
| | | | | | |
| --- | --- | --- | --- | --- | --- |
| Devices: | Lumia 435 | Lumia 530 | Lumia 535 | Lumia 630/635 | Lumia 640 |
| Announced | January 2015 | July 2014 | November 2014 | April 2014 | March 2015 |
| Guide price (UK or India) | £49 on pay-as-you-go, will come down to £39 or lower | £39 on pay-as-you-go | £79 on pay-as-you-go | £79 on pay-as-you-go | £110 on pay-as-you-go |
| Dimensions, weight | 118 x 65 x 12mm, 134g | 120 x 62 x 12mm, 129g | 140 x 72 x 9mm, 146g | 130 x 67 x 9mm, 134g | 141 x 72 x 9mm, 145g |
| Screen size, tech | 4" LCD, 480p RGB | 4" LCD, 480p RGB | 5" LCD, 540p RGB | 4.5" LCD, 480p RGB, ClearBlack Display 'Lite' | 5" 720p LCD, RGB |
| Glance screen | No | No | No | No | Yes |
| Materials | All plastic, matt effect | All plastic, moderate matt effect | All plastic, glossy | All plastic, nice matt effect | All plastic, nice matt effect |
| Processor, speed, RAM | Dual core Snapdragon 200, 1.2GHz, 1GB RAM | Dual core Snapdragon 200, 1.2GHz, 512MB RAM | Quad core Snapdragon 200, 1.2GHz, 1GB RAM | Quad core Snapdragon 400, 1.2GHz, 512MB RAM | Quad core Snapdragon 400, 1.2GHz, 1GB RAM |
| Storage | 8GB plus microSD | 4GB plus microSD | 8GB plus microSD | 8GB plus microSD | 8GB plus microSD |
| Stills camera | 2MP, fixed focus, no flash, VGA front-facing | 5MP, fixed focus, no flash | 5MP, LED flash, plus decent 5MP secondary, front facing camera | 5MP, no flash | 8MP, 1/4" sensor, LED flash, 1MP FFC |
| Video camera | 448p (FWVGA) | 480p | 480p | 720p | 1080p |
| Charging options (any Qi?) | microUSB | microUSB | microUSB | microUSB | microUSB |
| Battery capacity, life | 1560mAh, replaceable | 1430 mAh, removeable | 1905mAh, replaceable | 1830 mAh, removeable | 2500mAh, replaceable |
| Speaker | Back, quite loud | Back, moderate volume | Back, moderate volume | Back, quite loud | Not known yet |
| Advanced comms (depending on variant) | up to quad band 3G | Up to quad band 3G | Up to dual band 3G | Up to hexaband 4G (on the 635) | Up to hexaband 4G |
As you can see for yourself from the 435/green column, the new device essentially takes the flawed 530 compromise and fixes things, with 8GB internal storage, 1GB of RAM (both needed for full Windows 10 features in the fullness of time) and a front facing camera, so useful for selfies and Skype (etc.) In fact, the storage and RAM spec is surprising, given the price, on any platform, so credit to Microsoft here.
Away from the baseline specs, corners have been cut right, left and centre, of course. The box contents are super minimalist, just a moulded mains charger (i.e. no re-usable USB to microUSB lead integrated) - the assumption today is that users will find their own headsets and data leads if needed. Which is ecologically friendly, I guess, even though part of me mourns the days when every phone came with everything you needed.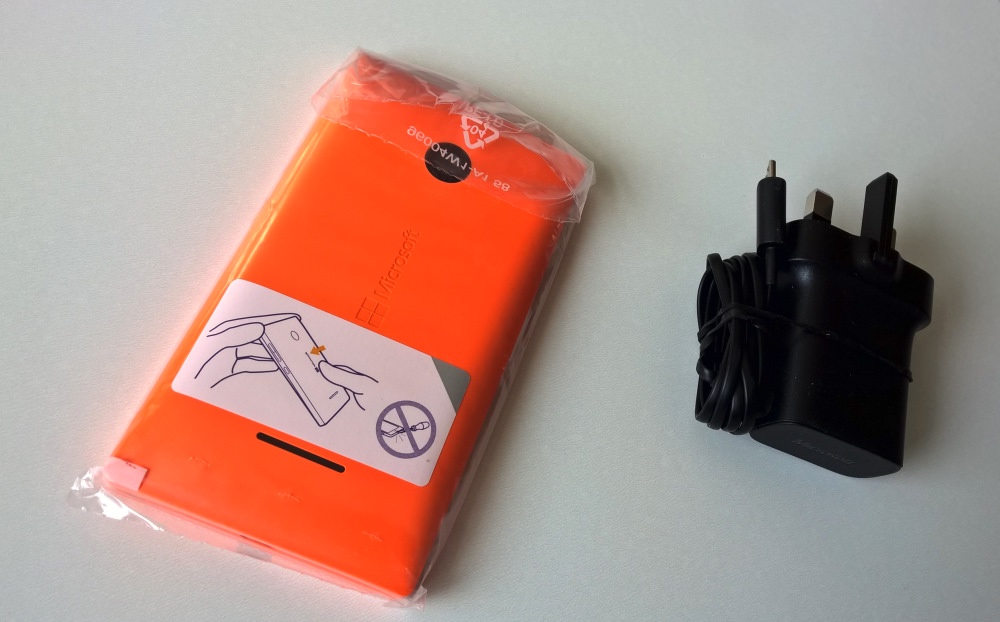 The 435 itself could be described as 'chunky' and has the familiar slab sides plus 'pillow for a back. The back can be levered off easily, as you'll see shortly.
There are no surprises booting the Lumia 435 up for the first time - setting up language, Wi-fi and signing into Microsoft's services. The use of capacitive buttons is welcome and means that none of the 4" screen is used for virtual controls, which helps the experience and makes the 435 punch slightly above its weight.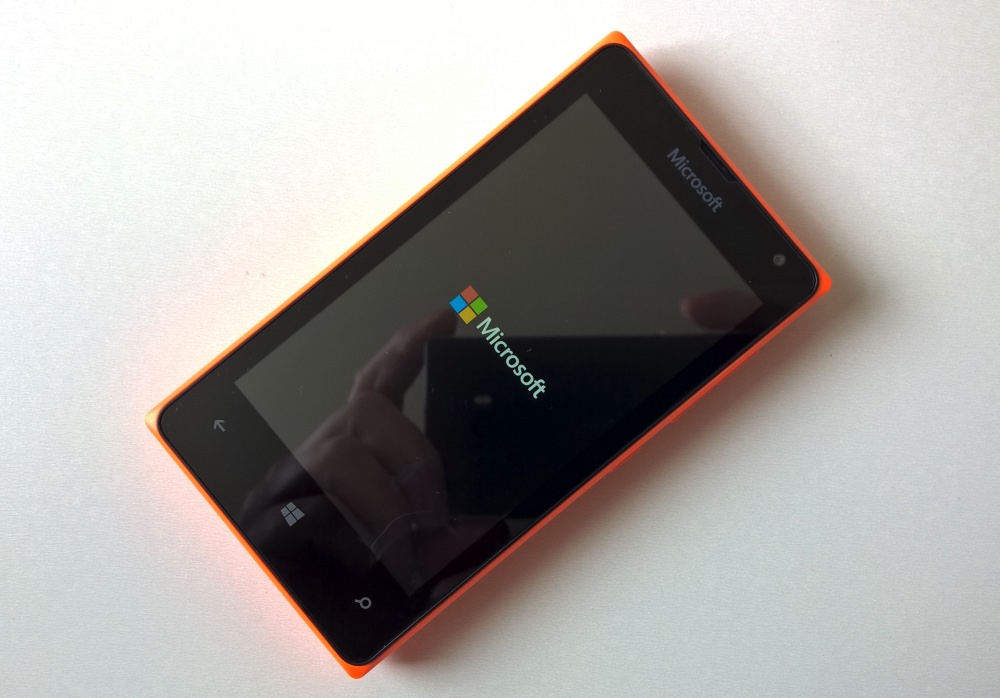 Although the default is for a twin-wide Start screen layout, the option is there in Settings to 'show more tiles' - it's not recommended on a 4" display though, especially not for the target market, where larger, clearer icons and text will be preferred to a myriad of tiles and shortcuts.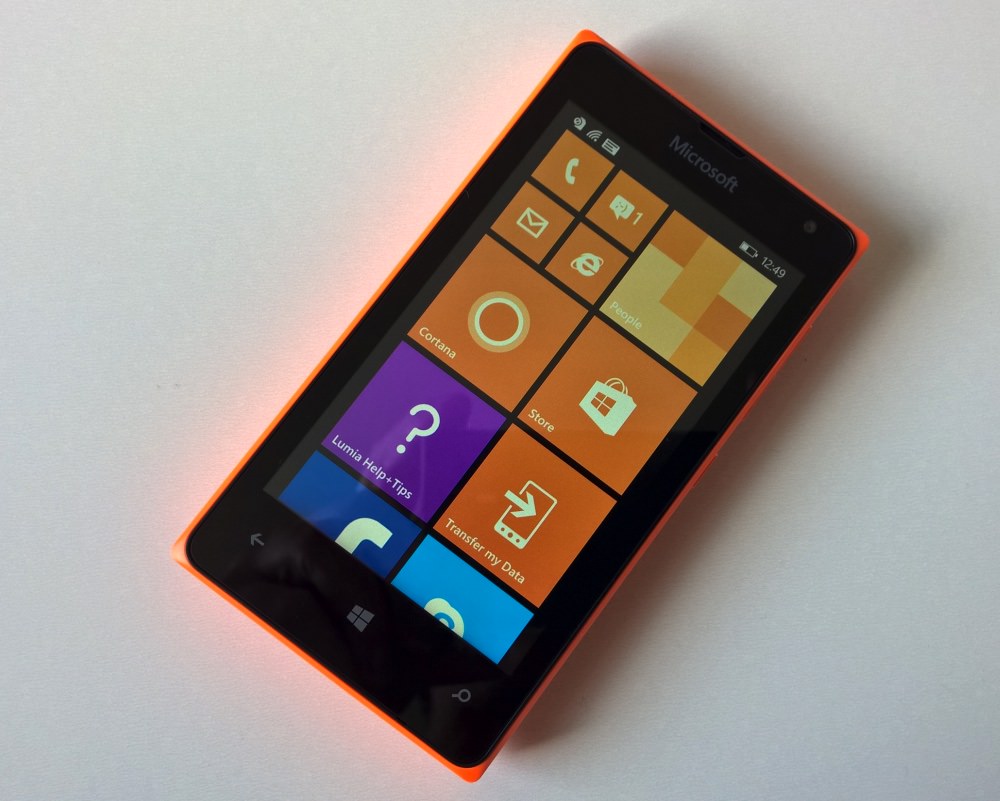 I liked the way the back shell fits around on all sides, ready to take the impact of a fall - plus the inevitable absorption of momentum by popping off - it's in the design! The front glass is likewise protected by a hard plastic ridge around its edges - these do nothing for swipe ergonomics but will protect the screen against most drops, even onto its face. In short, the Lumia 435 will survive almost anything. Although not classed as waterproof, the removeable back and battery and cards mean that the usual 'take it all apart and stick it in rice or the airing cupboard' is likely to be a success.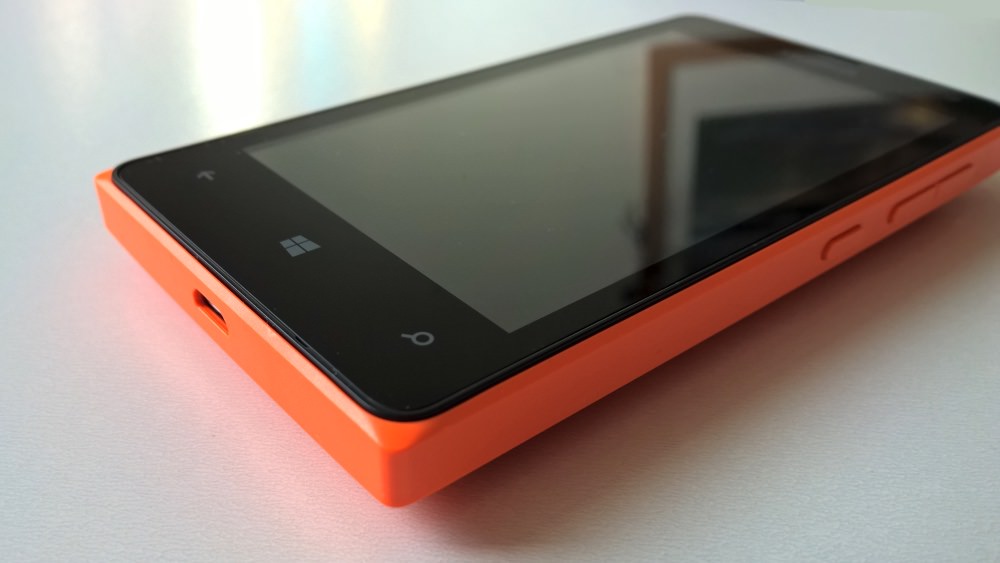 The 'Microsoft' name on the front and on the back (and not 'Nokia') still jars a little, but I'm getting used to it. You don't have to buy 'shocking orange', of course, there's also white, black and (verdant) green. Prominent on the back, other than the flatteringly large camera aperture (forced because of how small the camera actually is and how far back in the body the lens is!), the mono speaker outputs through a large slot - it's positioned on a slight curve in the body, meaning that it's not muffled when putting the 435 down on most surfaces.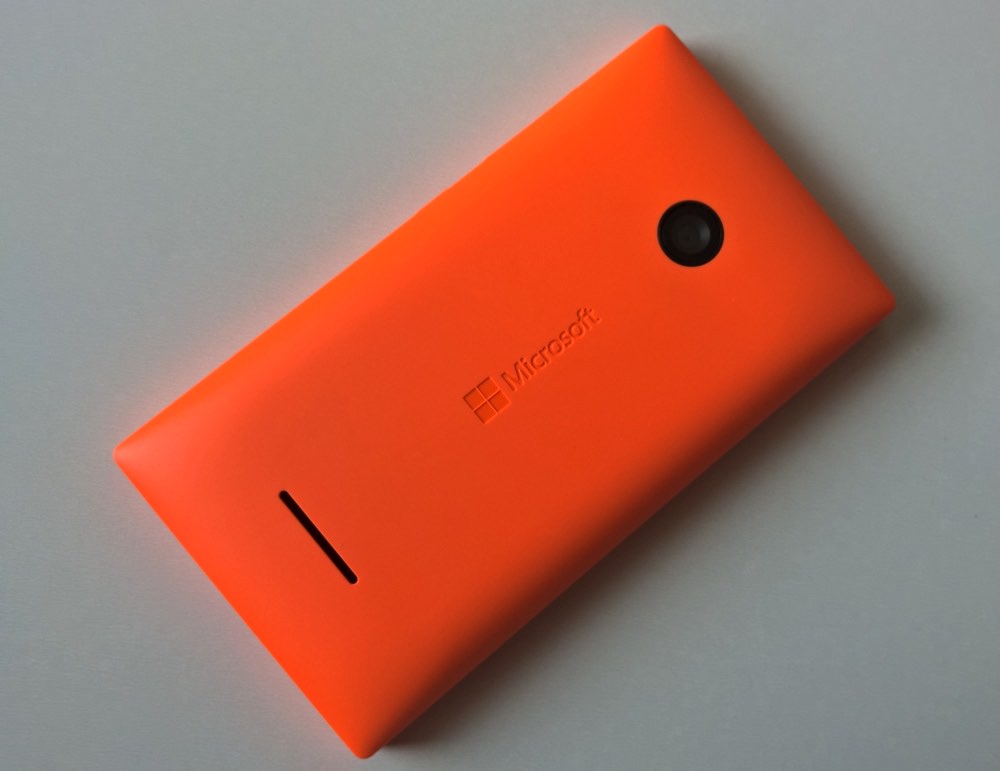 Speaker volume is terrific, I got told off by my family when testing it - quality is average, but the usual rule of thumb about the cheaper the phone, the louder the speaker, holds true here, thankfully.
The back comes off easily, to reveal a standard battery, covering microSD and micro-SIM (not nano-SIM, note) - it's all very low-tech and feature-phone-like. No Qi charging, no extra aerials (e.g. NFC), and so on.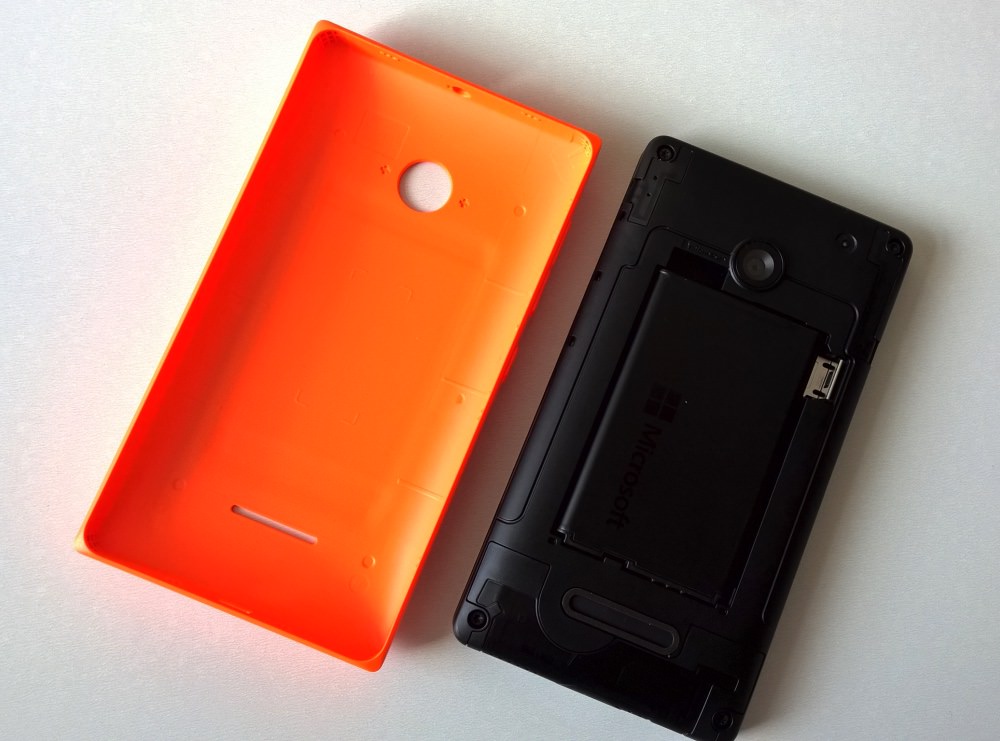 Regardless of whether users actually bother to buy a spare battery, there's the peace of mind that it can be yanked if something goes wrong, the ease of drying out after a dunk, the ease of replacing it in a couple of years when the original cell is worn out, and so on. Battery life on a charge is easily two days here, for the target market and use case.
The micro-SIM is held in place with a metal clip similar to that on the old Nokia N95, if anyone remembers that - it's a reliable system and good to see. No pins to get broken, etc.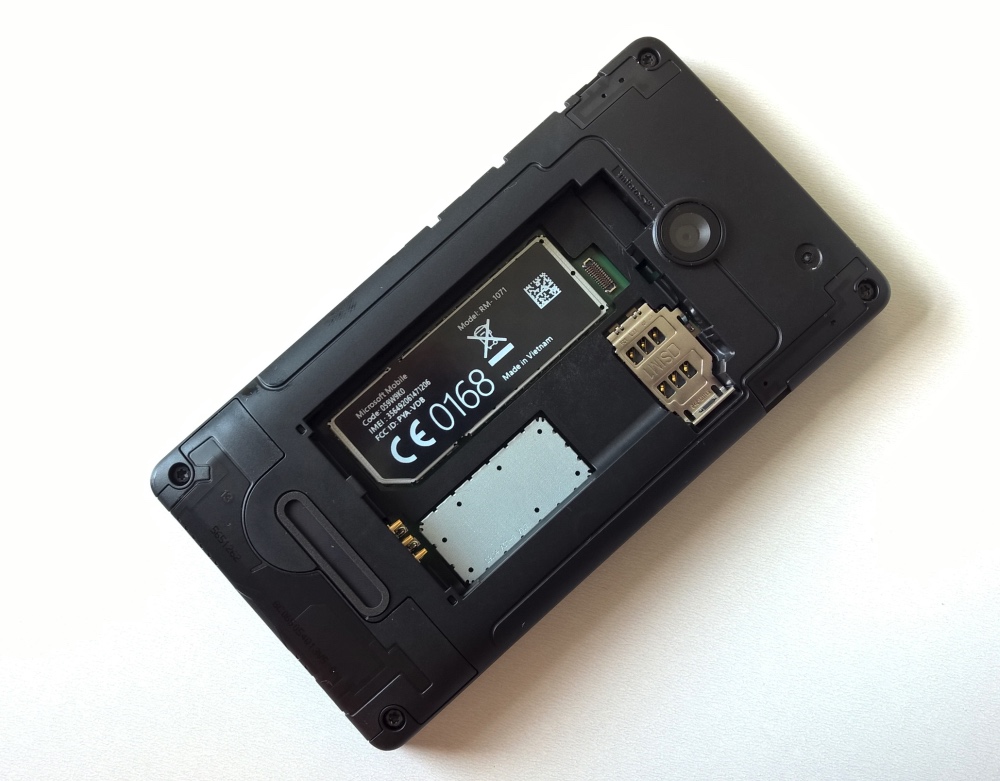 The main WVGA LCD display lacks any polarisers or other filters, which is understandable at this price - it does have 'Sunlight Readability Enhancements', effectively tuning the display for maximum contrast and maximum brightness, and this just about saves the day in sunlight. The 435 isn't a patch on the more expensive Lumias (think 735 and 830) here, but it's better than some other budget smartphones I could mention...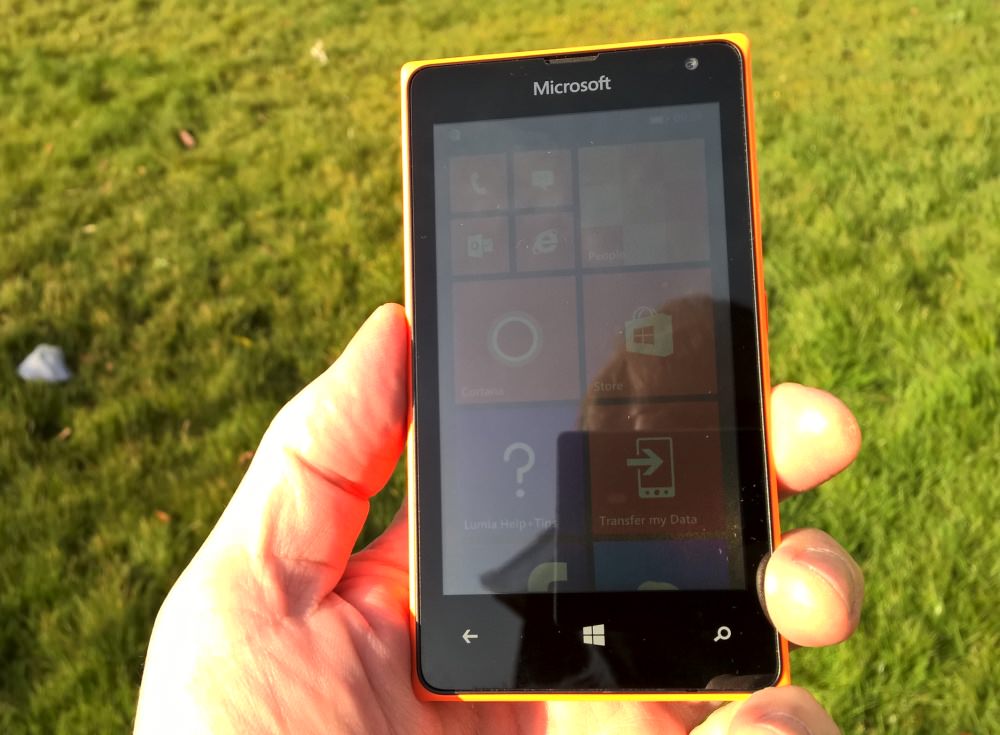 Staying with the hardware aspects, the camera is another fixed focus effort, as with the Lumia 530 and.... it's not terrible. The resolution is sensibly smaller than on the 520 - 2MP makes a lot more sense for the ambition of image here - or perhaps it's that the pixels are larger here that makes the images better. See what you think below.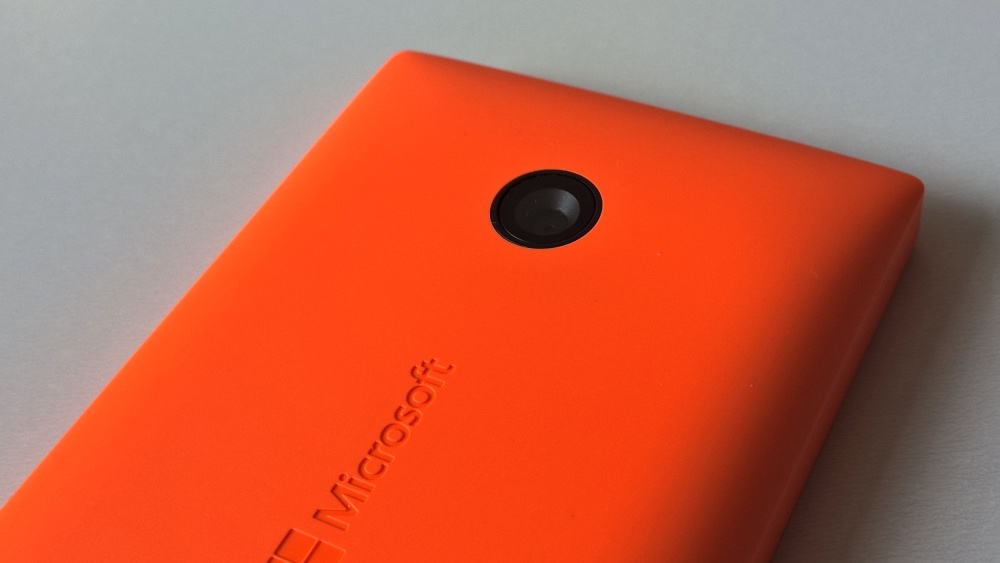 In good light, results aren't that bad, as you can see from the samples below - certainly belying the 435's price tag. Click any of the thumbnails to enlarge or download the full 2MP images:
There's no LED flash either, arguably a cost cutting measure too far in that the phone can't easily be used as a torch, but hey, something had to go and this isn't a showstopper. The only camera app included is 'Lumia Camera' now, so at least the confusion of multiple camera apps is avoided. Lumia Camera Classic includes all the usual top-end creative controls and Smart Sequence functions, though of course you'll need excellent light to get any decent results from the hardware here.
Video is at 800 x 448 pixels, one presumes that 854 by 480 was deemed either to be pushing the chipset too far or perhaps inappropriate because downscaling would have been needed to fit playback on the 435's screen. By limiting the horizontal resolution to the display's 800 pixels, footage can just play with a small set of black bars, etc.
Windows Phone 8.1 Update 1 runs smoothly on the 435, despite the use of the low end Snapdragon 200, possibly helped by the full 1GB of RAM, something which we most definitely haven't seen at this price point before in a Windows Phone. That the OS makes good use of low end hardware to still keep the UI fluid has bcome something of a cliche, but it's true. I've been using the Lumia 830 (with Snapdragon 400) for weeks as a main device, without a single 'that's slow' moment, and from a few days of using the 435 the same is true here. Helped no doubt by only having to push WVGA-resolution around - the Lumia 535 manages just as well with a qHD display, albeit with a quad core variant, but showing that there's probably still some overhead available from that Snapdragon 200 here.
The supplied application set is without any surprises, though I suspect that buyers in other parts of the world will get slightly different social networks and news applications - there's a lengthy wait after the first few selection screens here (Wi-fi network, language, etc.) while the UK bits and pieces (Facebook, Gameloft Hub) were put into place.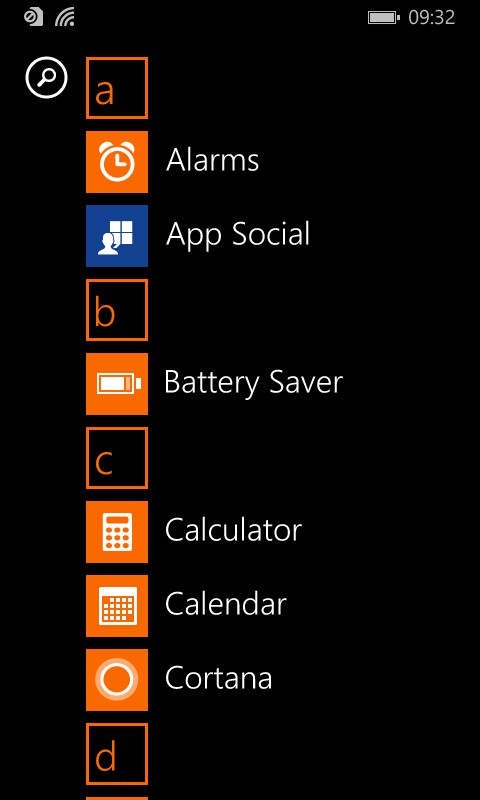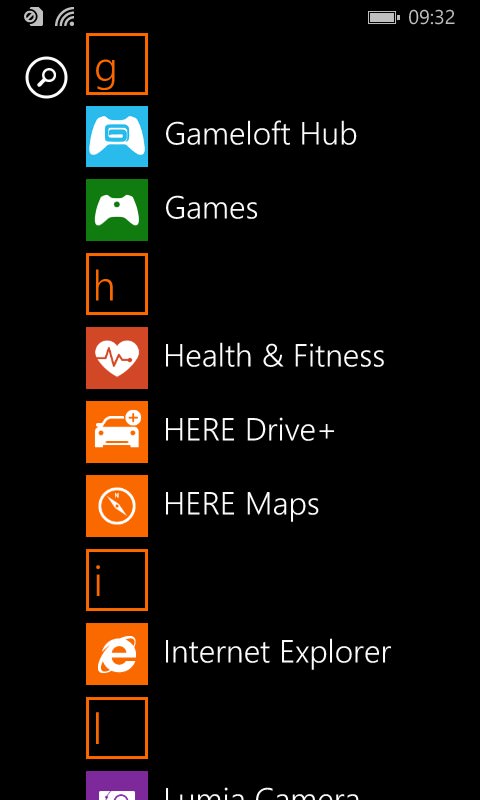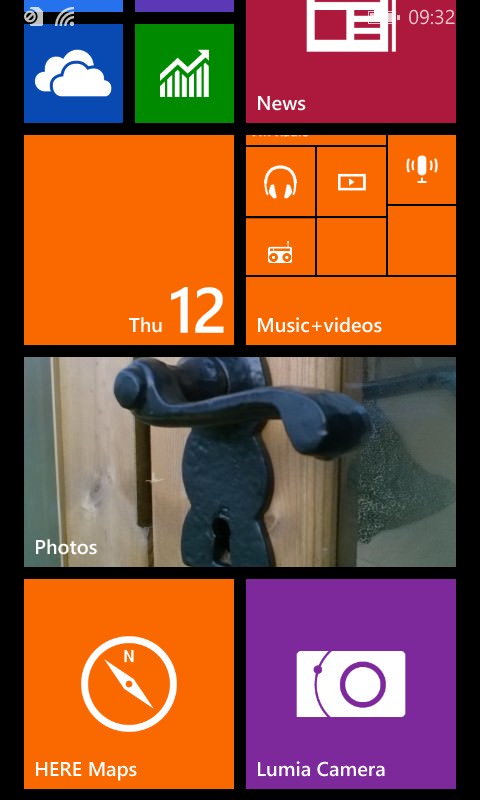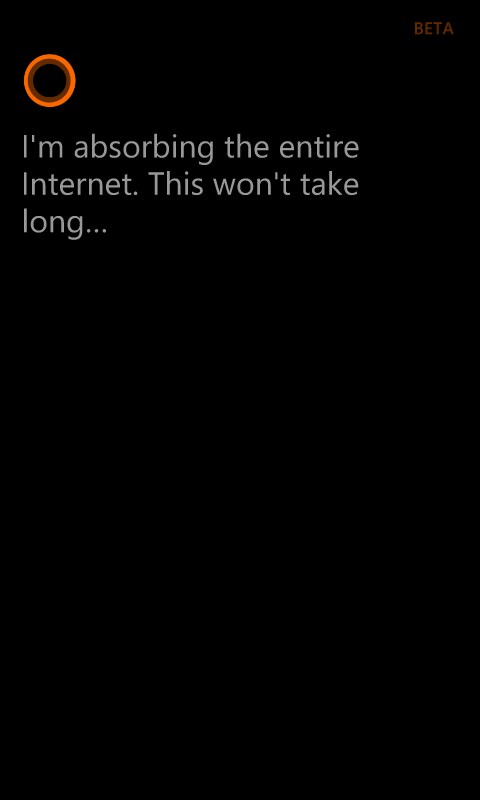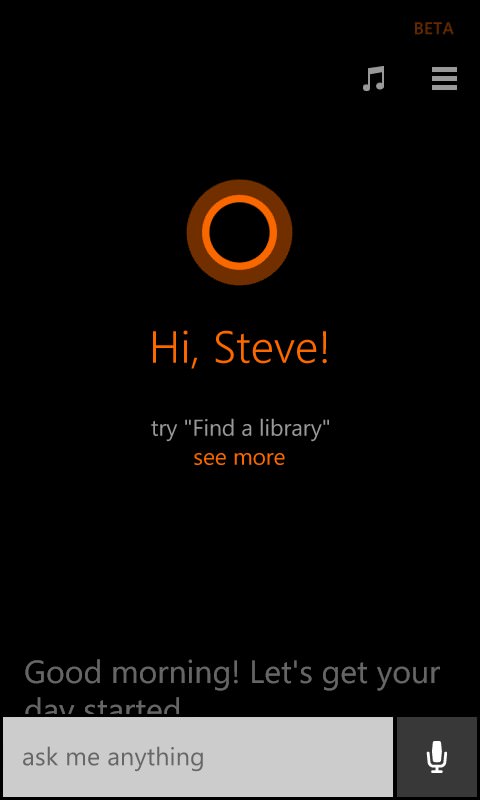 There's little point in rehashing the applications and user interface for AAWP readers, you'll have seen all of this before, though it's good to see the likes of Cortana and Start screen folders (using 'Music & Videos' as its example) out of the box on a Windows Phone. In theory, all current Windows Phone 8.x smartphones will get Windows 10 later in 2015, but I have my doubts as to how fully this will work - certainly those with 1GB of RAM will be much better placed and so the 435 is looking like the best budget bet.
Verdict
As a colourful, fun and eminently replaceable smartphone (in a good way, i.e. if it breaks or gets lost you just buy another), the Lumia 435 takes a lot of beating. I criticised the 530 as something of a compromise too far, but the 435 takes almost the same form factor and fixes everything - and it's cheaper as well. From RAM to internal storage to front-facing camera to sensors to capacitive controls to an arguably better camera and a slightly better display, the 435 claims the bottom of the Lumia stack with a vengeance - AND it's going to get the full Windows 10 experience in time, with no showstoppers anticipated.
If you're looking for a Windows Phone to chuck in a bag for emergencies, or for a 10 to 14 year old child perhaps, then the 435 at well under £50 is a tempting buy.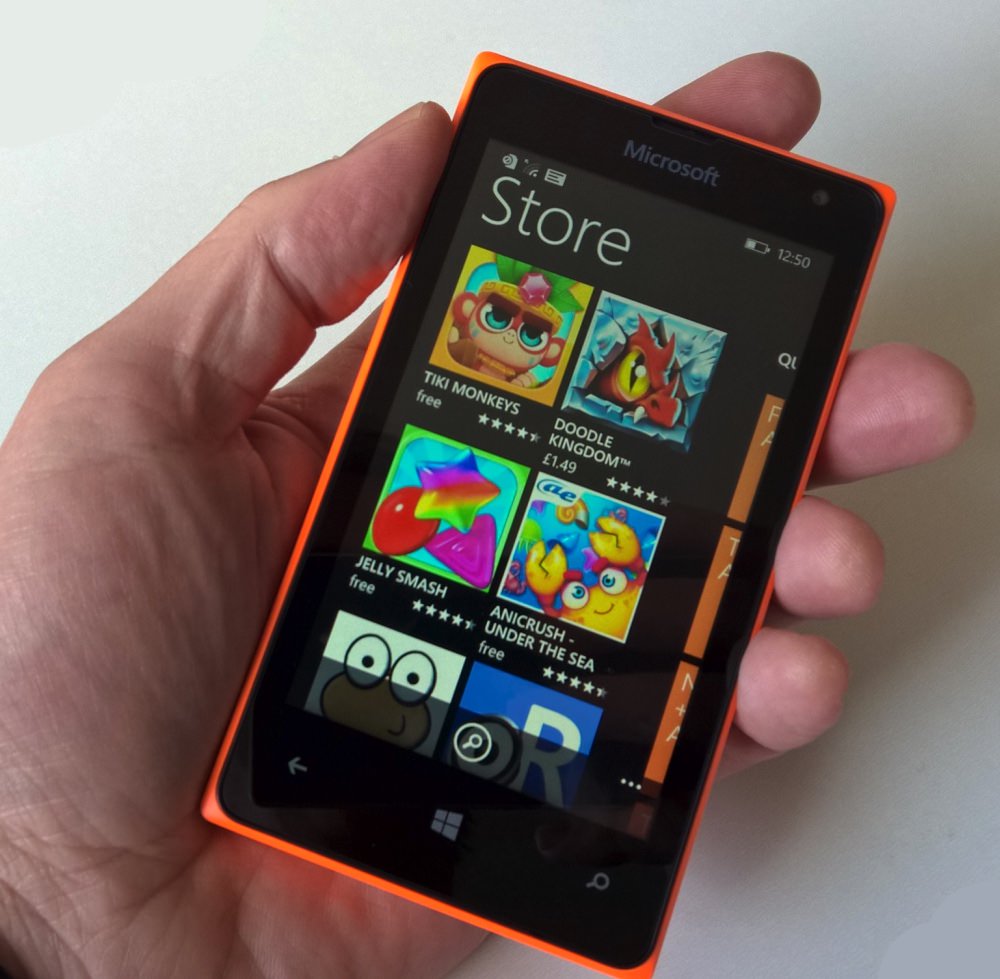 Reviewed by Steve Litchfield at