Review:
My Memories Interactive Slideshow
Score:
82%
The lengthily titled 'My Memories Interactive Slideshow' does essentially what it says in its name but it's not just another photo browser - this one comes with optimisations that help solve a very common family use case: "Can I look through your photos?", asked by a five year old and followed by them getting very confused at family snaps interspersed by boring 'grown up' stuff.
Buy Link | Download / Information Link
The aim of My Memories (I'll use its shorter title here from now on) is to pick random photos from your phone's storage and present them in 'scrapbook' layouts, whereupon you can flick them away, rotate, drag, zoom and generally 'interact' with them using your fingers, i.e. in order to see their contents better. And, after a set number of seconds interactivity, a whole new batch of photos in a different layout gets loaded. So it's almost like you're discovering images (and videos) buried in your phone or expansion card that you'd forgotten about.
If this sounds a little trite and contrived for you, a smartphone enthusiast and adult, then you're right, it is. But don't switch off, here's a very common scenario (certainly in my life) where My Memories is going to be potentially useful.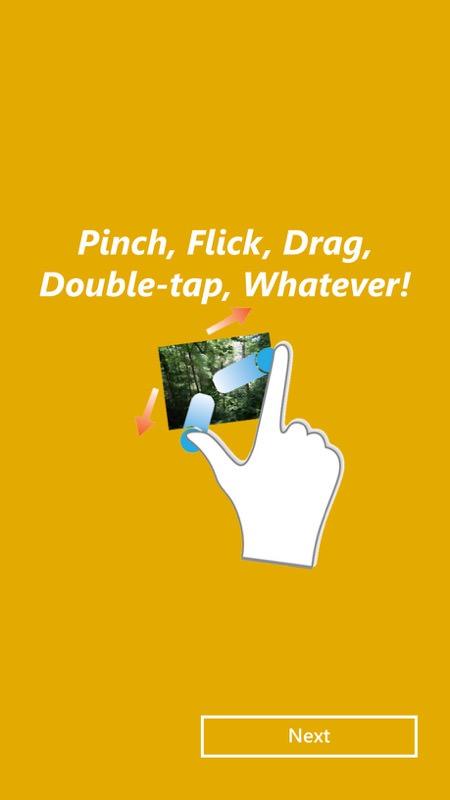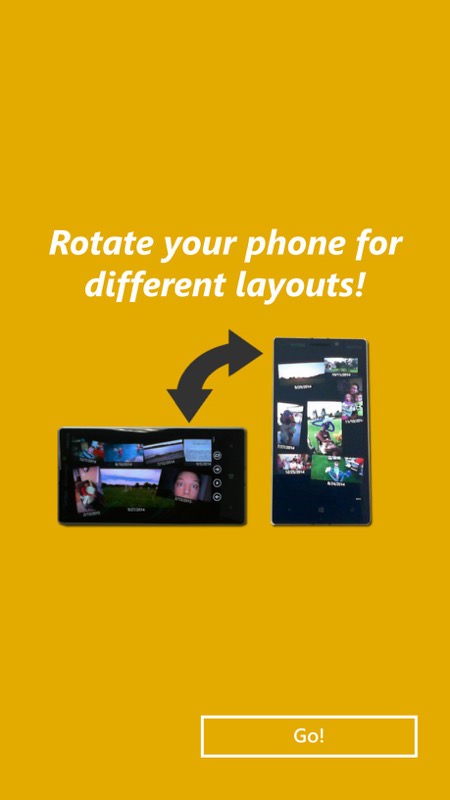 As mentioned above, most of us take loads of photos of family on our Windows Phones, which means that, back in the living room after a day out, each of the kids wants to look through the snaps and videos and then, inevitably, keep on swiping back - in my case having to endure a load of phone, steam train, flower and landscape shots before they get to the next batch of family or playground shots.
Now, one solution for such kids is to set them up in your 'favourites' album, with just the family media, but that presupposes that you've had time to do this and that you only want family stuff in your favourites - I usually don't have time and my own favourites folder is also stocked with the aforementioned flower, steam train, landscape (etc.) shots.
Another solution is to accept that there will be a mix of media shown to the child and rely on randomisation and presentation of multiple photos at once, so that they can home in on the shots they want to look at more. With My Memories, a selection of images and videos are shown - and yes, there's a setting to make sure that only items in the 'Camera roll' are included, so 'Saved pictures', 'Screenshots', and any other albums and folders can be safely excluded). There's an an attractive layout that changes every time and each thumbnail can be multi-touch zoomed, panned and rotated - touch interactions which kids love (the 'iPad effect'?)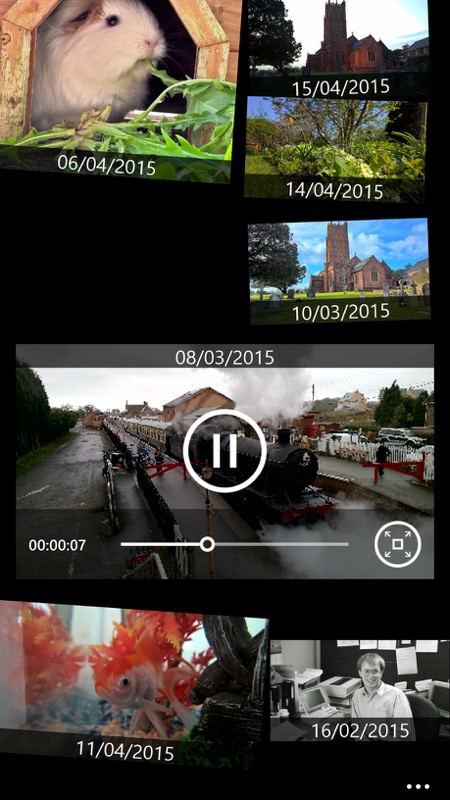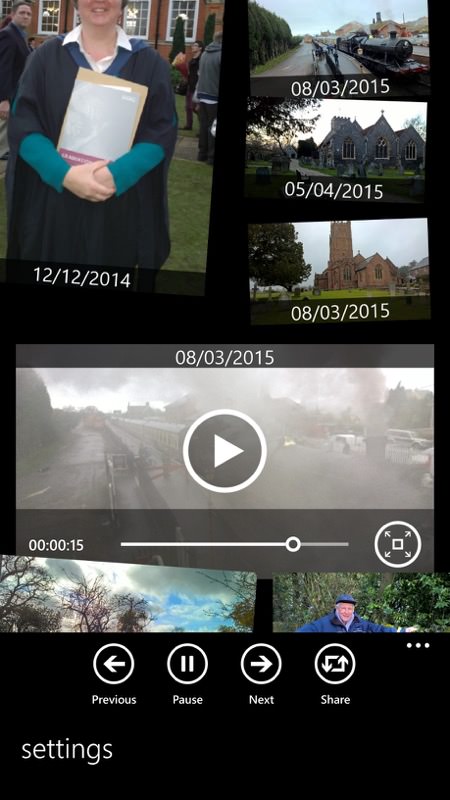 After, by default, ten seconds of nothing being interacted with, the layout gets refreshed with a new batch of photos - it's consistent within each 'run' of the application and you can go backwards and forwards between layouts should you think "Ah, dash it, I wanted to see more of that snap on the previous layout".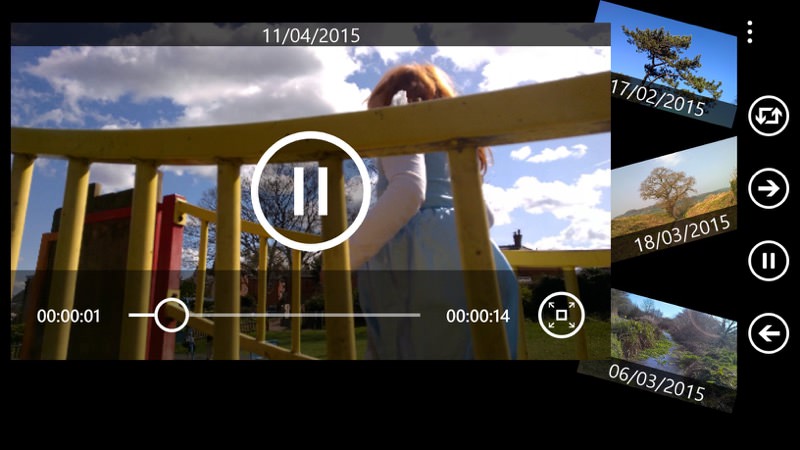 My Memories is really very well thought out. Videos auto play immediately, which is fun (only one is allowed per layout, so you never get two going at once!), but you can set it so that they only play their audio when tapped on or made full-screen.
The end result is an application that you can fairly safely let a family member loose in - they'll happily ignore images they're not interested in and enjoy the bits of each layout that they are (interested in).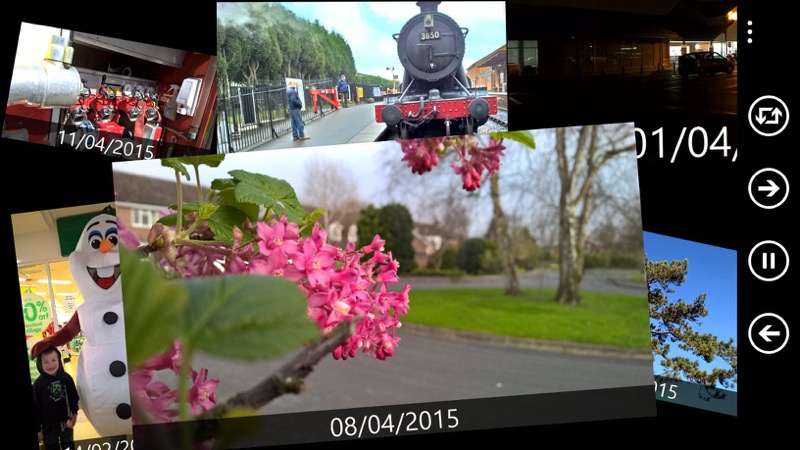 There aren't many caveats here, either. The portrait layouts don't show the toolbar (just '...') so it's a little more work to force an immediate refresh or move forwards or backwards - and the full-screen ads that pop up once per 'run' are deliberately intrusive. The former isn't an issue because My Memories works best in landscape mode anyway (most of your snaps will be this way round), and the latter isn't an issue because getting rid of the adverts is only a simply £1 in-app-purchase away - well worth it.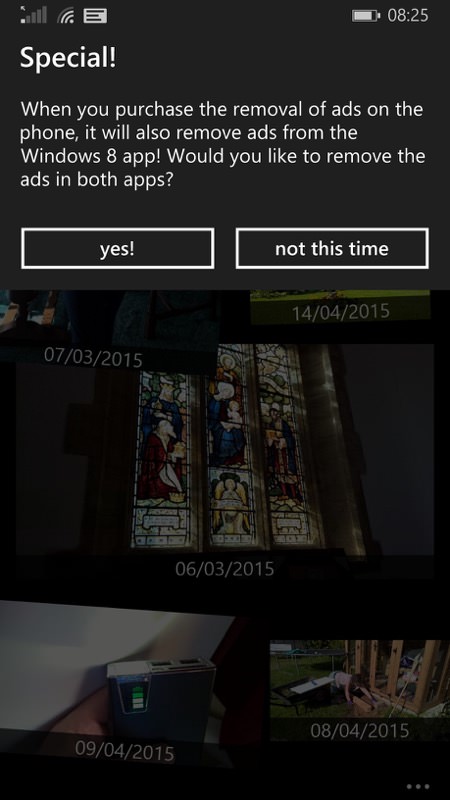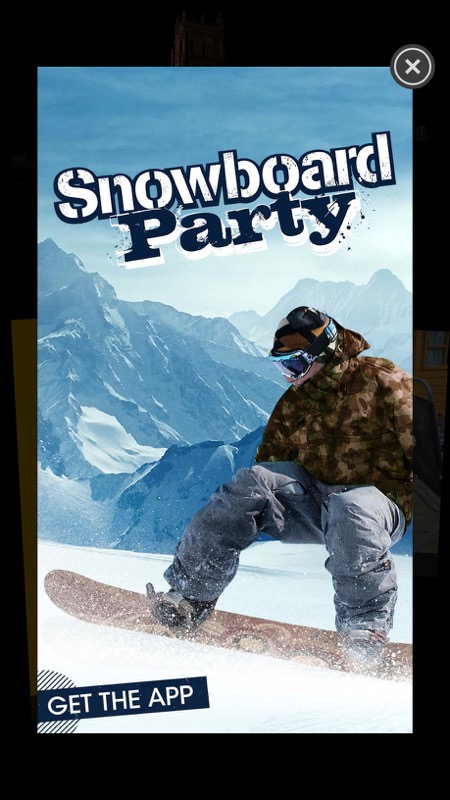 I should mention that support for videos, shown here, is another in-app-purchase, around £1.50 in the UK Store, but this is fair enough - many people many not be interested in seeing videos at all. Even if you do use My Memories a lot in your family, a grand total of £2.50 for the two purchases isn't going to break anyone's bank and will help support future development.
The use case I can imagine is for my sub-ten year old relatives (adding this into Kids Corner would make it more bomb-proof in terms of control keys that might get pressed by accident), but My Memories might also be of use to aged or non-technical parents or grandparents ('Grandparents Corner', anyone?)
Add in that this is a universal application that, once acquired, will work on Windows 8.x and above on desktop and tablet as well, and you have a genuinely interesting new way for both you and others to browse your captured media.
Reviewed by Steve Litchfield at