Review:
Pocket Tanks
Score:
79%
At first glance, Pocket Tanks is unimpressive. The old 'Artillery' title from the 1980's, where you guess at angles and power in order to hit an enemy on the other side of a big hill, but just compiled for Windows Phone? Well, this is indeed what it is, but don't switch off, since it turns out to be a lot of fun and quite addictive. In part due to the nature of the original classic, but also because of the imagination of the developer in terms of the weapons at your disposal.
Buy Link | Download / Information Link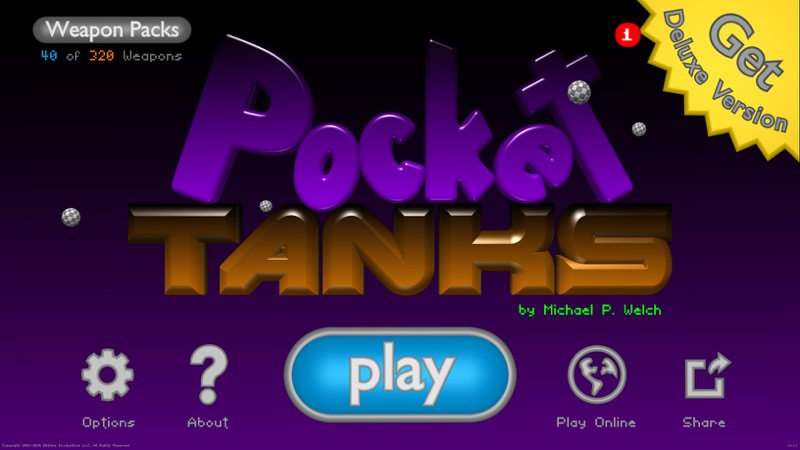 Updated regularly since its launch, Pocket Tanks is something of a labour of love by the developer, and it shows. While not posessing massively complicated graphics, what is here is fun and appropriate. The core, free game sees you battling AI, human opponents on the same phone, Wi-fi opponents on the same network (e.g. family or in an office or club), or even random or socially-selected opponents online. That's a lot of flexibility.
When selecting to play against the 'computer', there's a helpful choice of difficulty level - you'll need to get some practice in since otherwise human opponents will massacre you.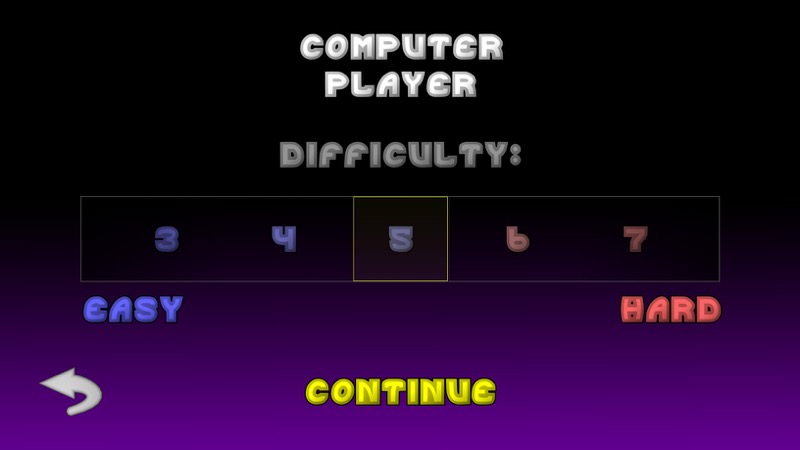 You see, it's not just about aiming a dumb shell and lobbing it over a hill, with the variety of (smart) weapons that can be 'lobbed', there's actually a lot of strategy involved - and when you 'play' each weapon in each game depends on the lie of the land (literally). You can pick weapons from the available pool at the start of a game (taking turns), or just tap 'Quick Pick' to have a random selection made for you.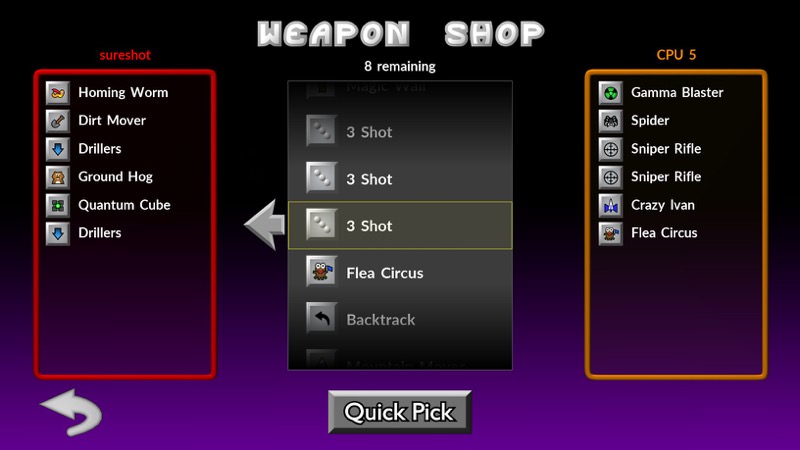 And it's here that the depth of Pocket Tanks starts to become apparent. The very weapon names should fill you with excitement, curiosity or - perhaps - dread, if the weapons are coming over the hill towards you! For example, the 'Homing worm' drills down beneath the landscape on which it lands and then tunnels up towards your objective, exploding underneath it. While the 'Crazy Ivan' hits and then randomly explodes around the impact point. And 'Napalm', as the name suggests, lays down a patch of chemicals that burns and eats into anything it's on top of. 'Backtrack' is interesting as it merely invokes one of Newton's laws of physics, firing a huge slug forwards in order to thrust the tank back, i.e. to move back within the landscape.
All of this takes place on a 2D landscape that obeys the laws of physics - if you land a shell then you've got a crater, or perhaps multiple craters (or worse). If a tank happens to be on ground that's subsiding then the tank goes down with it, i.e. into the crater. Meaning that you might have more of an obstacle to getting your next shell out and definitely a more vertical angle to fire with.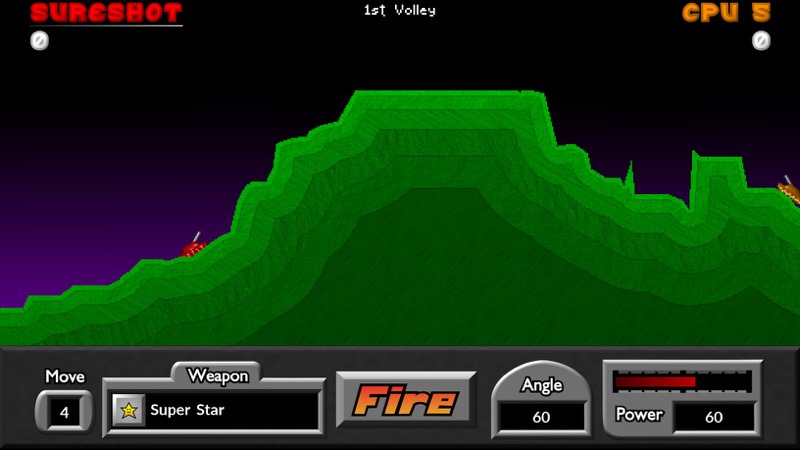 Happily, you don't have to keep rejigging your own firing angles just because the tank is 'tilted' - the game interface keeps the angle constant, i.e. relative to the landscape, meaning that you don't have to guess too much when being jolted around by incoming blasts. If you're lucky then you manage to find an optimum angle and power to reach the enemy and then it's a case of firing in whatever you've got left, one shot after the other, on each turn. Disrupt them enough and you shouldn't get too much coming back the other way!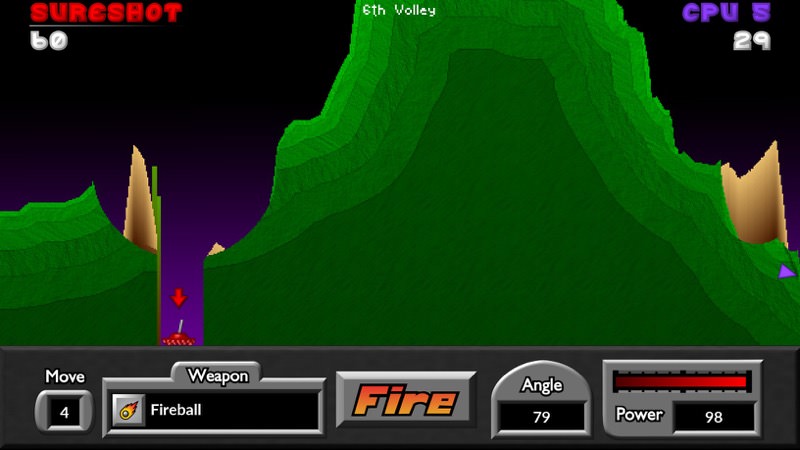 One core aspect of all classics is that no too games are ever the same, and this is true of Pocket Tanks. With gameplay matured over numerous versions on multiple platforms, you have a random landscape, random starting positions, random weapon selection (in terms of the starting 'pool') and random AI and other elements. All of which means that you have to think through your strategy from scratch every single time.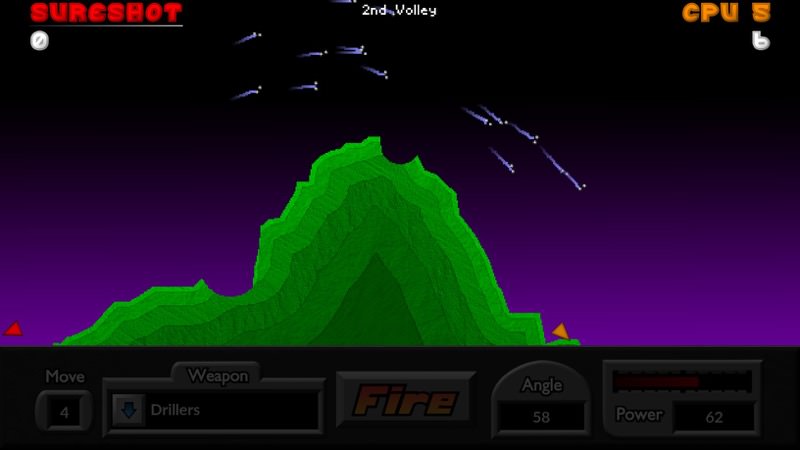 Yes, strategy. Because some of the weapons are designed to disable, rather than just blow up, the opposition. For example, burying them in dirt, so that they can't get any shots off, etc. In fact, they'll respond with a 'Dirt Mover' shot or a 'Mountain Mover', each of which blasts away obstacles around the shooting point but doesn't get anywhere near you. Giving you another shot to fire in next - so make it count.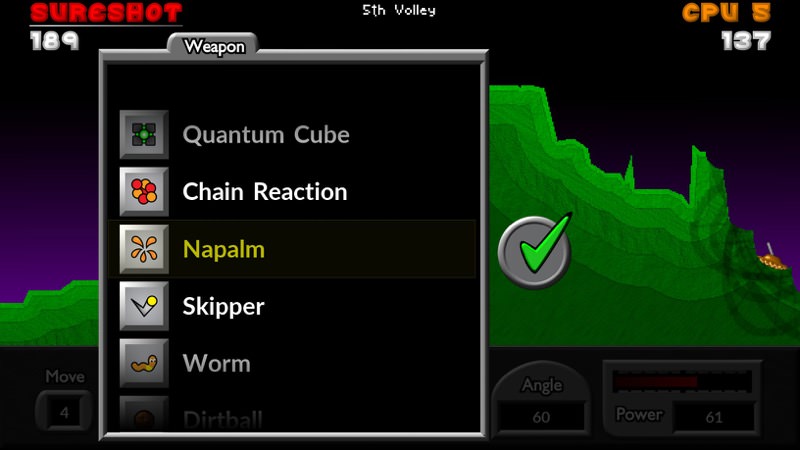 The range of weapons is large - and gets larger if you spend the £4 or so to get the in-app-purchased 'Deluxe' version of the game, raising the possibles from 45 to 110, and includes such wonders as 'Volcano' and 'Jump Jet'. Each weapon is imagined by the developer and then implemented and animated in a fun and destructive way.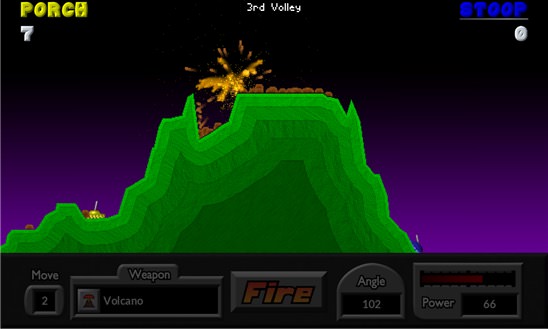 Now, playing against the AI is quick and fun - and challenging, but playing against other humans is where you'll probably find most satisfaction. I headed for Internet-based online play and found that you can have multiple games going on at once. Which is just as well, since if the other players are also playing multiple games, then there may be a delay before they take their next shot. In each of the games I played, I had lengthy waits and wandered off to do something else.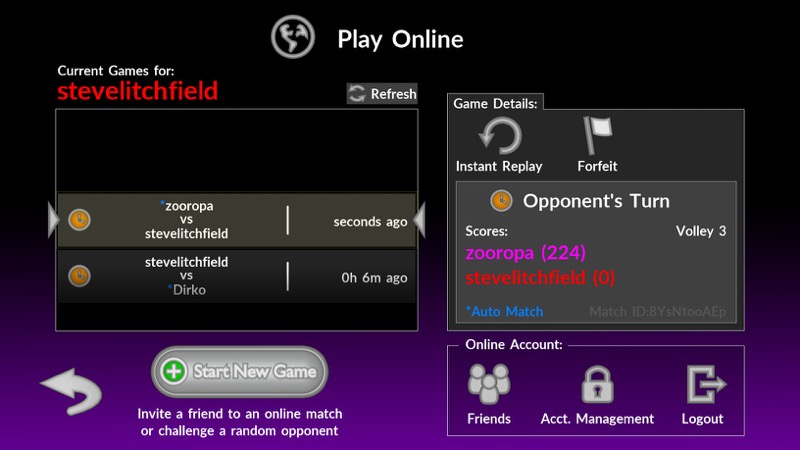 Multiplayer online gaming is always tricky for niche titles. Finding enough players who are online and also keen enough to follow a game through its ten or so 'volleys' (turns) turned out to be harder than it should have been. Even with multiple game versions out there, i get the impression that Pocket Tanks is still verging on insufficient 'mass' to achieve a smooth multiplayer experience. And yes, I realise that this is all a 'chicken and egg' scenario!
Credit should be given to the developer of Pocket Tanks for 'getting' the idea of freemium. Most players will stick to casual encounters and not pay a penny, but those who really love the game and want to explore more weapons and then inflict them on opponents, they'll happily pay a reasonable amount. £4 seems about right too. Enough to show commitment, enough to give the developer a reasonable return, and yet not a crazy price designed to mislead anyone.
Well done all round, I found Pocket Tanks more addictive that I'd have imagined, and I think you will too.
Reviewed by Steve Litchfield at