Review:
Core Player
Score:
74%
I have to confess that I'm not entirely sure why everyone's been so hard on Microsoft's built-in Music player over the last couple of years. OK, so there's the bizarre Xbox branding, but hey, that's going and, err.. getting more bizarre ('Groove'). But, on the whole, it works pretty well now, with both local and streamed music from OneDrive. Yet there's an aftermarket cottage industry in replacement music players. Let's have a look at the commercial Core Player.
With the transition to Groove and Windows 10 Mobile in the long term, it's possible that applications like this might have a limited shelf life - or they might become even more important if the first party applications are too troublesome or limited. In any case, the more choice the better and there seems to be no downside in trying several applications on the same loaded up set of music files and folders.
Core Player's UI is slightly quirky in its hierarchy, but does seem mature. It seems to have evolved from a tool designed to play music straight from folders, either on the internal disk or on a SD card, and then from there playlists and support for maintaining an indexed 'library' were added. It does all work though and you can't fault the number of options and settings, with just a few caveats about album art to worry about.
The folder-based starting point is emphasised by on-screen tips when you first start Core Player, and you can get going quickly by drilling down into your music folders: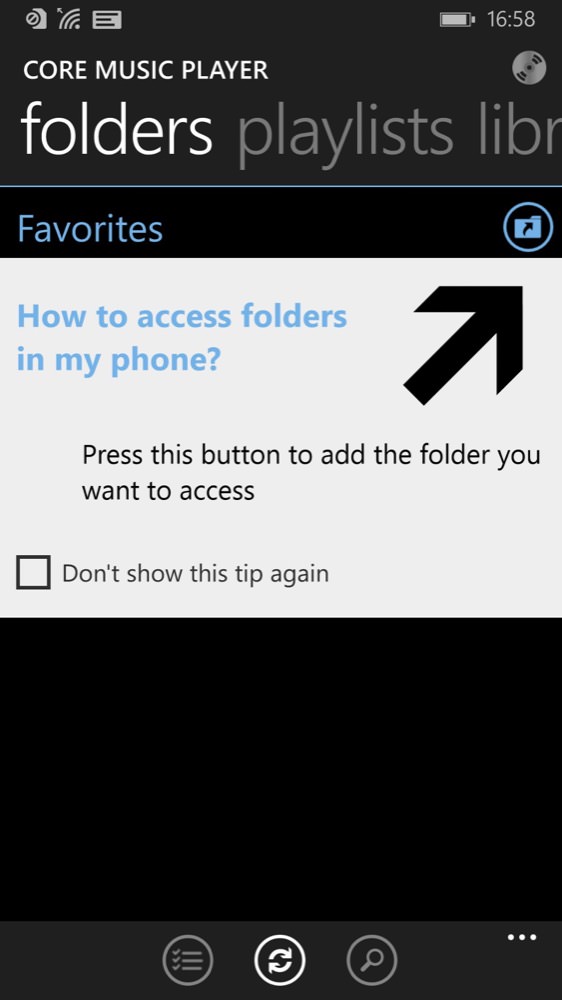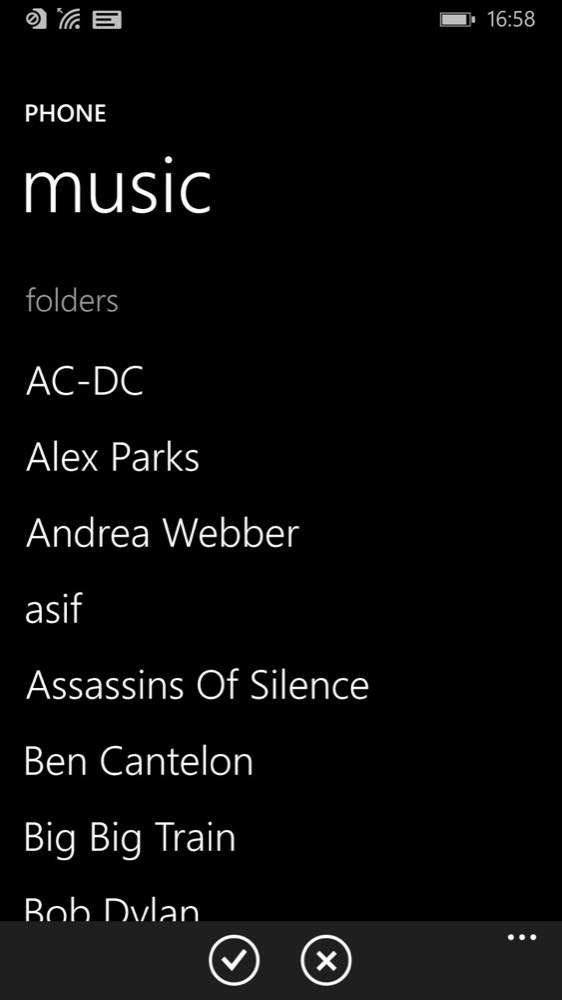 Until Core Player has gathered information about all your music files, however, the folder summaries are full of '0 files', but don't panic, all will be revealed in time. Drilling down reveals music files that can be played, with large album art in some (though not all) cases. The playback screen is well designed, with clear controls and AMOLED-friendly theme by default: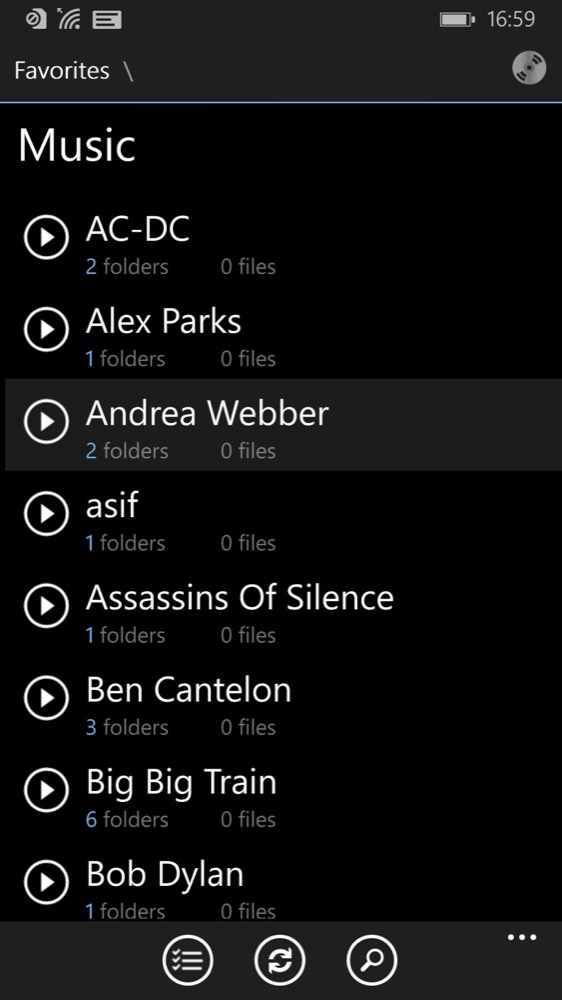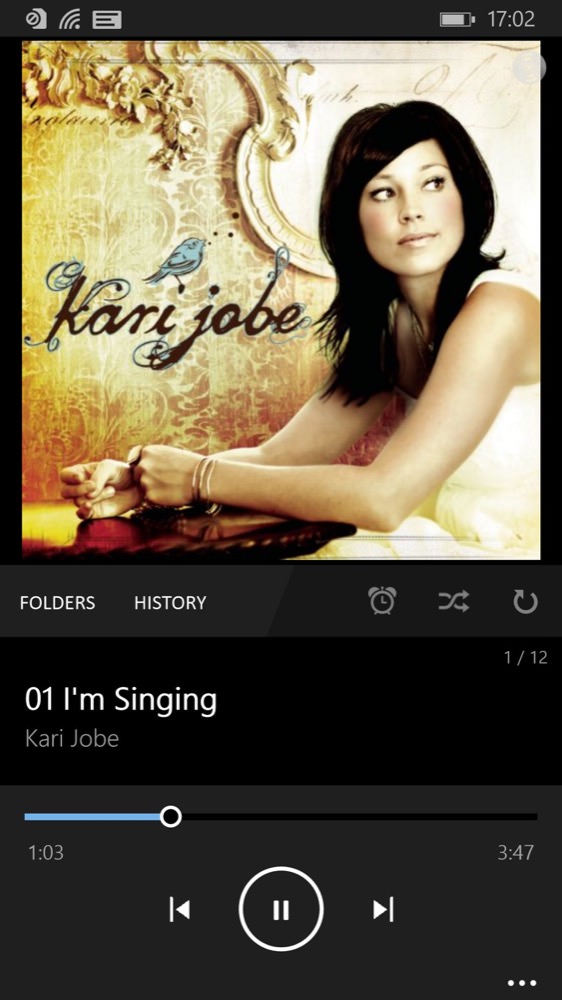 Most of the time though, you won't want to be bothered to work down at the folder level and so Core Player also supports building an indexed library of all your music. You're left to 'sync' manually at first (explaining all the zeroes, below right), but there's an auto-sync option in Settings, ostensibly scanning your folder system for new music every so often.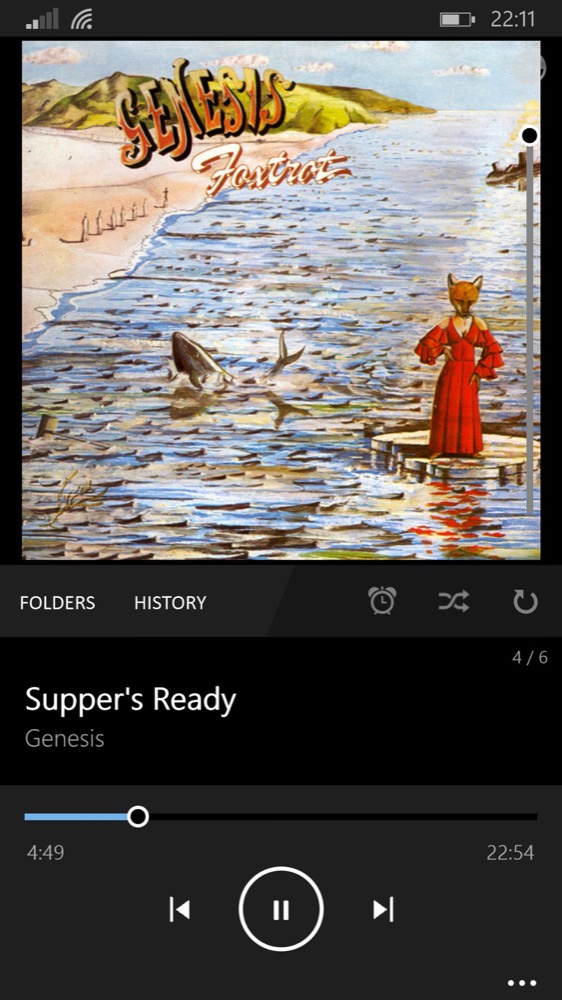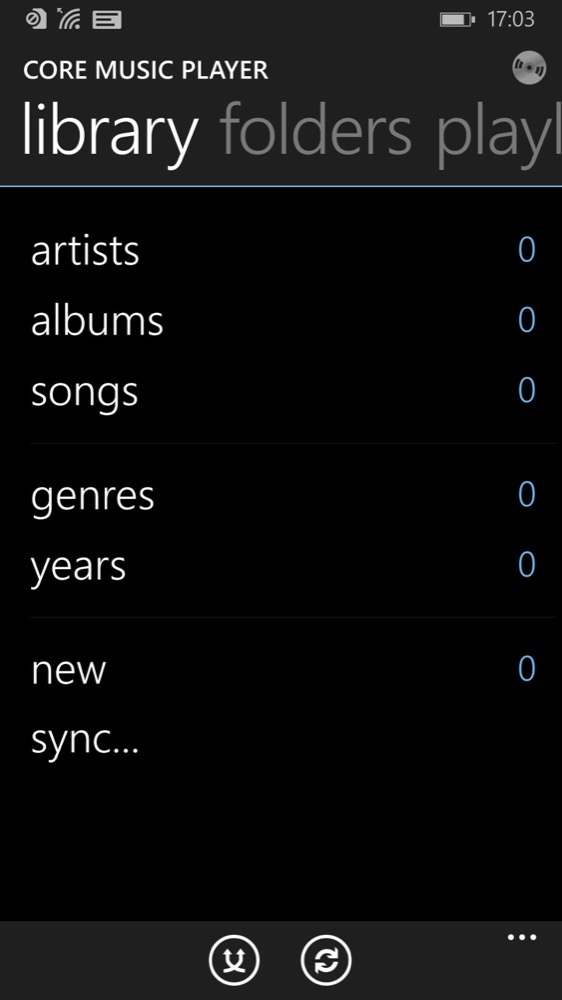 Scanning a thousand tracks across 117 folders (you can add an extra odd folders if everything's not all under one 'root') took around a minute on my test Lumia 930, which isn't too bad, plus it seems to carry on in the background while you get on with something else on the phone. After 'syncing' in this way, the library stats (below, right) are fully fleshed out: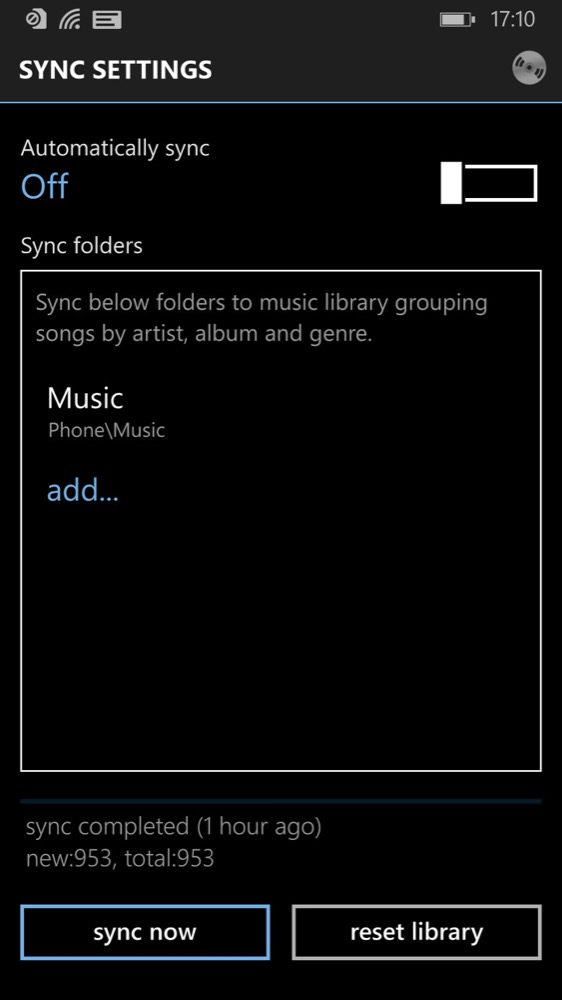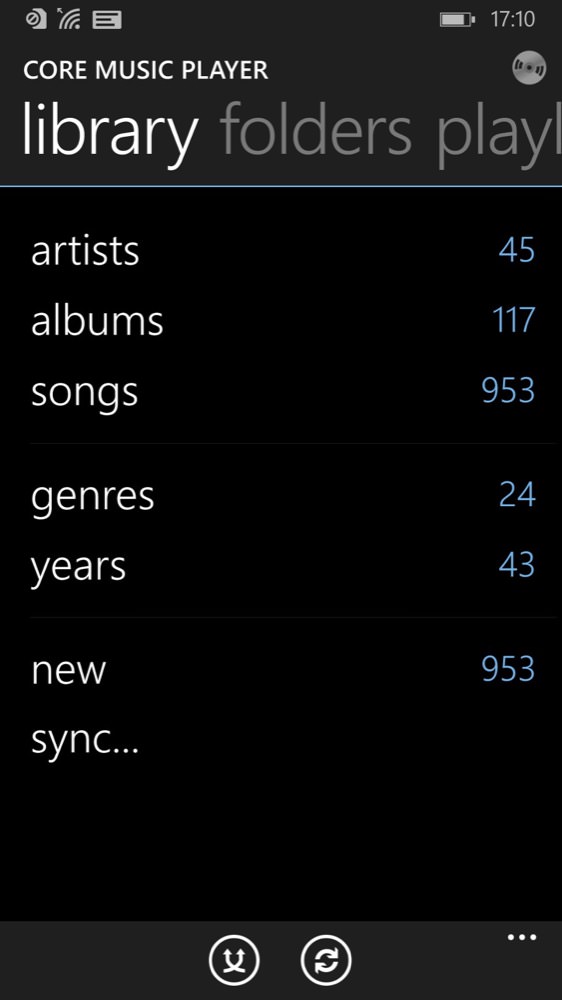 From then on the more standard library views: albums, songs and artists, are all fleshed out, with the number of songs per album or artist a really nice touch. The absence of any album art (below left) is worrying - and I'll come back to this in a moment.
One significant omission is any OneDrive support. Given the prominence given in 2015 to music streaming and the support for putting all your music in OneDrive, for access from any device, along with easy APIs, I'm a little puzzled by the absence of streaming support in Core Player.
Diving into the Core Player settings reveals a huge amount of flexibility, from the starting view to themes and colours, from exactly what should happen when the 'back' key is pressed to which file types should be handled - and yes, .flac (lossless audio) files are played, along with a very wide selection of other codecs, very good to see (and a step up from what Microsoft's built-in Music client can cope with).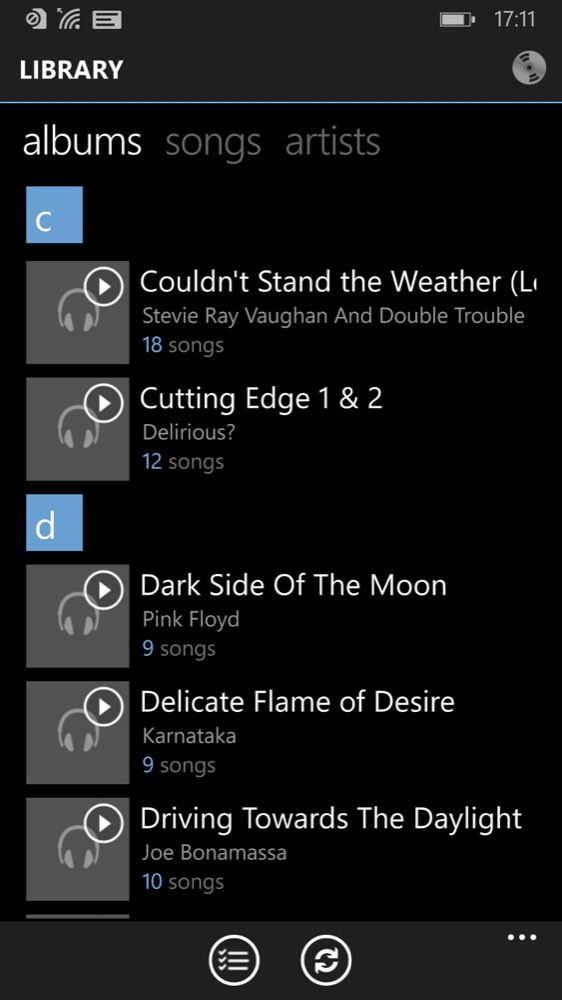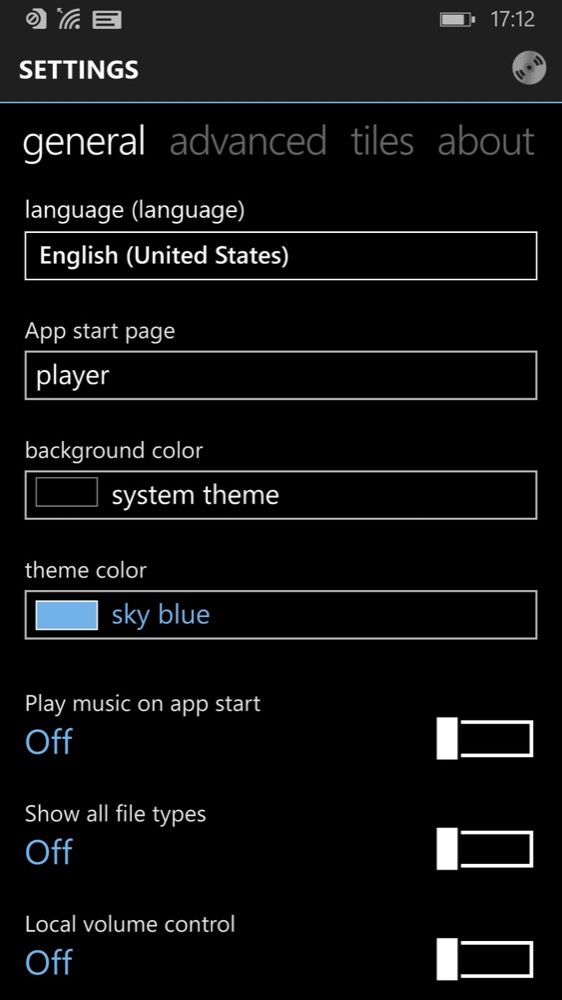 Even more intriguing are a set of 'control' live tiles. Tap to add these to your Start screen and you've almost got a large-buttoned music widget. Almost - it turns out that, although these work as advertised, they also (naturally) switch you through to Core Player, i.e. you can't stay on the Start screen, which is perhaps what you'd expect from the appearance and placement. This isn't a problem, of course, since the Windows Phone volume/media controls handle Start screen music playback well enough, but I didn't want my screenshot (below, right) to give the wrong impression!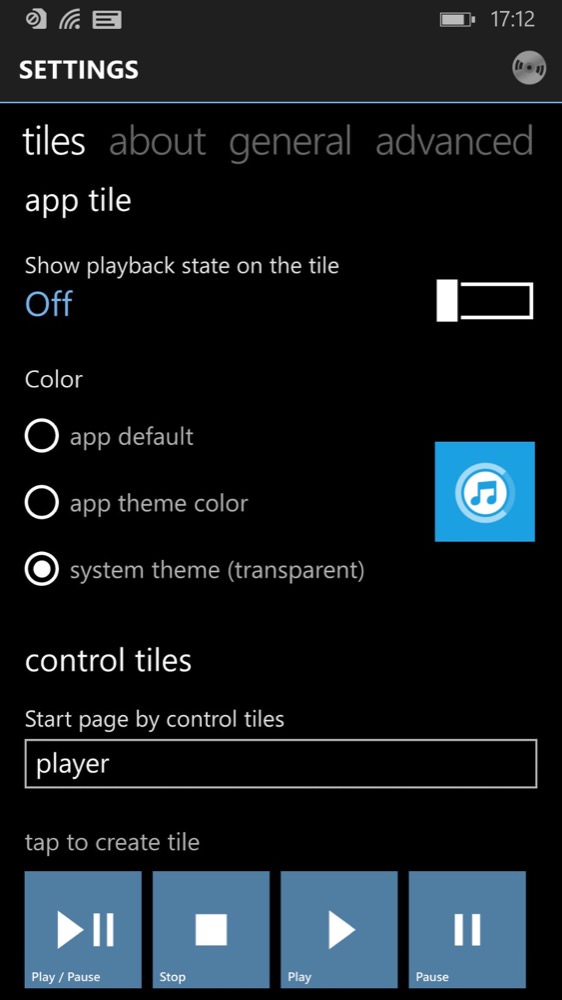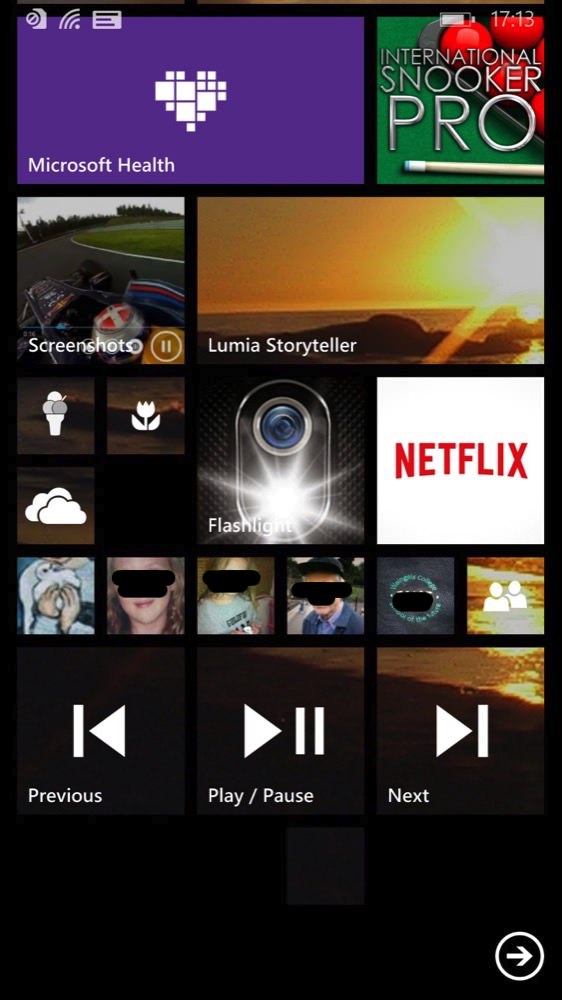 The Core Player Start screen tile just shows whether music is playing or not, which seems a bit of a let down. Given that live tiles can now be updated once a minute under Windows Phone 8.1 (witness the clocks available), I'd have thought the album playing, along with its artwork, could have been attempted.
One of the nicer touches in Core Player is a built-in Sleep Timer, i.e. go to sleep to relaxing music (or Motorhead, if that's your thing!) and have the application shut off after a set number of minutes - this is both pretty and configurable (see below, left).
But now we come to another sticking point - album art. Now, I get that there are multiple standards for this, from embedding in .mp3 and .m4a and .wma files, to simple JPGs included in each music folder to proprietary database extensions (e.g. in iTunes) to pulling artwork in from the Internet. But any music application worth its salt needs to have a stab at handling several of these - Core Player only seems to support fully embedded art. Let's take this David Gilmour live album as an example - below, right is the track playing in Microsoft's (Xbox) Music: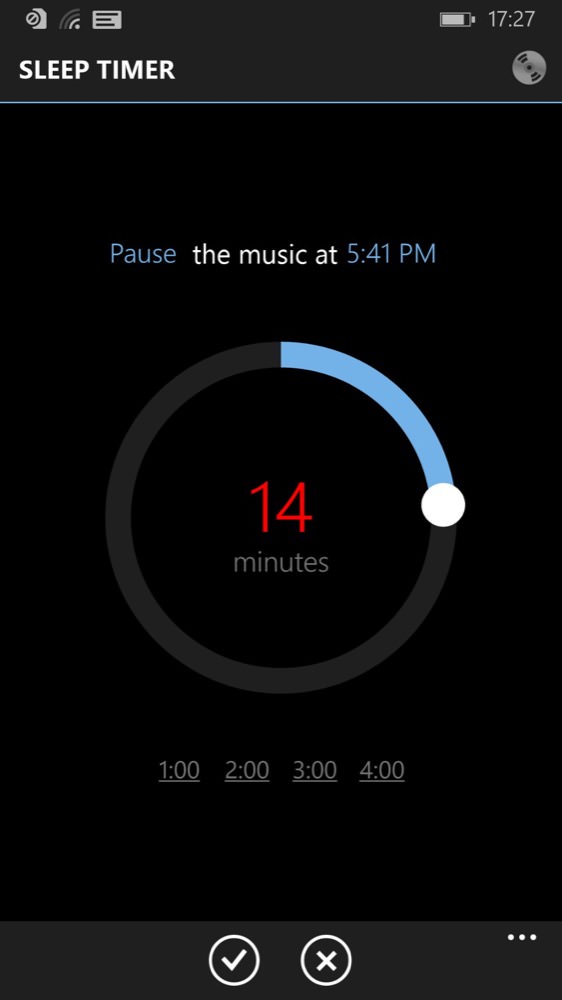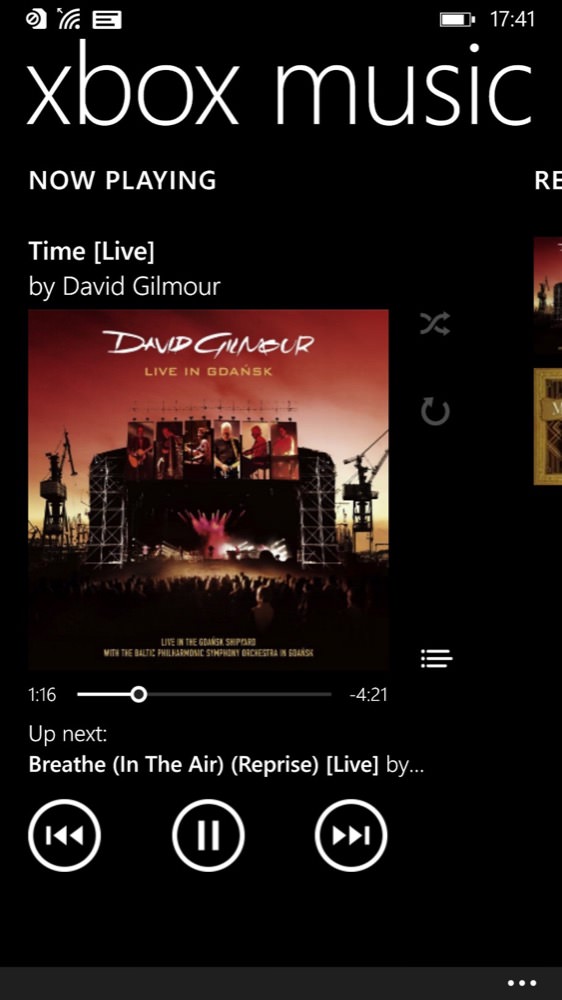 ...And then below left is a view of the relevant music folder in Windows Phone Files, showing the presence of a pretty standard folder.jpg piece of artwork (in fact, I think this was added in when ripping in iTunes in the first place, even though the latter also uses its own artwork database and look-ups). And yet, below right is shown the same track in Core Player, showing no artwork at all: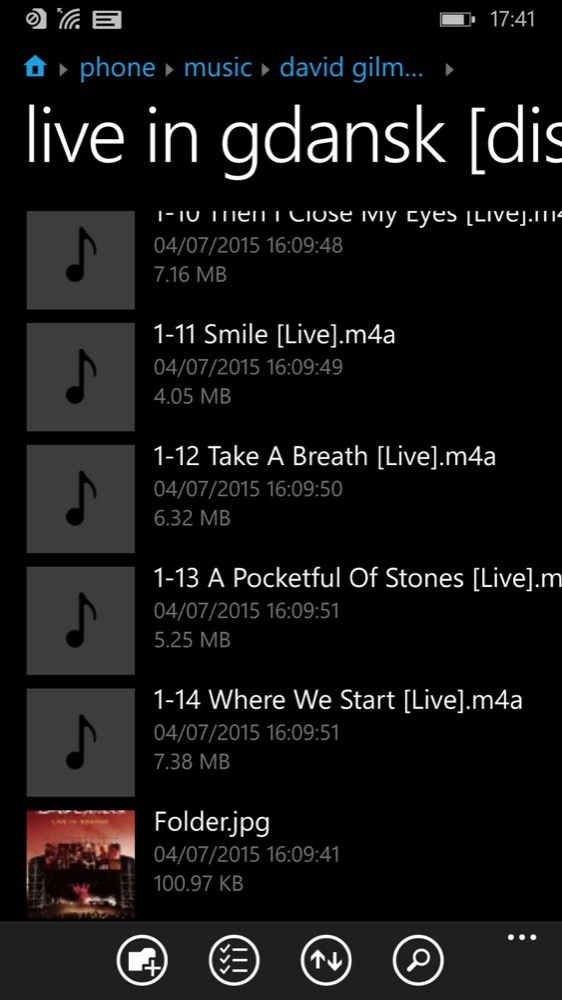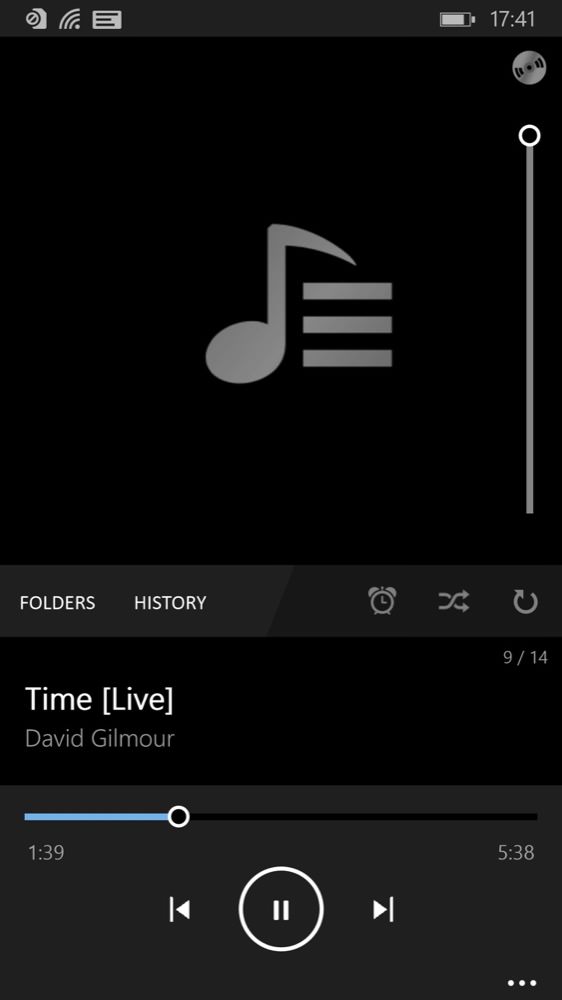 You'd have thought that the simple .jpg would have been picked up, especially given Core Player's emphasis on handling files and folders in the first place. I'd also have hoped, in 2015, that any music application would be Cloud-aware enough to try and grab suitable artwork from Amazon or Wikipedia or similar - but sadly not here.
At least, not yet. Core Player has been updated regularly and I haven't given up on it yet. My music player of choice remains the Windows Phone incumbent, for all its own limitations, but I'm open to new applications and ideas.
Core Player is commercial software, at £1.50 in the UK, but that's a trivial amount compared to the use you'd get from this if you liked it If Core Player could sort out artwork, add OneDrive support and maybe even gapless playback, we'd have a serious contender at last.
Reviewed by Steve Litchfield at