Review:
Route Z
Score:
75%
Fancy weaving from side to side and running over zombies? This is the zombie/driving hybrid game that everyone's been talking about. And it's on Windows Phone too. But is Route Z any good, how does the freemium pitch work, and what about the implementation on Windows Phone and Windows 10 Mobile? Here's my full review and verdict.
Buy Link | Download / Information Link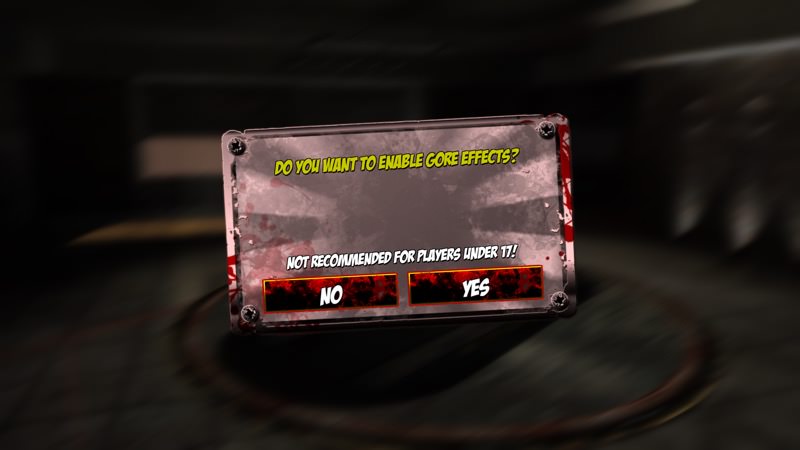 'Do you want to enable gore effects?' is a slightly disconcerting way to start a game, but don't be too put off, we're only talking about a few 'exploding body parts' animations a few pixels high, usually in the distance (as you shoot zombies, the alternative to simply rolling over them)... Any kids playing this under 17 will have seen a LOT worse in other games.
But on with the title itself. The premise is that you're nearly out of fuel and armor in a ravaged, zombie-filled world and you have to head out onto the obstacle-strewn highway in order to find both, picking it up by driving through it and also by earning zombie coins with every metre you drive, with which you can somehow buy more fuel and armor too. Oh, and you only have a limited number of 'keys', i.e. vehicles, so try to get as far as you can with each one.
And, naturally, accomplishing all this is tough and a little time consuming, which is where the freemium element comes in, letting you buy in more coins, and thus fuel, armour and vehicles, using real world purchases. Plus you get to banish the on-screen ads at the same time.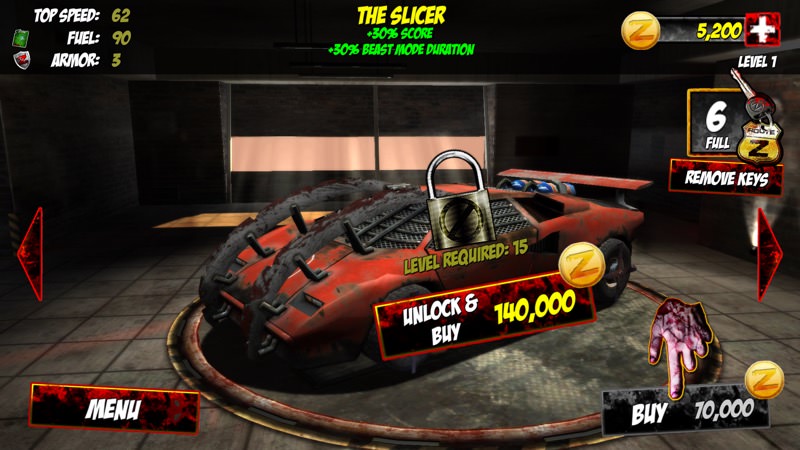 As you go, you gradually work up to more appropriate vehicles for zombie slaying and general ploughing, upgrading weapons too, all in order that you can drive further each time and kill more zombies, and so on. The artwork and production values throughout are high, especially on the vehicle selection screen, shown above, some of which are seemingly straight out of a movie.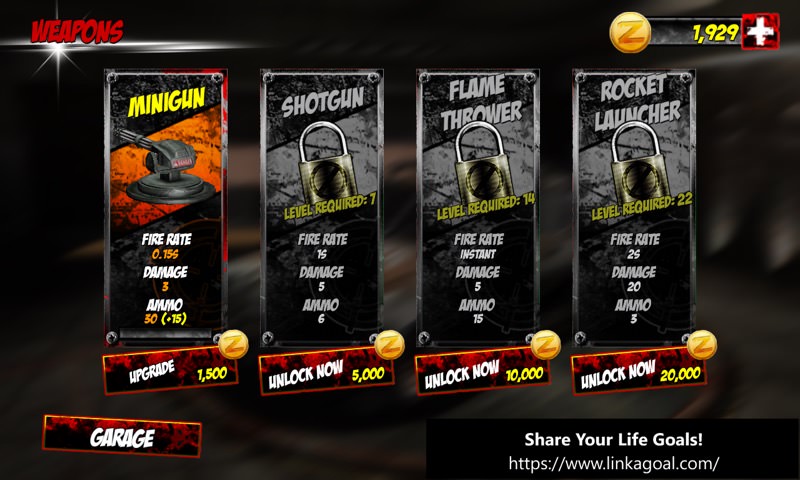 In time, once you've upgraded far enough to get through the initial landscape, there are two more, neatly modelled in textured 3D, driving through the city and across tundra - apparently. I have to admit that my driving skills didn't get me into either of these in the review period. But I'll keep trying....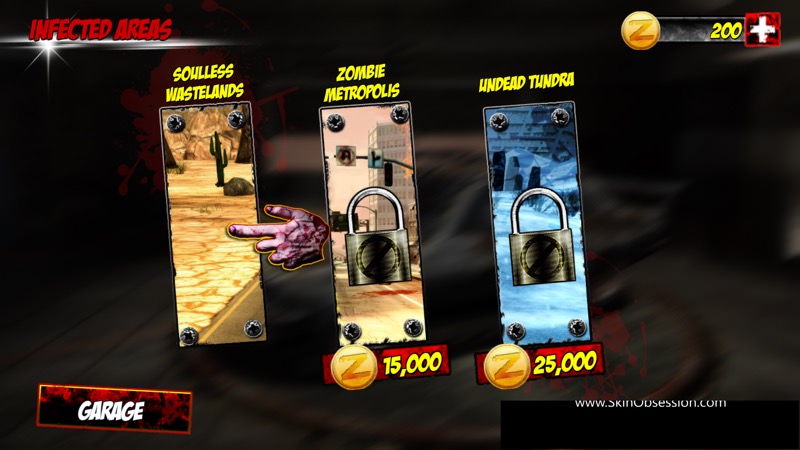 But on with the action. The idea of an arcade game in which you're driving at constant speed down a never-ending highway which is increasingly littered with obstacles, so that all you can do is steer left and right alternately, zig-zagging ever more frenetically, is definitely not a new one. However, Route Z gets away with it because of the variety and premise:
The obstacles are everything from broken down car and van wrecks to road blocks to miscellaneous scenery
There are zombies to splash by running over and shooting (the aiming is automatic)
There are zombie coins to collect (think Sonic the Hedgehog or Temple Run, but transposed into a driving game and you'll get the idea)
There are fuel cans to collect, for instant replenishment
Put the four together and there's a lot going on in real time, which is what makes Route Z such good, clean, death-dealing fun.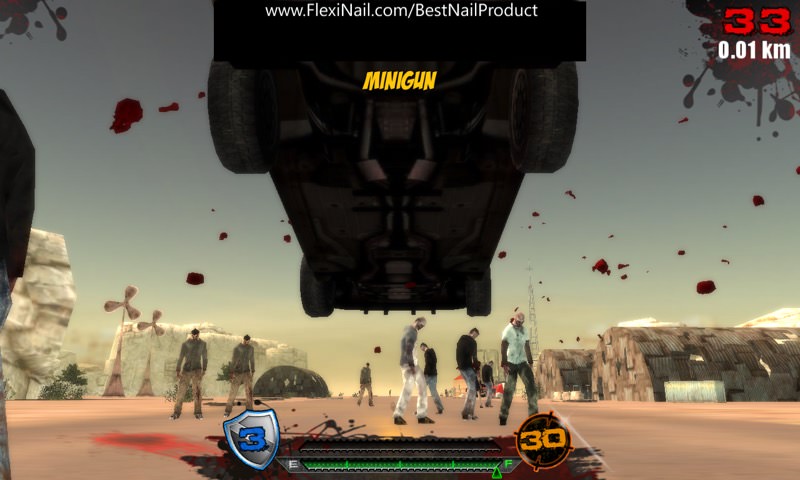 The stats are kept out of the way in screen corners and at the bottom, while a banner ad distracts at the top - this is probably intentional and fair enough - the developers want you to 'go premium' after all, and get rid of the ads. You'll be looking ahead most of the time, trying to spot the best line through obstacles.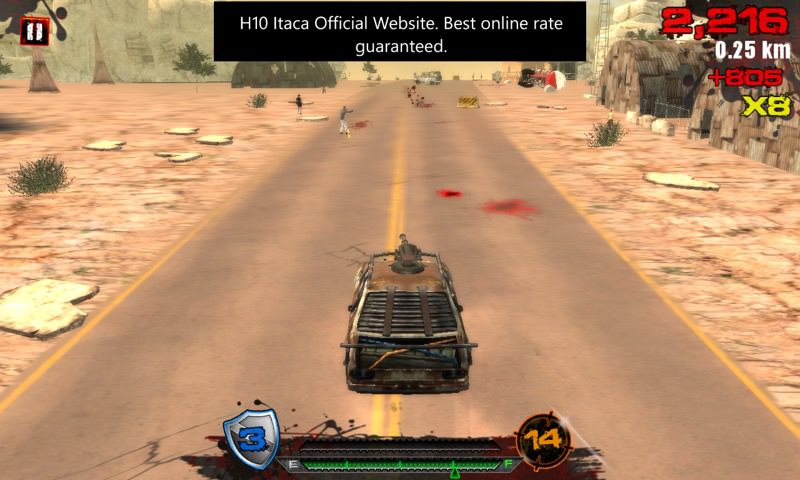 Hence the zig-zagging - the key to progress here is (initially) to not hit anything too solid - your car's armor only protects up to a point. The other stuff you intentionally hit/run over is all positive, but the prime objective is to keep on driving and then you can adjust your swings from side to side in order to get the zombies, fuel and coins as a bonus.
As you progress through the game, with bigger and heavier vehicles and bigger weaponry, you can smash through or even shoot away obstacles, which adds an extra element of gameplay.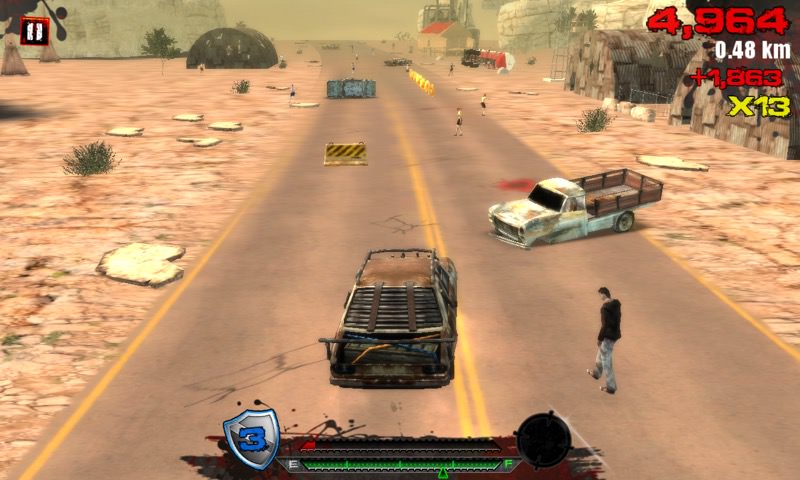 At some point in each drive you either run out of fuel, or you hit one obstacle too many, too hard, and then it's all over in a 3D-rendered blazing vehicle, cinematically and very impressively. In fact, this section is so well done that you have to wonder why there isn't an option to drive in proper 'first person' 3D, rather than quite a way behind the vehicle. Just out of interest, I note that in the Android and iOS versions of the game you are indeed closer to the action...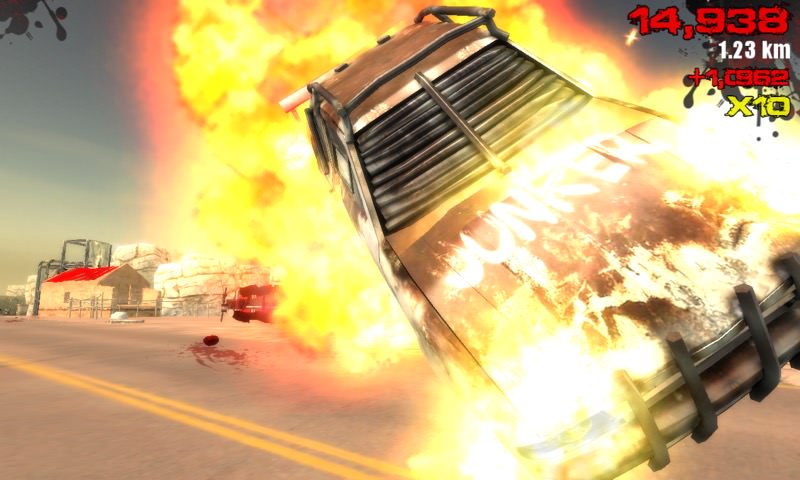 As ever with freemium games, i.e. free to download and then you pay later, the interesting bit is how it's all pitched. The basic purchase is to 'go premium', working out to around £4 in the UK, but meaning that you get unlimited keys (i.e. you never have to wait or use coins to buy these) and the removal of the in-game banner ads. In truth, neither of these are showstoppers for casual game players, but having such a purchase for fans of the game seems pitched about right. It's enough that you'd only buy if you liked the game and planned on playing it for serious amounts of time, yet not so stupidly priced that it deters anyone from going for it.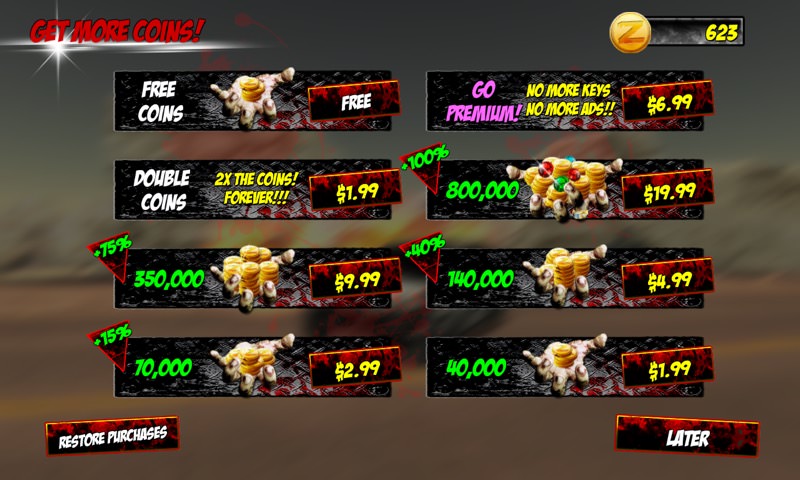 Plus, of course, the developers get a decent chunk of change for their efforts. The other in-app purchases, to buy more coins, are optional and again only for fans, though at least they've been capped at $20 (so about £15 in the UK?) - many other freemium titles are far more outrageous here.
However. And you just knew there was going to be a 'however' from the opening paragraph and question... The implementation on Windows Phone isn't perfect. Let's draw a line under Route Z not working at all under Windows 10 Mobile - the OS is firmly in beta still, so maybe it's the OS that's at fault, let's be generous to the developers. But, unforgiveably, under good old Windows Phone 8.1, Route Z doesn't override the usual screen timeout functions on the phone. Which means that you're driving along the road, obliterating zombies, shooting wrecks, and so on and then... the screen goes off and the Glance clock appears (if enabled on your device). Eh???
Every other game I've tried on Windows Phone manages to temporarily disable (or trick) the screen timeout into not being an issue, and I can only assume that the developers didn't test this enough on real world handsets. Sigh. I'm sure they'll get round to issuing an update at some point...
There's a decent revamp of classic arcade game ideas here, Route Z has a lot to recommend it, plus the developers have pitched the freemium angle about right, but the implementation on 'our' platform (this being AAWP) is a trifle half-hearted. Still, it's free to try, so why not set your screen timeout to something long and go a-zombie-killing?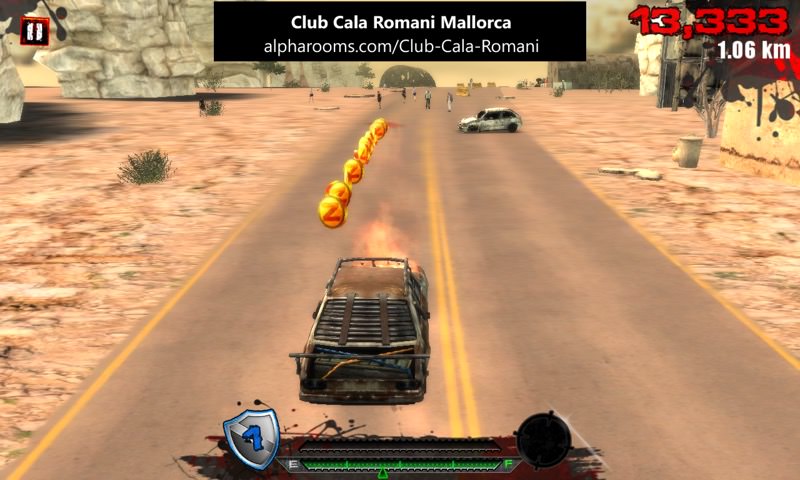 Reviewed by Steve Litchfield at