Review:
London Travel
Score:
90%
When you encounter an application that's clearly a labour of love from the developer, it stands out immediately. London Travel is not just thrown together, it's a lovingly crafted interface around all the public API data for London travel - yes, much of this information can be gleaned from web sites and sometimes other applications, but not all in one place and so cohesively, and (with an in-app-purchase) some genuine navigation intelligence included. It's a Windows 10 universal application, mind you, so any WP 8.1 old hands reading this will need to switch to an upgraded device.
Buy Link | Download / Information Link
On the plus side, the universal nature (and the good coding) means that London Travel works rather brilliantly on laptops, tablets and (below) on Continuum, driven by the Lumia 950 or 950 XL, giving the application a larger screened outlet: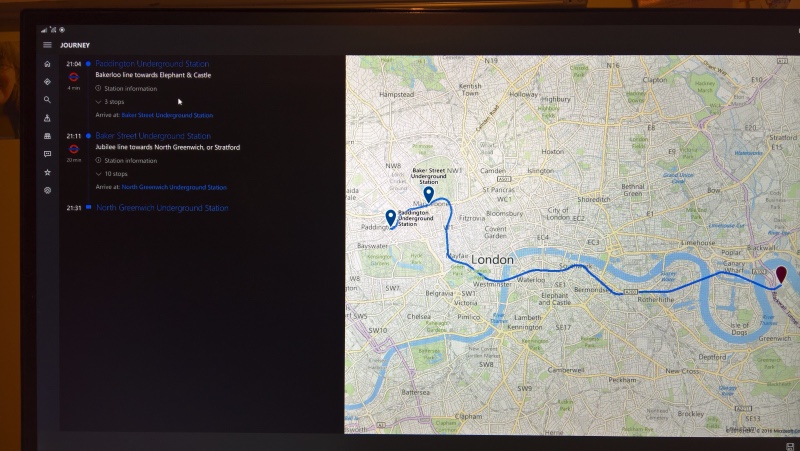 But I'm mainly looking here at London Travel as used on the smartphone itself, in this case a Lumia 950. Although free to download, its biggest feature, the journey planner, is withheld until a user pays up the £2.89 in-app purchase, so consider this the real cost of the application. Which is more than fair enough considering the work that's gone into it, and especially in the context of what it enables, i.e. 'London Travel', as the name suggests, the app is a lot less than the cost of one short tube journey.
London Travel is Windows 10 through and through, including a 'hamburger' menu, top-left, with which to navigate to different areas of the app: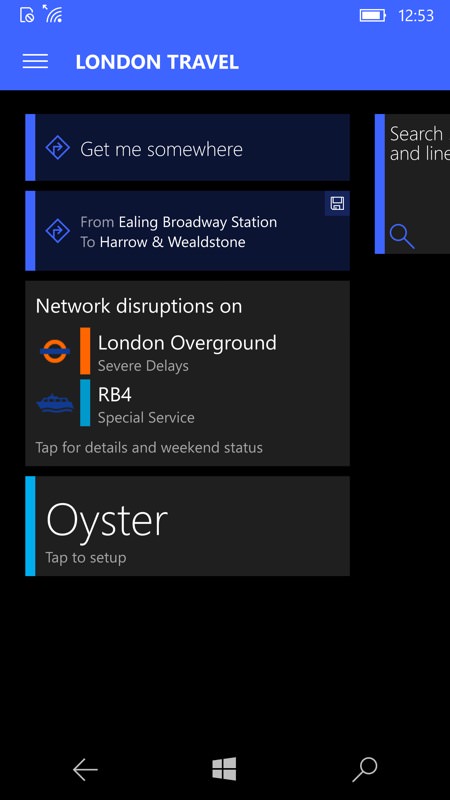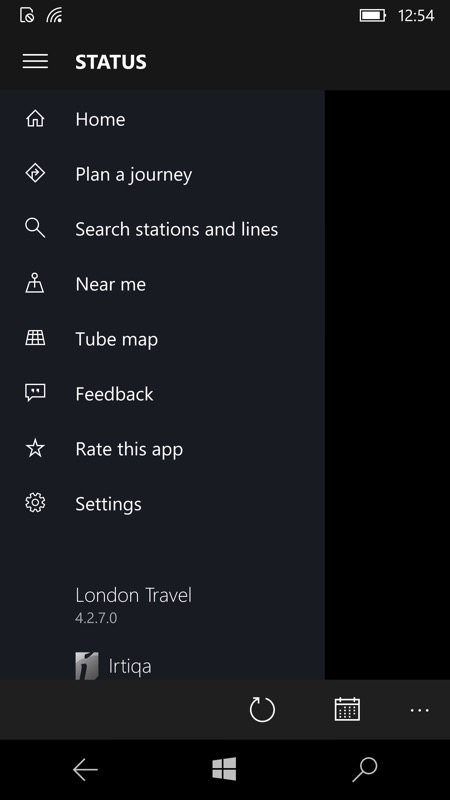 The home display is attractive though, with a choice of themes (this is the dark one), with shortcuts to the journey planner and to previously planned journeys, current status warnings for any of the travel services, and finally a display of your Oyster card balance (I couldn't test this latter, since I don't own a card, but I guess it's a useful extra).
The disruptions information is striking and usefully colour coded and accompanied by the appropriate icon - tapping through gives an overview and then you tap into more detail on the lines/services with issues: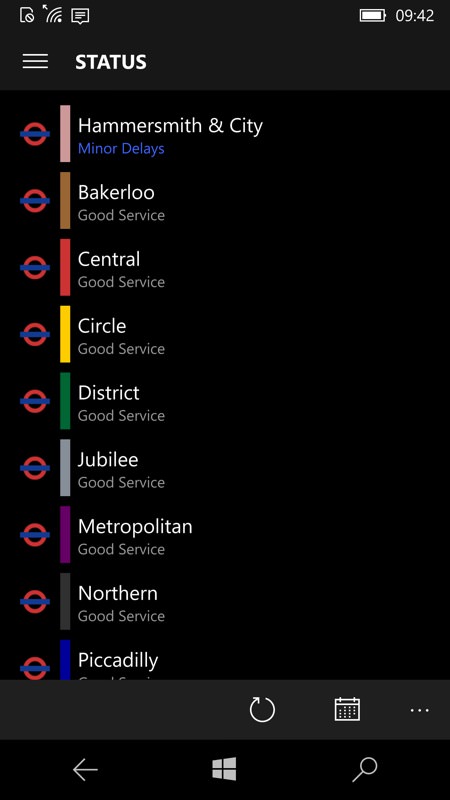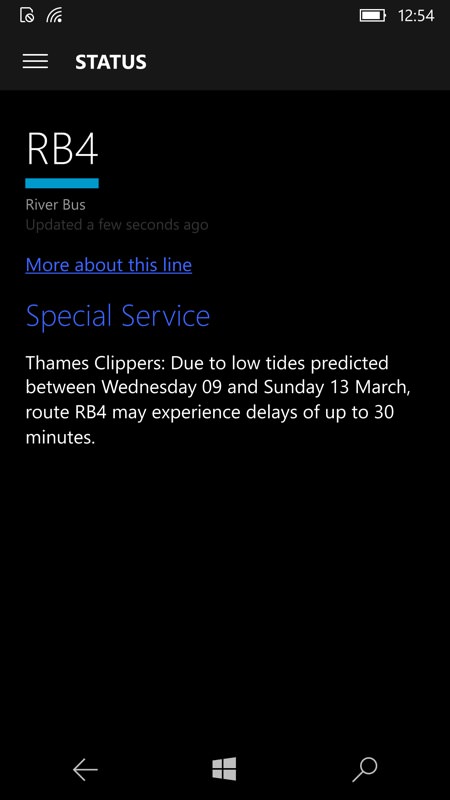 All of this information is from public data APIs as far as I know, but it's beautifully collated and colour coded throughout. And I really appreciated the dark theme (by default), it saves power on all the AMOLED-screened devices and is far better when using London Travel at night, perhaps emerging from a venue, with the dark theme saving your eyesight!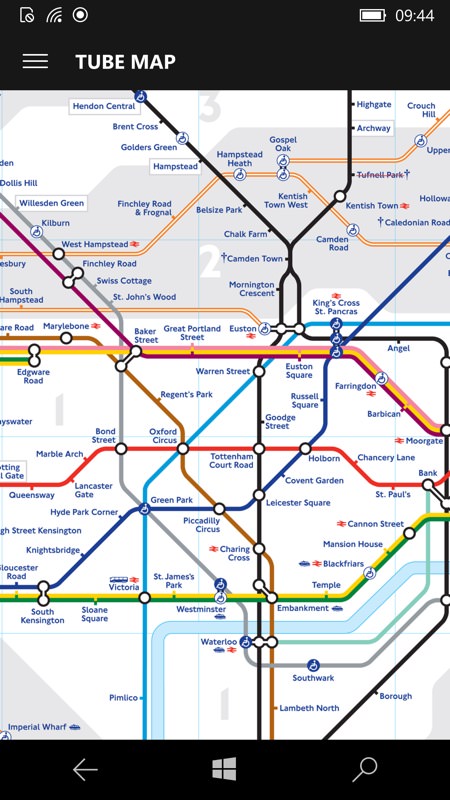 The one exception to the dark theme is when displaying maps, such as the standard (iconic) Tube map here. This can be zoomed in and out and panned around - nothing that couldn't be done with a suitably large JPG or PNG graphic, but nice to have integrated here, for reference.
You can also search for and then dig into a particular line or service - or a particular tube station, with both schedules and live timing information fully integrated: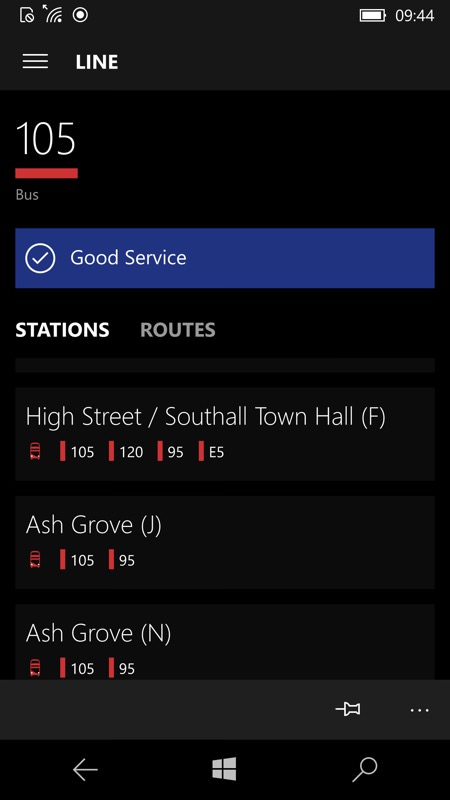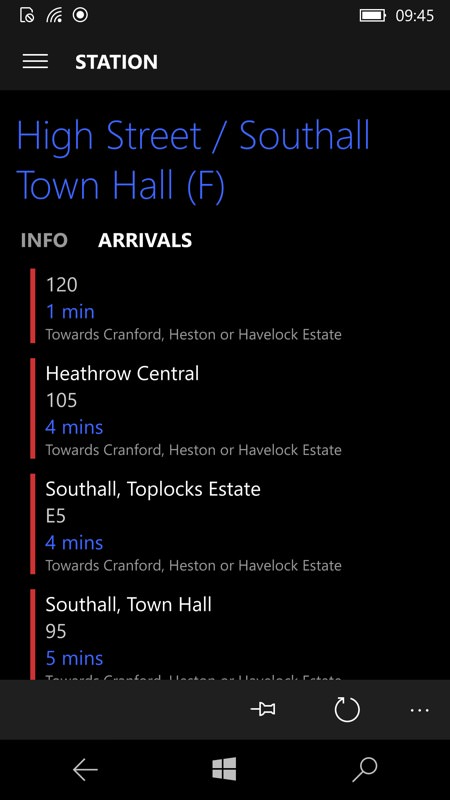 The 'Near me' function is perhaps most relevant when you do emerge, blinking and disoriented, after a show or event, into the London night air. Every bus or tube stop/station within 2km (just over a mile) is shown graphically, with you at the centre. Tapping on any of the labelled pins shows you what it is, with tube and bus stops clearly marked: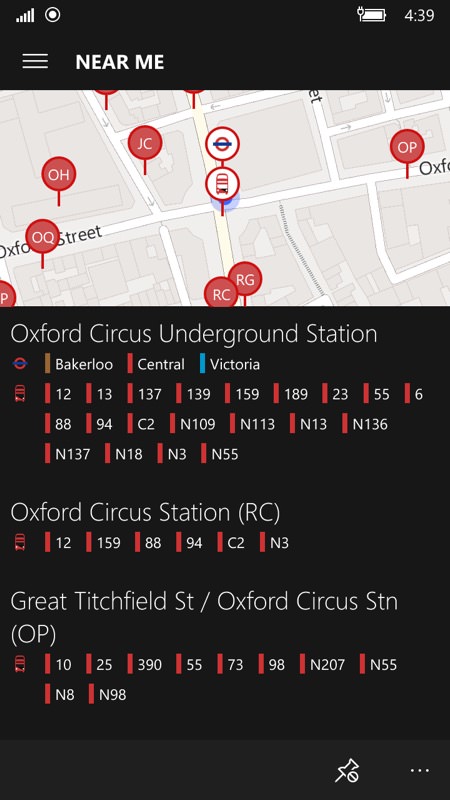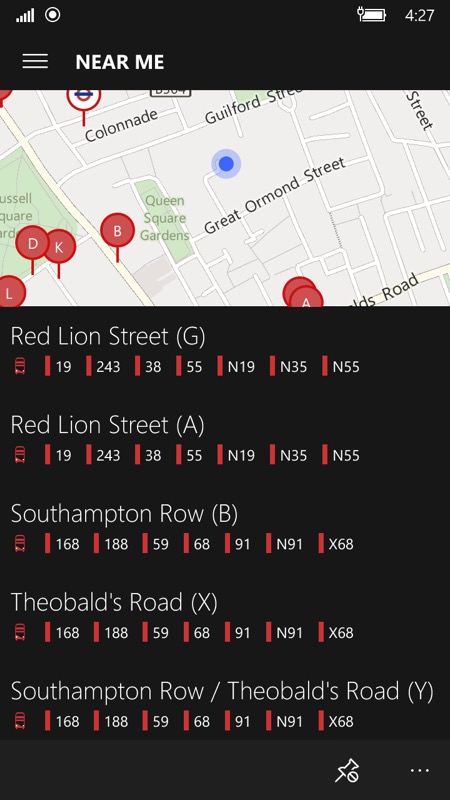 The idea is that you then tap on the stop (or tube station) you want and the detailed/live departues are shown, so that you can see whether you can make a particular bus or train and whether you need to run(!)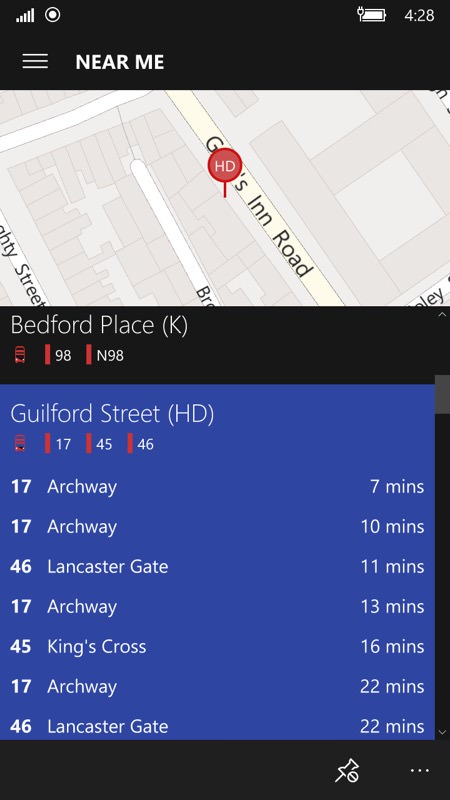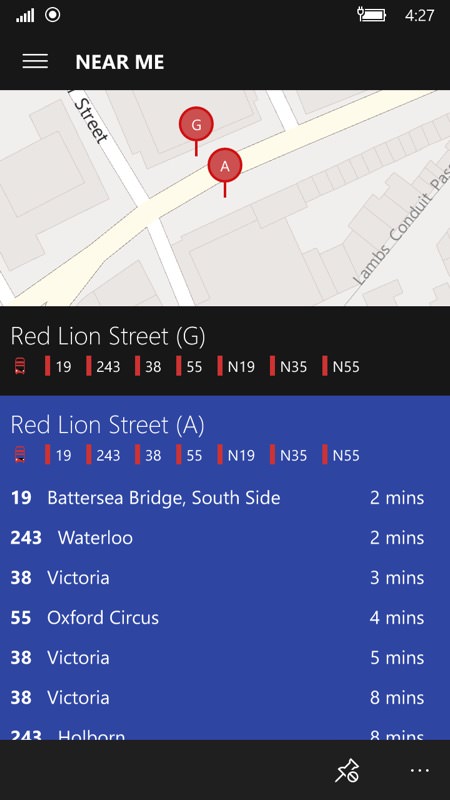 So far so good then, it's all about presenting reference and live data - and London Travel does this all for free. However, the next stage requires the in-app purchase. Which is very reasonable in my view, I'd much rather have a small one-off purchase than be plagued by on-screen ads (for example) every day.
The Journey Planner is where London Travel really shines. Just give it any starting (specified below, but usually your own location) and end point (including POIs and obscure locations) and watch it go to work, with the three planning criteria shown below: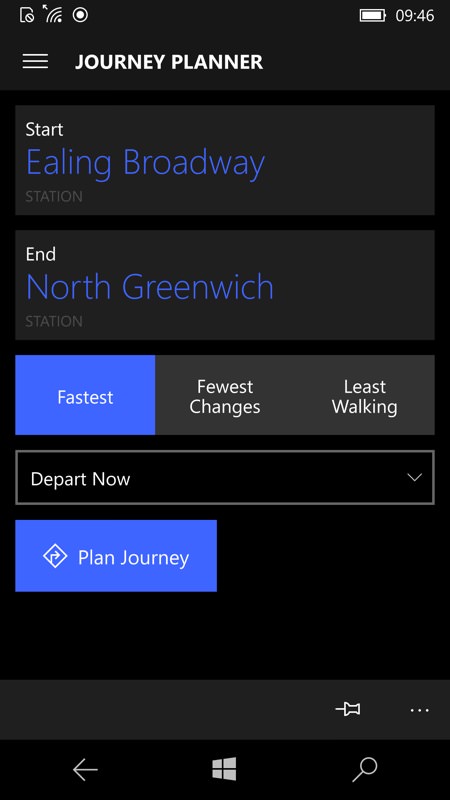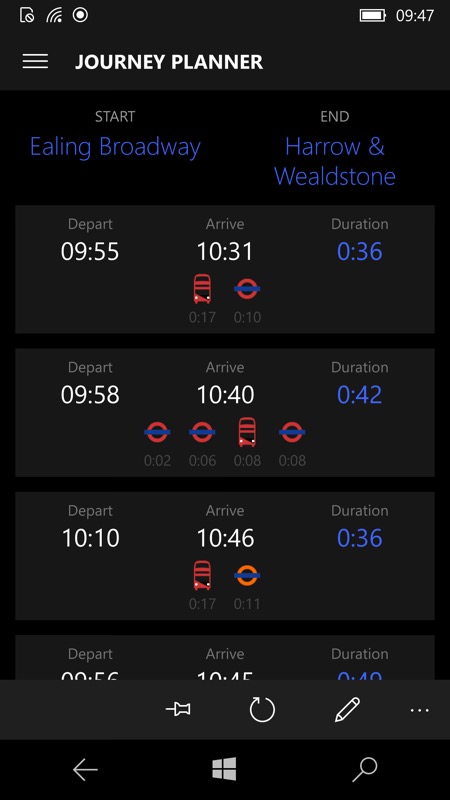 The breakdown of possible routes and combinations of bus, tube and walking is then tappable - drill down into the one you want and you're given explicit instructions in the manner of a local ("Do this, do that", etc.) Follow them and you shouldn't go wrong. If the buses and trains are indeed as on time as the live data suggests and if you don't make a mistake. If you do, just re-plan from your current location, etc.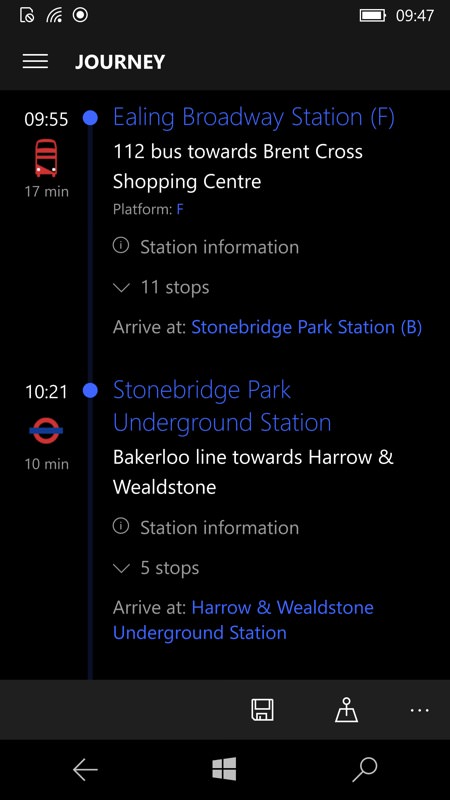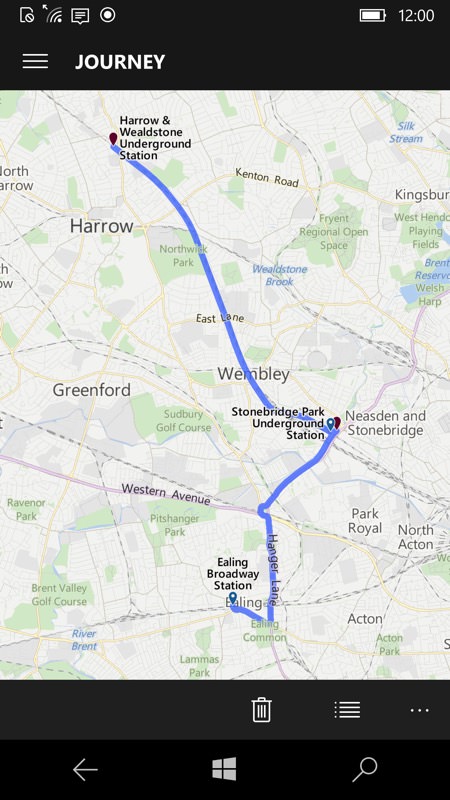 A nice touch is that, for people who like to visualise where they're actually going in the city, Windows 10 Maps is used to show the various stages of your journey. In the example above, there's a bus journey to Stonebridge Park and then a tube to Harrow & Wealdstone. As a geography fiend, I love this feature - and for the overland parts of the trip at least, you can get a sense of what you're looking at through the window.
I only get to London once a month or so and am rather apprehensive about quite a bit of the city's transport system, but when I do visit then this is a real must-have, helping me not to go wrong and, hopefully, encouraging me to visit places and areas that I've not seen before.

London Travel is fast, polished, expertly coded, regularly updated (there was one after these screenshots were taken, adding arrival times to each tube station and bus stop lookup) and very hard to fault. Which is why I've given it the rare score of 90% here and can highly recommend it.
Reviewed by Steve Litchfield at