Review:
Review: Kidigi Universal USB-C Dock
Score:
80%
Desktop docks are sometihng of a love 'em or hate 'em thing, but when they work well, they work very well. And thankfully this new Kidigi accessory is in the latter camp. Aside from the use of plastics rather than metal, this is a beautifully thought out USB Type C accessory that adjusts to any smartphone, cased or uncased, with perfect solidity. In this case, to my Lumia 950 and 950 XL.
Buy Link | Download / Information Link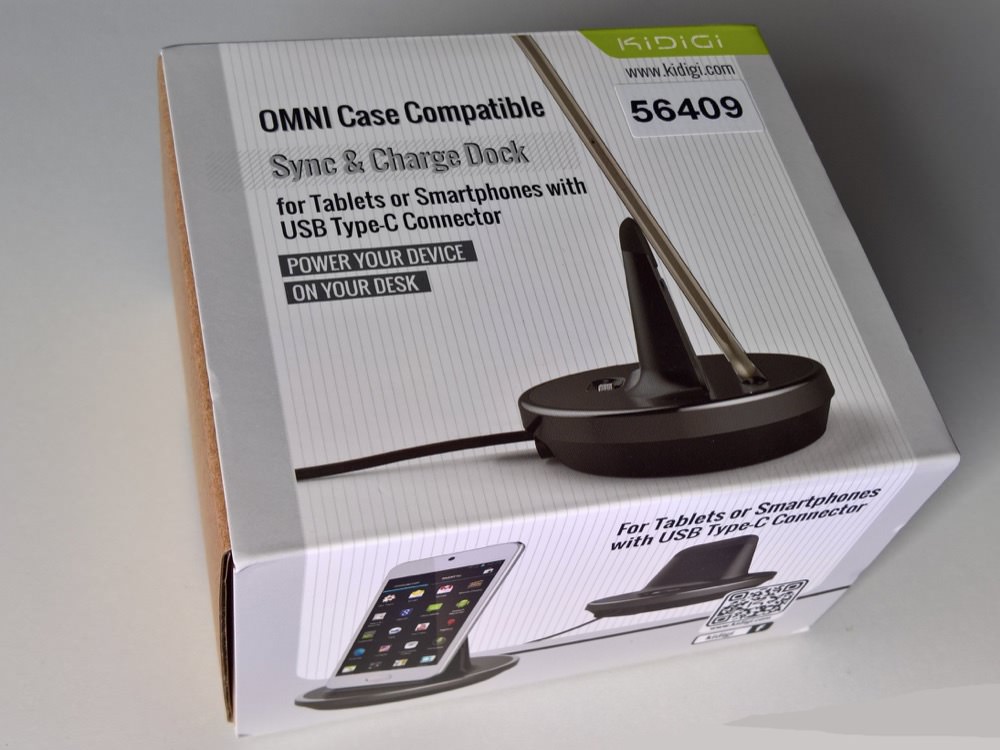 Although MobileFun, who supplied this Lumia 950/XL accessory, have entries for this under each phone's name, they're all the same gadget, seen here, but it works with any USB Type C phone or tablet. The aim is the same, to pass through charging current and data signals while (in this case) your Lumia 950 or 950 XL is propped up at a handy angle for viewing.
In fact, the angle itself is quite 'upright', though it does depend slightly on which device you have mounted. You see, the cleverness of the design here is that the Type C male connector is mounted on a rotating bar. Thus, you locate the USB socket on your phone with the jack and then as you slide the phone down over the male end (apologies for any sexual innuendo here, can't be helped!), the latter rotates on its bar so as to be at the perfect angle for your particular device, with the rubberised top section of the dock gently supporting the phone's back as needed.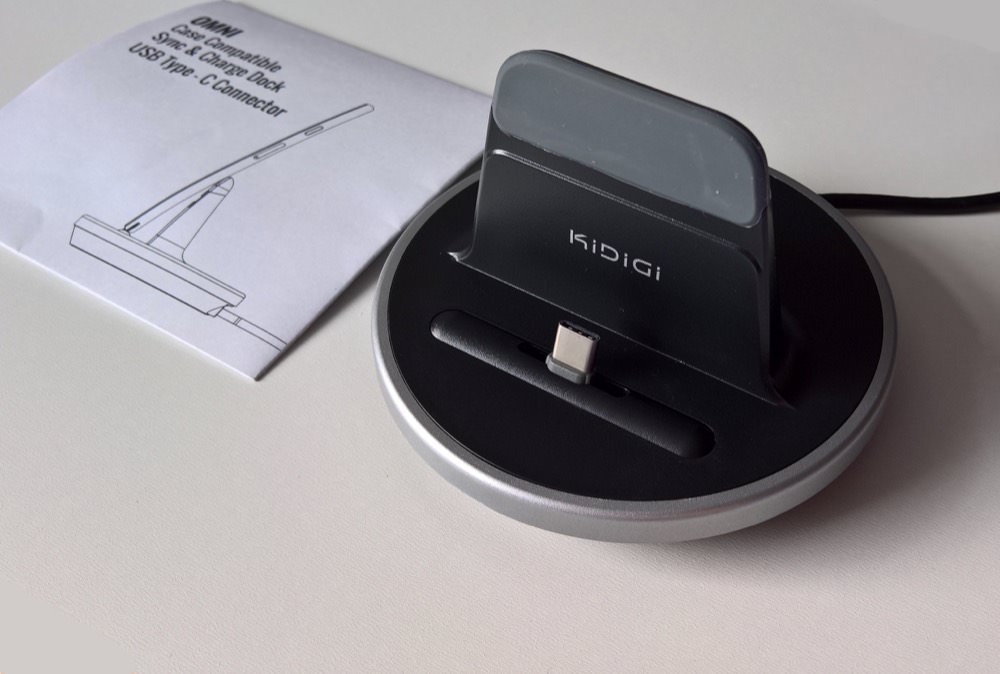 It all works rather beautifully in practice, here's the Lumia 950 XL in place in the dock, for example. The photo should give you a good idea of the docked angle. The silver exterior is just painted plastic, by the way, but it does look premium. And most of the bottom surface of the Kidigi dock is rubber, so it stays in place very easily on the desk. With a relatively light phone in place, at least, I can't vouch for a 10" future tablet!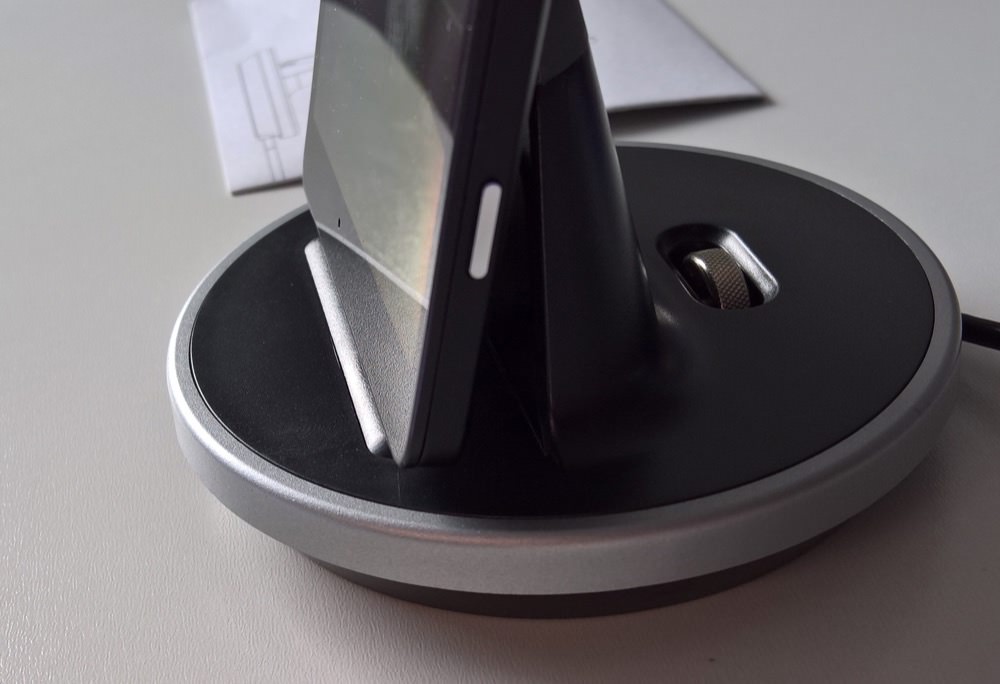 Now, at this point you'll have been wondering what the metal scroll wheel is for at the back of the dock. I'm glad you asked. When rotated, this raises or lowers the USB Type C jack from the rotating bar, enabling a good fit whatever shape the bottom of your device is and however thick a case you have on.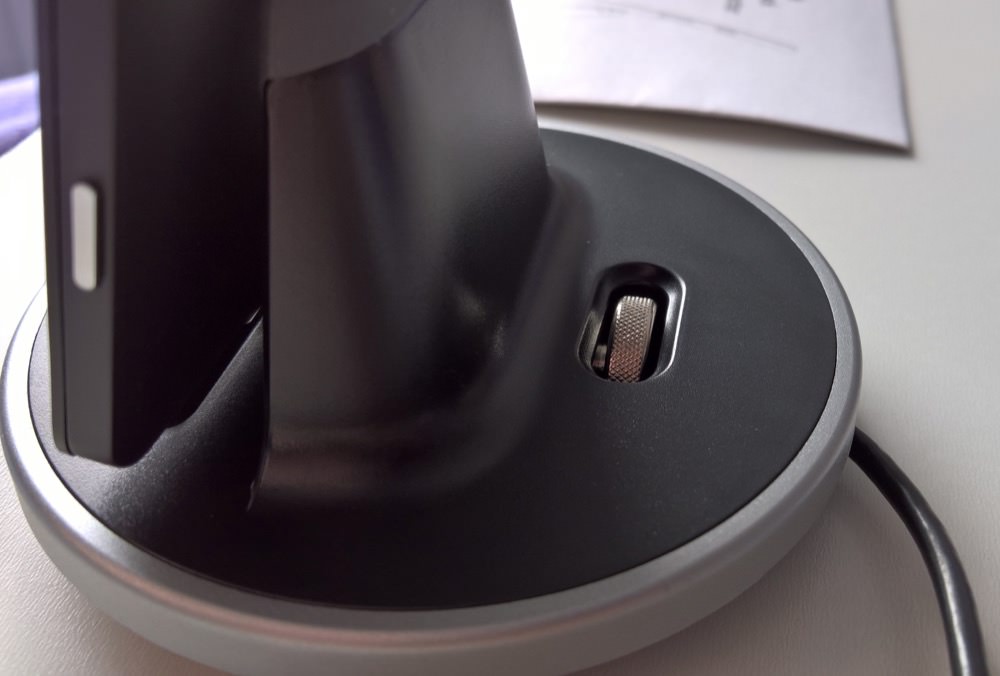 In other words, the Type C jack rotates forward and backwards, under tension against a spring, as needed, and up and down as set by you with the wheel. It's a surprisingly adaptable system and really rather well done.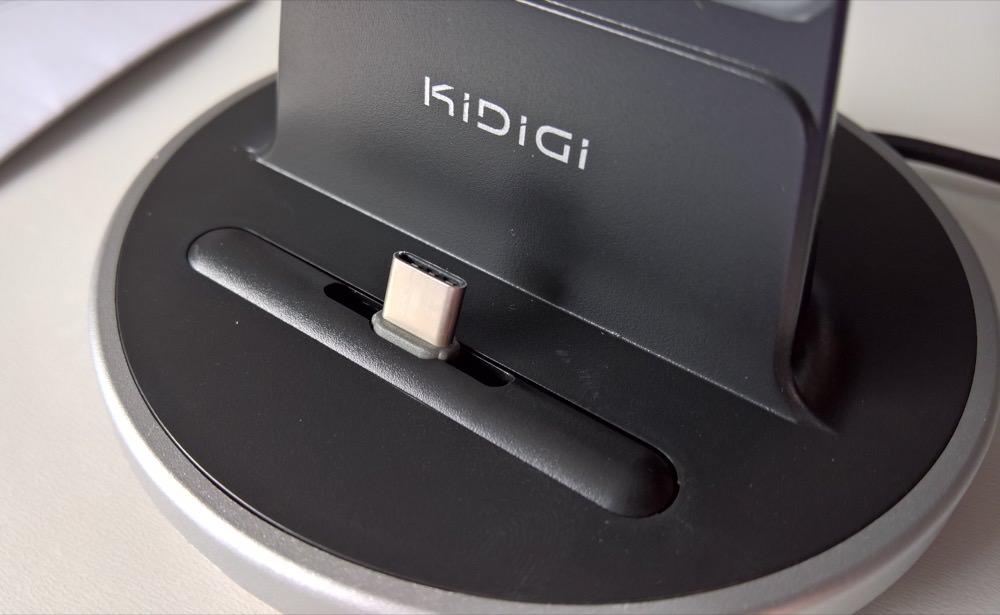 The cable connection handles the full charging current and data needs (in my case, usually transferring media backwards and forwards), and thanks to USB Type C being reversible, it'll work with your Lumia 950 or indeed any other future Type C phone or tablet - there's no 'right way round' for the jack here, unlike with microUSB.
Despite forcing a particular display angle on your Lumia when docked, visibility of whatever's on screen is still a lot better than when the phone's resting on a Qi charging pad or lying on its back with a cable plugged in the bottom. And for anyone with a 'busy' desk, a dock makes a lot of sense in keeping the phone free of the general detritus.
The key USP here is that the dock works whichever device you have and whatever case/back you have on, its adaptability is what drew me to it in the first place. At £25 it's not cheap, but it's also not that expensive for a gadget that may just transform how your Lumia 950 or 950 XL fits into your desktop workflow.
PS. The obvious question is whether this will work in a Continuum environment - and the answer's no. If Kidigi ever gets to read this (or indeed another accessory manufacturer) then what's needed is an alternative Type C female connector on the dock's rear edge - or a double-header jack on the end of the flying lead with Type C and Type A connectors?
Reviewed by Steve Litchfield at