Review:
REDCON - Strike Commander
Score:
86%
I seem to be hooked on tower defense games at the moment - or maybe there are just some excellent examples coming on stream. 'REDCON - Strike Commander' is something slightly off the wall, in that it doesn't look like a tower defense title - but it is at heart, it's just presented differently. And rather wonderfully - I've never seen such superlative animation and atmosphere in a mobile game. Ever. REDCON is also available for Windows 10 on the tablet/desktop, but here I was trying it out on a Lumia phone.
Buy Link | Download / Information Link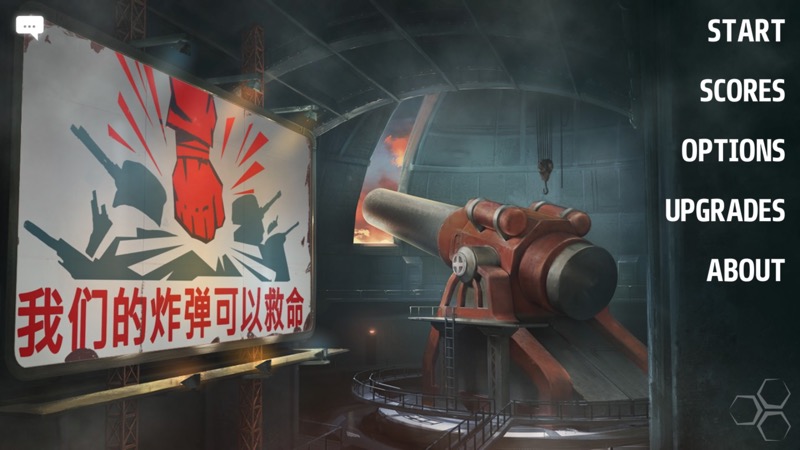 That 'REDCON - Strike Commander' is available on multiple form factors is perhaps one reason why such effort has been expended on the production here - from back story and visuals through to the stunning graphics in the game itself, the title is out to impress.
The back story is a little confused, but all you really need to know is that you're humanity's last hope, fighting with limited resources against the evil empire, currently dominating a ruined planet. Bit by bit you fight back with your engineers and guns.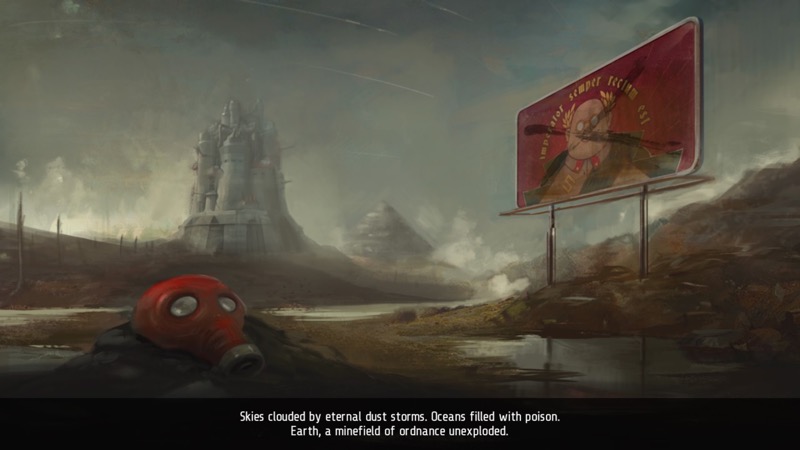 The basics of tower defense are here, in that firing is automatic, in that it's up to you what to target and from which gun, which equipment to upgrade and when - the big difference from the typical title in the genre is that here both sides are static. Think tower defense crossed with the classic 'Artillery' shelling game - all shells and bombs hit their target here, mind you, it's all about the numbers, reducing the health/efficiency of each unit on both sides as combat progresses.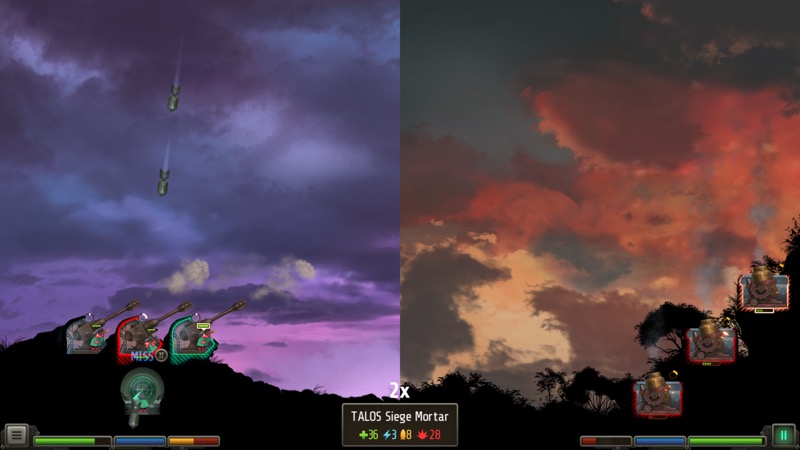 The user interface also gets round having to make each gun emplacement tiny in order to keep the physics and scale believable, by splitting the screen down the middle, with a 'taken for granted' screen of blank space between the two halves. So shells disappear off one side and reappear after a short delay on the other - it sounds horrible but works really well in practice.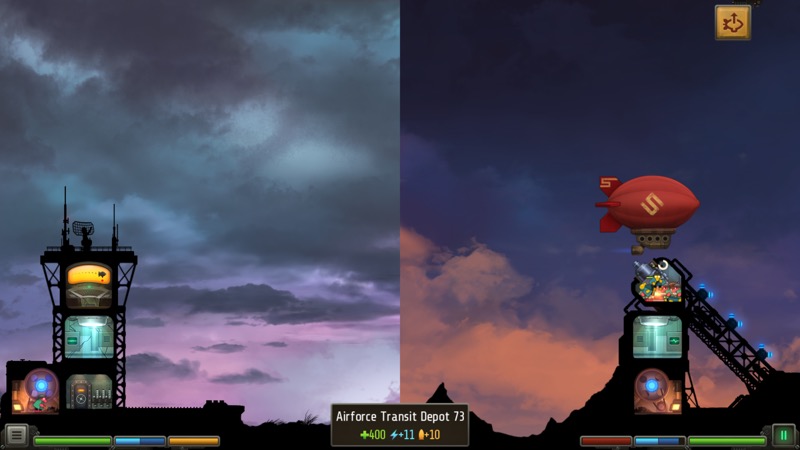 Essentially a level/scenario is introduced (with great imagination), you set up for combat and then kick off the 'battle'. Tap on a gun to start firing and tap on a target to select it and after that you can sit back and watch while things get damaged and depleted in great style. For best results you need to tweak things as you go along, perhaps switching targets or switching shell types using the control strip (top left in the screenshot below).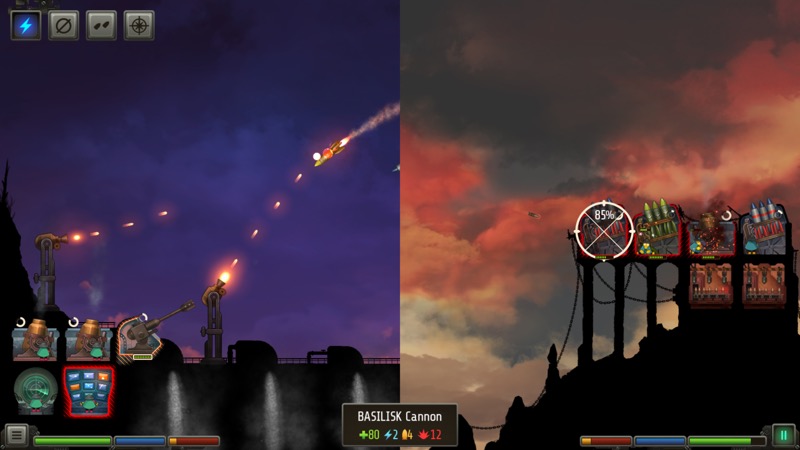 What you'll need to scroll to the video at the bottom in order to appreciate though, is the fluidity of the graphics. Every gun is animated in the minutest detail, rocking backwards and forwards when firing, engineers potter around underneath, fixing things up and loading shells, explosions are fiery and intense and then start fires, which then burn realistically. The effect is overwhelmingly impressive.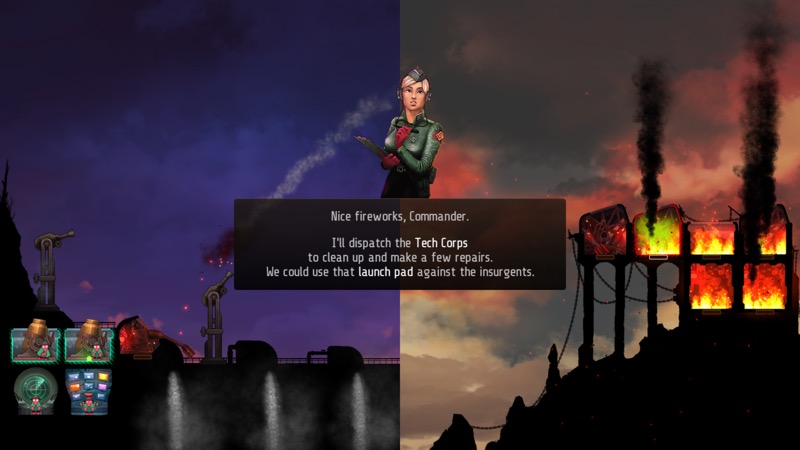 Ten out of ten for imagination from the developers too - what should have been a fairly 'same old, same old' gameplay mechanic is utterly brought to life with a new twist to the back story for each level, new backgrounds and foregrounds, new guns, new characters - there's even an airship that you can load up with soldiers and then dump them on an enemy's gun emplacement - after which they fight hand to hand! I did have a few issues persuading my soldiers to board the airship - this was either a flaw in the swipe mechanism in the game or perhaps they were just reluctant and felt safer underground on home turf?(!)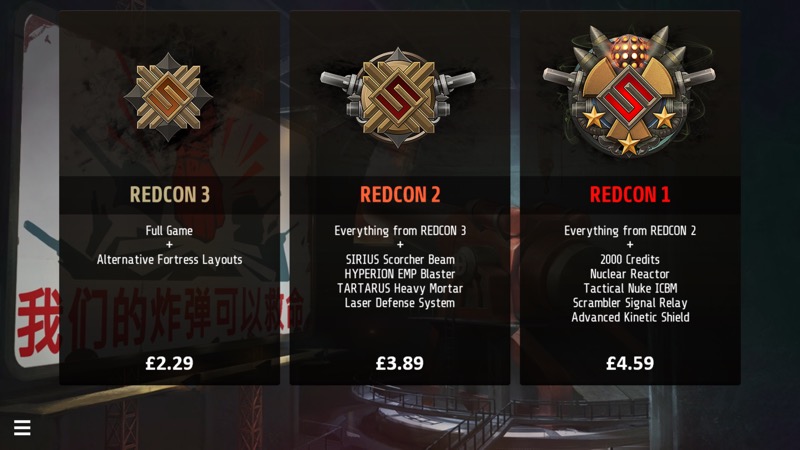 REDCON - Strike Commander is also freemium done right - you get a massive amount of gameplay (18 levels) for free (several hours worth) and then it's only a couple of pounds or dollars to get the rest of the game. Plus a couple of modest alternative IAPs that get you the full game with extras, as shown above. Including laser beams, force fields and tactical nukes. Wow. You don't get those in your standard artillery clone!
Highly recommended if you have even the slightest interest in tower defense and strategy. Or if you just like seeing massive, satisfying explosions!
If you're still not convinced then there's also a promo video, which will give you an idea of the degree of animation and atmosphere:
Reviewed by Steve Litchfield at