Review:
Tronsmart 33W Type C 3A Car Charger
Score:
84%
Charging your smartphone in the car has always been something of a necessity, especially on long journeys, where the phone may also be a music or podcast player and a sat-nav. And with the new breed of current-hungry USB Type C phones - think Lumia 950 and 950 XL, what's needed is something that's both jack compatible and also capable of supplying enough power. Enter the latest lteration of the Tronsmart car charger - with both 3A Type C output and a generic Quick Charge 3.0 Type A socket.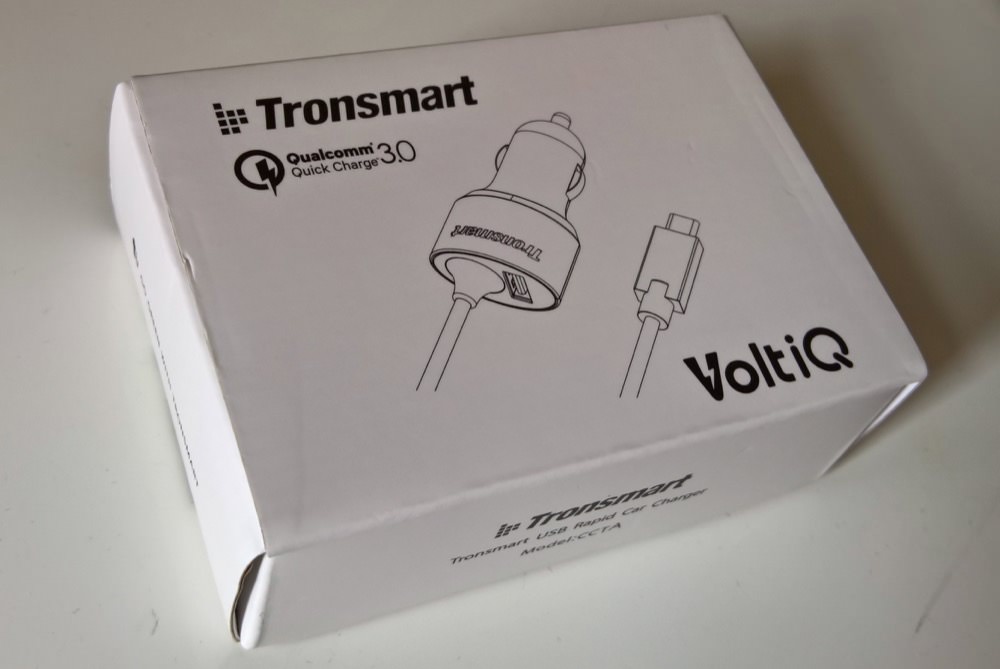 Don't be fooled by the budget packaging - remember that this is being sold for £12 and I'm sure that deluxe packaging would have added a couple of pounds. What matters is what's inside - in this case an updated (Tronsmart started with a Quick Charge 2.0 version) car charger for 2016 and beyond.
There's now a moulded flying 3 foot USB Type C cable and jack, plus a USB Type A socket that has the smarts for Qualcomm's Quick Charge 2.0 and 3.0 if your phone or other device supports this. For this AAWP review, I'm more interested in the flying lead, of course, since the Lumia 950 and 950 XL use Type C 'Power Delivery' and not Quick Charge.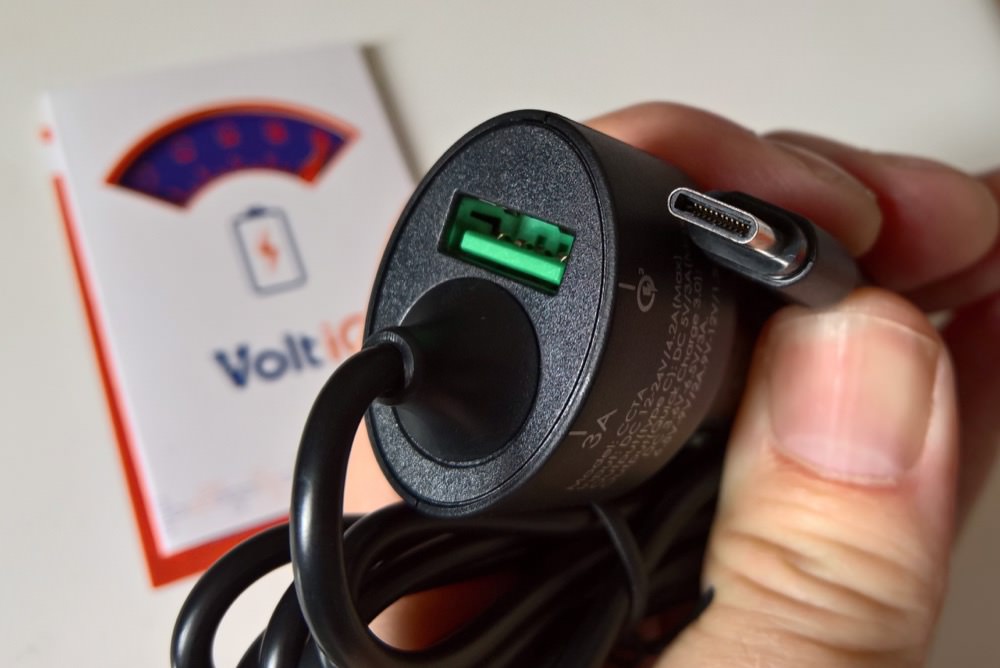 The styling is smart in black and with the characteristic green of a Quick Charge-compatible Type A socket. I own a Google Nexus 6 that's QC 2.0-certified, and this socket gave it a solid 2300mAh charge (roughly 75% remaining capacity in this case) in an hour, delivered at up to 12V, which sounds about right (and I do wonder how much of the car's own 12V is being allowed through, or whether it gets down-ramped and then bumped up again - anyone know?). This Type A socket can also provide a traditional 5V if needed at a constant 1A to non QC-certified phones - I tested this with a Lumia 1020.
More relevantly to AAWP, the moulded lead is the one with the flying Type C jack though and this is unashamedly locked to 5V and a maximum of 3A, i.e. the full USB Type C 'Power Delivery' specification that the Lumia 950 and 950 XL can accept.
There's one slight caveat with chargers like this - they contain 'smart' electronics, as you'd expect with having to intelligently work out what's connected and how much current to supply. But the intelligence also seems to apply to how much current can be drawn from the 12V source, i.e. from the car itself. I tested this charger in my Renault and it only worked in the 'master' 12 accessory socket - it didn't work in a multi-socket hub (in our case, this takes 12V and then spits out two more 12V sockets, a standard USB Type A and various LEDs to indicate battery voltage!) - I'm guessing that as soon as the charger tries to draw the full 15W (5V x 3A), if there's a limitation on the source end then nothing happens - literally.
So - into the car's master socket the Tronsmart adapter went: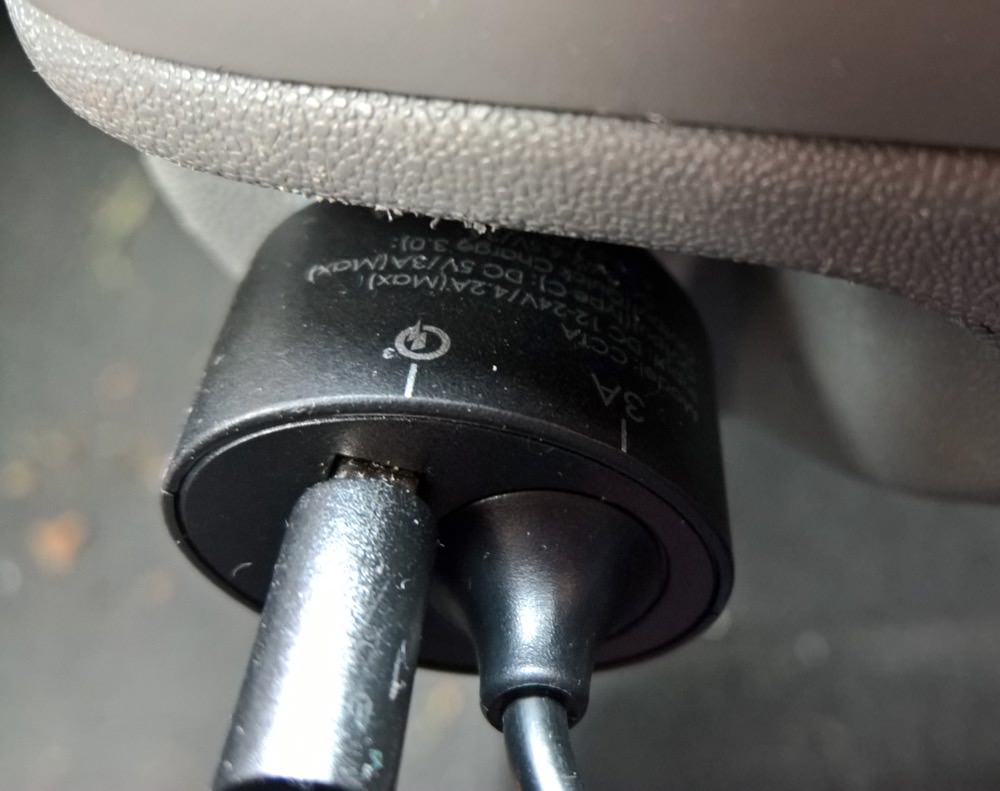 If I had a Quick Charge 2.0 or 3.0 device to hand then it could be charged via the extra socket at the usual outrageous(!) voltages and currents. Happily, it's all detailed on the side of the charger itself, with each output annotated: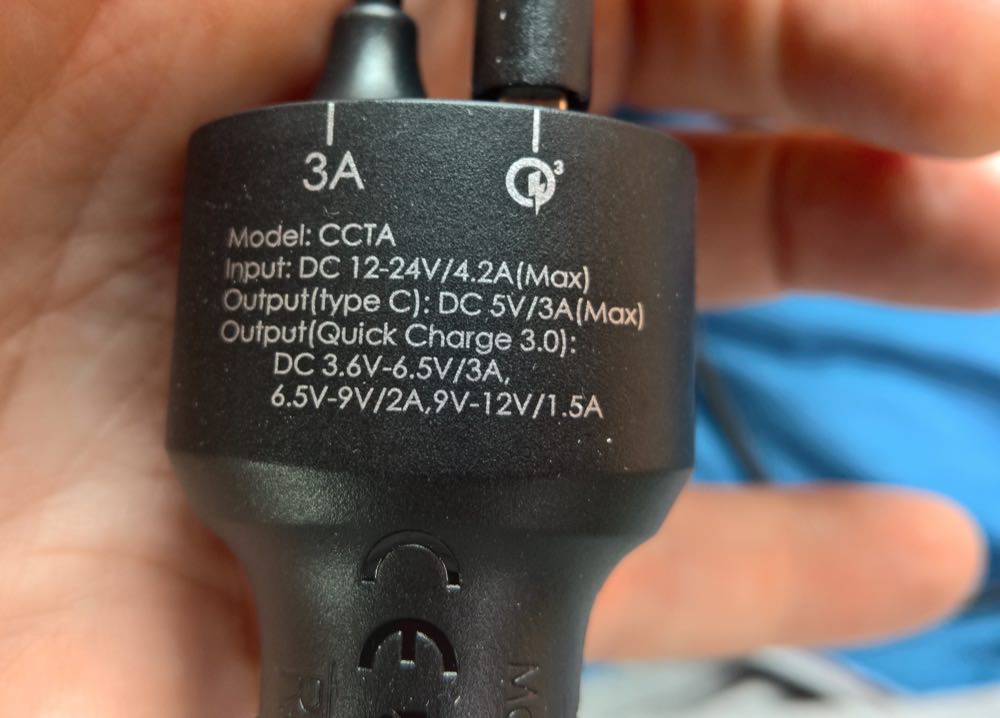 The one we're most interested in here though is the flying/moulded USB Type C lead, which supplies the full 3A (at 5V) allowed by the USB Type C spec ('Power Delivery'), which is exactly what the Lumia 950 and 950 XL need when you're on the road and need to get the phones charged quickly (e.g. a 30 minute commute drive home should be enough to take the Lumia 950 back from 30% charge to up near full charge, ready for your evening out.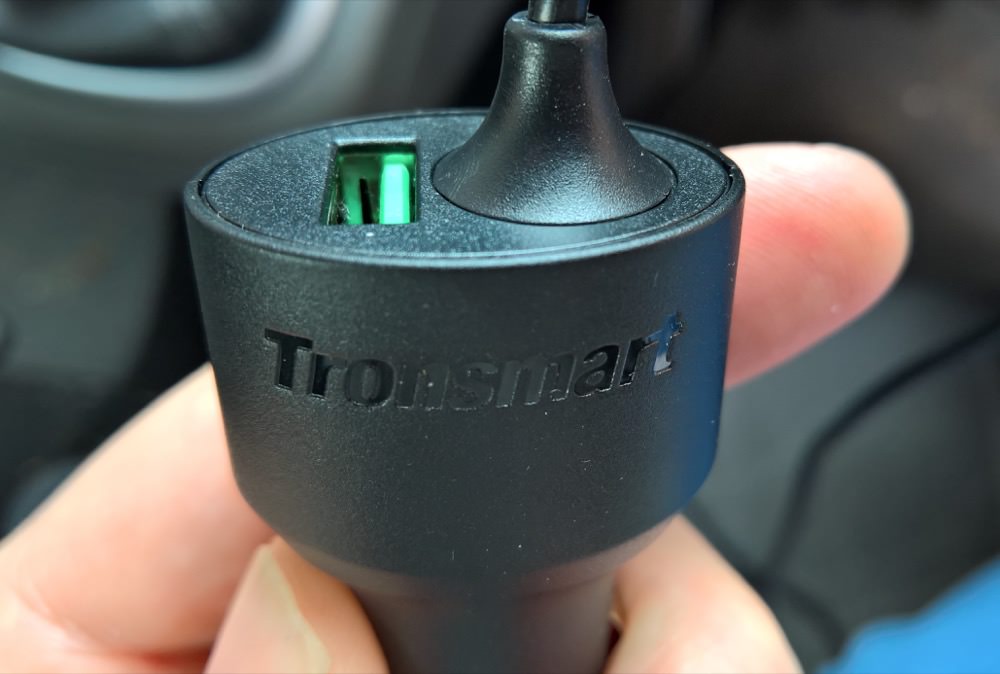 The Tronsmart charger is well made - and seemingly well tested, though the electrical and physical compatibility with your car will depend on the model of the latter and what other stuff you already have plugged in (or would like to plug in). In our case, if I use this then I have to say goodbye to powering our FM transmitter and portable DVD player (via my 12V hub), for example.
So your mileage - quite literally, this being in-vehicle(!) - may vary. But at under £12 currently here on Amazon UK, this is well worth a punt.
Reviewed by Steve Litchfield at