Review:
Terrapin Full Body Shock Resistant Armor for Lumia 950 XL
Buoyed up by the first batch of Terrapin Lumia 950 and 950 XL accessories reviewed, I went further and got in the polar opposite of the leather folio design - yet still with kickstand - I can't do without my media.....(!) Here then are the Terrapin Full Body Shock Resistant Armor cases for the Lumia 950 XL - and they do them for the Lumia 950 as well, so the same applies for that model. Not only do they do what they claim to do, they're unbelievable value at under £7 each.
The aim here then is to provide maximum in-situ protection, while having permanent access to the phone's functions and with minimal increase in bulk. And, yes, there's a kickstand built-in, albeit with a caveat.
Shown here are the Lumia 950 XL versions, but I've included links for the Lumia 950 ones too at the bottom, in case you feel like protecting the smaller model.
The two cases arrive in minimal packaging, but thats how I like it - no money wasted on fancy bags and boxes(!) Here are the two review samples, in silver and (very) dark blue: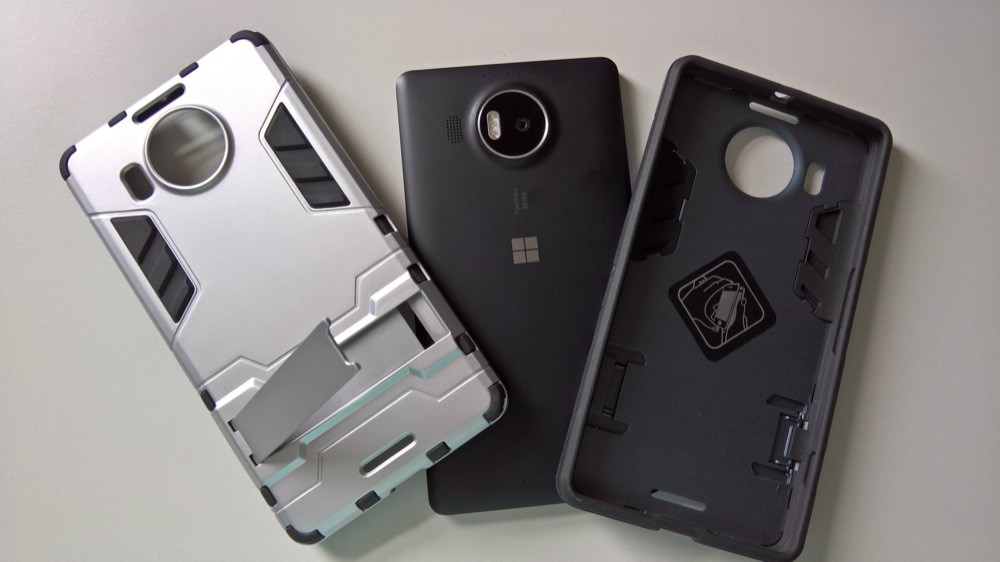 In the hand the two cases are very light and seem somewhat flimsy, but don't be deceived - when ensconced on a device the feel is extremely solid. As with many other ruggedised cases, the body is in two parts - a plastic frame with a rubber inlay, in which the phone nestles. Remarkably, the total addition in terms of thickness is only a couple of millimetres - I was impressed.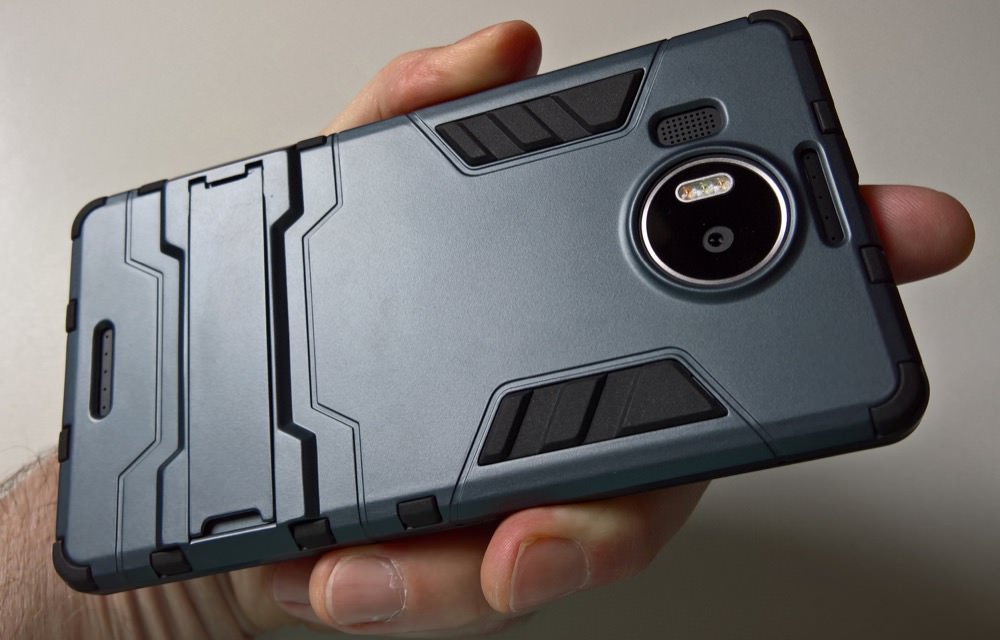 As you might expect, the thickest part of the case is at the kickstand - this is designed with minimal physical impact but also minimal complexity. In practice, this means that it clips very securely back in place - and in fact needs a strong fingernail to coax it out again. The hinge end is rudimentary and doesn't look like it would withstand serious stress - but then it arguably doesn't need to, assuming your dog or toddler doesn't get to this. And anyway, even if the kickstand fails one day, an entire new case is only £7 or less....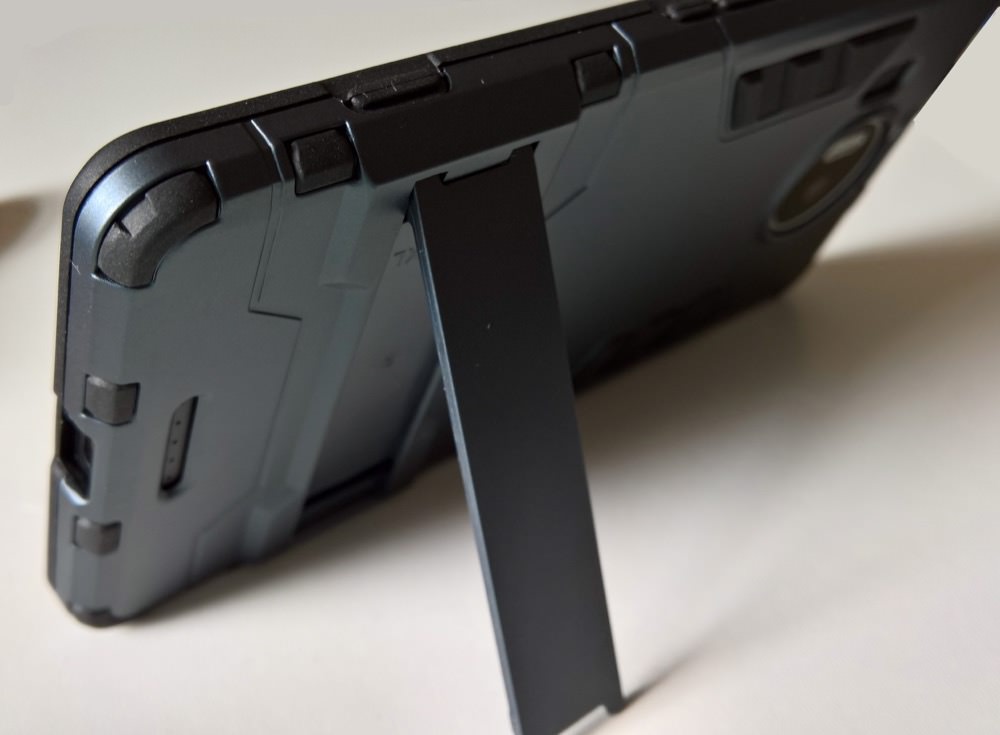 Look closely - very closely - and you can see that there are small defects and irregularities here and there. The sort of thing you'd complain about in a £30 case. But this is under a quarter of the price and the build quality is more than up to the cost in my view. My Lumia 950 XL feels a lot more solid and ten times as rugged in this Terrapin case, while only gaining a few millimetres of thickness and negligible width.
The button covers are well done too, again especially so at this price - the feel as they're pressed in on top of the device's own buttons is top notch: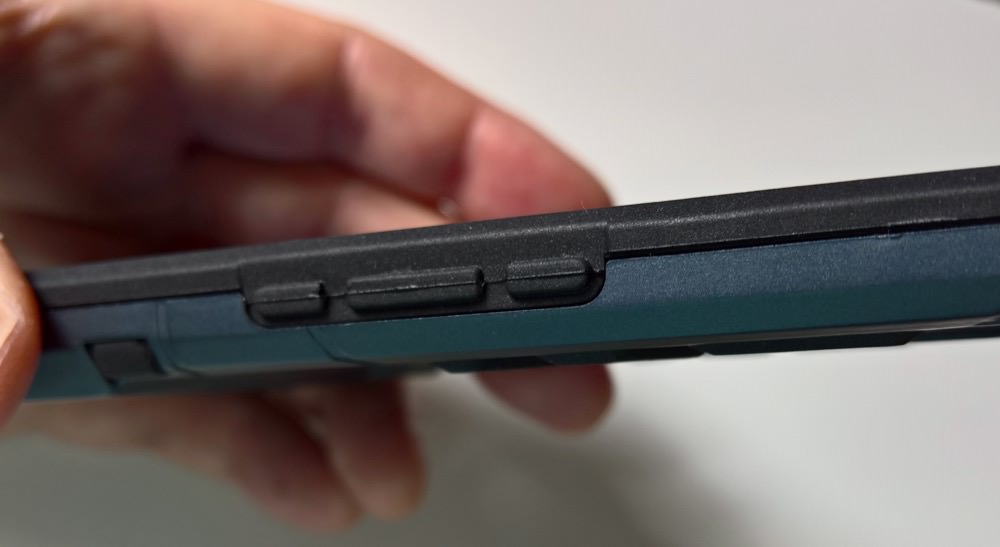 All in all, the 'Terrapin Full Body Shock Resistant Armor' range is terrific value at £7 a pop. I realise I say this for every phone case that I really like, but the dark blue one here has earned a place as my case of choice for my Lumia 950 XL - the larger the phone, the more I feel a need to protect it well!
Now the links you might need, so many of them I'm going to stick them in a table:
It feels wonderful to recommend something so inexpensive - hopefully you agree with me!
Reviewed by Steve Litchfield at