Review:
Perfect Weather Universal
Score:
79%
With Microsoft's own Weather UWP app pretty comprehensive, it's going to be tough for third party weather applications, yet Perfect Weather has a decent crack, with animations, themes, phases of the moon and time-sensitive sky backdrops. With the main application being completely free, this is definitely worth a try if you find Microsoft's Windows 10 style too 'thin'.
Buy Link | Download / Information Link
The first thing that strikes you about Perfect Weather is the completely different visual style (from Microsoft's first party affair) - aside from the hamburger menu icon top left, this is Perfect Thumb doing things its own way - and why not? The five day 'tabs' can be swiped to one side to show four more days upcoming, while you pick the exact time within each calendar day that you'd like to see specific information for. The default is 'now', obviously, but you can pick a day and a time by tapping as needed, with time selected with a tap in the clock bar and depicted by the yellow marker: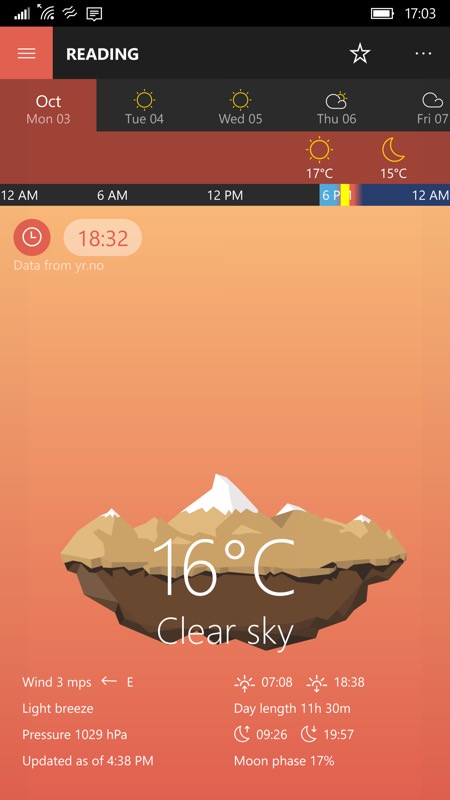 There are many unique touches about Perfect Weather UWP, not least that the sky background reflects the time of day - so you have dark blue and blacks for night time, a sunset red for the end of the day, and so on. It's a surprisingly effective little touch. Information below the theme graphic then shows wind, pressure, sunrise and sunset times, moon rise and moon set times, and more. There's no landscape view, by the way, slightly oddly, though Perfect Weather does work with Continuum, as shown in the photo at the bottom here.
Although I've included the Windows virtual controls in most of the screens here, I've swiped them away in the one above, to show that this is possible, for maximum content, in the usual way.
With Perfect Weather being free, the developer makes a few bucks by providing extra themes, helping you ring the graphical changes. You get two for free and then all the rest become available after the paltry $1/99p in-app-purchase. Which is absolutely fair enough.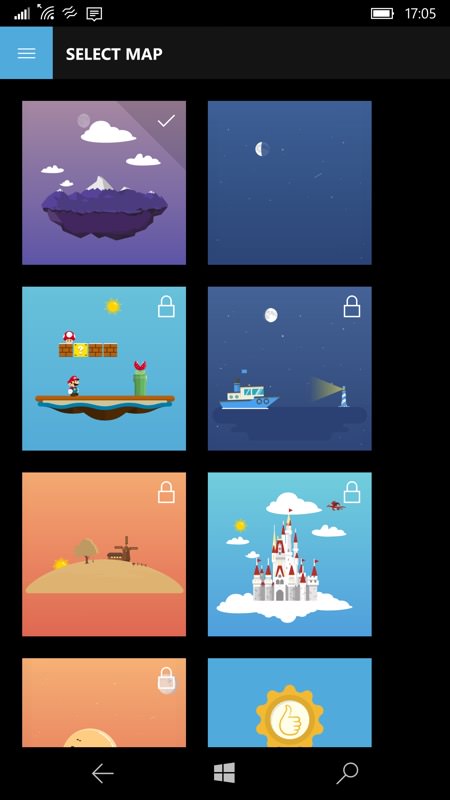 Perfect Weather is full of nice subtle touches. For example, the sun icon traverses the virtual heavens as the day goes on, mimicking its progress in the real sky, the moon shows its real phase, the sun and stars 'twinkle', rain 'falls', clouds wobble around in the wind - you get the idea. Clearly the developer is having some fun here!
One of the core aims of any weather application is being able to see what the conditions are in other places on the planet and Perfect Weather is obliging here. I had a few errors on some destinations, but most came up first time and it's easy to tap the star icon in the top toolbar in order to add that place to your 'favourites'. Here's the current weather on the other side of the planet, with the sun rising and a gentle violet in the sky (ok, perhaps a shade too far, but hey, it's pretty):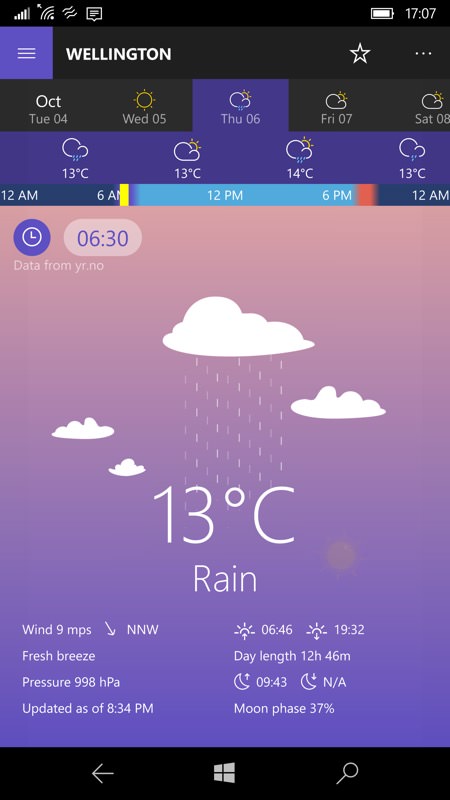 Your favourites are then popped up top in the well done hamburger (see what I did there?!) menu, for quick navigation. Very nicely done, plus you can search for new locations in here too: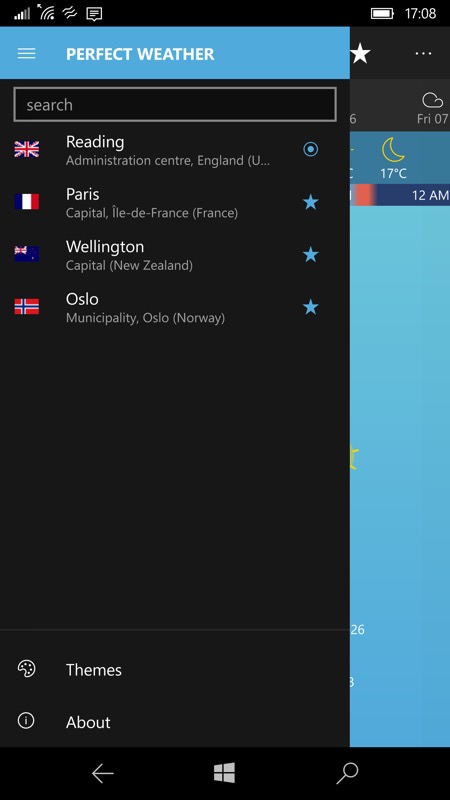 Although you can't customise them, other than in size, there are also live tiles available for any locations, just pin them from the '...' menu on any forecast pane. You can resize them as needed on your Start screen (see the bottom row below) and note that even the single, smallest live tile size (not shown below) still shows valid weather informarion, with just a weather icon and small temperature reading.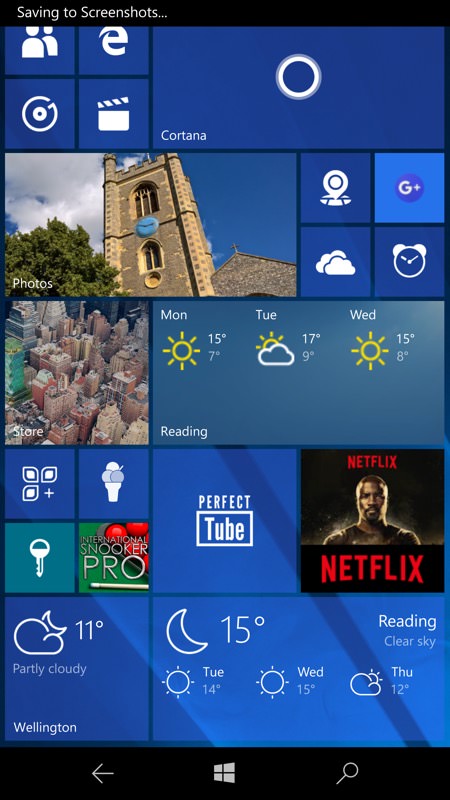 What matters, ultimately, is whether a weather utiity helps you in terms of accurate forecasting and Perfect Weather seems pretty much aligned with my other sources. It's not clear where this weather data is being obtained, but it's in the same ball park as any other forecasting application.
With weather plus a mountain of other incidental data (sun and moon rise and set times, for example, Perfect Weather has the capability to not only replace Microsoft Weather, but also a couple of other niche Windows applications, I suspect. And I'm all for simplifying your application loadout, so why not give this one a go?
PS. That promised Continuum shot, below - Perfect Weather works fine on a secondary display, ditto on Windows 10 on PCs and tablets.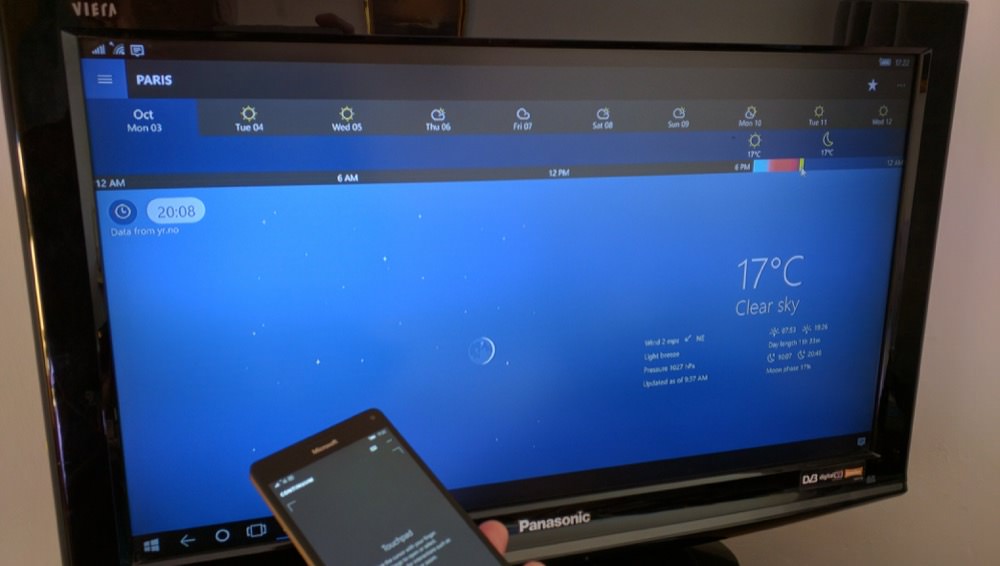 Reviewed by Steve Litchfield at