Review:
Alcatel IDOL 4S with Windows 10
Guest reviewer Anthony Fear brings us our first full review of the Alcatel IDOL 4S in Windows 10 Mobile guise, released at first as a T-Mobile exclusive in the USA and then SIM-free for North America. There's still no official release of a 'world' version, but MWC is just around the corner. In the meantime, here's Anthony's assessment of this latest premium Windows 10 Mobile smartphone.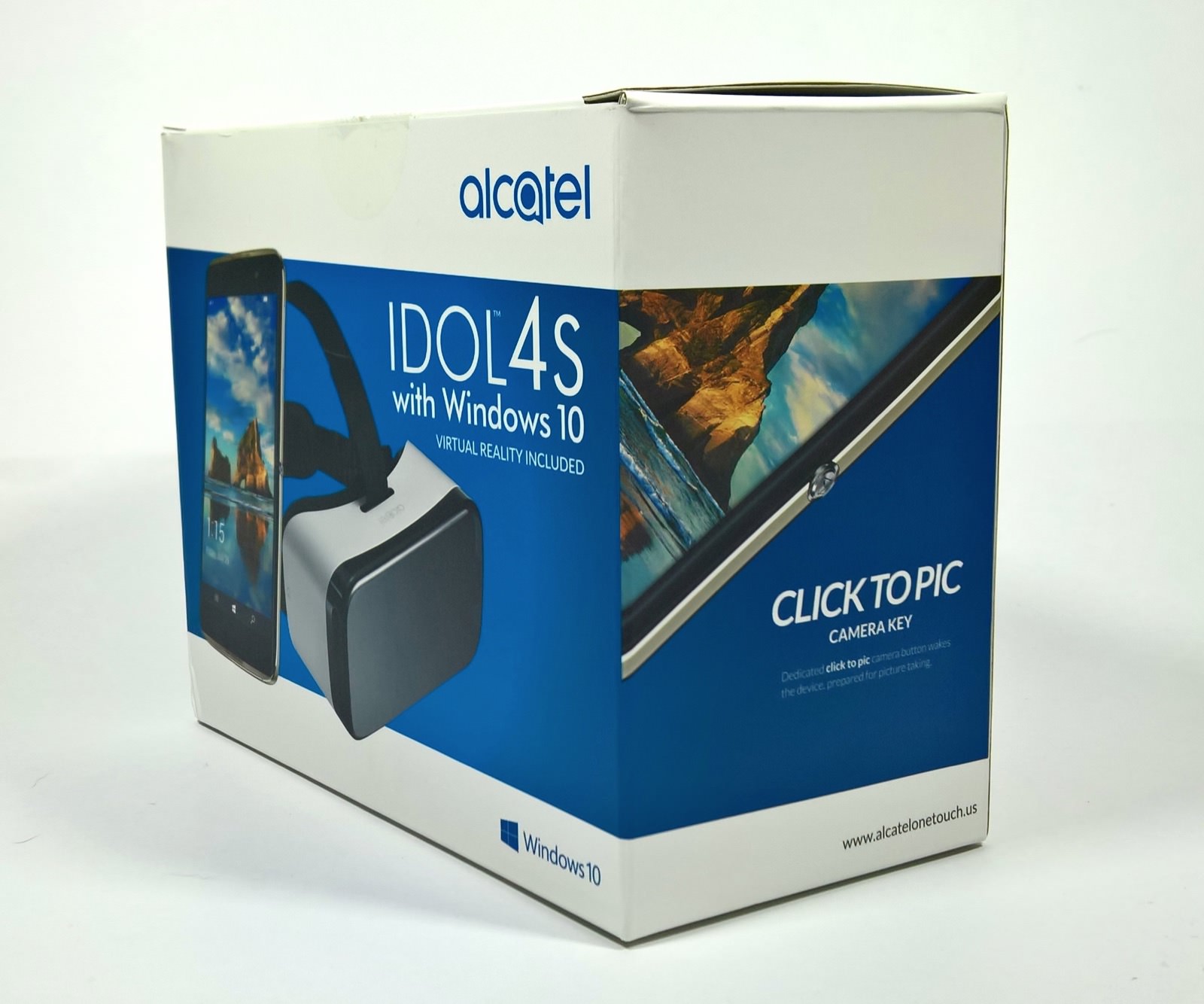 First impressions
The first thing that strikes you when you see the IDOL 4S with Windows 10 is the packaging. Phone packaging is typically compact and neat, but this thing is different. It's well made, nicely laid out, but more closely resembles the box of a household electrical appliance – it's a welcome change - but it's not the sort of packaging we've become accustomed to. It's not stylish, it's not a thing of beauty to behold, instead it's practical, clear, simple and pretty darned big (for a phone).
The reason for the large box is that the IDOL 4S with Windows 10 comes with a VR headset. Not as an extra 'freebie' box thrown in, but right there bundled in the box with the phone. This is the first Windows 10 Mobile hardware to feature such a device and it's an interesting marketing twist.
As you open the box, the IDOL 4S with Windows 10 handset (OK, I'm going to refer to it as just the 'IDOL 4S' from now on) is right there on the top. It's the first you see when you open the box. Lifting it from the packaging, you immediately notice the quality of the device. It's nothing like a typical Lumia. This feels great and immediately feels like a flagship device.
The front and back are both made from black glass (not Gorilla Glass but something called 'Dragontrail', in similar vein) and it has pleasant metal edges running around the outside. The metal has an elegant gold hue that's not at all tacky. Initial impressions are that this is a nice looking device that is very well made.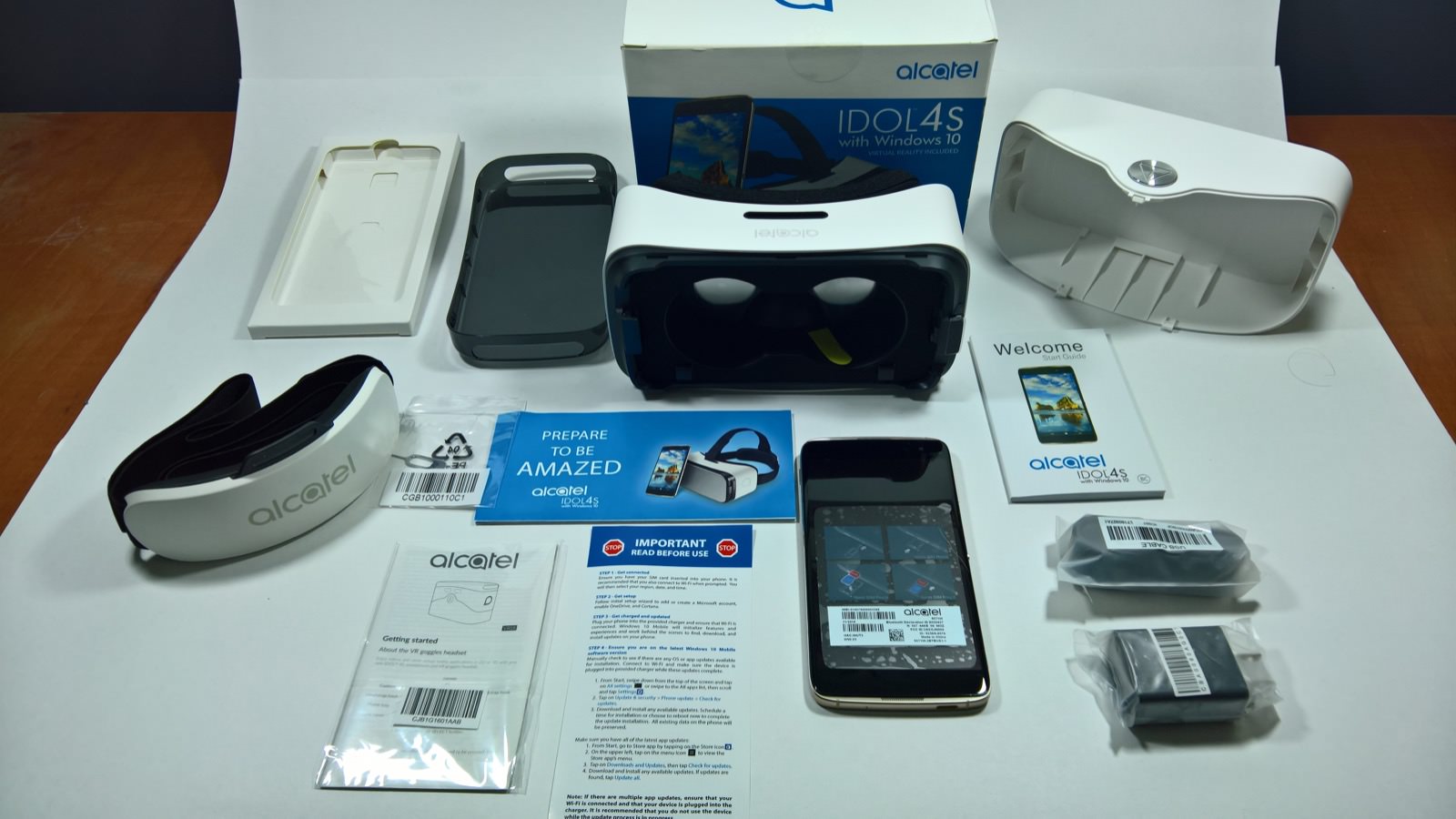 Continuing to unpack the box unveils lots more stuff; pamphlets, information sheets, user guides, and then we get to the VR headset… make no mistake, Alcatel puts a lot in the box!
The VR is also well made, this is no Google Cardboard - it's easily on par with devices like the Samsung Gear VR. The headset comes with protective covers on both the back and front. Opening the protective covers uncovers even more stuff! This time a wall charger, USB C cable and a headset strap.

Display and form
So after unpacking everything, I finally remove the protective plastic from the front and back of the phone and power the device on… The screen on the 4S looks great! It's 5.5", AMOLED, FHD (1920 x 1080p), nowhere near the density of the Lumia 950 QHD (2560x1440p), but nevertheless it's a fabulous looking screen. Blacks are really 'black' and the colours are vivid and really pop. Thanks to Windows 10 Mobile's live tiles and the familiar user interface there is no obvious pixellation and no obvious sign that this is a relatively, low res screen by 2017 standards. Unfortunately, despite the use of AMOLED, there is no Glance screen feature, but it does support double-tap-to-wake and high sensitivity (i.e. wearing gloves) and the double-tap is not using the motion sensor (like the Elite X3), so it's not going to wake up accidentally.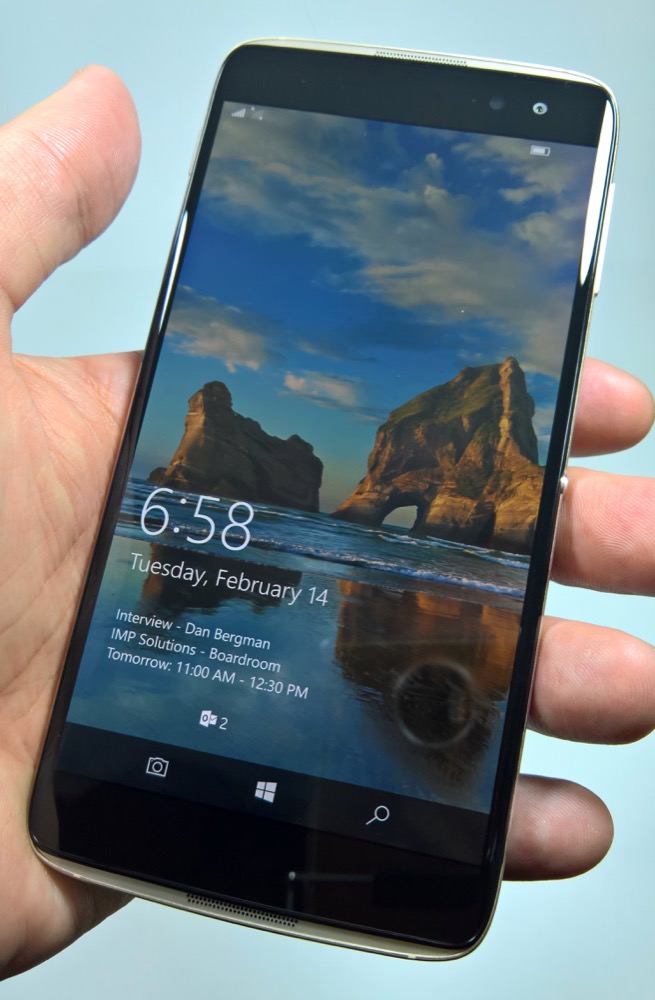 It's a nice size too. A few years ago I wanted big phablets (I loved my Lumia 1520), but over the past year or so I'm finding I'm happiest in the 5.2" (ish) screen size. The 5.5" dimensions of the IDOL 4S are quite acceptable for me. It's slim enough that it sits safely in a cup holder in my car and it's big enough that my large hands can operate it comfortably. It's closest in size to a 950 XL, with just a few millimeters shaved on the waist and added to the height. The Lumia 950 is my favourite size device overall. The 950 XL is comfortable but the Elite x3 at 5.96" (screen) was a little too big. So the 4S sits nicely in the middle, like the 950XL.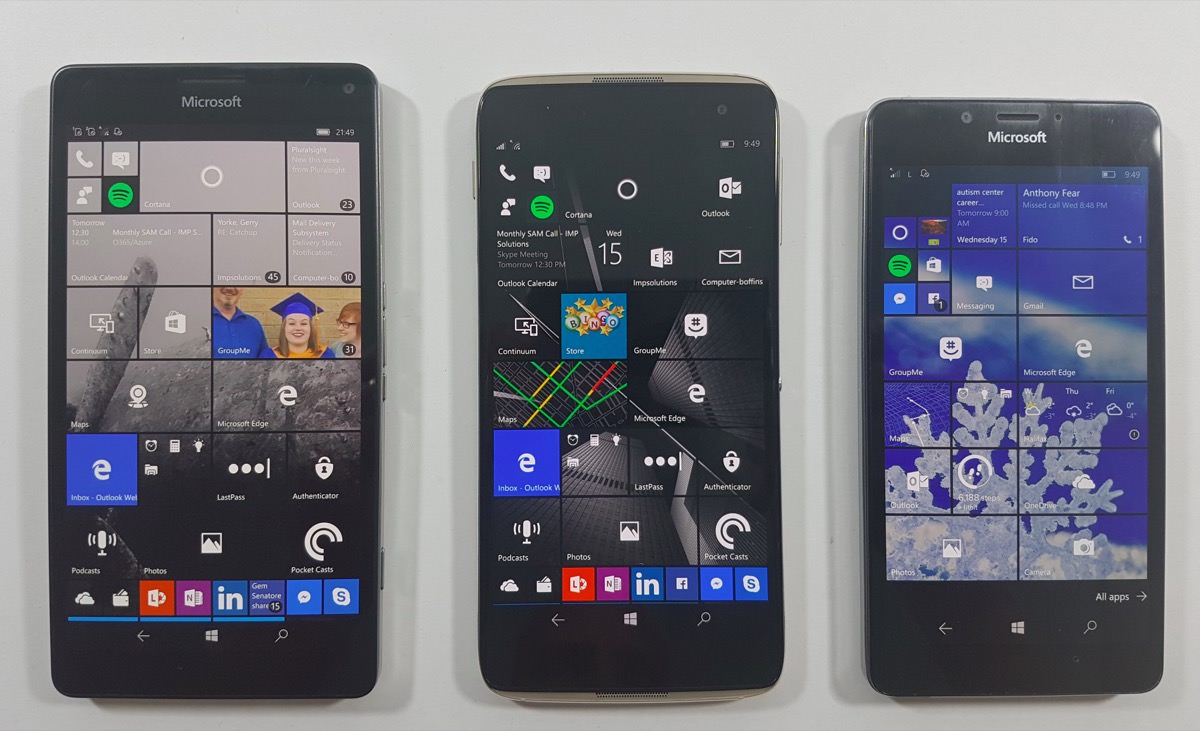 Overall, I'm loving the IDOL 4S at the moment. Its superior build and styling are a welcome change from typical Windows Phones (HTC One would be an exception), the Elite x3 really made me appreciate how cheap and flimsy the Lumia 950s feel (although Mozo cases do help a little in that respect) and this device just emphasizes that build quality issue ever more. I prefer the design on the IDOL 4S over that of the Lumias and the x3, the glass back means it is slippery on a surface, but I didn't find it particularly slippery in the hand (unlike the x3, which seemed to want to launch out of my hands at every opportunity). I like my phones as their designers intended so I'm not a big fan of cases (exceptions are the Mozo backs on the Lumia 950), but then I am particularly careful with my devices. If you treat your phones a little less gently then a case would definitely be recommended.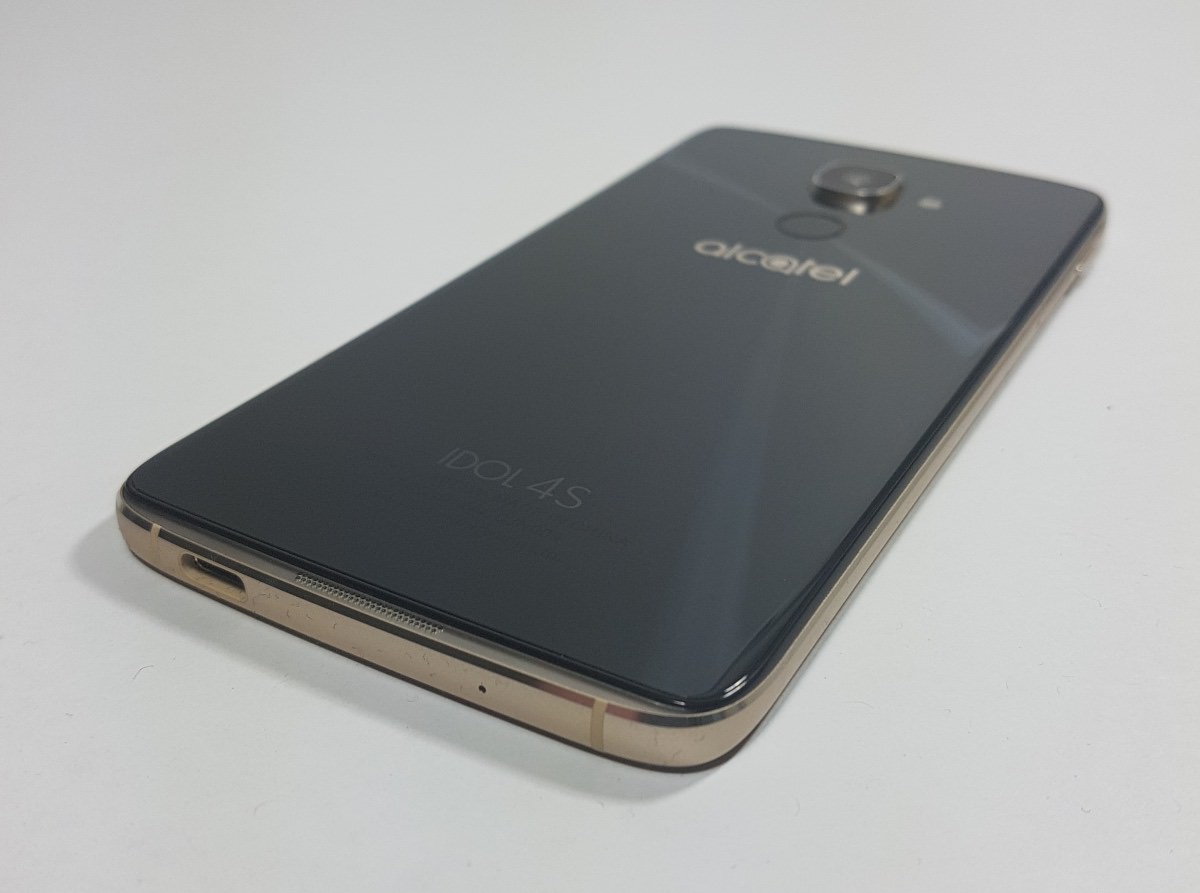 Set up and speed
I set the IDOL 4S up from scratch (i.e. no restore from a backup) and set about downloading my usual list of apps. There were a bunch of built-in app updates waiting, but no OS or firmware updates were needed. The IDOL 4S is running Windows 10 version 1607 (build 14393.693) which is the current branch (i.e. Anniversary Update).
So what's it like to use? Really great! It's not noticeably faster than my Lumia 950 or 950 XL but it performs well with no noticeable lag or slowdowns. I also noticed that it doesn't heat up like the 950 does – probably thanks to the newer Snapdragon 820 chipset (rather than 808 or 810).

I am still running the stock OS, but over the next few weeks I'll opt into the 'fast' ring of Windows Insiders and then compare it directly with the Lumia 950 XL and report back.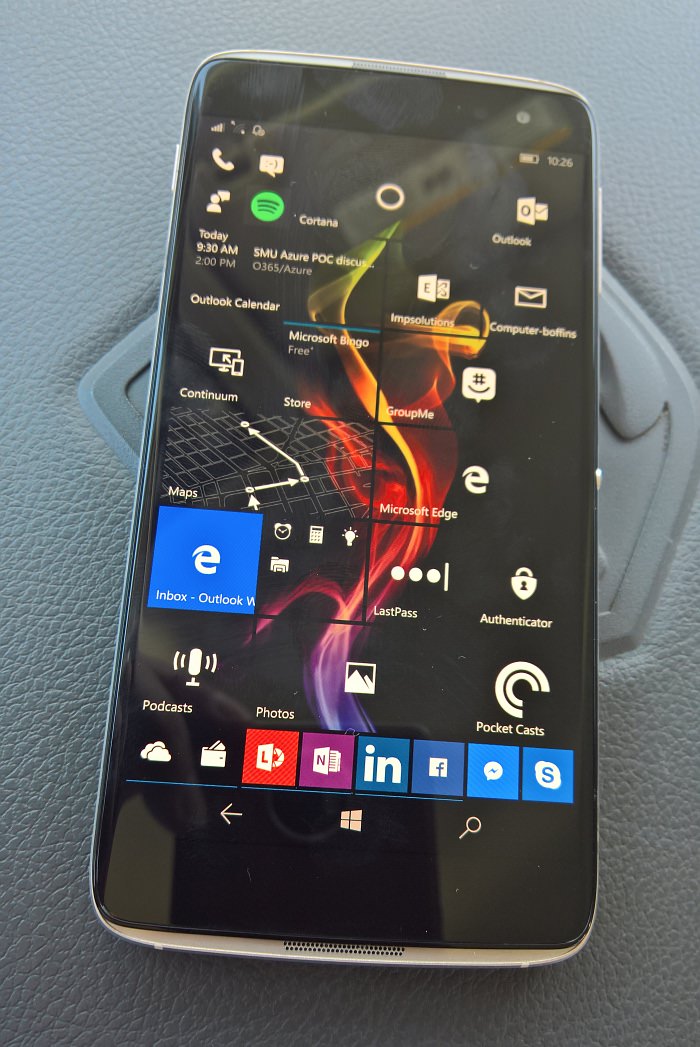 Some anecdotal observations. HDR imaging is slower* on this device than my (fast ring) 950 XL. But everything else zips along nicely. I'm popping into and out of my usual assortment of apps throughout the day with no noticeable issues. It's also pretty darn stable. Noticeably more stable than the X3 was, running on stock OS. Hopefully the 'fast' ring won't spoil that.
* I have also run into an issue where HDR mode hangs the app. Although you can force close Camera, HDR won't work until you reboot the phone:
[note from Steve: Anthony's videos are shot in portrait mode. Will remember to slap his wrist next time I get the chance! Sorry - but they get the points across in each case]
I also noticed that Cortana was activating (unintentionally) a lot! Investigations showed that Cortana voice wake up is hyper sensitive. In fact you only have to say 'Hey' and the IDOL 4S will launch Cortana. Incidentally I've been testing with my Lumia 950/XL and they too respond to a 'hey' only command, albeit less frequently than the IDOL 4S. So this issue isn't specific to the 4S. I'm testing further by training Cortana to my voice, but so far there's no noticeable improvement:
Speakers
I admit I wasn't expecting much from the IDOL 4S even though it comes with stereo speakers. Lumia phone speakers tend to range from disappointing to 'meh', and after my disappointment with the 'high end' Bang & Olfsen speakers on the x3, I wasn't particularly excited in advance about the speakers on the 4S. But I'm pleased to report that I was wrong! The speakers are very good (for a cell phone), quite excellent actually. I would go as far as to suggest these are probably the best speakers on a Windows handset (they are - Steve). They handle loud volume with minimal distortion. In fact they have changed the way I use my phone. On my Lumia devices I rarely use the speakerphone because it's not very loud and is very tinny, but with the IDOL 4S I rarely use headphones anymore as the speakers are so much better. So now I watch my movies or listen to podcasts using just the speakers.
Imaging
Round the back of the IDOL 4S we have a 21MP camera (no OIS, unfortunately). It's no Lumia camera but it's quite decent, especially in daylight. Low light shots really struggle, with no OIS to keep the phone steady enough for a long exposure.
Here are some sample photos, click each thumbnail to get access to the full-res version: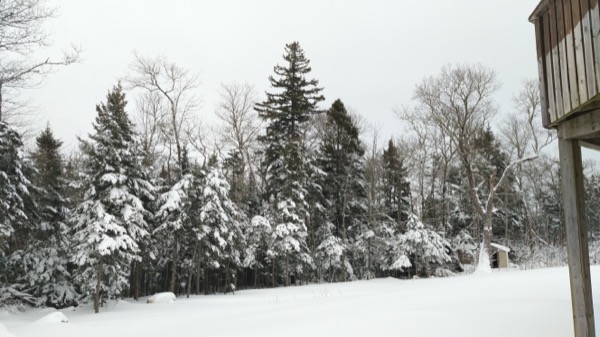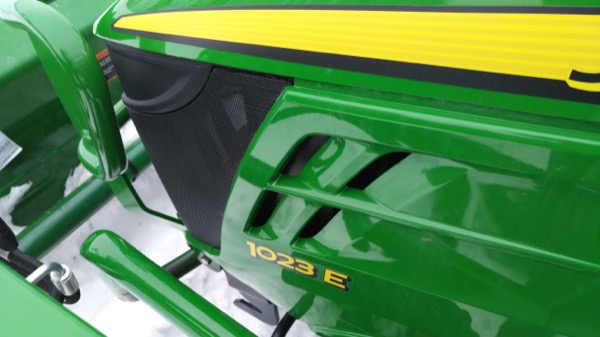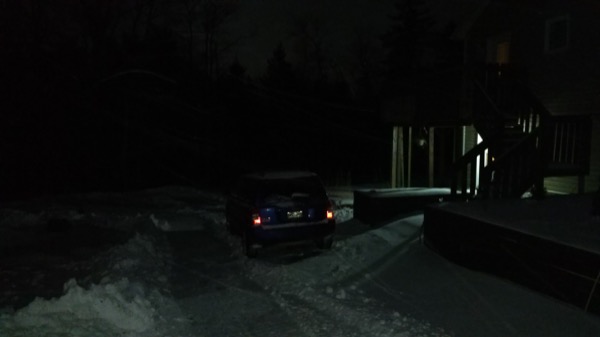 Steve will have more in terms of a direct imaging comparison with the Lumia 950 XL shortly.
Video capture maxes out at 4K but I've stuck to 1080p for the sample embedded below:
The lack of optical stabilisation is a slight issue, but the good Windows 10 Camera digital stabilisation helps. The clip above was shot without this, the one below was shot WITH the digital EIS turned on, and I've included the same footage from the OIS+EIS-stabilised Lumia 950 XL as well:
The larger and higher quality optics on the 950 XL, plus the OIS, clearly make a big difference, but the EIS does help on the IDOL 4S. Steve will return to this subject in his own testing as and when a European IDOL 4S with Windows 10 becomes available.
On the front we have an 8mp camera, it's a little wider shot than the x3 so you can fit more background in on a Skype call. The IDOL 4S also comes with a front facing flash. Not sure how much use that is? But it's there if you want it for your dark selfie shots. A couple of typical low light samples, without and with the LED flash (with original JPG rotation - which is curious in itself!). Neither are brilliant - underwhelming, even: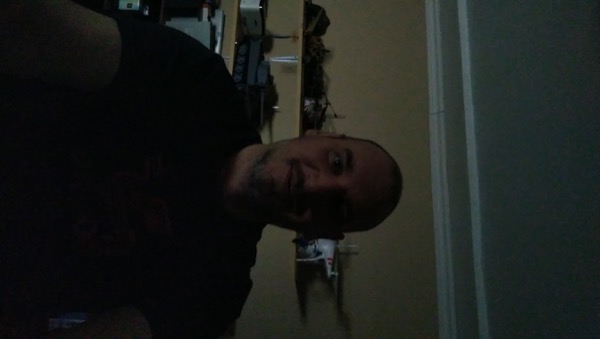 Battery
The battery is easily lasting me a full day and would probably go a day and a half of typical use. Battery life is better than on my 950 XL (perhaps due to lack of glance and lower res screen?) but not quite as good as the x3, which has something of a monster battery.
Windows Hello
The IDOL 4S has a built in finger print reader, on the back underneath the camera. I won't get into the debate about whether fingerprint readers should be on the front or the back in this review but I will say that the reader on this device is smaller than the one on the x3 and thus is harder to hit correctly. Resulting in frequent failed attempts. I've learned to grip the device in such a way that this is less frequent for me, but this is nowhere as accurate a reader as the ones installed in other flagship devices like the iPhone 7 or Galaxy S7 (in my experience).
The IDOL 4S does not not come with an iris scanner.
VR
I really haven't had enough time with the VR yet to post a detailed review. What I would say is: don't buy this phone for the VR features. They work and they are fun to play with, but there is nothing outstanding about the VR experience on this device (compared to the same on the Android version of the IDOL 4S, with a much larger pool of content - Steve).
Continum
I love Continuum, it's a brilliant piece of technology and one I hope Microsoft will improve upon quickly. Microsoft has a head-start here and I hope they don't waste it. I'm confident other devices like Android will start adding similar features to their devices in the near future – because it's an obvious productivity boost. (Samsung has something in the works, though Android solutions tend to be awkward bolt-ons - Steve.)
The IDOL 4S fully supports both wired and wireless Continuum. Alcatel don't sell a dock for this device – probably because their target market is consumers and not businesses. I used the Microsoft Display Dock from my Lumia 950 to test and it work flawlessly. In fact I wrote the majority of this review using Continuum and the Alcatel IDOL 4S!

Pros and Cons vs Elite x3
CONS

Lower screen resolution
Smaller screen size
x3 comes with a dock (usually)
backed by Alcatel (so no idea how much support for bug fixes and firmware updates we'll get)
PROS

At $619 CAD, the IDOL 4S is a little over half the price of the x3 (currently $999 CAD)
similar battery life
similar camera
same processor
same storage
better loudspeakers
is nicer looking and easier to hold
comes with a VR headset
Conclusion: For me the IDOL 4S is the better choice here – even if you have to buy a Microsoft Continum Display Dock, it's still cheaper. It's just generally an all round better value device than the x3.
Pros and Cons vs Lumia 950 / XL
For me this is a much tougher comparison.

CONS

Only 1080p screen - but I barely notice that in daily use
Camera not as good (obviously)
Missing some Extras apps (e.g. equalizer)
No Glance screen
No Iris scanner
backed by Alcatel (so no idea how much support for bug fixes and firmware updates we'll get)
PROS

Better battery life
Fingerprint reader – but it is a little temperamental
Faster and better processor
More storage
MUCH better looking/build quality
Better (and stereo) loudspeakers
Comes with a VR headset
It's a close call, but for me, if you are looking for a new Windows phone then I'd suggest picking up the IDOL 4S (below, centre). It's the best all round Windows phone currently available, and will be my daily smartphone going forwards.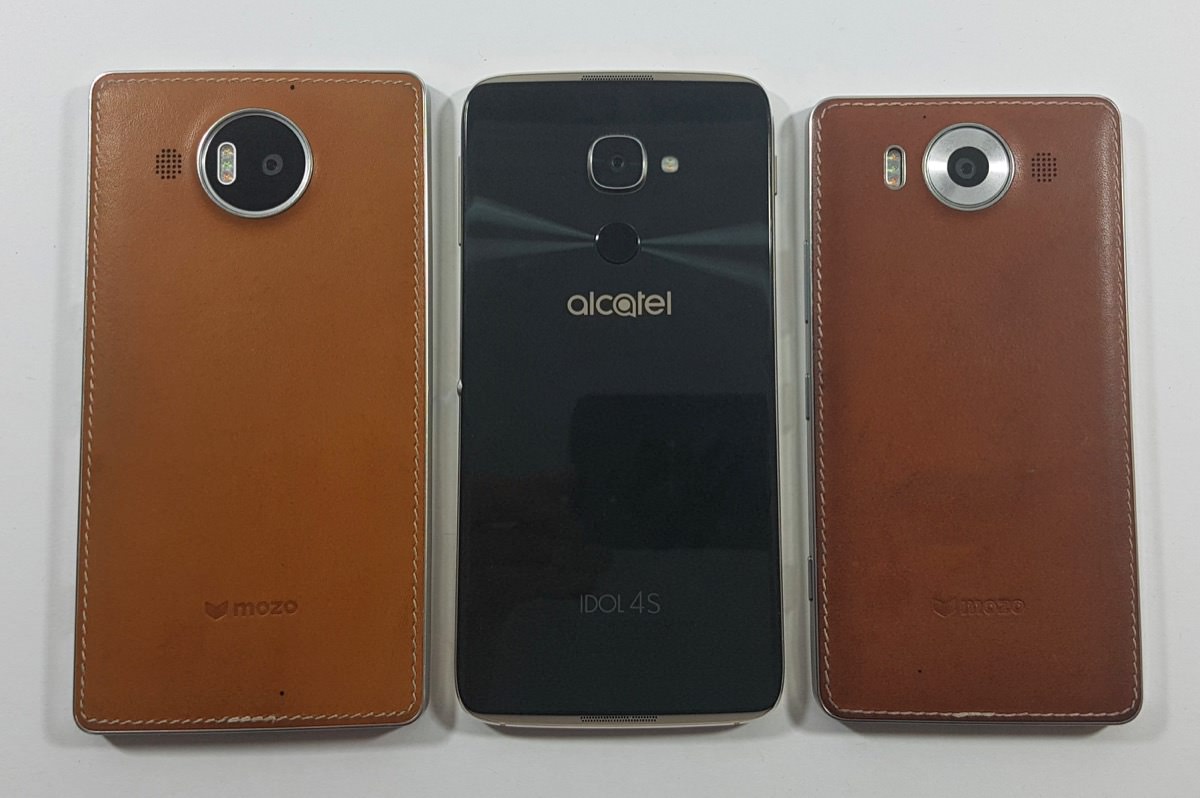 ________________________
Thanks, Anthony - as and when this gets released in Europe (i.e. with full support for European LTE bands), I'll give it my own formal AAWP review treatment, of course!
Steve

Reviewed by Steve Litchfield at