Review:
Spring is here: HiHiLL Lantern/power bank and AUKEY Speaker
Score:
86%
It's telling that with the arrival of Spring (in the Northern Hemisphere) and some better weather, companies are pushing outdoor smartphone accessories again. Two such just arrived at AAWP Towers - both are fully weatherproof and neither will break the bank. The HiHill Lantern, in particular, is something I'd never seen before - strip light and smartphone recharging power!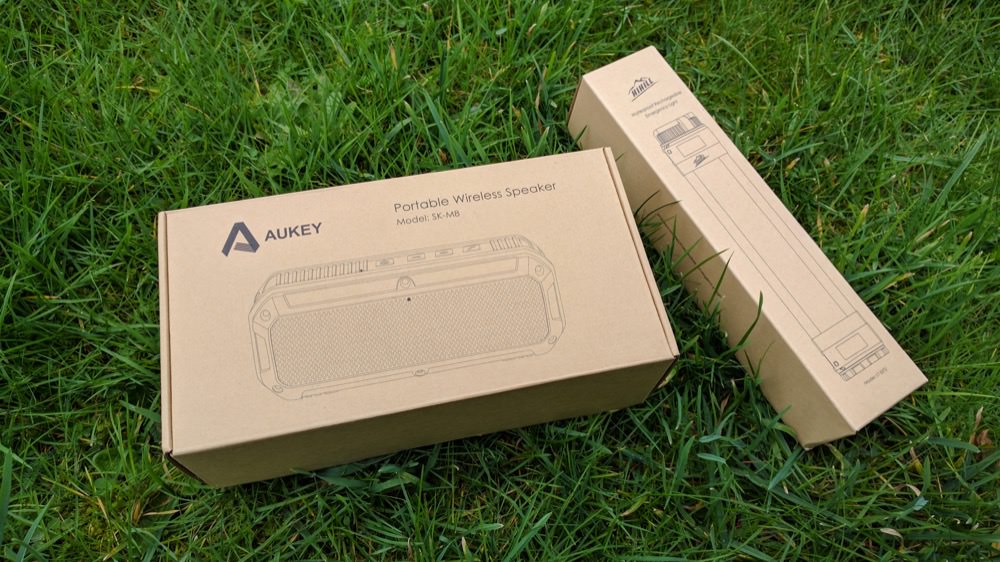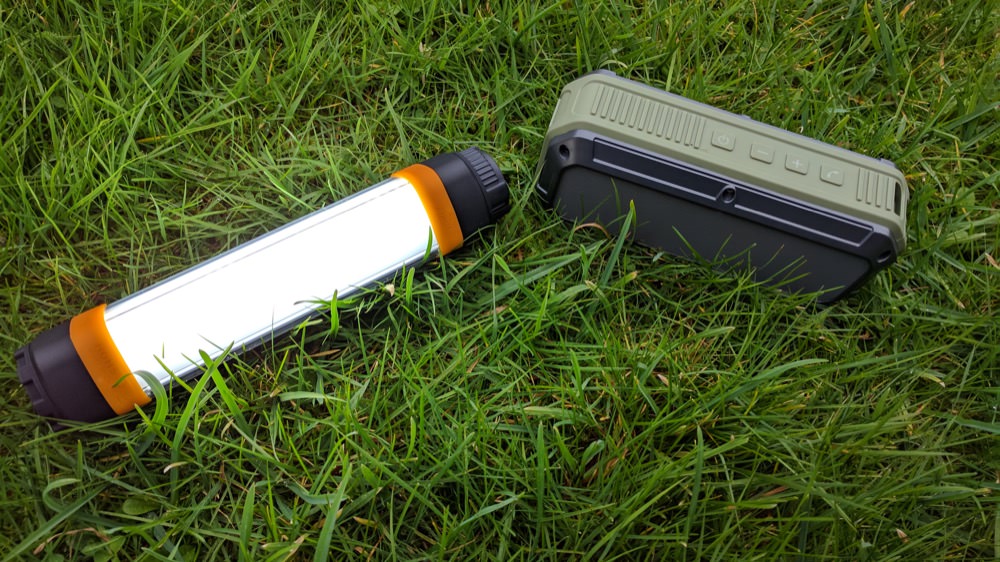 I'll come to the slightly less exciting, the AUKEY IP68-rated Bluetooth Speaker, below, let's start with the most interesting - the HiHiLL lantern.
This combines the two most pressing 'tech' needs when you're out and about hiking or tent camping - power and light. At its heart it's a rechargeable 4400mAh power bank inside a powerful strip light, with a flashlight. And it's up to you how you use this power, splitting it between topping up your smartphone (max current seems to be about 1.5A in my tests), using it as a tent floodlight or as a beam torch - the mAh get pulled from the same batteries in each case!
So you're out walking or cycling on the moors and your Lumia 950 XL or Elite X3 is running short on battery? Unscrew the business end of the lantern and there's a USB-A socket - now, the lantern comes with a USB-A to microUSB cable (mainly so that it can be charged in the first place), so you'll need to have brought along a USB-A to Type C cable of your own. Plug it in though, and you're charging in the usual way, albeit not at full 3A 'Power Delivery' quick charging rates. But you're charging, at least.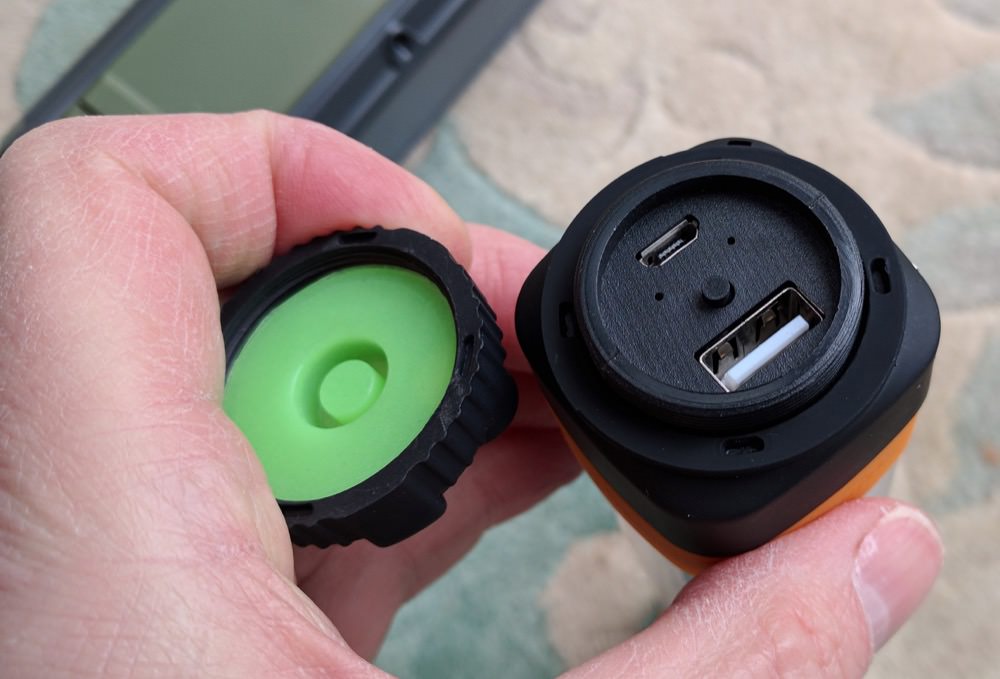 Then, when you stop in the fadling light for a snack, or perhaps pitch your tent, you can also (with the end cap off) press the little button to cycle through the various lighting modes (these work even when phone charging is taking place):
bright strip light (really quite dazzling, runs for about 5 hours)
ambient strip light (runs for 30 hours at most)
flashlight (runs for 20 hours with a single bright LED)
flashing red (an alert mode, for letting people know where you are in the wilds, if there's an accident?)
flashing white (as above, but at full brightness, quite distressingly bright - pun intended!)
alternating flashing red and white (for maximum attention from rescue teams!)
SOS mode in red
off
Or you can turn the whole thing off with a long press of the internal button (and when the cap's screwed on, the large green button presses in on the internal switch).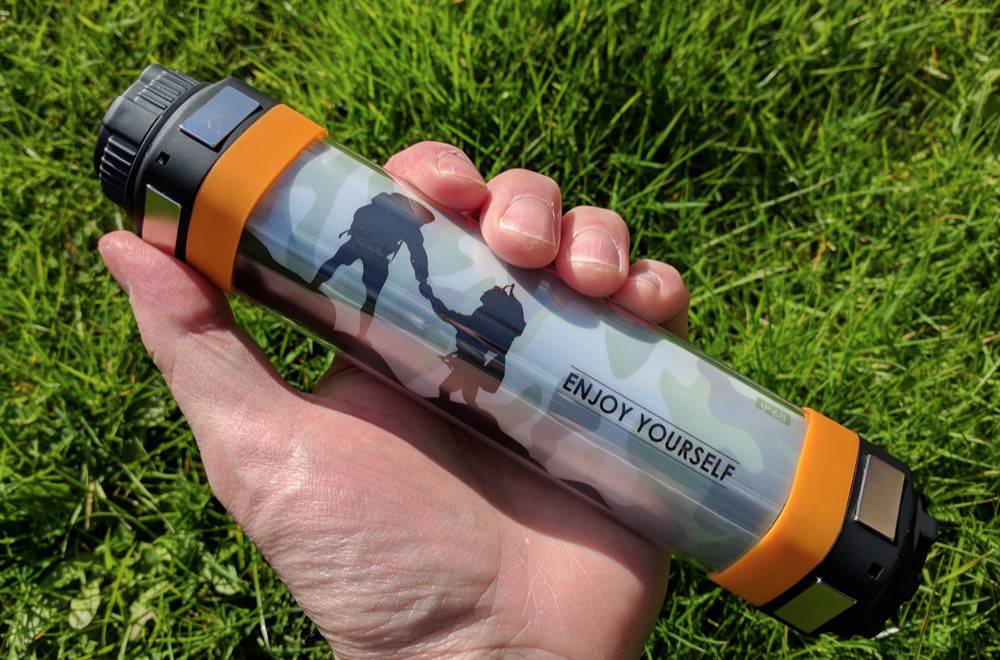 In practice, you'd probably use a little of each mode, in which case some light and some top-up power will see the HiHiLL gadget only last for one night away, but then this may be all you need - or keep it in the rucksack for emergencies? It's IP68-rated in terms of water and dust-proofing.
At £22 it's not that expensive, considering the components that make up a strip light and the power bank itself.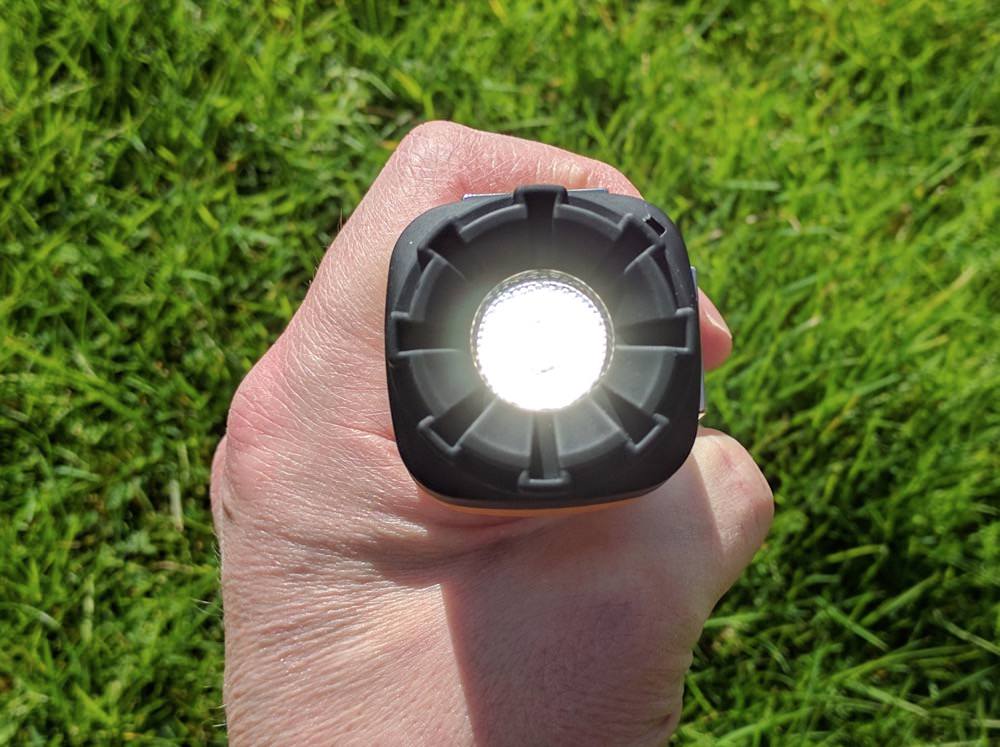 Also sent over by the supplier was one of the best value and most rugged Bluetooth stereo speakers I've ever tested. At only £12, the AUKEY unit here has twin 3W speakers of a decent size, backed by a big enough battery for 16 hours of audio (though less if you run it at maximum volume all the time). It's not IP68-rated - this would be hard for a speaker system, naturally, because of all the holes for the sound to get out! But it's 'water resistant', meaning that the speaker cones will be protectively coated, at least.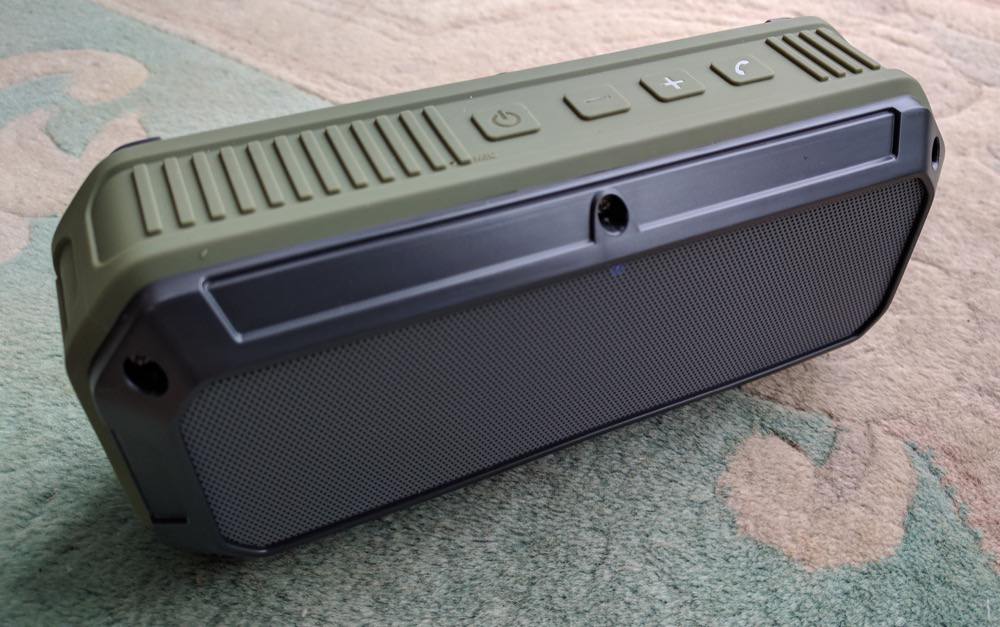 I paired this with my Lumia 950 XL, with great results. Pairing was quick and the audio output was good, with fantastic bass in particular. You can't change the tone via Bluetooth from Windows 10 Mobile since the Extras/Equalizer isn't involved, but I had no complaints. Slightly confusingly, the volume '+' and '-' buttons on the top need long presses to work, with short presses actually skipping tracks. This is as intended in the manual but seems cock-eyed to me - surely volume changes would be much more common?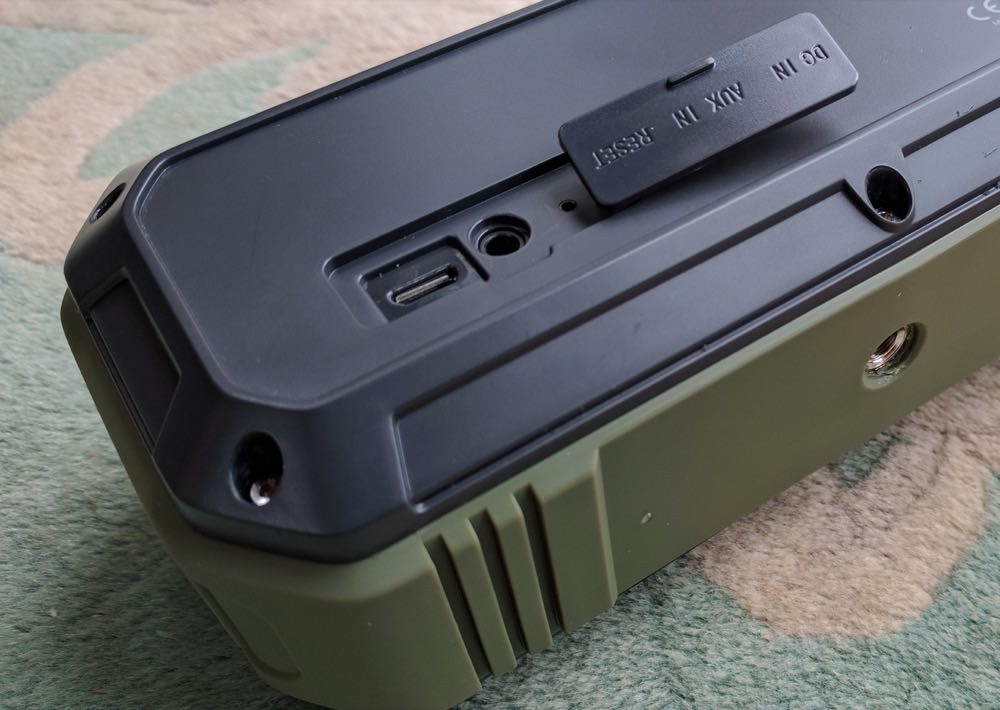 Charging is again by microUSB and at only 1A, which means that you'll usually be charging this overnight, perhaps before a trip. You can also plug in a 3.5mm lead if Bluetooth doesn't work for some reason or if you want to plug in a legacy audio device (a 3.5mm to 3.5mm lead is included, helpfully).
Another nice (and common) touch for these two smartphone accessories is that they both have tripod mounting threads and lanyard mounting points. Both good signs that real world use has been thought about. Here are the relevant tripod threads: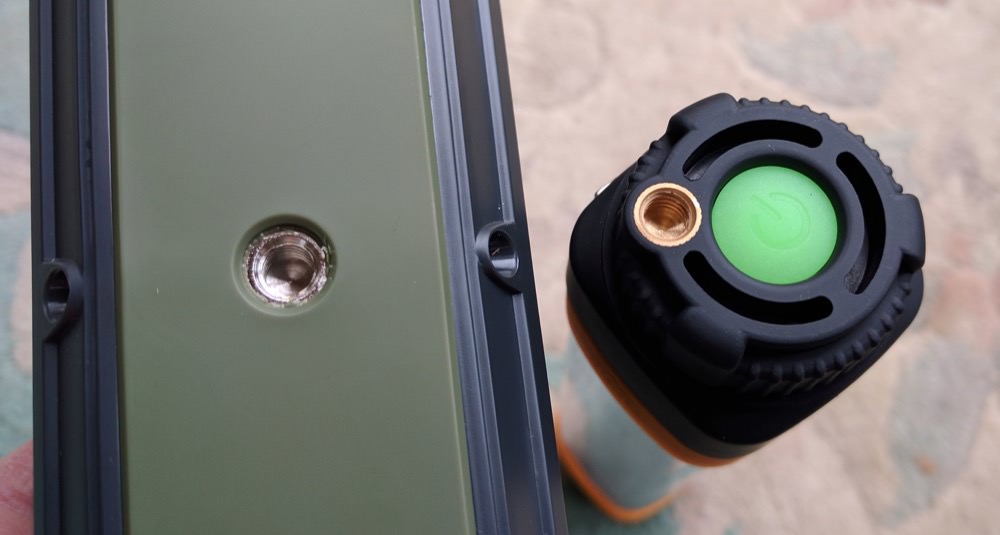 OK, so most of us don't go around with tripods unless we're real shutterbugs, but if you did have perhaps a portable tripod (for those lingering Lumia sunsets?) then it would be child's play to mount either the lantern or speaker on the raw thread. As I say, it's a nice touch that will have you thanking the designers at some point in the future.
As a keen camper, both these accessories will increase the quality of life, at least on an overnight jaunt. They work well with smartphones, will survive whatever you throw at them, and don't cost the earth. Recommended.
Reviewed by Steve Litchfield at