Review:
Warhammer 40,000: Freeblade UWP
Score:
79%
As one user commented in the Store, 'giant robots fighting in a dystopian future - what's not to like?' Actually, quite a bit, as anyone who has suffered through any of the Transformers films (or the Avengers 'Age of Ultron') will know. But that shouldn't put you off getting your senses assaulted by Warhammer 40,000: Freeblade UWP - as long as you phone is up to the challenge.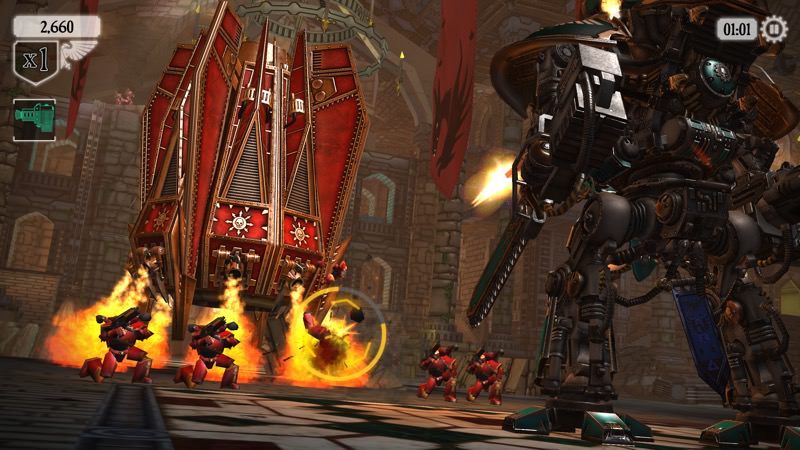 With this massive freemium game (and a UWP, so works on phone, Continuum, tablet, laptop, whatever), we're talking a Gigabyte of downloads and a minimum RAM spec on the phone of 2GB. And even then you have to put up with minute-long loading times for levels. Plus it'll go through your phone's battery like a lager lout through your fridge and warm your house at the same time. Then add in outrageous freemium in-app purchases, up to £150 (£75 for gold, £75 for 'ore').
Gulp.
If that sounds negative then you guessed right - I couldn't wait to uninstall this title from my Lumia 950 XL. But don't switch off until you've at least glanced through the screenshots in this review - what might appear to be cut-scene graphics are in every case live screengrabs from the game - the production values here in terms of modelling, rendering, lighting, action and soundtrack are off the charts. You simply won't believe the quality of what you're seeing on a phone screen.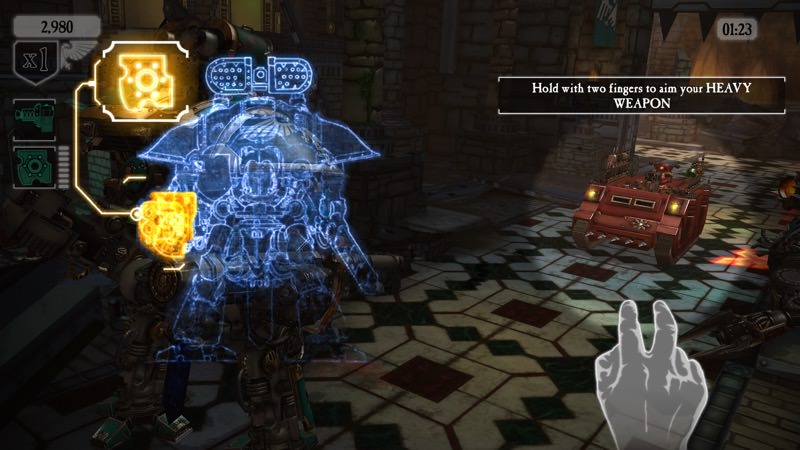 Unfortunately... just because something looks gorgeous and sounds gorgeous doesn't make it a great game. If all you want to do is go around blasting things that are placed more or less in front of you, with on-rails gameplay, being bombarded with action, then you'll be right at home. There's no real challenge here though, ultimately, and no real skill - just the realisation that you're going to have to start interacting with the in-game currencies, purchases and mechanics if you're to go right through the dozens of levels/worlds/stages.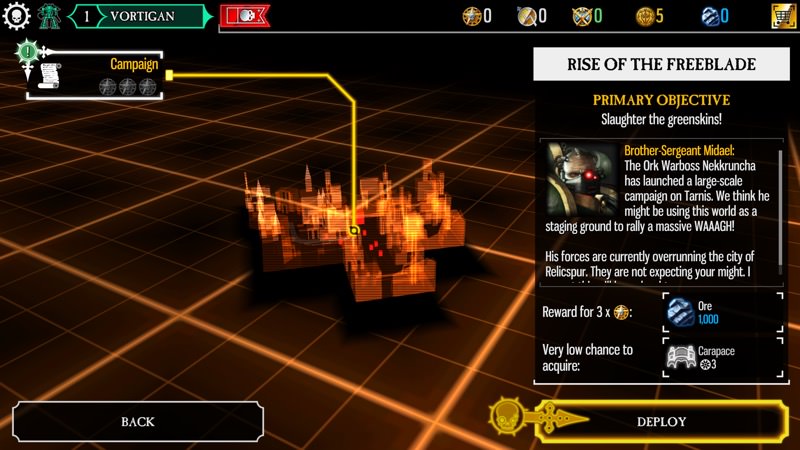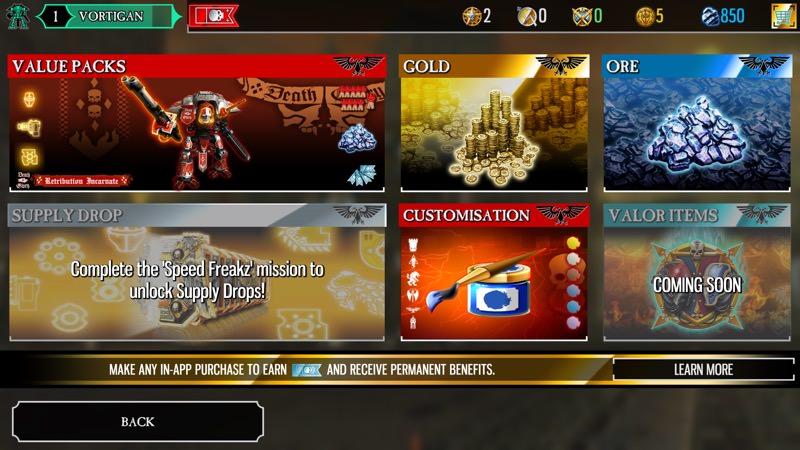 As with most freemium titles that are done 'well' (or as well as freemium can be in 2017), there are daily rewards to keep you coming back, though the aforementioned loading times put a stop to casual play on the bus, I'd argue, so yet again this is an aspect that will work best when not on the phone. I can't see a way to sync your progress between devices, mind you, so you might have to make the installation choice right up front.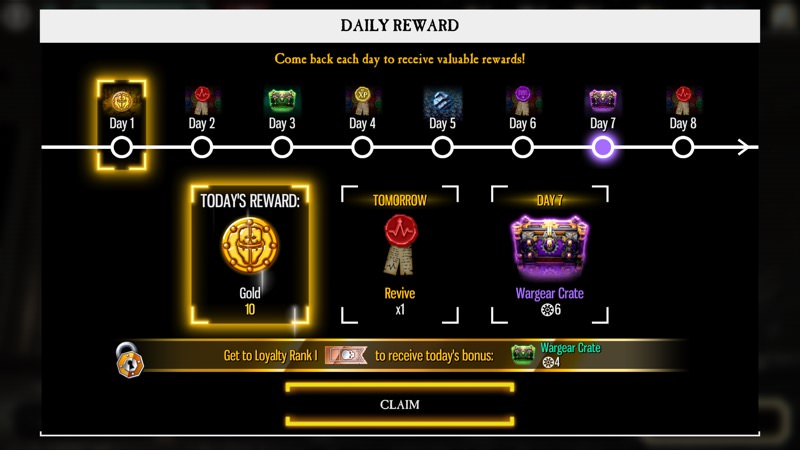 The most popular freemium packs are £30 and £15, apparently. For a PC game, spending £30 on a game is quite normal, but ploughing this and more into a phone game seems somewhat outrageous, in view of all the caveats listed at the start. Still, the currencies gained from a £15 purchase should keep you gaming for a few weeks, off and on, albeit draining your phone's battery a few dozen times in the meantime.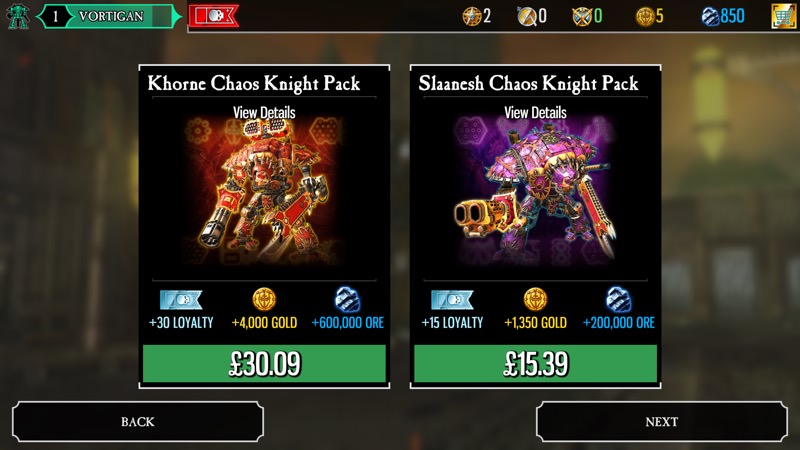 But enough of this background whinging, what about the gameplay? Controlling a huge weapon-infested fighting robot, your job is to use your fingers (or mouse, on a PC or Continuum screen) to range over enemy foot soldiers (of increasing durability), mowing them down with light fire, then use various two finger and double taps to target heavyweight targets. All of which explode with suitably impressive fire and noise.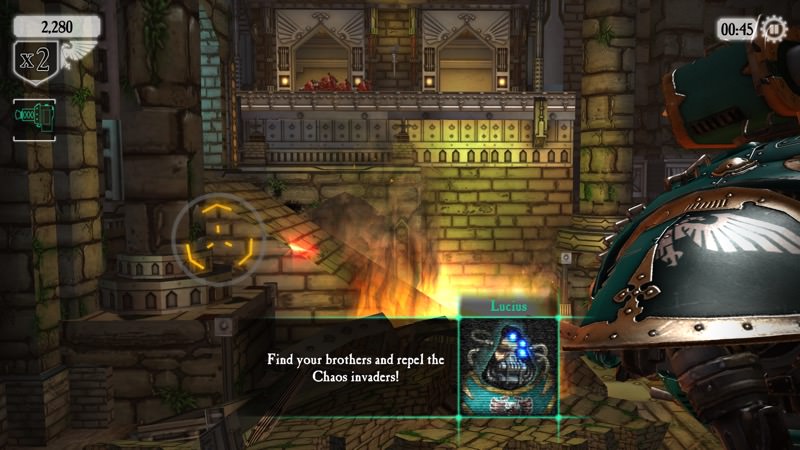 Everything's introduced impeccably, with narration (audio and text), music, pop-up aiming hints, everything you'd want, before being let loose on a full 'campaign'. Something to do with being the last 'knight' and resisting the invading hordes, the usual stuff.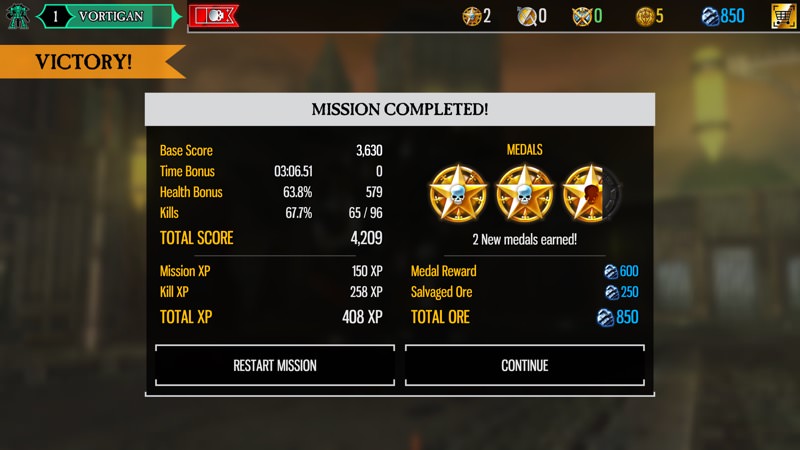 Despite my worries over on-rails gameplay and value for money, you can't help but be impressed by the massive amount of work that has gone into the worlds and animation here - on a large screened phone it's truly cinematic. Of course, this isn't just for Windows - Warhamer 40,000: Freeblade came out for Android a year ago, so the developers' investments have paid off over a long period, with - presumably - enough people plumping for those IAPs to make the project worthwhile.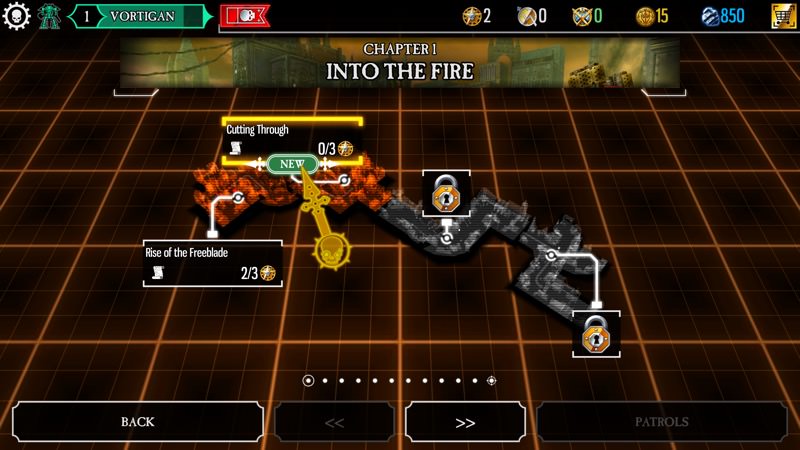 As you might expect, there's the chance to pay to customise your fighting robot. Never mind how large his chainsaw is, what colour is it, etc?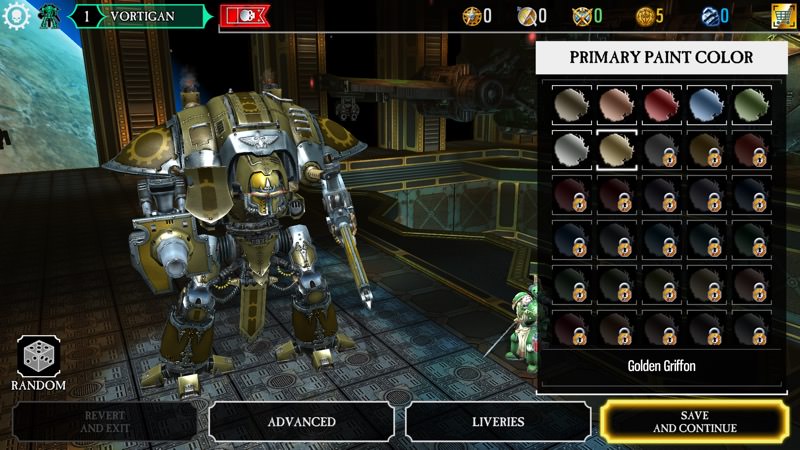 The enemies get tougher as you go along, as you'd expect (again), inflicting more damage and being harder to destroy, while your own weapons are limited and (e.g. below) overheat and then you have a few seconds to wait before they're cool enough to use again. It's all been carefully tuned, one would expect, from the year of action and experience on other platforms.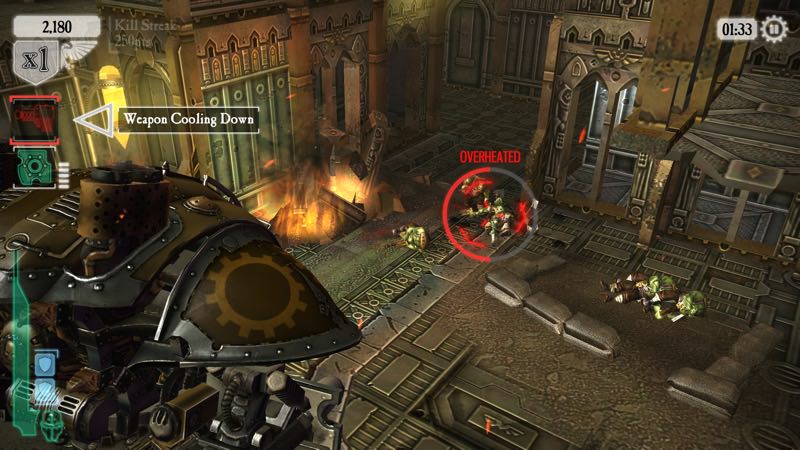 Your viewpoint for the action is isometric, behind and above the giant robot, though at times the virtual camera wanders, as shown below, clearing some baddies off a balcony. The limited camera angles can be frustrating sometimes, trying to strafe some bad guys 'behind' the robot from your virtual vantage point - but on the whole it works well enough.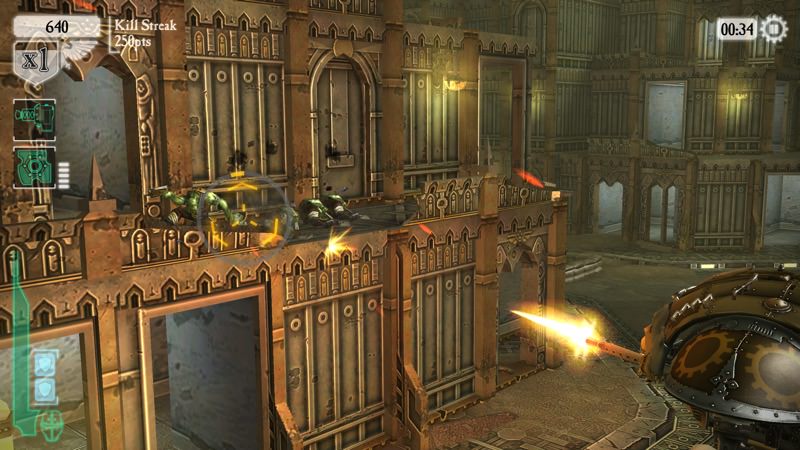 Again I have to emphasise that all the screenshots here are from the game itself - the detail on the screen is astonishing, easily 1080p-class, right down to links in chains and shells or cogs on the robot, allied to realistic physics in terms of lumbering along.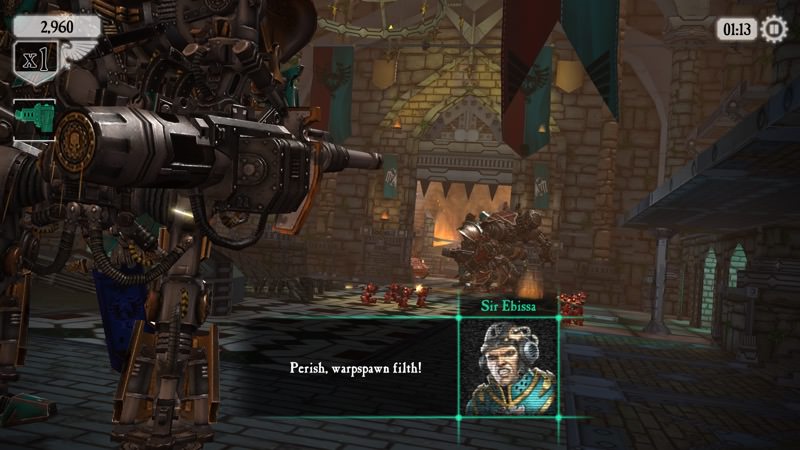 Finally, my customary proof that this is indeed Continuum-compatible, with my Lumia 950 XL dwarfed by both the TV and the robot(!):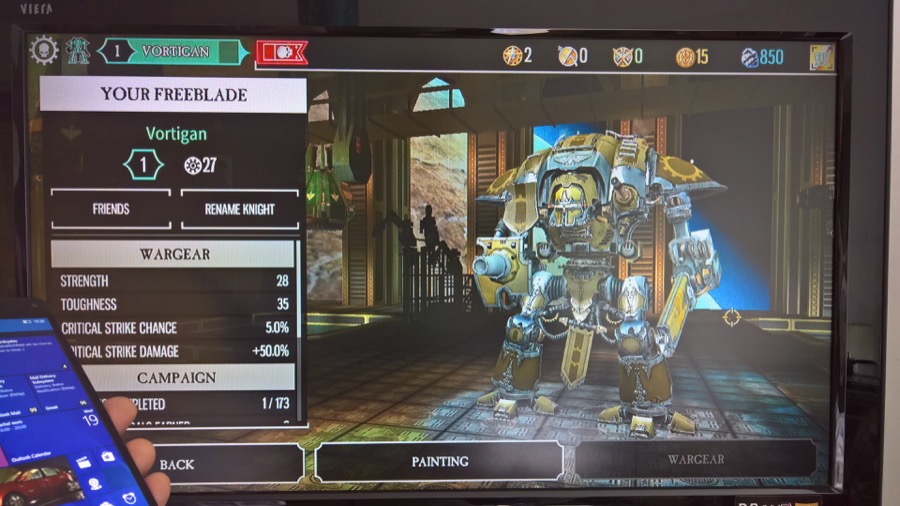 In summary: if you have a few hours free, plenty of battery charge and love action then Warhammer 40,000: Freeblade UWP is well, well worth a go. Just don't expect a lasting addiction, don't expect lightning fast loading times, and certainly don't expect to get very far in for free.
Reviewed by Steve Litchfield at