Review:
EasyAcc 20000mAh Rugged Power Bank
Score:
80%
Billed as 'Weatherproof. Dustproof. Shockproof', this super-tough accessory lives up to its billing, though it's behind the cutting edge in terms of charging technology. Still, if you're the outdoors type (or keep getting drenched in the UK winter!) then this is probably the biggest in its category.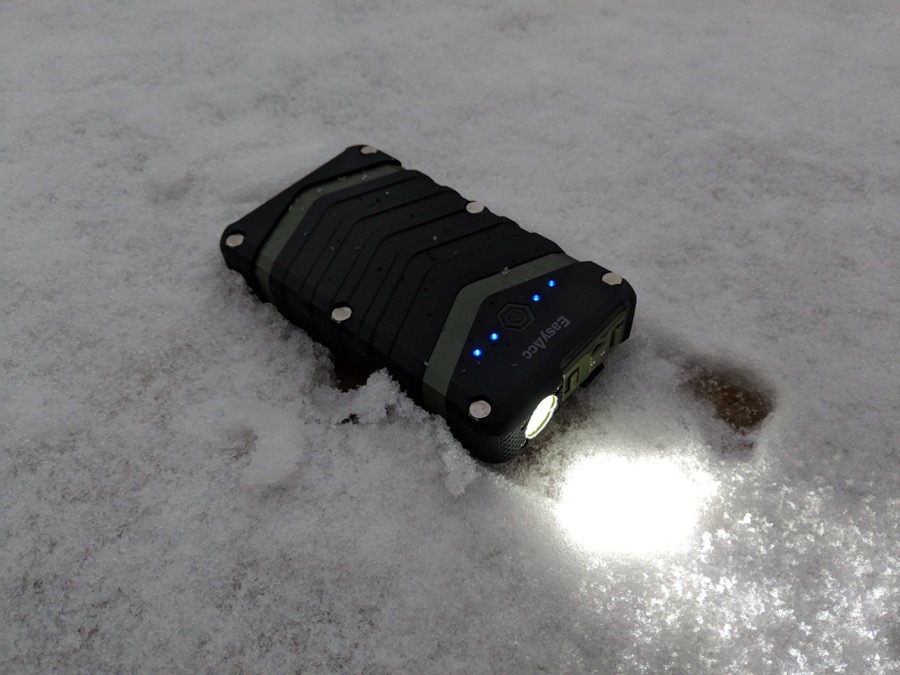 An archetypal 'power brick', the EasyAcc 20000mAh Rugged Power Bank makes zero pretence at streamlining. It's tough, textured high density plastic all the way, with eight heavy duty metal bolts clamping the chassis closed. Two USB-A ports are up top, underneath a pressurised, rubber-backed pad (of which more in a moment), plus you get a very large and bright LED torch, easily an order of magnitude brighter than the usual power bank LED fare.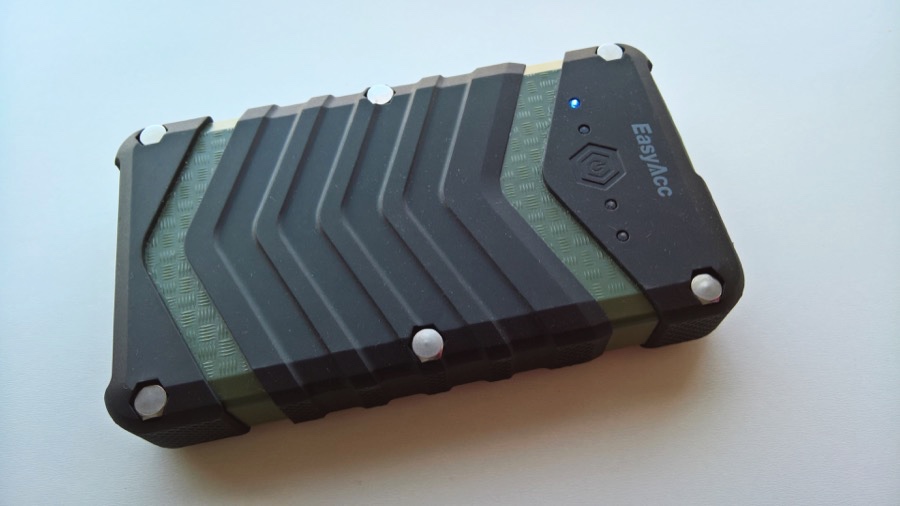 I tested this under water, in snow and drop tested it onto concrete from a metre and it survived without question. I suspect that you could drive a car over it quite happily - whatever your use case, I don't think this will get damaged.
The contrast between the form factor of this and the super-slim AUKEY 'universal' power bank that I reviewed here, yet with identical capacity, is stark. This is twice the thickness (at 29mm) and weighs an astonishingly heavy 470g. You'll know when this is in a pocket or backpack!
Up at the one end is the main torch LED (activated with a double press on the button on the top), plus a rectangular panel with heavy duty clips either end. Release these and the panel pops off to reveal the twin USB-A ports, the inner one rated at 2.4A and the outer at 1A, plus a microUSB port for input (i.e. charging the power bank), rated at 2A.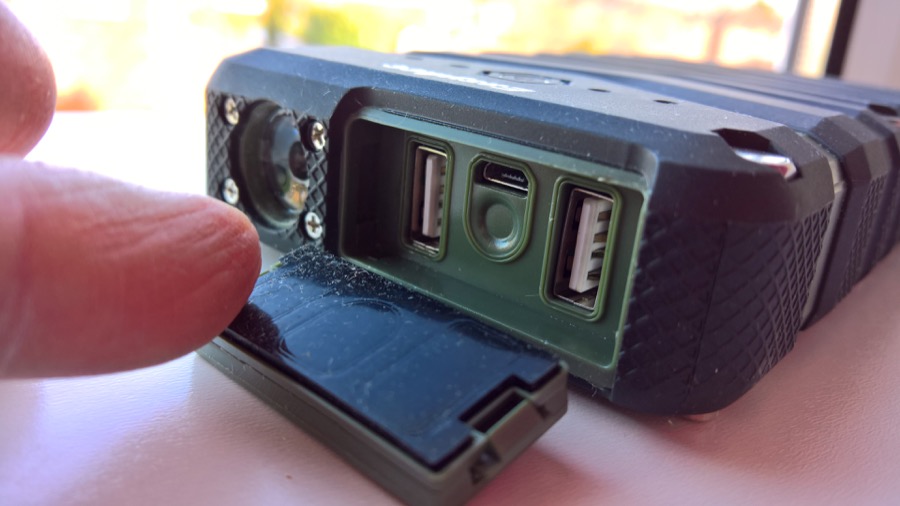 Put all this together and it'll take a while to charge the accessory, 2A into 20,000mAh equals an overnight charge at least. But it's not an issue, and neither is the complete absence of any Quick Charge compatibility or even full 3A 'Power Delivery'. You see, if you're in a situation to need the EasyAcc 20000mAh Rugged Power Bank then the chances are that a) you're not in a hurry, and b) you're in the middle of nowhere and all you want is something reliable throwing out 5V, to give you communications and charging facilities to tide you through the trip.
Fitting the rectangular panel back is a bit fiddly, but then you're sealing the USB bays against water ingress, so a little pressure is understandable. And when the second clip is slid home, the pack is at full IP67 rating and you can throw it around casually, drop it in puddles, get caught in a thunderstorm, leave it out in the snow, whatever - and it'll be quite happy and ready for action.
The torch is very good indeed, lighting up an entire room (to camping standards, at least) in my tests, it's amazing what single LEDs can put out these days. In addition to 'continuous on', there are also flashing and 'SOS' modes, should you really get into trouble somewhere and need rescuing.
In theory, this is available on Amazon UK, at £34, which is very fair value, I think. See also other links on the product page here. Price is typically about $50 or E50.
If survivability is paramount then this may be the toughest and highest capacity power bank in the world.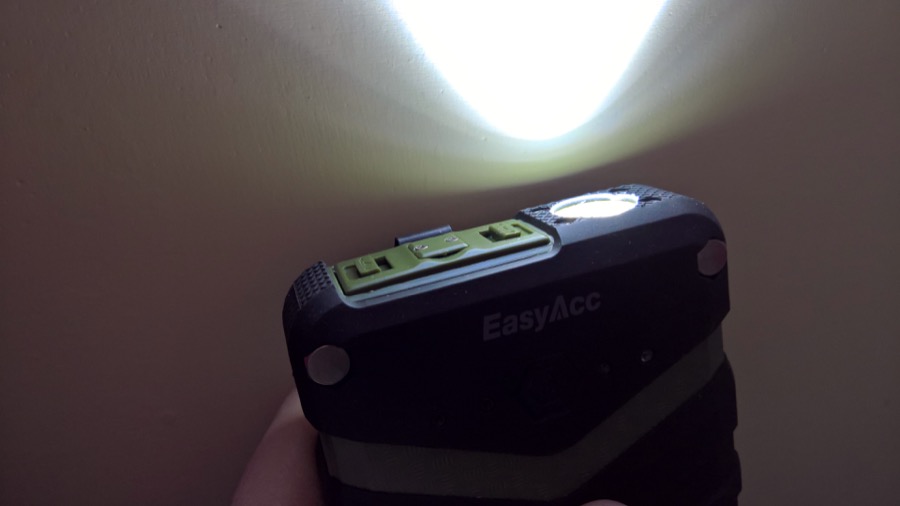 Reviewed by Steve Litchfield at