Review:
dodocool DP13 45W Type C PD power bank
Heavy, metal, yet stylish, this is a new Type C power bank that's worth a look, with a few caveats. Its headline feature is that it supports Type C 'Power Delivery' (PD), of which the Lumia 950/XL are just the lowest supported rungs on a power ladder. The main use here is to have a power bank that not only supplies Type C smartphones at full capacity, but can also charge 'PD-compliant' laptops and mobile devices.
Buy Link | Download / Information Link
Annoyingly, between the review device being despatched and actually arriving, the PD13 has gone out of stock on European Amazon stores. Possibly making the review somewhat moot, but hey, at least you'll know that it exists. We're promised that it will back in stock soon. See below for more comment and some links.
'Power Delivery' is, as far as I can glean from all sources, an alternative to Qualcomm's Quick Charge systems, i.e. also using multiple voltages, but controlled with different device to device protocols. Bah - standards, eh?
This being AAWP, I should note that Windows 10 Mobile phones span both fast charging standards, with the Lumia 950 etc. using the lowest rung on the PD ladder, while the Elite x3 and Alcatel IDOL 4 Pro use Quick Charge. Then we have new Surface hardware (the Go) with USB Type C PD, for which this dodocool power bank would be absolutely perfect. Ditto for several other laptops of recent times with Type C charging.
All a bit confusing, though in real life you just use a power bank that uses the fast charging standard most prevalent in your home or business. Interestingly, I can't remember a power bank which offers full range PD and Qualcomm Quick Charge 2.0 or 3.0. All accessories offer standard USB-A output at 5V and (typically) 2.4A or higher, mind you, so there's always that lowest common denominator covered.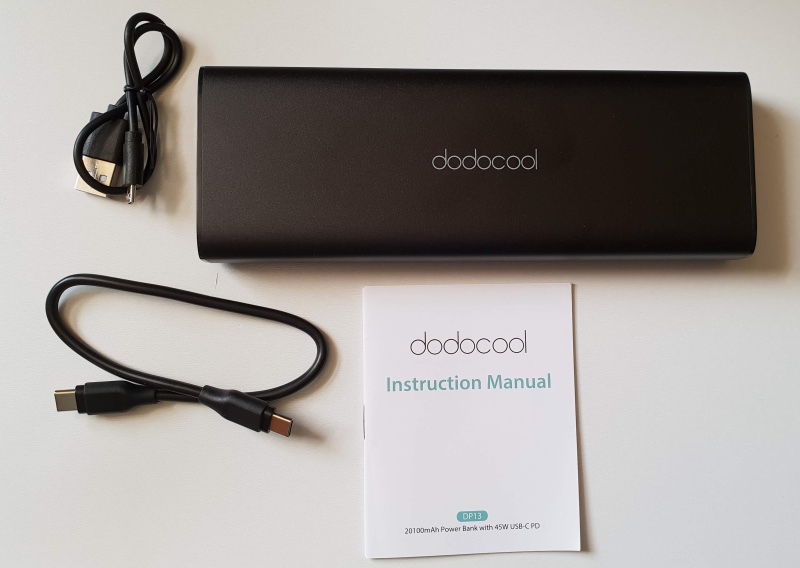 The DP13 is superbly finished in matt black aluminium, housing 20100mAh in as compact a form as possible. The plastic end caps match the curves of the main body perfectly and there's a serious 'heft' to the accessory (477g).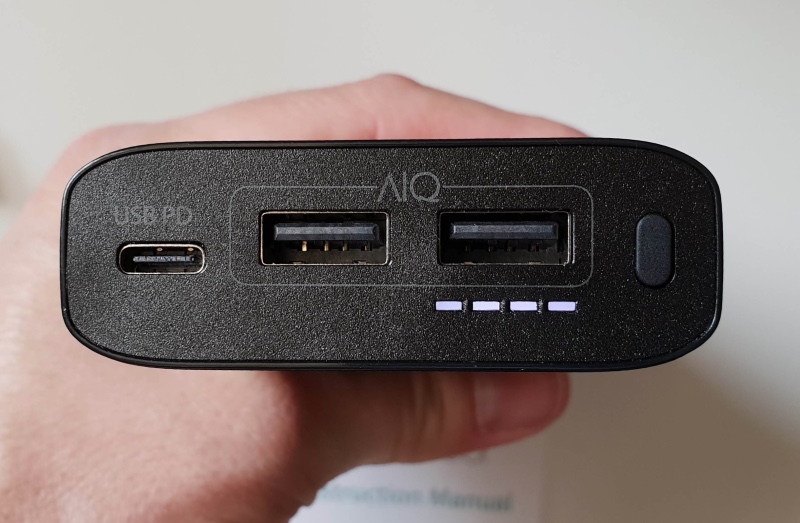 Down at the business end are three ports, all of which can output at full power simultaneously (ignore what it says in the manual), i.e. up to 20V at 2.25A via Power Delivery over USB Type C, plus up to 2.4A each at 5V on the two USB-A ports (branded 'AIQ', which refers to some kind of smart detection of what your connected device needs, and seems to work).
Which comes to over 60W if you do the maths, this is a serious bit of electrical kit.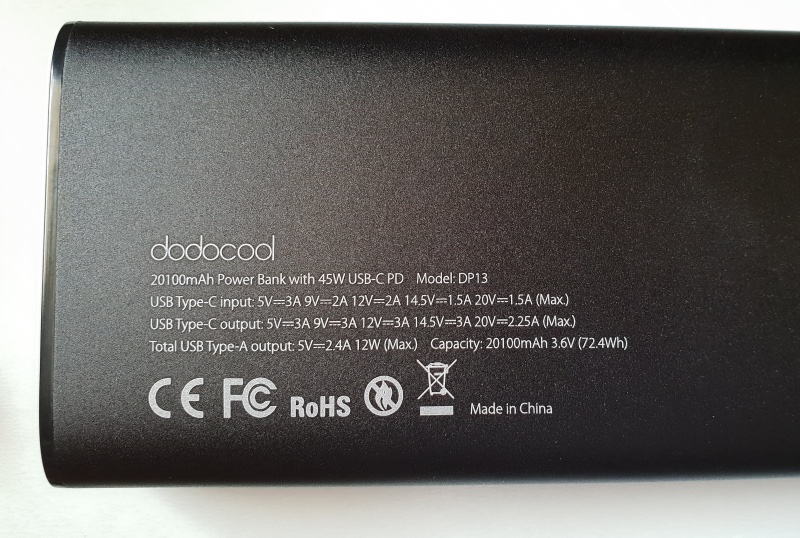 On the whole, the DP13 worked just fine, but there are a few small caveats:
the DP13 can be fussy what it will charge from. I initially tried various Type C chargers and eventually found one which worked. I guess once you know what it works with then you're sorted, but some experimentation will be needed in your set-up. At one stage, I gave the DP13 a few weeks 'off' to let it think on its sins and, interestingly, it seems to be charging more reliably now from more sources. All very curious! (I mention all this because other reviewers on Amazon have seen the same fussiness.)

there are the usual Type C issues with the phone/tablet/laptop trying to charge the power bank. This isn't unique to dodocool and is endemic to the Type C scene - how is the kit supposed to work out which way the current should flow? The answer is usually to push the charge state button first, then plug in the Type C cable into the power bank and, finally, into the device to be charged. All a bit of a dance though!

when charging a Lumia (this being AAWP) via Type C and PD, the screen on the phone lights up every so often, so presumably there are handshakes and check-ups going on through the PD system with the Windows phone - the screen illumination doesn't seem to affect actual charging, but would be annoying in a dark bedroom, for example. Interestingly, Android phones don't show this behaviour, so it seems to be an OS-specific quirk.
Power Delivery is the magic phrase though - very few power banks support this properly, i.e. at 5V, 9V, 12V, 14.5V and 20V, and at up to 45W. But the DP13 does. It would make a super emergency charger for a road warrior with some PD-compliant kit, there's a decent sized list on the product pages linked below.
The Amazon USA and Amazon UK buy pages both currently show out of stock, so I'll also link here to the original dodocool one. What's slightly frustrating is that because all pages show the DP13 as unavailable, I'm also unable to ascertain a price. I'd suggest somewhere in the £40 region in UK money, but we'll see....
PS. On the other hand, if you mainly want a power bank to charge just phones and none are PD-capable then there are plenty of alternative power banks (e.g. this one, highly recommended) that offer full 3A output as well as Quick Charge 2/3.0 compatibility.
Reviewed by Steve Litchfield at