Review:
Realarm UWP
Score:
86%
It's rare to find a Windows 10 UWP application that's this slick, this polished - I guess I'm coming to Realarm quite late, since it's been out for a while, but so many people had recommended it that I couldn't ignore it any longer. The delay also means that it's had plenty of time for updates. In use, I only encountered one tiny bug - everything else one might ever want in an alarm utility is present and correct and working. With sophisticated rules, puzzles to solve to prove you're awake(!), and syncing to OneDrive, Realarm is the real deal.
Buy Link | Download / Information Link
Of course, you have to really want a new alarm app - and that's not a given. The built-in Clock/Alarms utility in every phone for the last 20 years is more than enough for 99% of users, making the whole concept of Realarm (ahem) alarmingly niche. But it tries hard to add extras and these do start to win you over as they mount and mount.
Starting with 'quick alarms', when you just want to be notified a set number of minutes from now. It's a quick way to set something to remind you to take the dinner out of the oven, or similar. Help screens start off the Realarm experience and one of them introduces Quick Alarms and how pinning them to your Start screen (as I do further below) can mean setting one is just two taps away: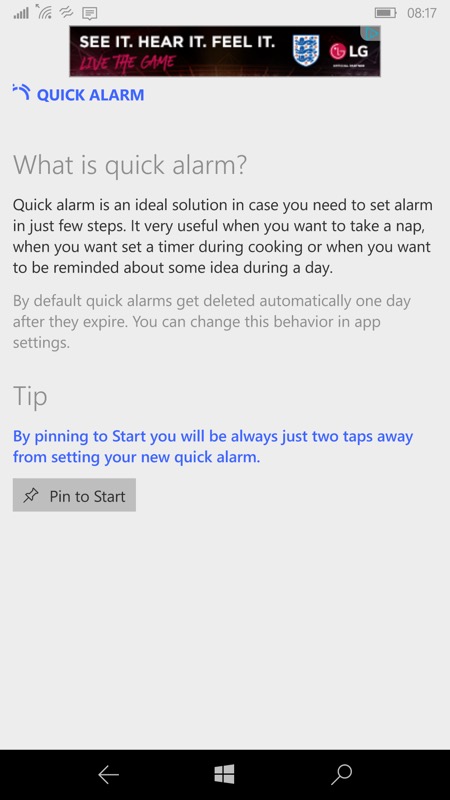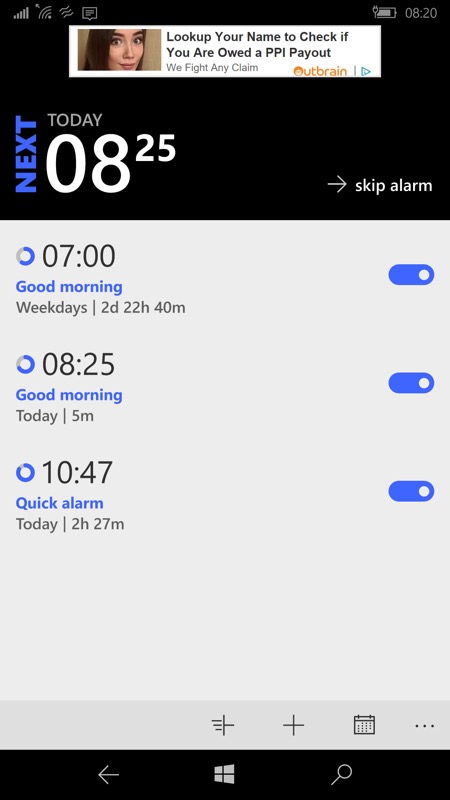 Ignoring the top-of-screen ad (you can get rid of this with the £1.49 in app purchase, effectively the 'cost' of Realarm), the interface is clear and clean - with the next alarm clearly shown, the option to skip it in advance (actually very useful, e.g. if you're already 'up') and then a scrolling pane of your set alarms, their basic parameters and a toggle to enable or disable them individually. Very clear.
Where Realarm starts to score big is in the details of an alarm. There are the usual daily repeats plus snooze options, but then you also get 'puzzle difficulty'. Eh? This, as you might possibly guess, is a maths puzzle that you have to solve before the alarm goes away, the idea being that if you're the sort of person who dismisses an alarm and then goes back to sleep immediately, you are forced to wake up enough to answer the puzzle. By which time you're far less likely to drift off again. Cunning....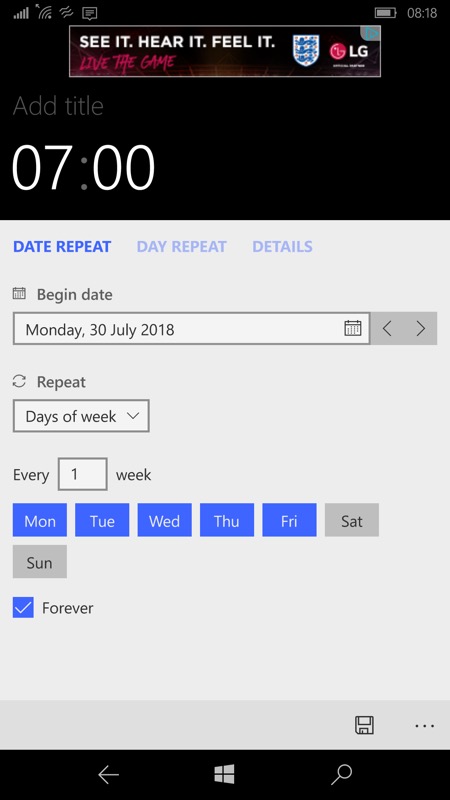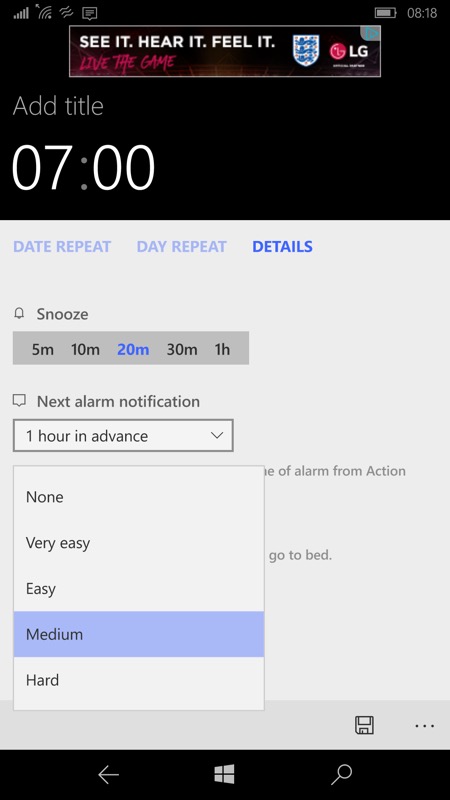 Everything's very clear and over three tabs - all for one single alarm!
Shown above are screens from the default light theme, but its also trivial to switch to a dark theme, which saves power on AMOLED screens, of course: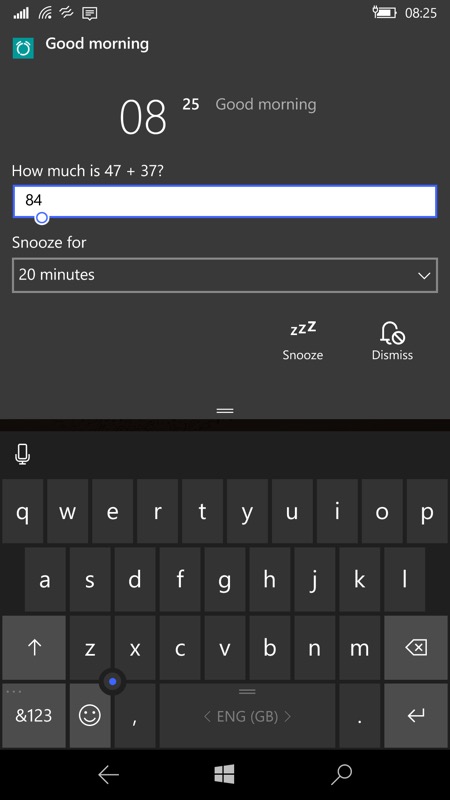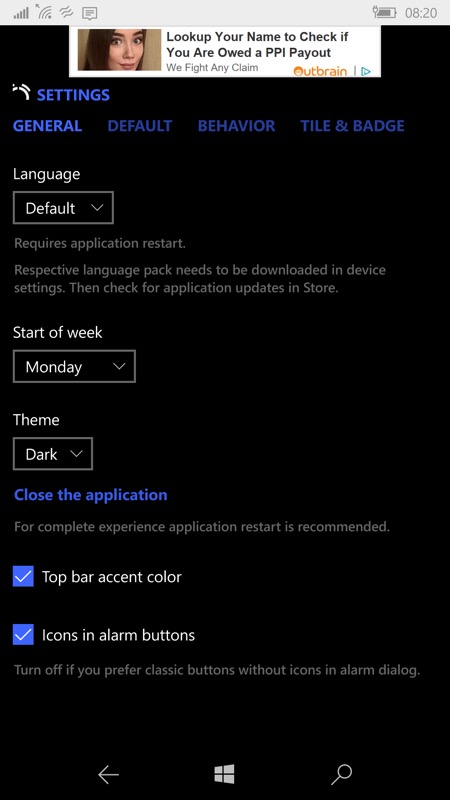 Then you get a ton of options as to the content and cosmetics of the main live tile (separate from a quick alarm tile), which I again show further below. By default the main tile cycles between the app icon, your chosen background image, and details of the next alarm to sound: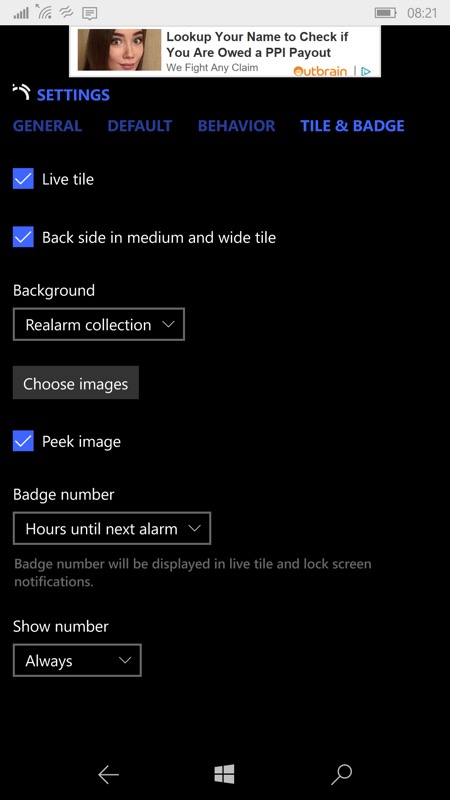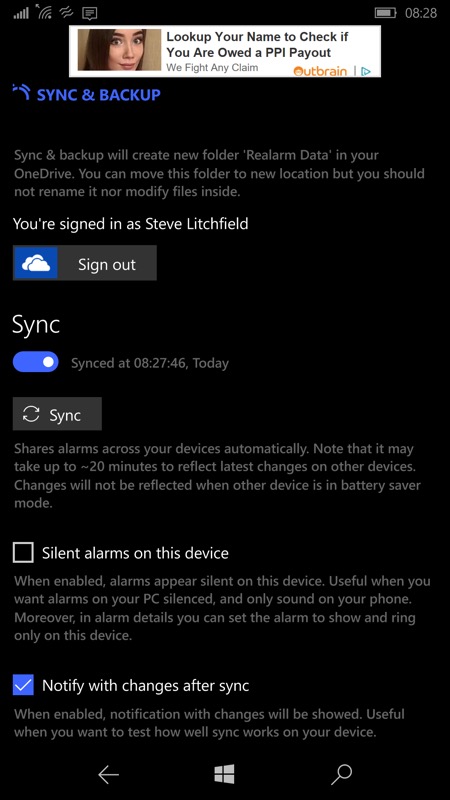 The sync system is interesting, offering a OneDrive-hosted sync to make sure all your Windows 10 devices have the alarm details. It's not immediately clear why you'd need this, but perhaps you're switching between a Lumia and a Surface Go (for example) and want the alarms to show up on both, with the important check box shown above right so that they can be silent on a tablet or laptop, reminding you of things in addition to whatever your Lumia is doing.
As I say, it's a niche function within a niche utility, but hey, it's well done and maybe you can think of a use for this cross-device functionality in your own life? Maybe!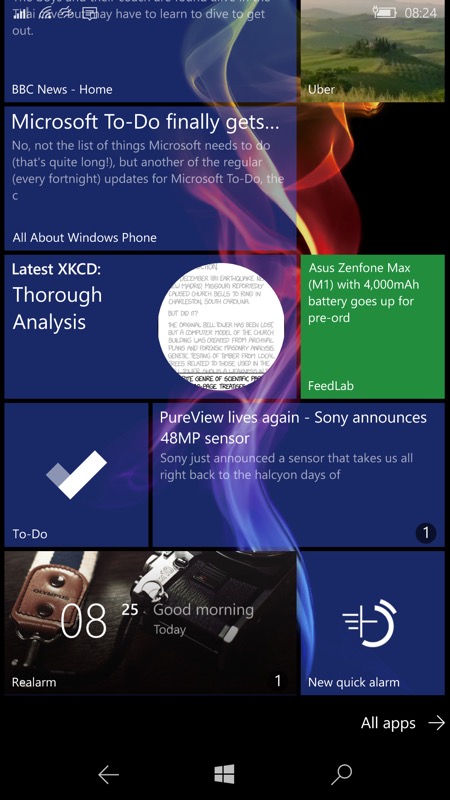 A top notch piece of programming and a recommended application. I had just the one crash when setting up the sync system, but otherwise it worked as advertised. Including challenging my mental maths as I woke up!
Reviewed by Steve Litchfield at